Like GearBrain on Facebook
The E3 video game conference in Los Angeles is an unlikely venue for a car maker to announce new features, but then Tesla is no ordinary car company.
Chief executive Elon Musk used an appearance at E3 to announce that Fallout Shelter, the free-to-play, post-apocalyptic video game by Bethesda, will soon be available for Tesla owners to play on their car's dashboard display. A video showed how it can be played using an Xbox controller.
Read More:
This represents a serious ramping up of gaming performance for Tesla, which until now has offered a collection of classic, and much simpler, Atari games.
Musk also used his appearance at E3 to show off a 'Tesla Edition' of Beach Buggy Racing 2, an Android racing game from develop Vector Unit which will be making its way to Tesla cars soon - and which is controlled using the car's steering wheel.
Away from gaming, Musk said that YouTube would soon be coming to Tesla cars, giving drivers and passengers the ability to stream videos over the vehicle's cellular data connection, just as they can with music from Spotify in Europe today.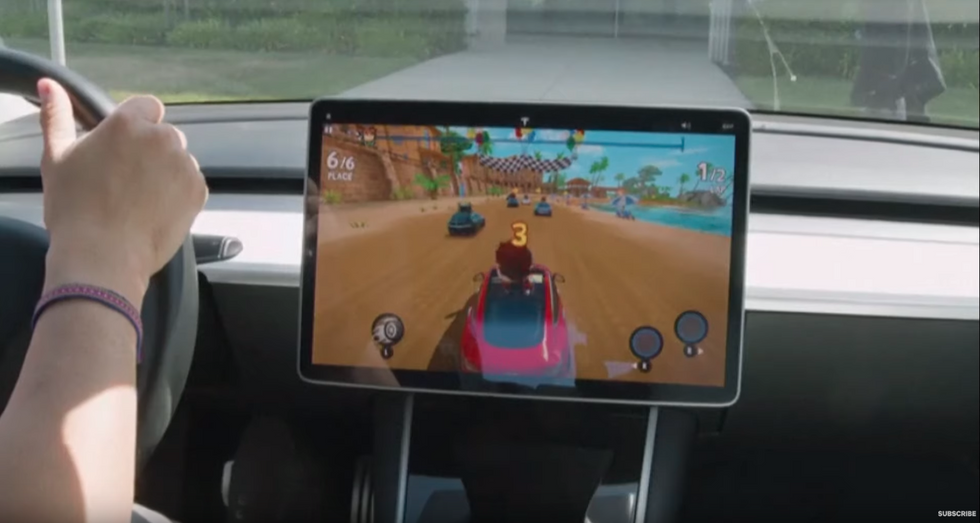 Tesla Edition of Beach Buggy Racing 2NowThis News (via YouTube)
Of course, video games and video streaming will not function while the car is being driven. They are instead intended to be used while parked, and they will of course help pass the time while waiting for the battery to fill up at a Supercharger station.

Musk, who spoke alongside Todd Howard from Bethesda Game Studio, failed to announce a release date for the games and YouTube streaming. The Tesla boss has previously said that YouTube will arrive with version 10.0 of Tesla's operating system; version 9.0 launched in 2018, bringing the collection of Atari classics with it.
All of this makes us wonder what else the Tesla infotainment system is capable of, and if it could become a platform in its own right. If fully opened up to developers, we could see a new genre of gaming and entertainment services, designed specifically for use in the car, with car controls, and for use while charging.
And of course, when (or rather, if) Tesla's fully-autonomous driving system launches, owners will want to be entertained while their car takes them to work, or wherever they want to go.

A couple of glaring omissions remain from Tesla's infotainment system, in the form of Apple CarPlay and Android Auto. We hope these, which are both available on a huge range of new vehicles from most other manufacturers, are something Tesla is also working on.
From Your Site Articles
Related Articles Around the Web
Like GearBrain on Facebook