Like GearBrain on Facebook
With gyms still best avoided due to the pandemic, there are more options than ever for keeping fit at home. There are the old favorites, like weights, yoga mats and traditional exercise bikes — and don't forget a run around the block — but also a handful of connected, high-tech alternatives to the pricey Peloton.
Although the Peloton Bike might well be first on your list when looking at smart home exercise, at $1,895 plus $39 a month for access to live online classes, this is an expensive option – not to mention the current six to 10-week wait for delivery. The Bike Plus is even more expensive, at $2,495, plus the option to pick up a further $300 of additional Peloton equipment.
Read More:
Thankfully, there are some more affordable alternatives. Now, we won't pretend that a Peloton rival with the same digital features and HD display can be snapped up for $500. But there are options that dip below the $1,000 mark – and to round out this article we look at how to turn your own, unconnected exercise bike into a Peloton rival for a fraction of the price.
Bowflex C6 – $999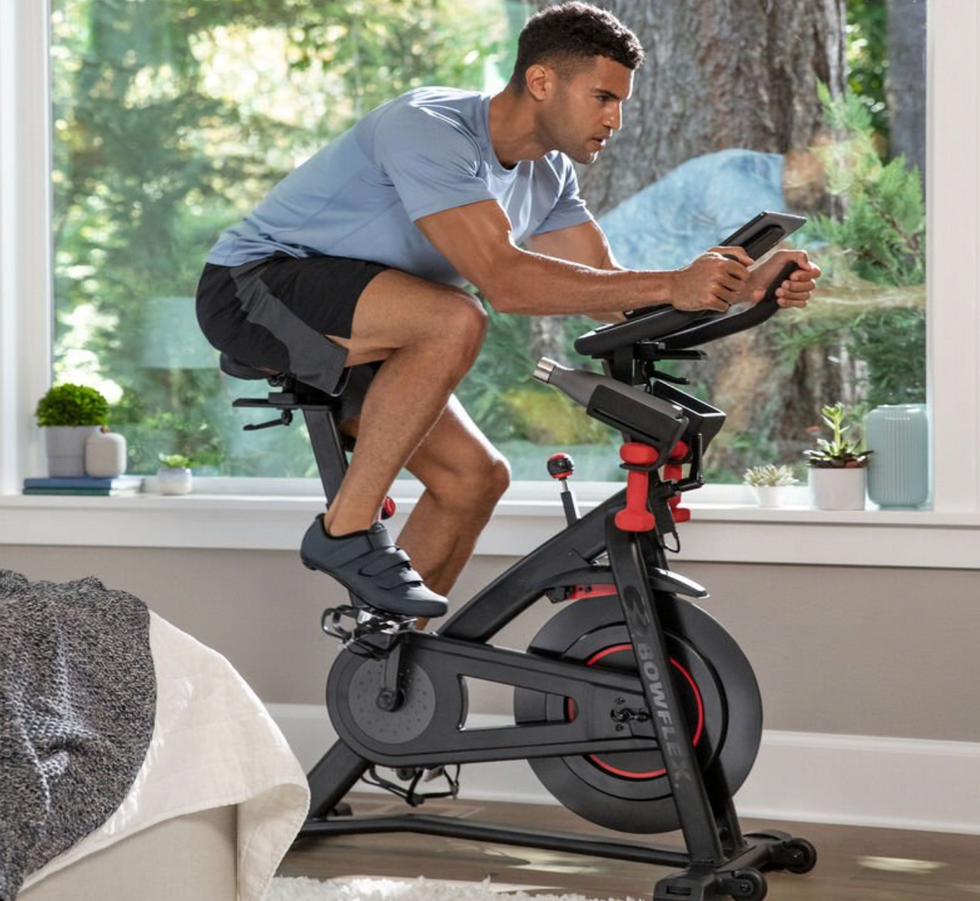 The Bowflex C6 connects to the Peloton app using your own tabletBowflex
We know $1,000 is still a lot of money, but this option from Bowflex offers much of the Peloton experience for almost half the price. It does this by not including its own display, but instead offering a mount for connecting your iPad or other tablet, and Bluetooth for sending exercise data to various fitness apps.

These apps include Google Fit, Apple Health and MyFitnessPal, but also Peloton's own app. That way, you can pay for Peloton's $13 digital subscription and exercise using the cheaper Bowflex bike instead. The C6 promises a smooth, quiet ride, with magnetic resistance adjustable on a 100-point scale to find exactly the right difficulty for your fitness level. It also comes with a pair of 3lb dumbbells and a Bluetooth-connected armband heart rate monitor.
If you don't have a tablet, the bike also connects to the television using Apple TV or Chromecast.
Echelon Connect EX3 – $1,000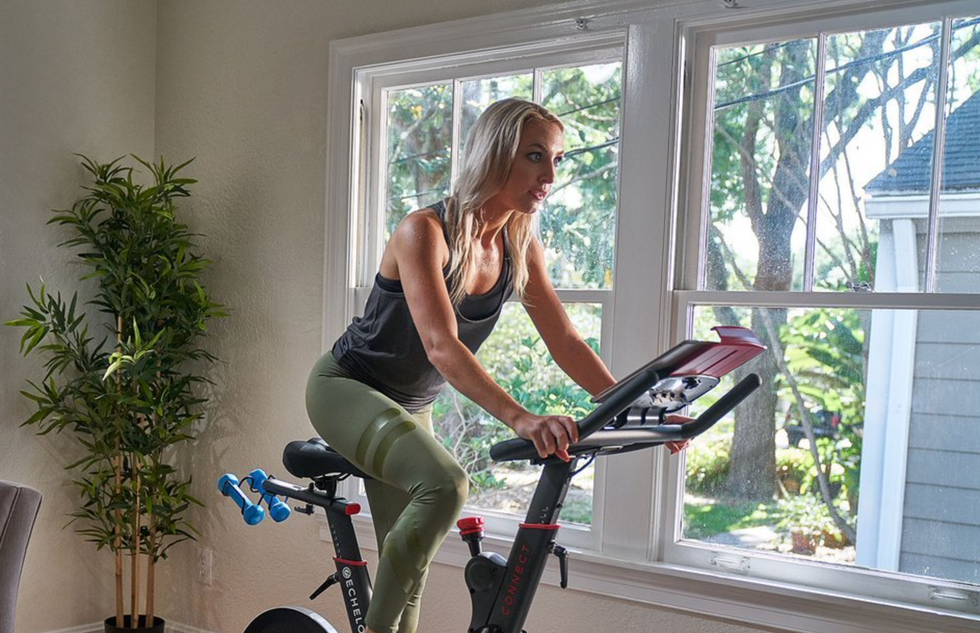 The Echelon Connect EX3 Echelon
This is another smart exercise bike that saves on costs by having a tablet stand instead of its own display. The bike uses a magnetic system with 32 levels of resistance, and the tablet mount spins 180 degrees so you can stand up and face it to complete other exercises away from the saddle.

Echelon's own app includes classes for strength training, boxing, pilates, cardio, stretching, yoga and meditation, and includes live classes with qualified instructors. There are also on-demand classes so you can exercise at any time of day or night, and a leaderboard system for competing with friends and family. Echelon's app is $30 a month, or you can buy an annual pass for $400, or the equivalent of $33 a month.
MYX by MYXfitness – $1,300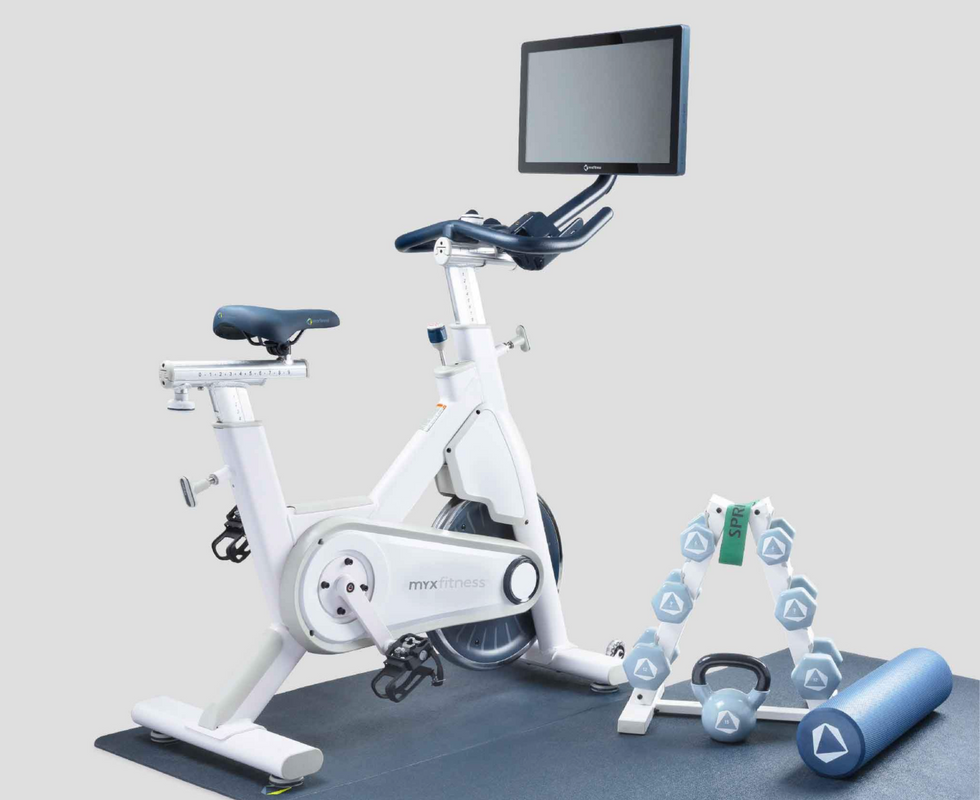 The MYX bike is $600 cheaper than the PelotonMYX fitness
Lastly for the closest Peloton rivals, we have MYX fitness. The standard package is $1,299 and membership is $29 a month. This gets you a smart bike with an integrated 21.5-inch touchscreen display that rotates 360 degrees, a floor mat, a Polar heart rate monitor, a foam roller and a six-piece weight set, plus a kettlebell.

The subscription includes one-on-one coaching from professional fitness instructors, and because the bike display spins around you can face it while doing floor exercises and other workout routines.
Wahoo cadence sensor and Peloton app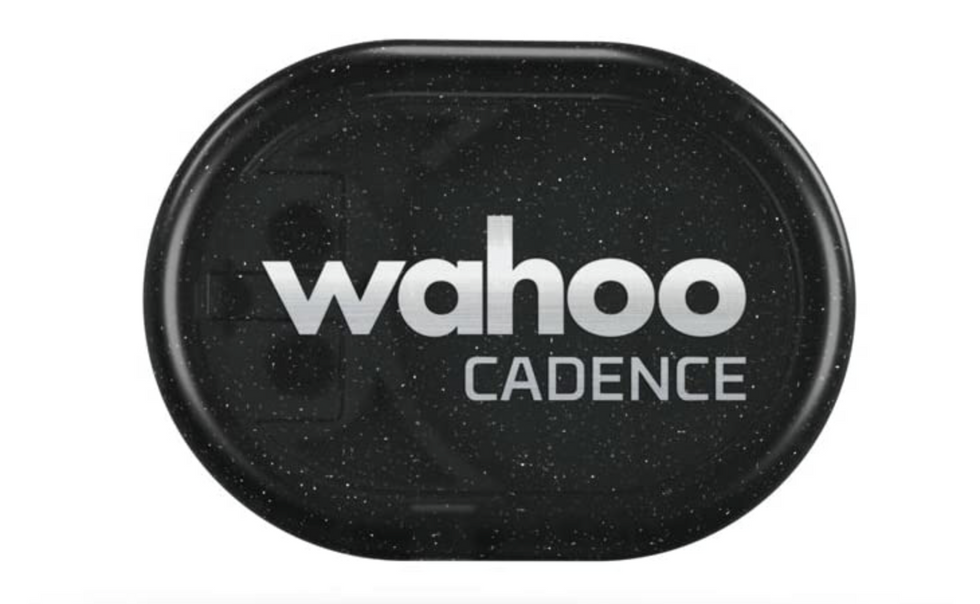 Wahoo cadence sensorWahoo
Finally, there is also a way to turn your current exercise bike into a Peloton system. It might not have the polish, the huge display and the personalized fitness classes, but we think this is a great option for anyone on a budget.

The key to this is the aforementioned Peloton app (iOS and Android). This is available to anyone, regardless of whether you own the company's bike or not, and it works on smartphones and tablets, as well as Fire TV, Chromecast, Roku and Apple TV. The app costs $12.99 a month and provides access to a whole bunch of live daily classes, plus a large catalogue of on-demand classes for all types of exercise.
Peloton
As well as spinning, the app caters for strength training, treadmill and outdoor running (the latter being audio only), yoga, HIIT, meditation, cardio and stretching. There are classes as well as fitness challenges, guided programs to help you improve, and integration with smartwatches and other fitness apps like Apple Health.
The app also connects to heart rate sensors and cadence sensors. The latter attach to your bike and connect to the app using Bluetooth. The data these sensors collect then appears in the Peloton app, helping you to match your speed with the instructor's cues. Peloton instructors tend to place emphasis on hitting a target cadence (pedal revolutions per minute), then ask you to adjust the resistance to suit your own fitness level, so the experience is similar to a Peloton Bike regardless of the type of bike you use.
Peloton provides a guide here on how to connect a third-party cadence sensor to the app. An example of such a sensor is the $40 Wahoo RPM Cycling Cadence Sensor, which sticks to your bike or shoe and has a battery life of eight hours. As well as Peloton it works with over 50 other cycling apps.
You will then need a phone or tablet mount for your exercise bike, such as this $20 option from Domain Cycling, and you're good to go. With just $60 of equipment and $13 a month, you can turn your regular exercise bike into a simple (and much, much cheaper) Peloton machine.
Nordictrack Commercial S22i Studio Cycle , black
Like GearBrain on Facebook