Like GearBrain on Facebook
Within just a couple of weeks of each other, Amazon, Facebook and Google have all revealed new 'smart displays,' with hopes consumers will install them in their homes. But the way these companies are going about it couldn't be more different.
All three new smart displays are touchscreen devices with artificial intelligence and assistants which respond to our commands. Each shares more than a passing resemblance to the telescreens described in George Orwell's 1984 — an observation numerous Twitter users couldn't wait to make when Facebook announced its Portal this week.
Read More:
But, while they could all loosely be described as smart displays, they also reveal how the three companies are taking markedly different approaches to bring new forms of tech to the home — and to rooms where smart technology has mostly been absent, like the kitchen.
Echo Show

First there was Amazon, which announced its second-generation Echo Show this month, a year after its original smart display launched — a full 12 months ahead of the competition. The new $229 model has upgraded speakers, a better display and new software, but the fundamentals remain the same. This is a device for adding visuals and video chatting with friends to the Alexa assistant we already know.
If you are happily locked into Amazon's system, then you'll enjoy playing Amazon Prime music and video content on the Show, and having video calls with other owners of the Echo Show and its small brother, the Echo Spot.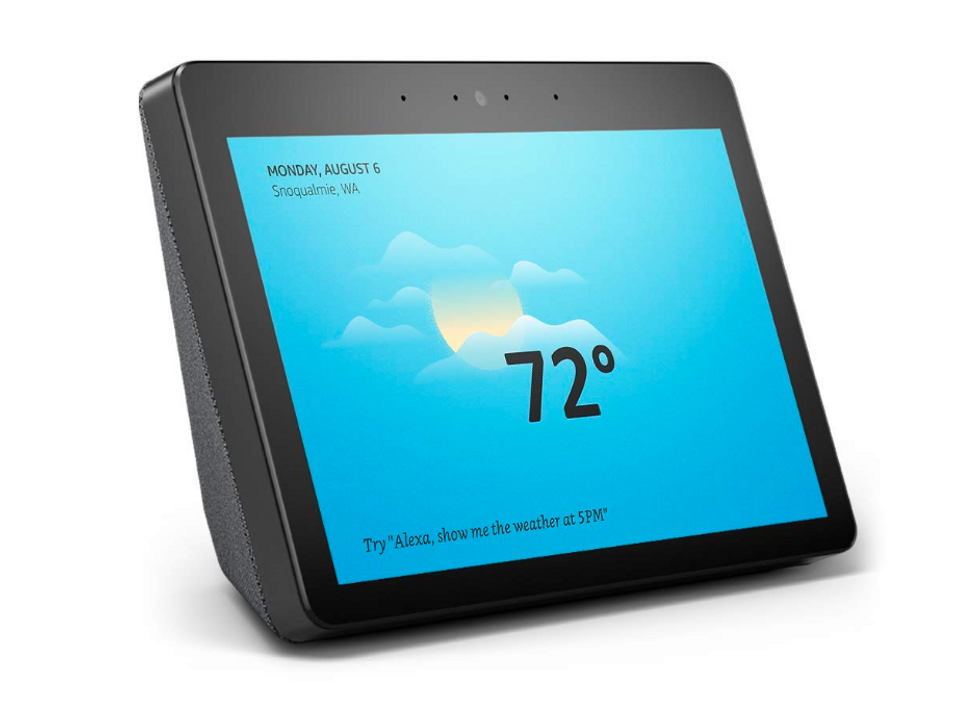 The new second-generation Echo ShowAmazon
We say locked in because, while the Echo Show can access Google-owned YouTube, it has to do so through a clunky mobile browser, limiting image quality and resolution, and completely removing any ability to control content by speaking to Alexa. You also cannot stream video from your smartphone to the Echo Show's display.
Portal

Next came Facebook with the ill-timed Portal — a device which launched with the Cambridge Analytica scandal fresh in our minds, and just days after Facebook admitted up to 90 million user accounts had been compromised in a separate incident. All of this comes the same year when Congress questioned CEO Mark Zuckerberg on Facebook's business practices, and its role in the distribution of so-called 'fake news' during the 2016 U.S. election and Britain's Brexit referendum.
Portal, a device which has some Alexa smarts but does little more than video calling and recipe presentation, was met with ridicule from consumers, cyber security experts, and the technology press — the latter keen to roll out that 1984 reference again.
For those of you who never read it or forgot, the 1984 reference you're looking for when talking about Facebook Portal is the "Telescreen" pic.twitter.com/iTD7xGR5Lw
— Christopher Mims 🎆 (@mims) October 8, 2018
To its credit, the Facebook Portal appears to be a smartly designed device which, if all runs smoothly, could certainly carve out a small market for itself. We can see many people appreciating having the smart screen at their bedside, and with a simple "Portal, call my son/daughter/neighbor" get an instant HD video connection to family, friends or even assistance without a smartphone or computer required.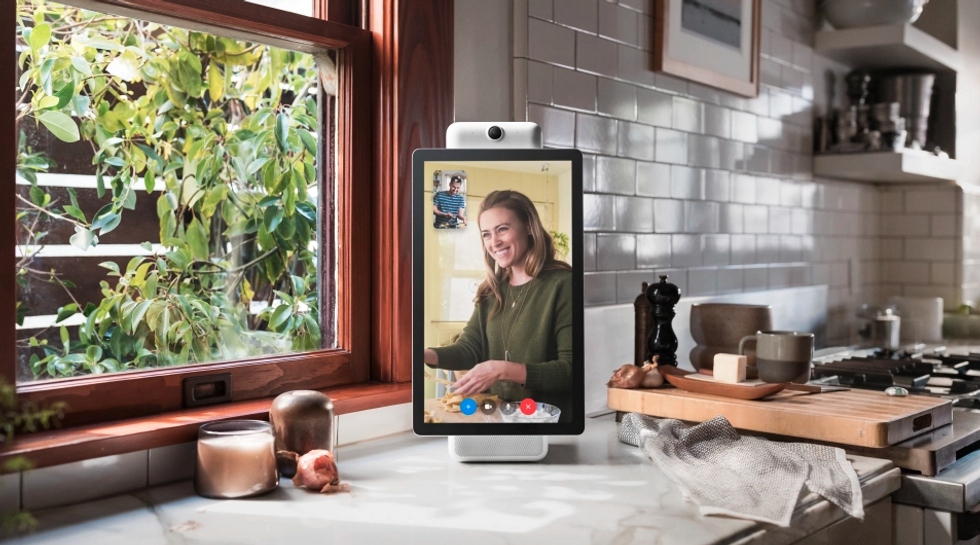 The larger Portal, with a 10-inch screen, costs $349 Facebook
For social media-agnostic users — those who don't want to be locked into any one site — it seems a tall order to expect them to pay $199 or $349 (depending on screen size) for a Portal, when they likely communicate with friends and family across WhatsApp, Instagram, Facebook, Snapchat, iMessage and Skype — plus texts, calls and email. Also, it is a strange move for Facebook to omit WhatsApp and Instagram (both of which it owns) from the Portal's skillset.

What's most impressive (if Facebook's demos end up matching reality) is how the Portal's camera zooms and pans to keep the person speaking neatly in frame. If someone else enters the room and sits next to them, the view widens to accommodate both. If you walk across the kitchen, the camera (without physically moving) will smoothly follow you.
But for all the tech wizardry going on here, Facebook is quick to recognize its sketchy relationship with user privacy (and recognize issues shared across web services generally) by including a physical cover for the camera.
It's likely Facebook means well by this, of course, but take a step back and observe the situation here. A consumer device intended to merely help you keep in touch with loved ones has to be shipped with a way to physically block the exact feature you bought it for — just in case. As wholesome as it may be to have video chats with grandma, devices like these from companies like Facebook carry with them the nasty and unshakable feeling that something could go wrong. (See our full review of Portal and Portal Plus from Facebook here.)
Home Hub
A day later, Google announced the Home Hub and made clear its position on potential webcam hacking; there is no camera at all.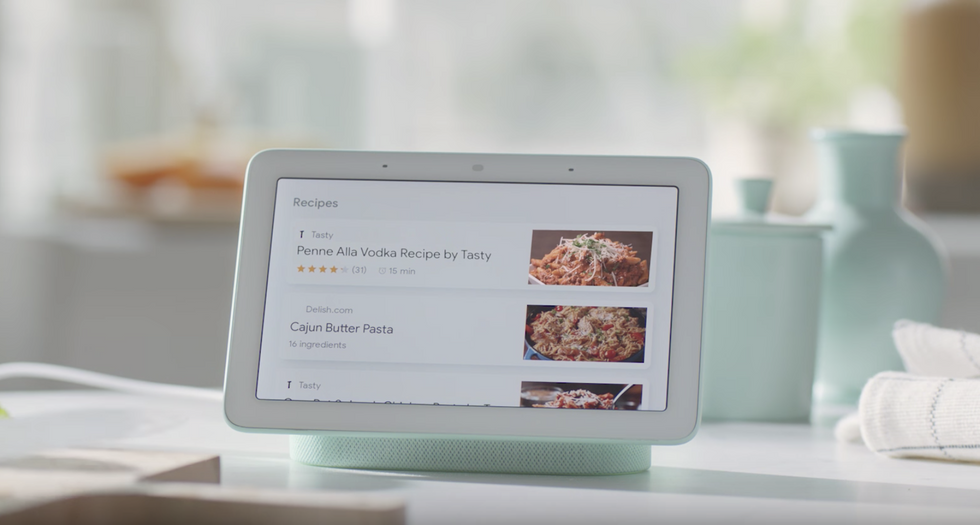 The $149 Home Hub by Google does not have a camera Google
Instead of being a communication device, the Home Hub — which undercuts its rivals at $149 — is a command center for your smart home and an assistant for the lives of everyone who lives there. Just like the Echo Show, the Home Hub is basically the Google Home smart speaker with a touchscreen display on top.

As well as controlling your smart home — as you can with Alexa on the Echo Show — the Home Hub has Google Assistant and YouTube. There's also the ability to recognize who is talking, then serve up the correct calendar and other personal information. (Check out The GearBrain, our smart home compatibility checker to see the other compatible products that work with Google Home and Home Mini.)
From first impressions, we feel Google has the clearest view of what a smart display should be, while Amazon is in danger of throwing away its early lead by trying to offer a bit of everything; Prime Video on the Echo Spot's 2.5-inch screen, anyone? How about video calling with a device designed for the bedside table? Thought not.
Then there's Facebook and Portal. If this smart screen had launched a couple of years ago — before the scandals and user growth in some markets began to fall — we could see how it would have made sense. Even if Portal wasn't a huge success with consumers, the device could have gone done well with users of Facebook Workplace, the social network's service for businesses, as a video conferencing tool.
But the scandals mean that ship has surely sailed, leaving Facebook and Portal behind in choppy and uncharted waters. Portal has Alexa, but it seems unlikely that the social network would use this to pivot and make a bid for the smart home — would you trust Facebook with your door locks and security cameras? And although Portal has Facebook Watch, its video-on-demand service launched in 2017, this feature lags far behind rivals Netflix and YouTube.
Google, the one to beat
A survey conducted in August this year by TDG Research, a media research company, found that, of 1,632 US adults, half had not heard of Facebook Watch, 25 percent had heard of it but never used it, and just 14 percent use it at least weekly.
Facebook could use Portal and Watch to launch a service where friends watch shows together online, but this would require Portals being sold en masse, Facebook Watch gaining shows to rival Netflix and Amazon, and for viewers to all sit down and watch content at the same time. In a cord-cutting world, where few watch a scheduled TV show, and most prefer to binge an on-demand series at their leisure, this seems unlikely.
While smart assistants still feel like fresh technology, we're now seeing the idea of what they could be change. Smart speakers to start, now smart displays — and an endgame that's unknown. The winner between Amazon, Facebook and Google is uncertain for now, but on first impression we think this could be Google's race to lose.
From Your Site Articles
Related Articles Around the Web
Like GearBrain on Facebook