Wacom, a technology company founded in the early 1980s, has over the past couple of decades produced powerful pen displays and computer drawing tablets, which for the most part, have been targeted at creative users — everyone from painters and illustrators to 3D animators and digital artists. And it's those artistic and creative workers who have, by and large, embraced Wacom accessories, from the largest touchscreen monitors down to the smallest computer tablets.
I had a chance to review the Wacom Intuos Pro S tablet, model number PTH-460, which has a list price of $249.95, and one of the more affordable tablets in their product lines, since the larger displays can cost a few thousand dollars or more. This tablet also comes in an "M" or medium version and "L" or large version, which are both bigger than the S versions, but cost more.
Here's what I found when I reviewed this small Wacom tablet.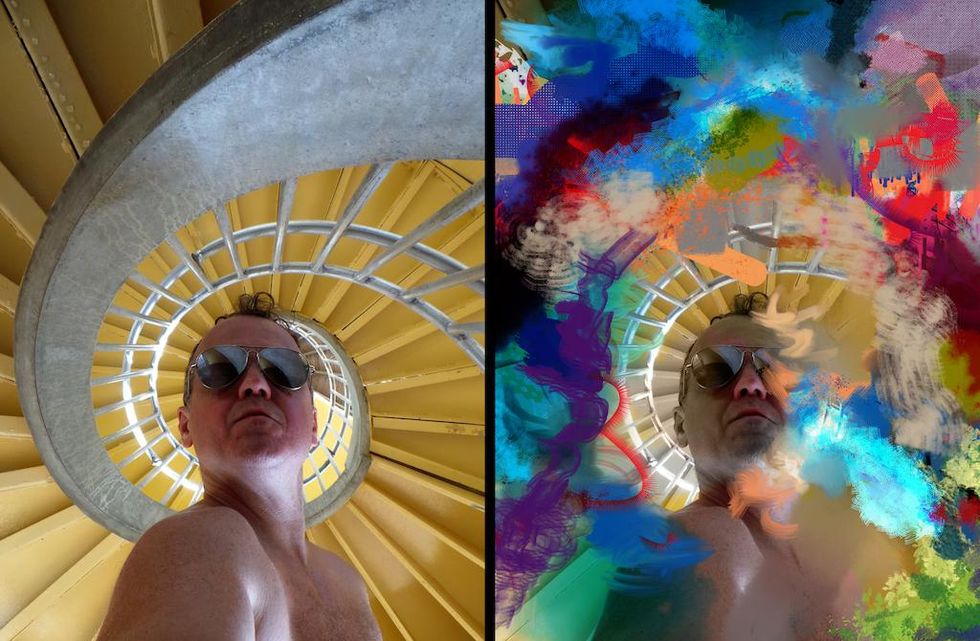 This image shows that you can also add all kinds of painting-style marks to a photograph, as well as mix colors and patterns together, drag or layers color and texture on top of photos, and more.Terry Sullivan/GearBrain
In the box and setting it up

The product box ships with the tablet itself, which measures 10.6 x 6.7 x 0.3 inches and weighs just under 1 lb. It also comes with one of Wacom's special pressure-sensitive pens, Wacom Pro Pen 2, which does not need batteries, so you won't have to remember to change them. Plus, you get a pen stand (which has six standard nibs and four felt nibs inside it) and a 6.6-foot PVC-free USB cable, which is reversible, so it works for either right- and left-handed artists. Additionally, it comes with a quick start guide.
Like nearly all Wacom tablets, it's compatible with both PC laptops and desktops (running Windows 7, 8.1 or 10 (32 and 64-bit) operating systems or macOS 10.12 or later). To set it up, you can connect wireless via Bluetooth. You can also use the USB-A-to-USB-C cord to set up a wired connection to your computer. You'll also want to make sure to download and install the driver (go to www.wacom.com/start -- URL: https://www.wacom.com/en-US/support/getting-started ) in order to make your tablet work.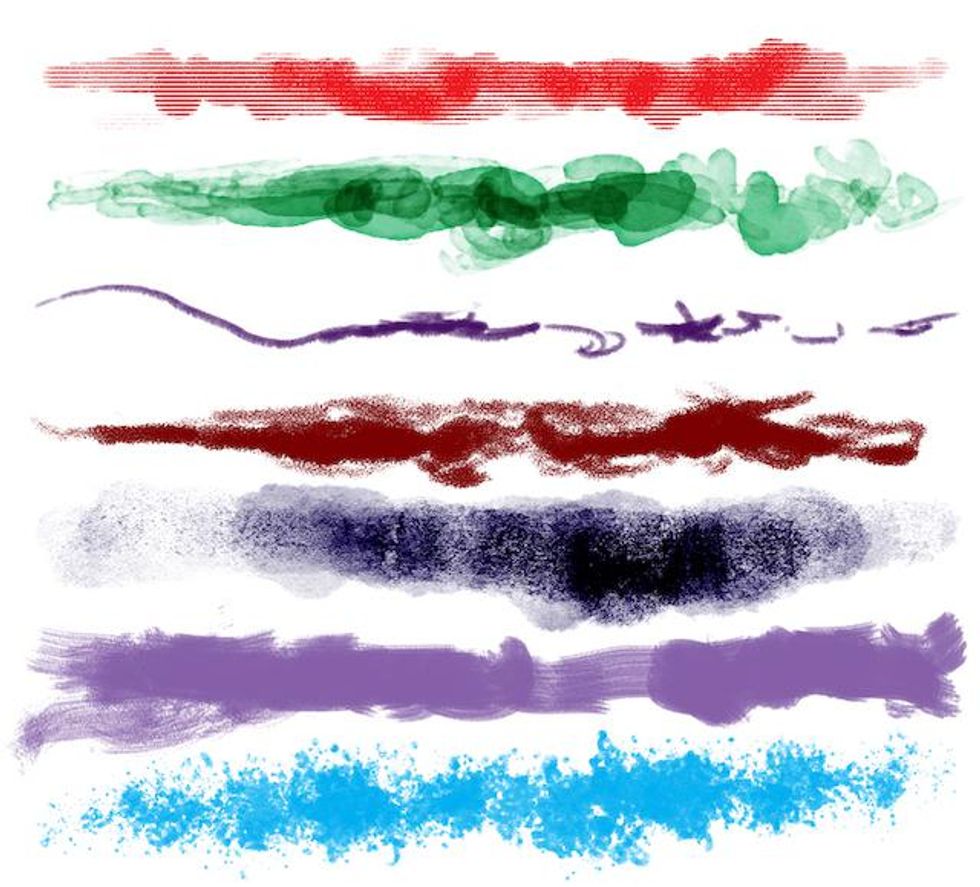 Here's an example of how sensitive the Wacom tablet's pen tool is, using several different brushes in Adobe Photoshop. You can see how light or how heavy a particular mark can look, depending on how hard or softly you press down on the pen. Terry Sullivan/GearBrain
Here's an example of how sensitive the Wacom tablet's pen tool is, using several different brushes in Adobe Photoshop. You can see how light or how heavy a particular mark can look, depending on how hard or softly you press down on the pen.

Features

There's a unique aspect to Wacom's ecosystem of touch tablets, monitors, computers, and other devices that make them well suited for creatives. Plus, they last!
And while they're not the only touch devices on the market, I'll say they can really make a difference in how you create your work. As a multimedia artist, who not only works with digital graphics and imaging programs, like Adobe Photoshop and Adobe Illustrator, but also with Adobe After Effects, which is used for motion graphics and animation, and music creation software programs, like Propellerhead Reason, I am well-versed in many ways to create multimedia content on computer, tablets, etc.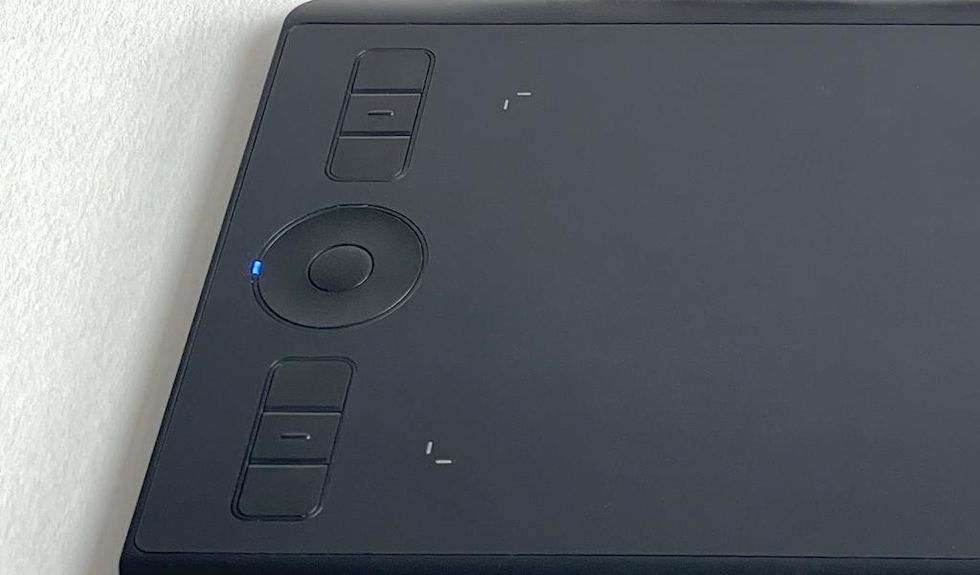 The Wacom Intuos Pro S tablet includes six customizable express keys and a zoom control wheel.Terry Sullivan/GearBrain
For most of these programs and many others, a Wacom tablet can in many cases help your workflow: It's easier to draw or digitally paint for artists; photographers can use it to help make corrections, like retouching portraits or for using the healing tool, to touch up blemishes and dust marks; 3D artists and animators have many options using the Wacom tablets and displays to help increase their workflow, from making quick sketches to setting parameters in particular programs. And that's just a few of the case studies I can think of off the top of my head.

Additionally, I've recently learned that it's even being used in the music industry who are using it to help create musical scores and set parameters on those software programs.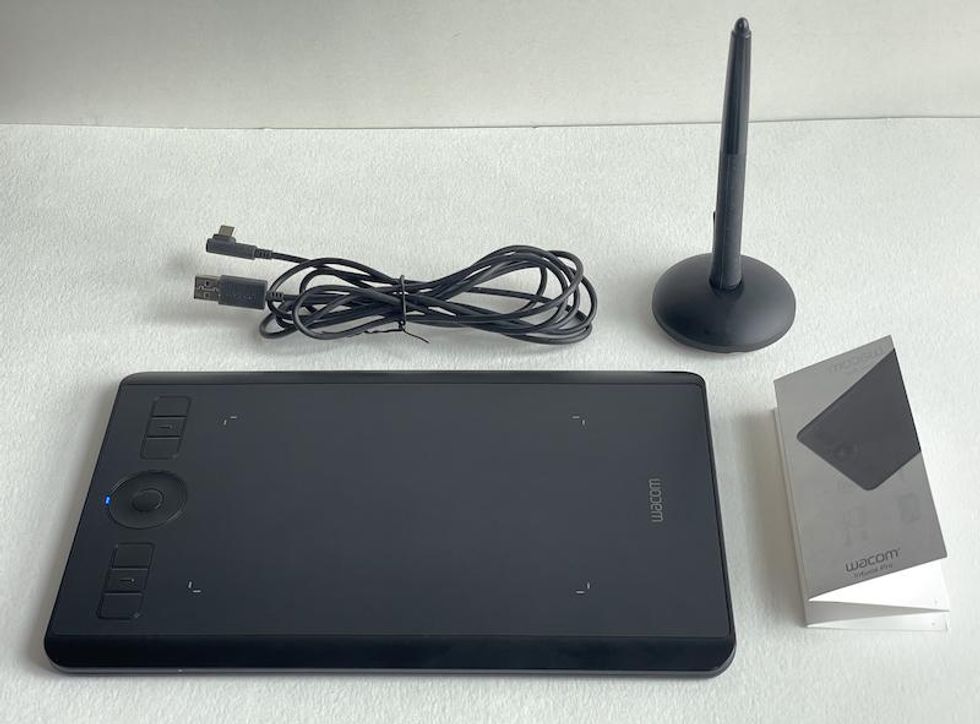 The Wacom Intuos Pro S tablet includes the tablet, USB-C cord, pen, stand and a quick start-up guide.Terry Sullivan/GearBrain
One way Wacom pens and tablets help creative pros is that the pens are pressure sensitive. That means when you press down on the pen, the resulting pens stroke that appears on your computer will be lighter or darker in tone, depending on how hard you're pressing down on your pen. But this isn't the only parameter you can set—the pen can also be tilted and the line or stroke will change, and you can turn the pen over and use the other end like a virtual eraser. I found all these work quite well on the new model— although the actual working space on this tablet is small, just 6.3 x 3.9 inches.

There are also short cuts or express keys that are found on the tablet (six express keys) and the pen (it has two express keys) that let you bring up the settings section, step-back or undo and many other settings. There's also a zoom key, for zooming in or panning out of a section. Additionally, you can enable the screen to be touch sensitive—there's a switch on the side to turn this on and off—which allows you to rotate or move the paper around. All of these features worked as expected and without flaw.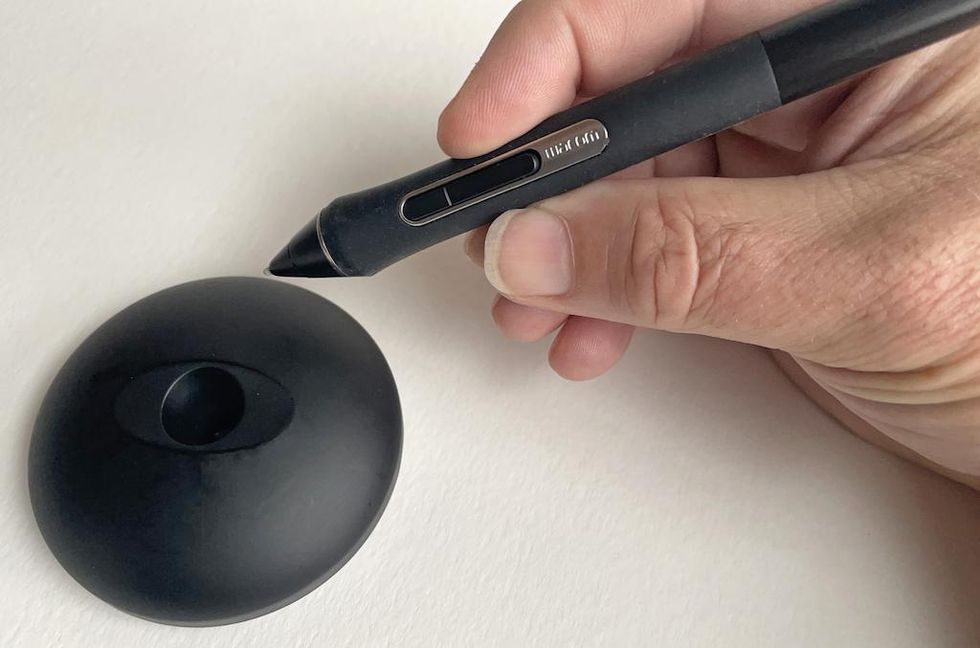 The Wacom pen itself includes two additional customizable express keys.Terry Sullivan/GearBrain
Price and is it worth buying?

This $249.95 tablet might seem a bit pricey for some, but it's well-built and can be used across many different software programs. Some production artists, photographers, and others might find the Wacom Intuos Pro S tablet a bit small for their workflow, by and large most consumers might find it a very good size, particularly if you've never used one before.
As someone who has owned a couple of small Wacom tablet for years, I can attest to the fact that Wacom tablets are among the sturdiest and well-made products in the electronics industry. (It also comes with a 2-year limited warranty.) So, although it might seem a little pricey for such a small tablet, it will be useful to many people's workflow.
For more on this Wacom tablet, go to https://www.wacom.com/en-us/products/pen-tablets/wacom-intuos-pro
Pros:
Easy to set up
Very portable
Can be used wirelessly via Bluetooth
Using a Wacom tablet to help expand the types of images you create
Ergonomic pen and tablet, for both right- and left-handed artists
Cons:
Might be too small for some, particularly illustrators and digital artists
Some might find there to be a steep learning curve