Lenovo tablets are well-known in the Android space as solid devices that can support work from email to video watching and more. The Lenovo Smart Tab M10 HD falls into this category, a $130 device that also doubles as an entertainment tablet for children when that mode is activated.
Lenovo sent us one to test, and we used it specifically as a second screen, while also looking at how the tablet could be put into play for children by parents.
In the box
The Lenovo Smart Tab M10 HD tablet with Google Assistant is an Android device. Inside is Dolby Atmos, an octa-core chip, two speakers, plus an 8MP rear camera and a 5MP front camera, solid enough for video conferencing and even quick photo taking. This is the more affordable cousin to the Lenovo Smart Tab M10 FHD Plus with Google Assistant, which retails for $280 — more than twice the price of this tablet. And a counter to the Lenovo Smart Tab M10 with Alexa Built-in.
In the box you get the tablet and a stand that doubles as a charger, which when placed inside is angled well for web conferencing as well. There's also a charge cord and you do get the actual end piece that goes into the outlet, a nice little add since a lot of device makers are not including those today. (Yes, we're talking to Apple.)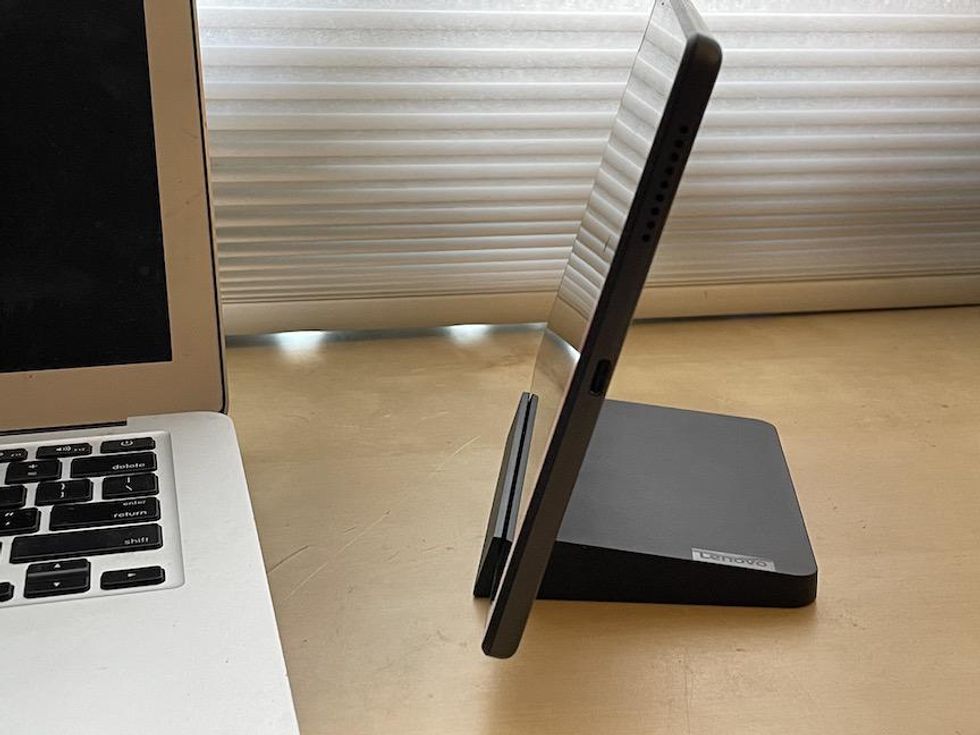 The stand doubles as a charger but is useful when launching video conferencing meetingsLauren Barack
Setting up

Setting up the tablet is pretty straightforward. You're going to need to set aside a bit of time to update apps and also the operating system.
You can set up the device with three different modes — as a personal device, as a company or business device, and finally launching Kids Space, which makes it a tablet for children.
Kids Space basically turns the tablet into a child-friendly device, with apps and activities age-level appropriate. But you're going to have to decide immediately at set-up if this is how you will use the Smart Tab.
Google Assistant is baked into the tablet, but only if you have a personal account attached. But if that's how you're planning to use the Smart Tab, the voice assistant can be summoned by using "Hey Google," after you set up Voice Match, and from there help bringing up small details like the weather and even search the web.
Lenovo tablets are pretty consistent tablets that launch easily. I found the camera on the Smart Tab M10 really solid, although the speakers were fairly tinny and light, which I noticed pretty quickly during web conferencing. The stand doubling as a charger works well from a design perspective — it takes up very little room on a desk, but remains useful. And I've always loved how the Smart Tabs click right into place on the stand — you know it's set up to charge.
It's also easy to download apps to the tablet. That includes Google apps like Google Meet. Be aware that while this is a touchscreen, you need to use a physical power button to turn the screen on and off outside of screen saver mode.
Google Assistant did bring up a small wrinkle. To take advantage of this Google feature, you need to have a personal account on the tablet. If you've set this up as a business device, with a business email, you'll have to add a personal email account — and launch Voice Match — to unlock Google Assistant.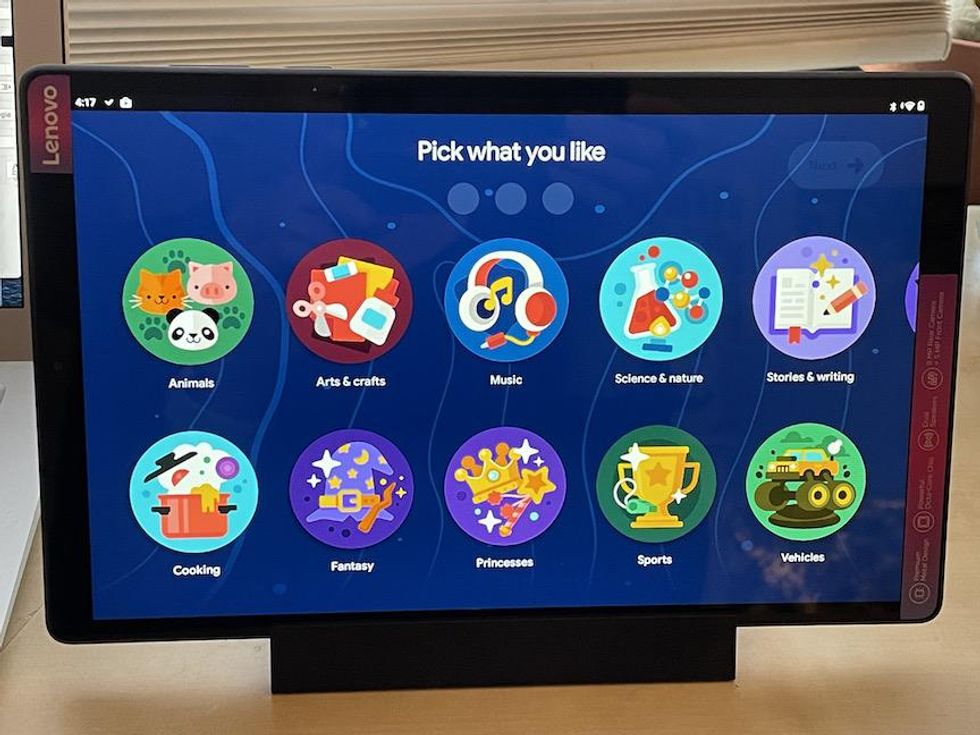 You can choose to use the Smart Tab for Kids Space, a dedicated children's environment with apps and games, or as a personal tablet.Lauren Barack
Kids Space

Kids Space is a feature on the Lenovo Smart Tab that creates a walled-garden environment for children, a digital space with apps and games they can play, without accessing the full extent of the tablet. But. To set that up, the child will need their own Google account — and it needs to be connected to a parent's.
In addition, the Smart Tab cannot be shared as a Kids Space device and a personal or business device. That means making a decision if you're going to be buying one for your child — or for yourself. If you've accidentally set the Smart Tab for personal or business use, and want to then launch Kids Space, you can, but only after going into settings, and scrubbing the entire device, putting it back to factory settings. Only then can you launch, and set up, Kids Space.
That's an expensive wrinkle, because even at an affordable price of $129, families will need separate devices if they want a device for themselves, and a tablet for their child.
Price
You can pick up the Lenovo Smart Tab M-10 HD tablet with Google Assistant for $129 on Lenovo's site and other retailers.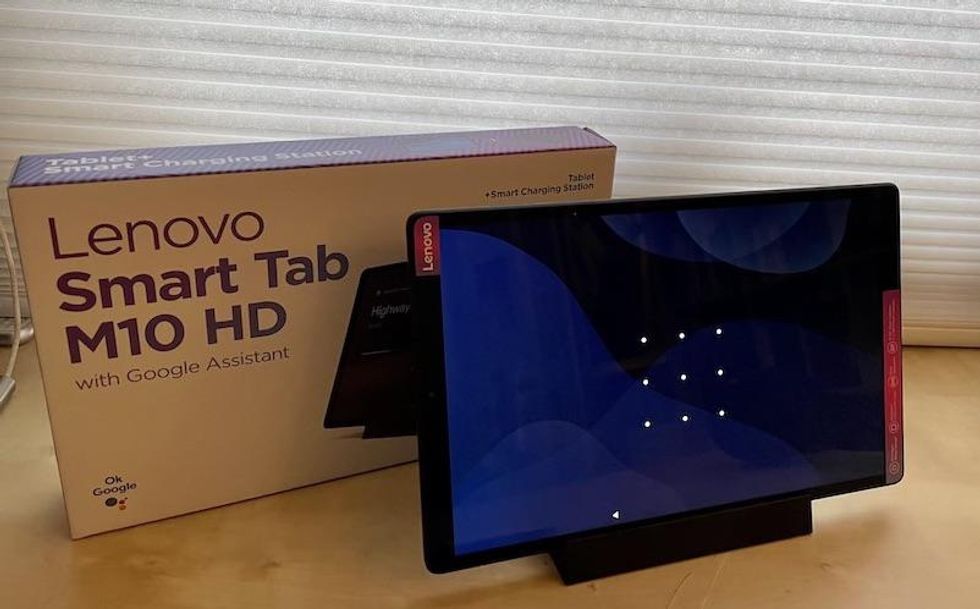 Lenovo Smart Tab M10 HD Tablet with Google Assistant unboxed.GearBrain
Worth buying
Is the Lenovo Smart Tab M10 HD tablet with Google Assistant worth picking up? Given how we're all still in a work-from-home environment, a second screen is a really nice thing to have. It might seem like a luxury but when we're all using web conferencing tools, and having to do all of our work on a computer, that second screen feels almost like a luxury. Having a device that can open up email, pull up news and video clips, and work as a dedicated video conferencing tool, while you keep work open on a laptop or desktop, is a solid addition to work life.
The stand is also well-designed, and if you're working in the Google environment with Gmail, a Google One account and such, the tablet dovetails seamlessly with those features and tools. That means you can tap in to all of those apps from syncing up your calendar to launching a Google Meet just by asking Google Assistant aloud.
But if you're thinking about buying this tablet for your child, and setting up the games and apps in Kids Space, remember that you won't be able to toggle between using it for them and yourself. Something to consider before bringing the tablet home.
Pros
Well designed with a charging stand
Can be used as a dedicated kids device for games and apps
Price
Cons
Using Kids Space means you can't use this as a personal device
Requires a Google account to use Google Assistant
Sound quality is thin
The GearBrain, First Compatibility Find Engine for Smart Devices www.youtube.com
Multi Business Shoulder Briefcase Bag for Lenovo M10 Plus, Tab P11 Pro, Tab P11, Smart Tab M10 HD