Like GearBrain on Facebook
Amazon is reportedly working on a new Echo device that is designed to mount on a wall and act as a smart home control center, complete with the Alexa voice assistant.
According to Bloomberg the device will retail for between $200 and $250, making it fairly expensive for Amazon Echo standards, and could potentially launch at the end of either 2021 or 2022 — an indication that it would debut at Amazon's annual fall Alexa event.
Read More:
The device is said to have a touchscreen measuring 10 or 13 inches, and be able to control smart home devices, play music and video, and offer video chatting with a built-in camera, just like Amazon's existing Echo Show smart displays.
This may sound a lot like an Echo Show, but we think wall-mounting an Alexa smart display turns it into an entirely new product; one that is far more integral to the foundations of a smart home system than a smart display on your kitchen counter.
Additionally, if the device is mounted with its wires hidden in the wall the screen will feel like a part of the home, just like a thermostat or light switch, and less like a device that is plugged into a wall outlet and considered a less permanent feature.
This would give Amazon an Alexa-powered Echo device to rival the wall-mounted smart home controllers from companies like Control4 and iDevices. And, given the relatively high expected price, Amazon is likely to give the display a sleek, premium design, potentially with an interchangeable bezel to help match the rest of the buyer's home.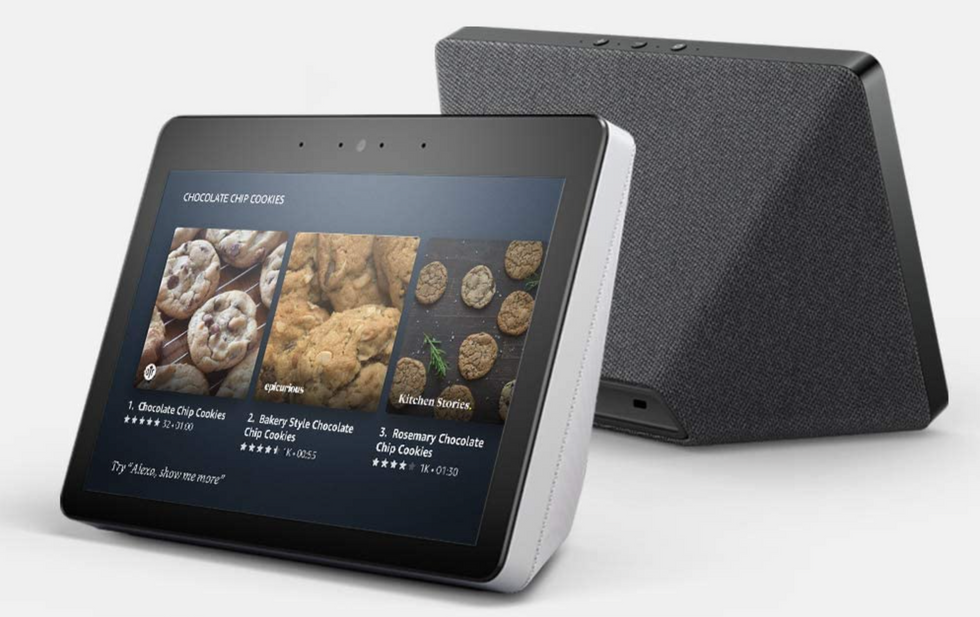 The unannounced device could function like the Amazon Echo ShowAmazon
As much as Amazon, Google and Apple want to train us to use smartphone applications or voice assistants to summon music and control our homes, consumers often feel there is something far more natural about interacting with a device on the wall, especially when it comes to adjusting the lighting and HVAC.

Tapping a playlist suggested by Alexa while entering a room, then having it play from every Echo speaker in there, would also be a nice touch, and a display fitted by the front door could act as a useful way of arming and disarming an alarm system. It also wouldn't be a surprise to see the camera (or perhaps ultra-wideband technology) used to recognize who just walked past, then adjust the house to their personal preferences.
Amazon may also integrate such a device with its Ring video doorbell company, where the homeowner could speak with a visitor without digging out their smartphone or asking Alexa to open the doorbell camera on a TV or other display.

If it goes into production, this would be Amazon's first wall-mounted Echo device. While third-party firms have created small shelves for Echo Dot speakers, and Google's Nest Mini features a hook for hanging on a wall, Amazon hasn't taken this approach just yet.
There is a lot of potential here for the seemingly small step of moving Alexa from an Echo Look on a shelf to a display mounted up on the wall — certainly a bid by Amazon to turn Alexa into the way to control your smart home, be it by voice, app or wall display.
Check out The GearBrain, our smart home compatibility checker to see the other compatible products that work with Amazon Alexa enabled devices.
Introduction of The GearBrain, The First Compatibility Find Engine for Smart Devices www.youtube.com
Like GearBrain on Facebook