We've tested many smart home systems over the past few years, but a professional installation is not as common. We were offered the opportunity to test Control4's new operating system, the Smart Home OS3, in a real home (not a lab or the office). Control4's system connects to thousands of smart devices no matter what wireless protocol the devices uses. Here is how we found Control4's system and one of their starter kits.

In our previous Control4 review article, we talked about our experience with the installation process. Control4 set up its new entry-level system, powered by its new operating system Smart Home OS3. Now, we are going to focus on our experience with Control4's Smart Home OS3 system.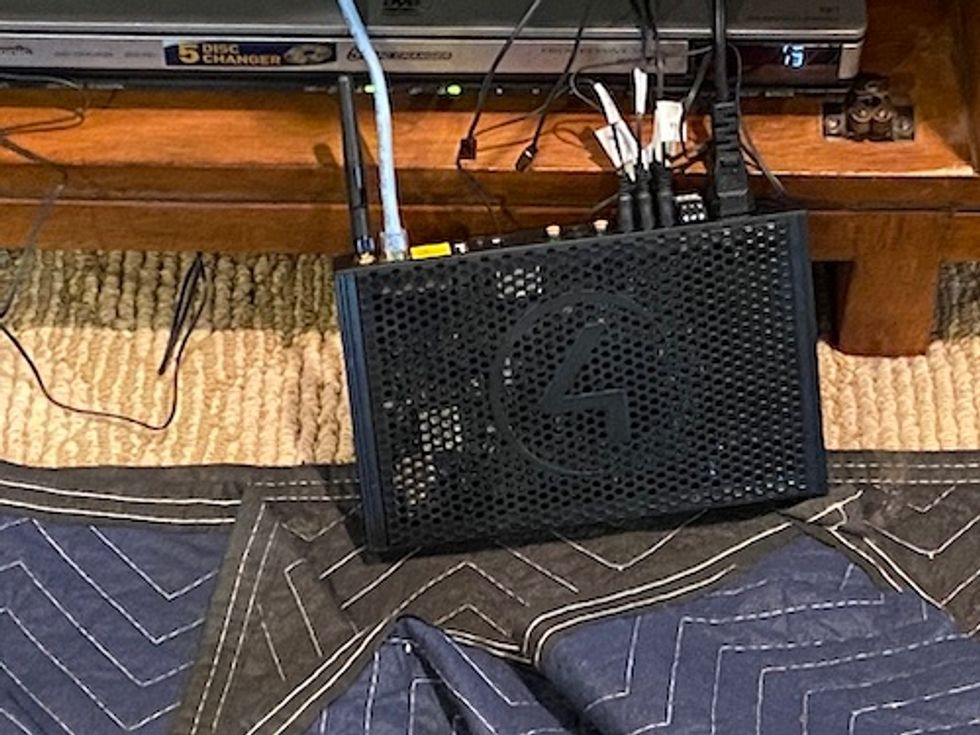 Control4 EA-3 Controller is compact and connects all your devices to Smart Home OS3 platformGearBrain
What is Control4 Smart Home OS3
Control4's new Smart Home OS3 is what's called an open platform, and are the brains of Control4's system. The platform communicates between smart devices in your home, helping you create a custom experiences in your home by connecting with just about any consumer electronic device, even if it doesn't have internet capabilities.
Control4's new platform is housed inside a Control4 controller. While the company has a variety of controllers, for our test, Control4 installed the EA-3 Entertainment and Automation Controller. It's very compact and looks like a network switch, easily positioned behind your electronics or TV, as long as you have a long Ethernet cable. The controller is designed to manage multiple rooms, along with high-resolution audio and smart home automation for small to mid-size homes. According to our Control4 installer, it's a good entry level controller and perfect for our test house. It controls infrared devices, provides a nice on-screen interface and has built-in streaming services.
Wi-Fi needs
As we tested the Control4 Smart Home OS3, we found how important it is to have a stable and powerful Wi-Fi network to run Control4 Smart Home OS3 effectively and efficiently — especially if you are connecting a lot of devices. When we first installed the system, we kept losing connection between our router and Control4 controller, which, according to our Control4 installer, was because of our Wi-Fi network setup.
Adding a NETGEAR switch helped, while also improving the connection to smart devices like the Philips Hue Bridge and the Vivint Smart Home Security system. If you have a lot of smart devices, and plan to control them through Control4, make sure you have a good broadband connection and stable network. If not, consider getting a network switch to wire your devices to your router.
Smart home connections

Control4's Smart Home OS3 is an open platform, which means you can integrate over 14,000 devices, both smart and dumb, from over 300 brands. Smart devices are those that connect to the internet through a wireless connection, from smart locks to smart lights, plugs to thermostats, HVAC systems to smart speakers and more. Dumb devices are those that need a help in connecting to the internet.
Control4 uses IR readers to connect these dumb devices online, and we liked how we could keep our old, but effective, consumer electronics, like a CD/DVD player or a tape deck, and add them to the platform. Your Control4 installer will set everything up for you and customize access to these devices and automations for your home.
For our test, we added Philips Hue smart lights, a Nest thermostat, Amazon Fire Stick and Amazon Echo devices. Our Control4 installer set up everything on the platform and then connected these to the Neeo remote. We were also able to control everything through Amazon Alexa.
The commands were simple, but in some cases limited. For Hue lights, we could only turn them on and off, and could not change the lights' colors. We had to use the Hue app to setup our scenes, change light colors and run automations. For the Nest Thermostat, we had more functionality. We were able to change the temperature in the room, and also set schedules, set away status, and run other features all through the Neeo remote, voice commands and the Control4 app.
Basic controls for our Philips Hue smart lights in Control4 app and with NeeoGearBrain
Control4 app
The Control4 app can be used to control your home — even if you're away — which is a nice feature, especially if you have devices outside. You're not going to want to take your Neeo remote outside to control music, lights or other connected devices in your yard or on the porch. The app is what you'll use in these instances and it works on an LTE connection, helpful when streaming music from your smartphone using ShairBridge (C4 Airplay), which is an app Control4 has built-in to its OS. The OS also lets you add your own music library, or music from Pandora, Amazon Music, Napster, Spotify Connect and SoundMachine as well as satellite radio stations using SiriusXM, Radio.com, Tidal or TuneIn. Again, your Control4 installer will set up everything for you in the app.
Main Screen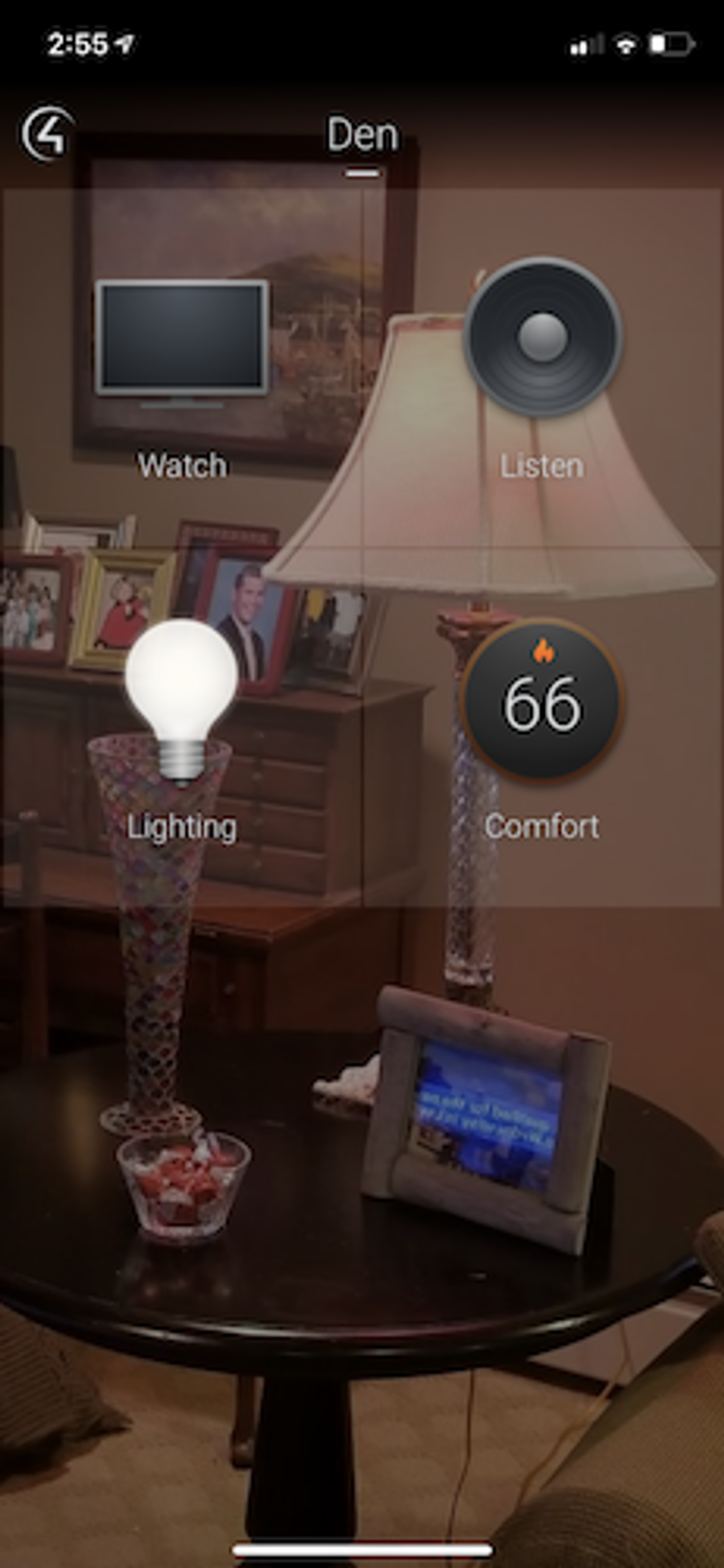 Main Screen for Control4
GearBrain
Watch Screen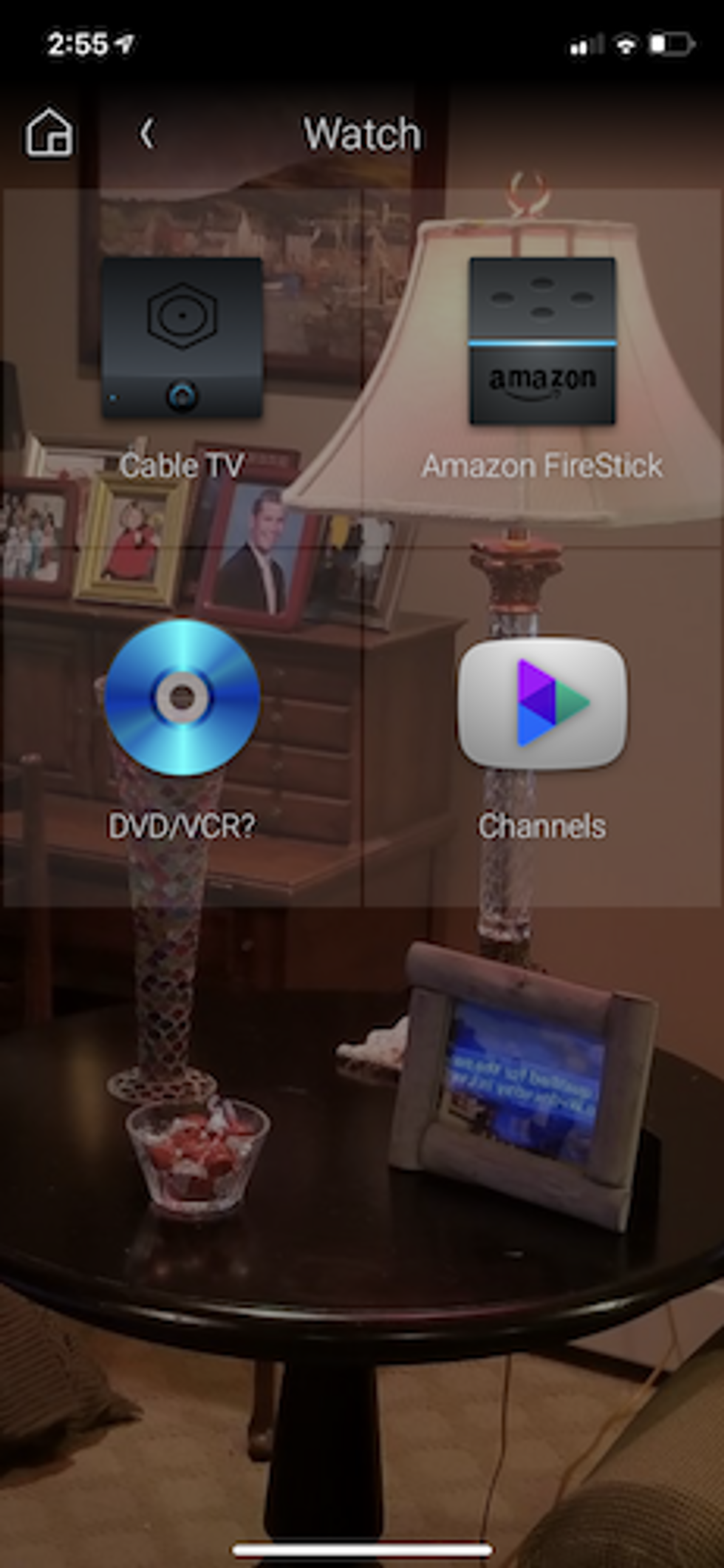 The watch screen in Control4 app and on Neeo
GearBran
Listen Screen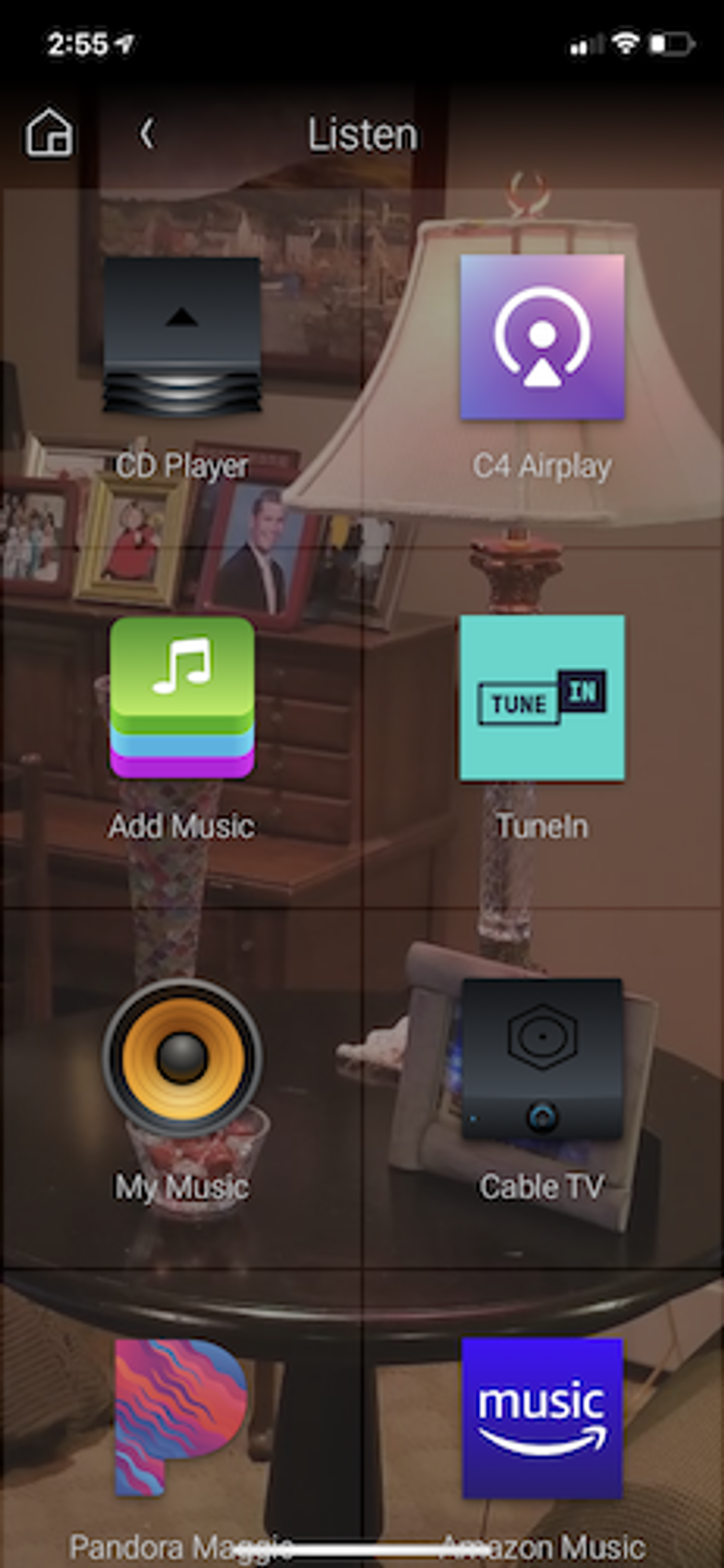 Stream music or connect to you CD player for music
GearBrain
Challenges
The Control4 Smart Home OS3 is powerful, easy to use and can control a number of devices to create a customized experience in your smart home. But there were some challenges. The first one was Google Assistant integrations. At the time of our test, Google had gotten rid of the What Works with Nest program and we were unable to link our accounts. However, on May 6, 2020 all that changed. Control4 announced Nest owners could migrate their Nest and Google Home accounts over to Control4 platform. You will have to follow specific steps to link your accounts which will take a few minutes. If you are a Google Assistant user, this is worth doing.
The other issue we had was with the IR readers. These readers are glued on to your dumb devices in order for Control4 to control them through the controller and app. There are chances these readers can detach from your consumer electronics. If they come loose or fall off, Control4 loses control of the device. We had IR readers on our cable box, DVD/VHS player, CD Player and AV Receiver. The IR reader on our AV Receiver fell off and we couldn't control the volume of our TV, which was coming through the receiver. We had to call our Control4 installer to come and help us reconnect the IR reader. If you have a lot of dumb devices you want to add to your Control4 system, make sure the IR readers are securely attached.
Overall, the Control4 Smart Home OS3 is the most commanding platform we have tested — and yet it's simple enough for even those customers who aren't especially tech savvy. But this comes with a cost. And, as we mentioned, you need a strong broadband connection and Wi-Fi network. If not, you will have system interruptions and you don't want to happen, especially when watching a movie with your family. The system is also expensive.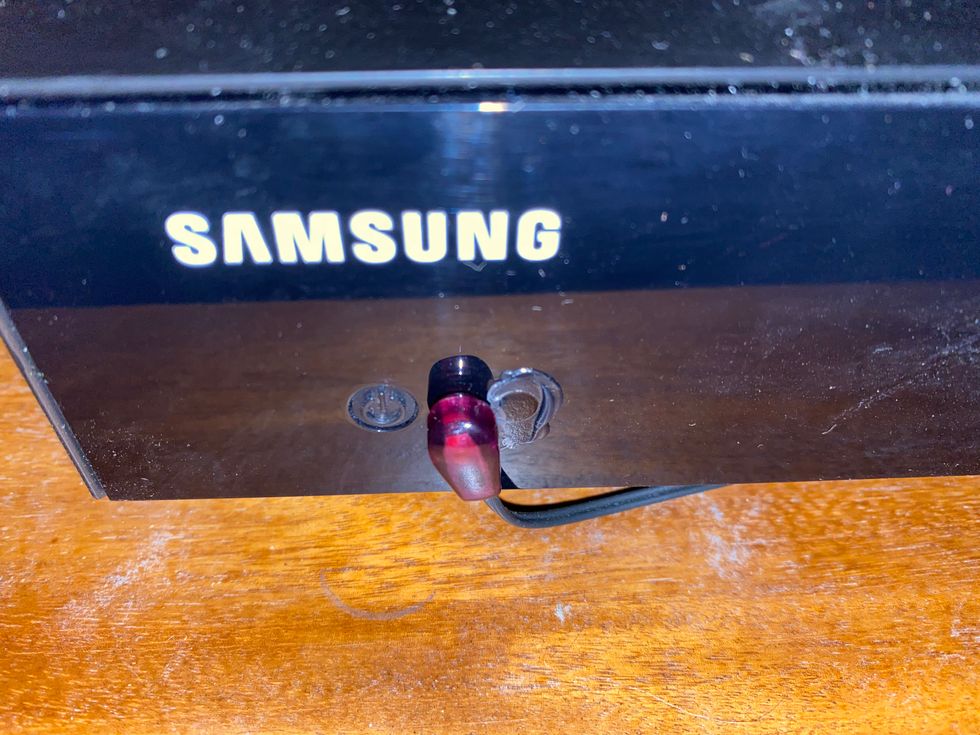 Control4 uses IR readers on consumer electronics that don't have a Internet connection to connect to their Smart Home OS3 platform.GearBrain
Cost
All of Control4 systems are designed to meet the needs of their customers. The cost of their systems is determined by a few factors, including number of smart home devices to be included with installation and how you want these devices to interact with Control4. If you have several smart devices, like a Nest Thermostat or LIFX smart lights, and want to use your phone or a tablet as a remote, the cost will not be that expensive. You would just need a basic Control4 controller (CA-1) which costs $350 plus pay for installation which would be a few hours. The installation cost is determined by your Control4 installer.
However, if you have devices that are not smart and want a remote control, things will get pricey. You will need IR readers to control these devices as well as upgrade your controller to one of the company's EA line of controllers. The basic EA controller is EA-1 and has a MSRP of $525. The most basic remote has MSRP of $250. When you add in the installation costs, the estimated cost for installing a Control4 basic system with remote can be over $1,500. For our test house, just the Control4 equipment was $1,700 (Neeo Remote MSRP is $600 and EA-3 Controller has MSRP of $1,100.)
Summary

For the past few years, I have been saying at some point that smart homes will have their own operating systems to control all of their devices, both smart and dumb. These systems will talk back to us just like Jarvis did with Iron Man in his house, car and while in his suit. Control4 system is a version of this, helping customers integrate their consumer electronics and home appliances together to build an OS for your home through its Smart Home OS3 platform. It might not be Jarvis exactly, but it's a good start.
The key benefits Control4 OS offers users today are ease of use and the ability to connect devices no matter their wireless protocol and customization. If you are looking for a do-it-yourself system for your home, Control4 is probably not right for you. There are some things you can do on your own with Control4, but primarily you're going to need a Control4 Installer to come in and fix issues or add devices. Control4 can also manage your network remotely — but, of course, that comes at a cost. But if you are someone who wants a pure custom solution, one that can be managed for you completely, Control4 is a solid solution. it can control your smart lighting, home security, smart thermostat, consumer electronics and more —creating a home designed just for you.
Pros
Ease of use - single touch or voice command control
Connectivity - connects with thousands of devices from 300 brands
Various controls - voice, remote control, app
Streaming music from your smartphone through ShairBridge
Cons
Price
IR readers can fall off dumb devices
Need installer to add devices to your system
Check out The GearBrain, our smart home compatibility find engine to find other smart devices and compatible products that work with Control4 enabled devices. You can also ask questions and troubleshoot any problems.
How to Find Products in The GearBrain, Our Compatibility Find Engine for Smart Devices www.youtube.com