Google's purchase of Nest is finally working its way into the ubiquitous mini smart speaker, the Mini, now called the Nest Mini. This rounded button of a voice box is still as cute as the Google Home Mini, and is also now in its second generation. The speaker comes in almost all of the same colors as before — but there are slight tweaks that make this a very solid upgrade, and one that may tip those who haven't bought a voice assistant device to take the plunge.
Read More:
What's new
The $49 Nest Mini is almost identical in look to the Google Home Mini, and both are powered by Google Assistant. Placing them side by side, it's practically impossible to actually tell them apart. The only way is to flip them on to their back to see a small wall mount on the new Nest Mini. That feature is a definite nod towards a trend of putting voice assistants in products that can get off a shelf or surface, like Amazon's Echo Flex, which plugs into an electrical socket, and now the Nest Mini.
GearBrain compares the Nest Mini to the Google Home Mini youtu.be
The plug is now different: say goodbye to the USB-C charger and hello to a standard charging cord. This isn't a big deal, but it is a lot easier to put the charger into the Mini as a USB-C has one side that's larger than the other.

The remaining features are those you can't see. To start there are three far-field microphones which means the ability for the Google Assistant to hear what you say is boosted quite a bit. For anyone who lives with other people (or animals) in their space — roommates, loved ones, children, barking dogs — this is a big plus.
The speaker is also just better. Music just sounds much (much) fuller from earlier Google Home Mini's with rounder tones, and some deeper bass as well. You're not getting a high-end speaker but for causal listening while working, while cooking in a kitchen, while doing projects in the garage, you're to going to feel cheated.
The improved speaker is actually a reason that puts buying a Google Home Mini into question: why is definitely improved. But be clear — this isn't a high quality speaker. Still, sound is much (much) fuller from the earlier Google Home Mini, and I would say is makes it an easy decision to buy the updated smart speaker.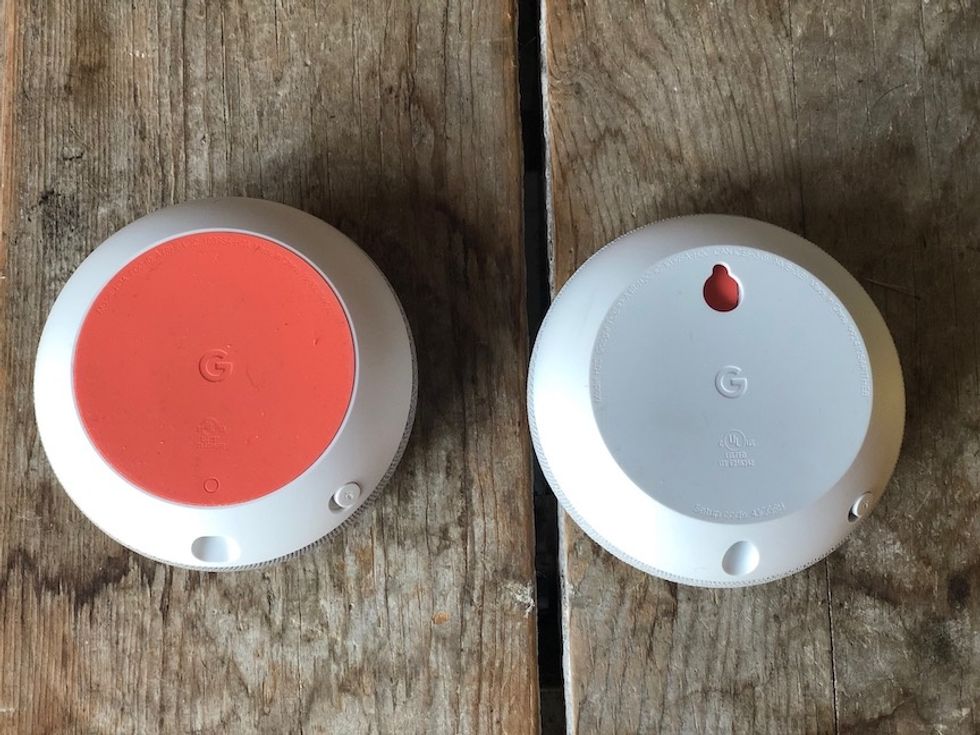 The Google Home Mini next to a Nest Mini smart speakerGearBrain
Installing the Nest Mini

Have Google Home installed on your smartphone? You're going to be up and running in minutes. One thing I did find odd as I connected the speaker to Wi-Fi? Google Home made me type in the Wi-Fi passcode, even though I tested this on a network going through a Nest Wi-Fi router — which was also connected, and controlled, through the Google Home app I was surprised that Google didn't just flow the password in as I added the Nest Mini to my network.
I also had to do an update to the system, which took about four minutes. Hardly a long wait.
If you don't have a Google Home device — and this is your first one — you're going to want to download that app to either your Android smartphone or iPhone, and then set up an account. After that, the app will locate and connect to the Nest Mini, and walk you through setting up features including voice match, and others.
Controlling the Nest Mini
There are gesture controls built into the Nest Mini, mostly the same as the old Home Mini, where you can tap the right and left to turn up or down the volume. Those buttons also light up nicely as soon as your hand is close to the speaker — about an inch or two from the device. But now you can also pause the speaker by just tapping the top, and have it start up again.
Google also makes it clear, as before, when the microphones are turned off and not listening. Slide the slider to the right so it shows orange and you'll also see the lights turn orange as well — and stay orange. Google will also tell you that the microphone is off as well. But remember that you need to have the microphone on in order to bring up Google Assistant. When you turn the microphone back on by flipping the slider, Google Assistant will also tell you the microphone is back on aloud, and the orange lights will disappear.
YouTube www.youtube.com
Should you buy one?

New to the whole voice assistant world? The Nest Mini is certainly a solid place to start, with an updated design that lets you get the speaker off your cluttered work space, kitchen counter or book shelf and on a wall. Sound playback is good — which means you won't feel like you're being cheated while playing music from the speaker.
Although the Nest Mini is priced regularly at $49, a number of deals are available during the holiday season, and we've seen it as low as $29. You can choose from charcoal, chalk, sky and coral colors.
Check out The GearBrain, our
smart home compatibility checker
to see the other compatible products that work with Google Assistant enabled devices.
Pros:

An extra far-field microphone makes it easier for Google Assistant to hear requests
Sound is definitely improved
Can now be wall-mounted
Cons:
Music options are limited, unless you subscribe to a service like Spotify or YouTube
You're not going to be able to use spare USB-C cables to charge
Didn't automatically connect me to Wi-Fi despite using Nest Wi-Fi for the test