Like GearBrain on Facebook
Updated October 17, 2017 There are plenty of augmented reality apps available for personal use — from testing out tattoos to looking at the night sky. WallaMe, though, lets you get other people in on the fun, an app that turns you virtually leave secret messages for friends — or anyone who wants to play.

Available on both the App Store and Google Play — so the whole iPhone vs. Android debacle won't be an issue here — WallaMe lets players draw or drop hidden AR messages on walls you find around you. There's a short guide when you first open the app, and you'll also need to create a username and a picture. But getting started really just requires finding a wall. (Really.)
First, use your smartphone you take a picture of a wall — or really any inanimate object that will be around for a while: a fence, the sidewalk, even an abandoned car. Make sure there isn't anything between you and the object.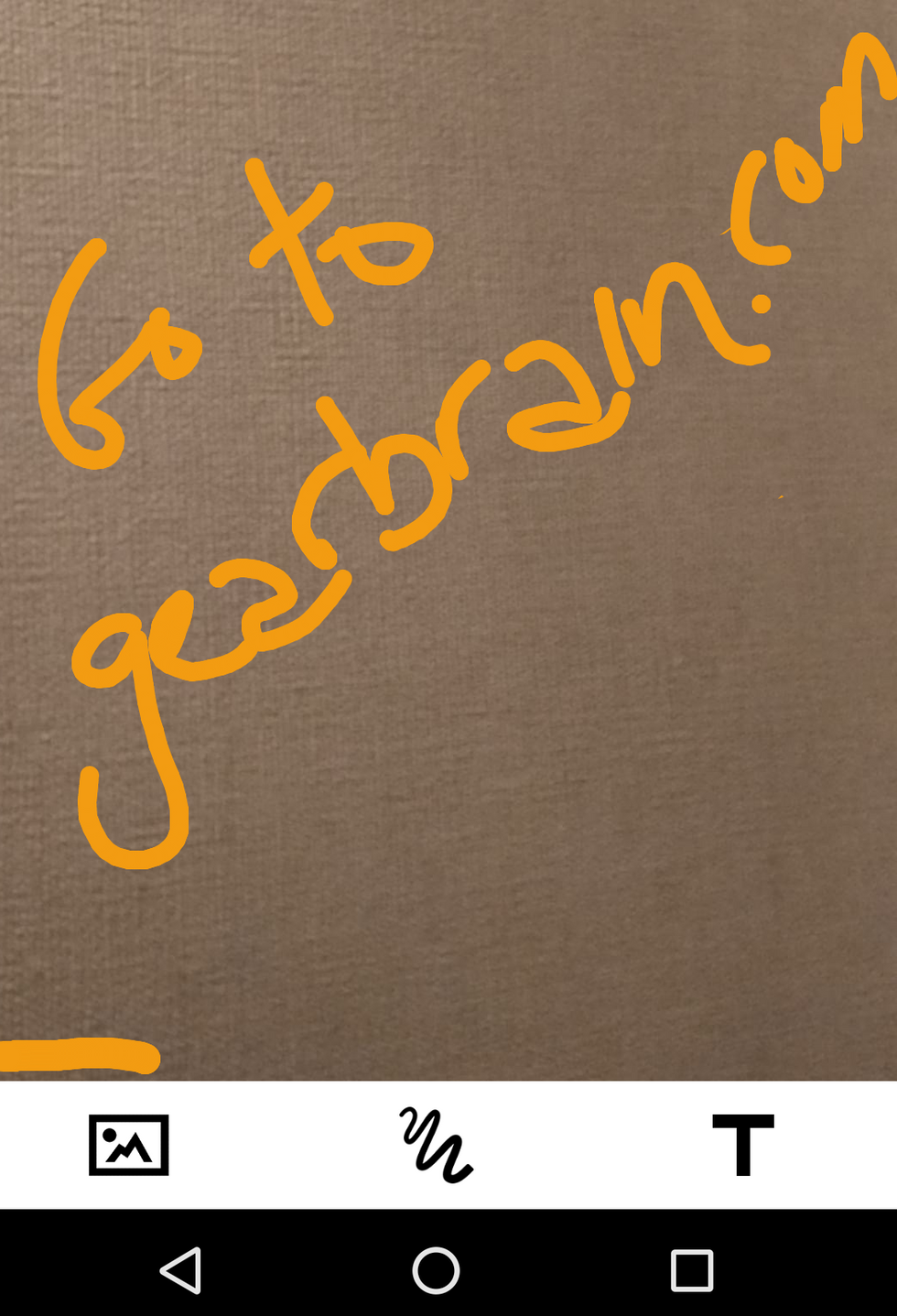 Draw any image through the app's tools, even place a picture of Spiderman, and place them virtually on your object.
Next, draw whatever you want on it on your phone using WallaMe's drawing tool, text tool or sticker option to customize your wall. The graphics and buttons are very simple and minimalist — perfect for people who hate too much going on on their screen. (Like, well, me.)
Finally, publish your image through the app. Options all you to share the message with everyone or just a select few people. You can tag a few friends, sending them a heads-up through the WallaMe app, or invite people from your contacts. Just remember, if you do choose to make the message public, anybody with the app can see it.
Voyeur
You can also view other user's messages in the public Walls tab. Find users on the Homepage and the Discover page, too. When you tap on the little eye button, the app allows you to search for walls around you with your camera, and even view AR images left in places far away.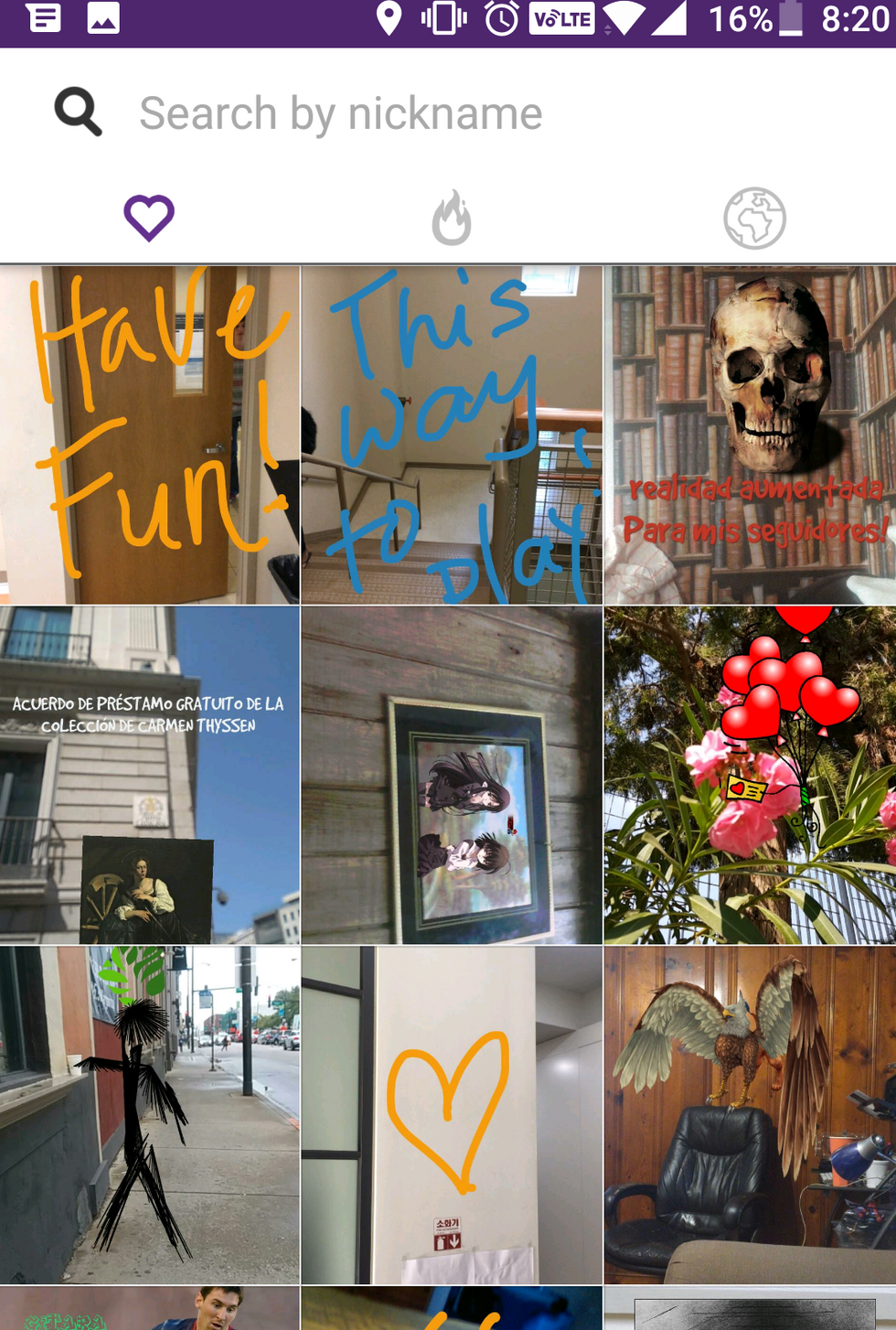 Players can search for messages left by other people in the app.
Using the eye feature on the message I created, I found the AR was a little bit sketchy. If you don't point your camera at the exact same location the picture was taken — at the exact same angle — the message will glitch around your screen until you do.
Still, I found the experience interesting — seeing other user's pictures from around the country and around the world. One user put Spiderman between two buildings in Chicago and another put Boo from Super Mario on a field somewhere in Reggio nell'Emilia. I guess the app can be educational too as a quick Google search told me the latter location is a city in northern Italy.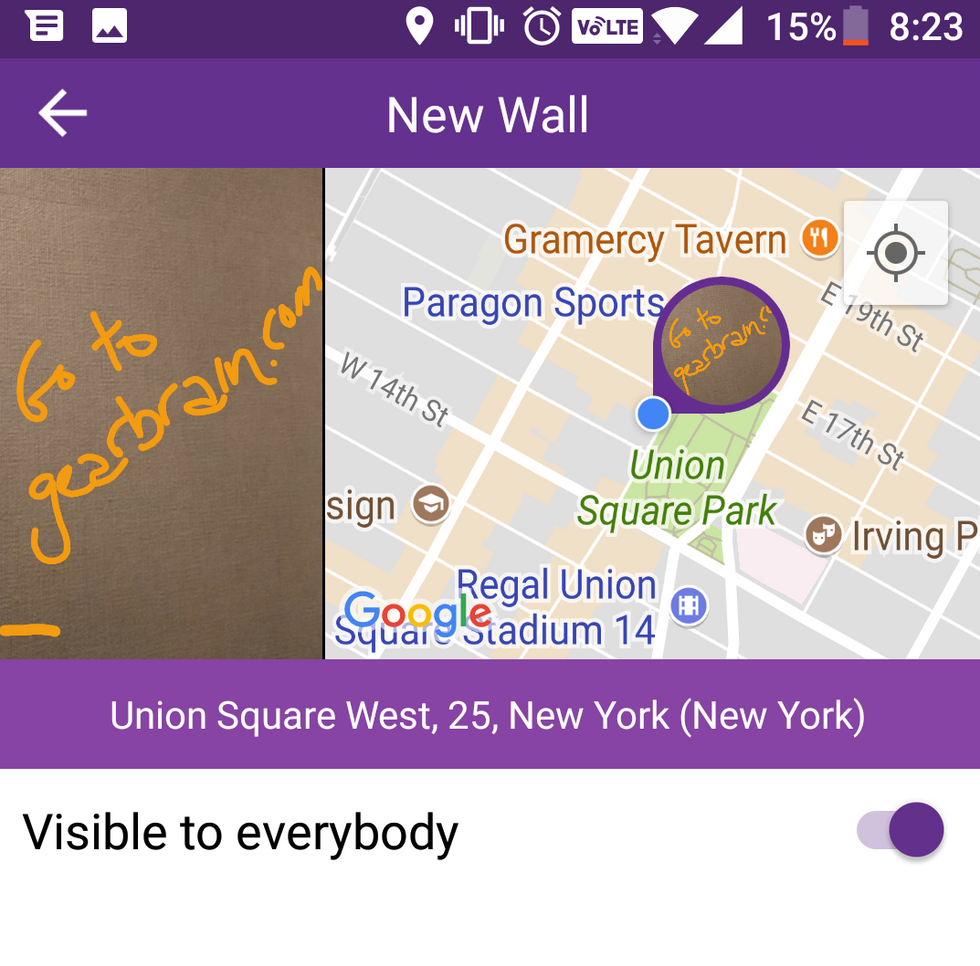 Wallame allows you to choose to make your image public or private.
Fun factor
Besides the thrill of leaving secret message, other appealing aspects of the app is that it's ideal for building a virtual scavenger hunt, likely draw people who enjoy geocaching and probably perfect for couples looking to leave notes on the sly. WallaMe is free, has fairly solid reviews from users, so besides the investment of time, there's really little to risk.
Pros: Creative idea, simple and usable interface, international reach.
Cons: Glitchy AR, not many users on the app yet, not even messaging tools.
—Amber Wang last wrote about best smart devices for your pet.
Related Articles Around the Web
Like GearBrain on Facebook