Growing up in a big family, my parents worried about my younger brothers and sisters opening up a cabinet in the kitchen or bathroom and getting into things that could harm us. Long before child-friendly locks, my parents would turn to string to tie the cabinet doors closed, later upgrading to plastic hooks. Now there's a smarter solution, a way to provide security but using a Wi-Fi connection to keep cabinet doors closed. Called the Yale Smart Cabinet Lock, we tested on to see how well it would work in a real home.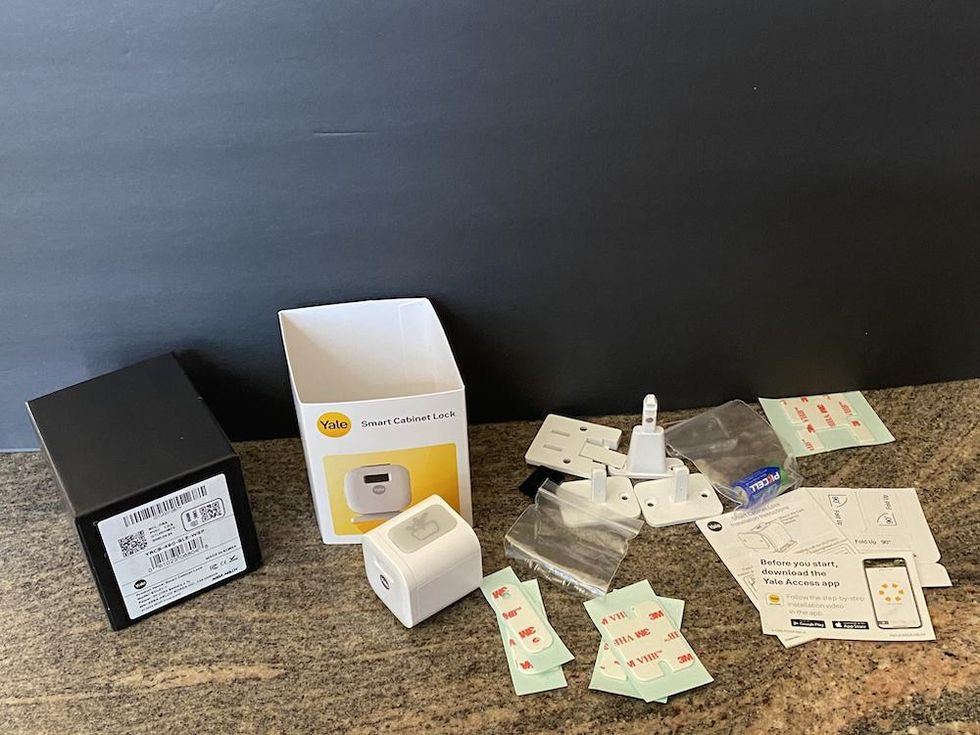 Yale Smart Cabinet LockGearBrain
What is the Yale Smart Cabinet Lock?

The Yale Smart Cabinet Lock is a cabinet lock that mounts on the inside of a cabinet or drawer. It helps to secure anything inside, and keep it out of hands of children — or anyone you don't want peering inside.
The lock works with the free Yale Access app, and over Bluetooth and/or a Wi-Fi connection. If you link over Wi-Fi, you're going to need a Connect Wi-Fi Bridge which Yale sells as an add-on device and then lets you remotely control and monitor the smart cabinet lock from anywhere using a smartphone or tablet. You'll also be able to connect the smart cabinet lock with three major voice assistants, Siri, Amazon Alexa or Google Assistant if you have a smart speaker or device that supports these in your smart home.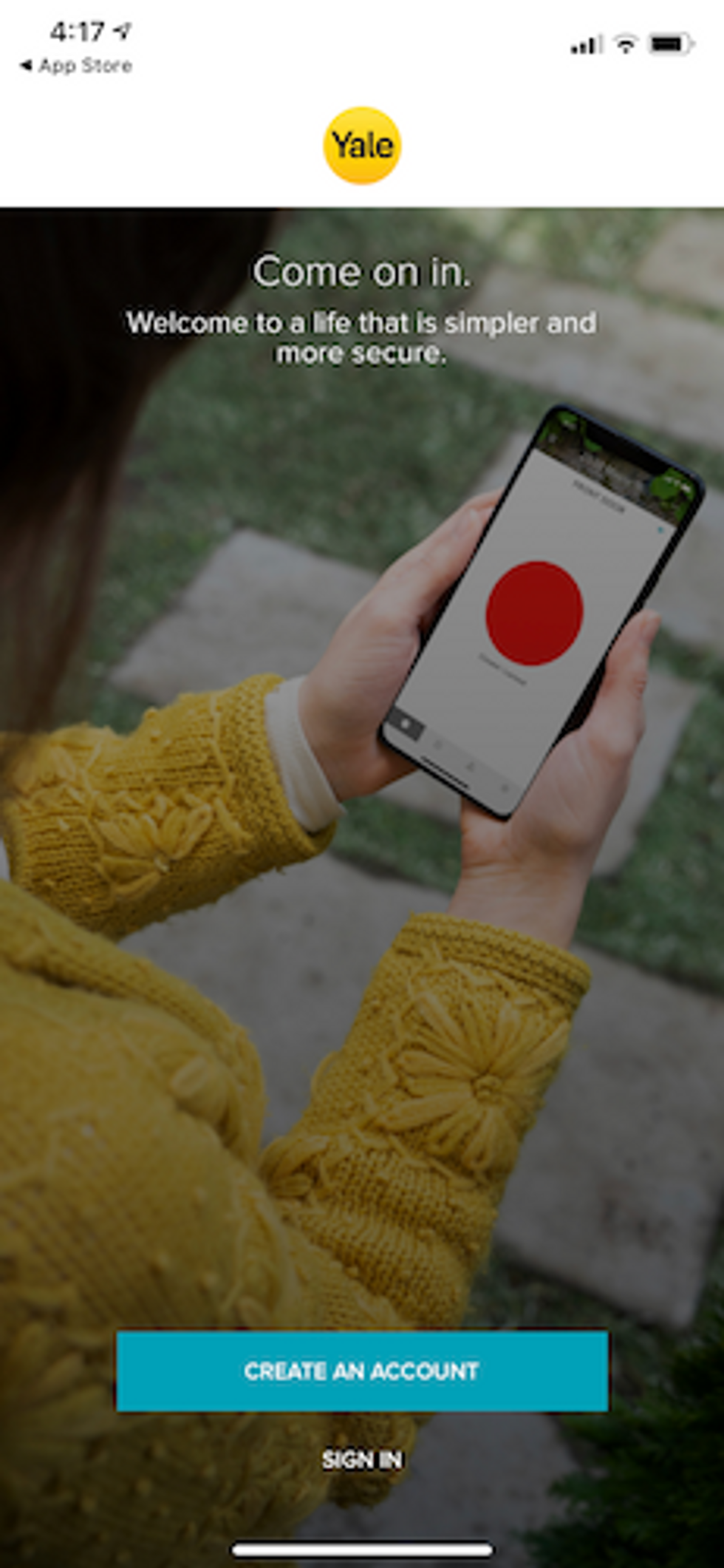 Yale Access App for iOS and Android devices.GearBrain
Yale's new smart cabinet lock comes in a white finish, weighs just 1 pound and is powered by a single CR2 battery. The cost of the lock depends on the model you choose. Yale Smart Cabinet Lock + Connect Wi-Fi Bridge costs $129.99, while the Yale Smart Cabinet Lock with Bluetooth is only $79.99. All options are available on the company's website as well as Amazon and eBay. For this review, we tested the Yale Smart Cabinet Lock + Connect Wi-Fi Bridge.
Installation

Setup for your Yale Smart Cabinet Lock is quick and easy. The first thing you need to do is download the Yale Access app from either the Google Play (Android) or App Store (iOS). ` If you already have an account with August Home or have another Yale smart lock using the August app, use the same log-in information for that account in the Yale app.
As part of the setup process, you'll scan the code on the Yale Smart Cabinet Lock, or if you have problems scanning the code, you can manually input the lock's serial number. If you can't find the serial number, Yale will allow you to select the product you are setting up and you can get to the instructions this way. For our test, the code on the lock or box did not work and we could not find the serial number either. So, we took this last route to get to the instructions.
The install guide for Yale is actually a YouTube video showing you the step-by-step installation for the lock. It's very easy to follow, and you can stop and start the video every step of the way. There are also printed instructions in the box but we found the video to be easier to follow.
Yale Access App - Scan QR code to get access to Installation Guide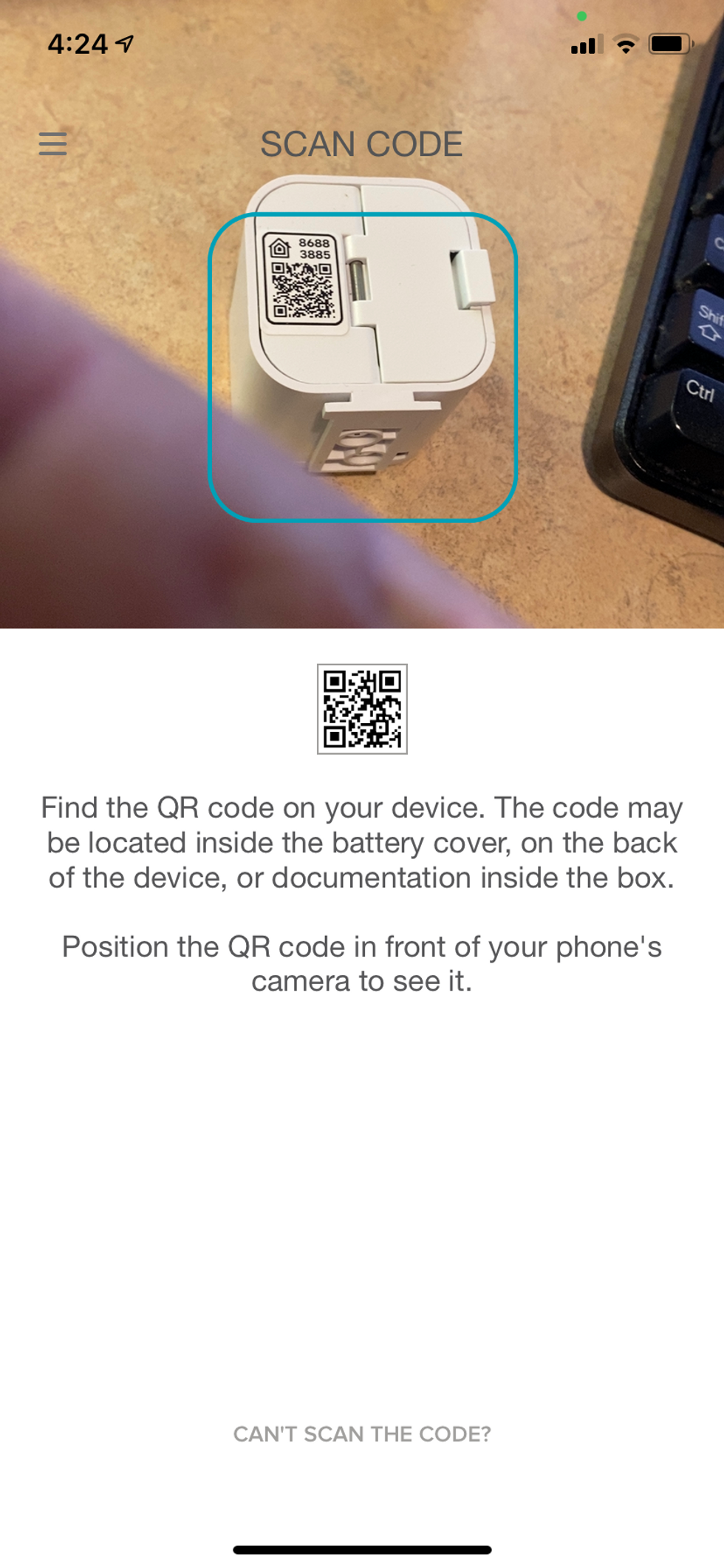 Yale Access app
GearBrain
If you have issues with scanning QR code, you can manually get to the installation instructions.
Installation Guide for Yale Cabinet Lock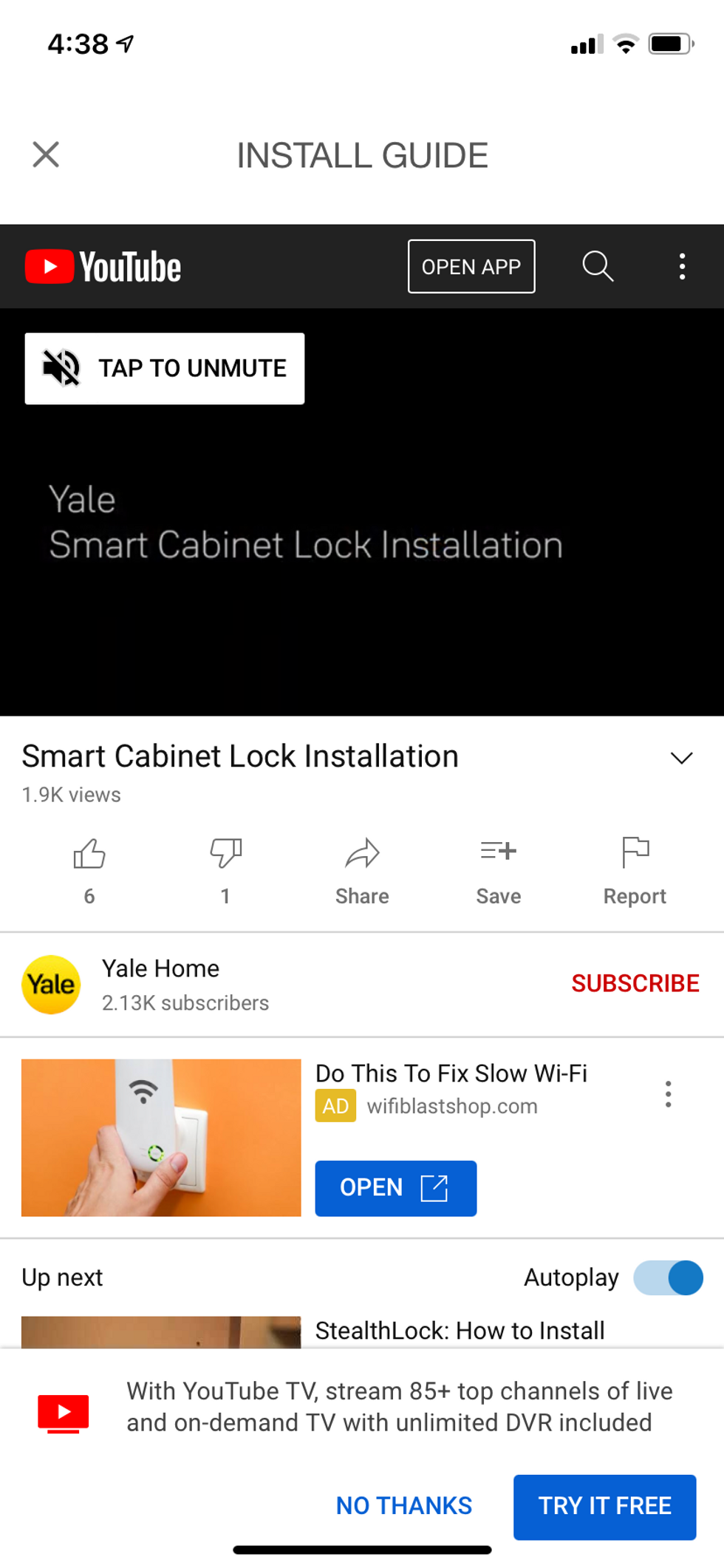 Yale Videos are helpful for setup of your lock.
GearBrain
The YouTube videos are very helpful and easy to follow for iinstallng your Yale Cabinet Lock.
Tips on Installing the Yale Smart Cabinet Lock
Before you install the Yale Smart Cabinet Lock, find the posts, or the best physical location on where to install the lock. Posts are based on the type of cabinet you're choosing, For instance, if your cabinet has a face frame or lip, you will need to use the long lock post and not a short one.
Once you determine the right lock post, attach the supplied 3M strips to the post, and when lining up your lock post, make sure the ridges on the post are facing down.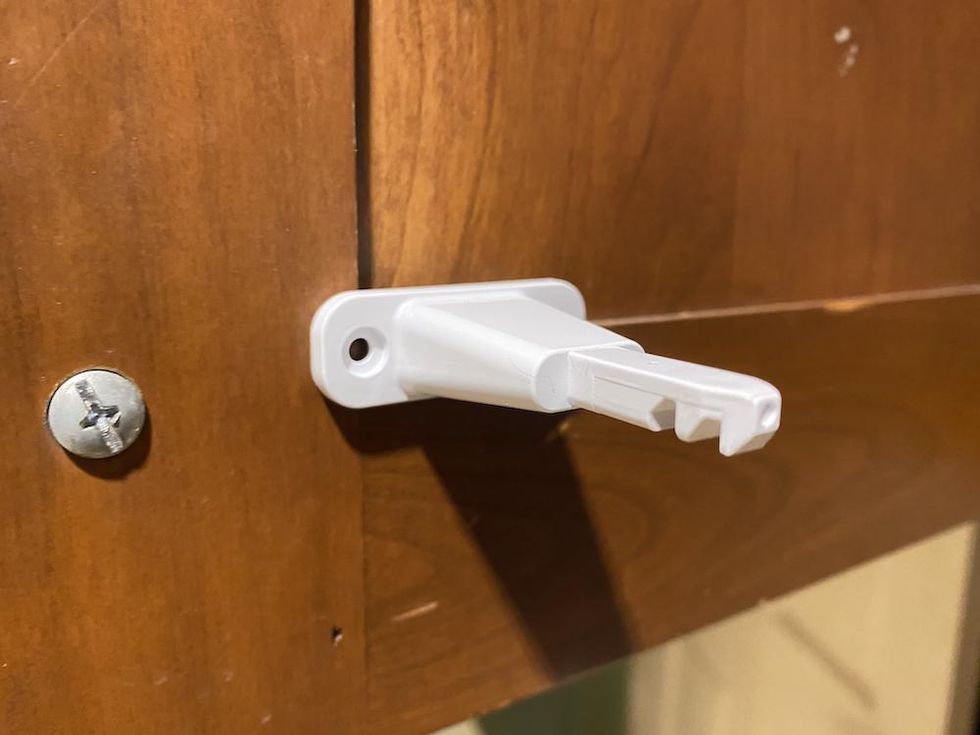 Make sure your post is installed with the ridges facing down. GearBrain
Another good installation tip? Make sure you use the mounting guide, which will assure you locate the right place inside your cabinet to secure your smart cabinet lock. Make sure you have updated the firmware too.
The total amount of time to install this cabinet lock is about 10-15 minutes, depending on the cabinet.
Smart Home Integrations
Yale has a very good ecosystem of smart home locks. Besides working with Google Assistant and Amazon Alexa-enabled devices, Yale Smart Cabinet Lock also works with Apple HomeKit.
As we mentioned as well, users can also remotely access this smart cabinet lock using the August Connect Wi-Fi Bridge, which looks like a smart plug and must be plugged into an outlet within 15 feet of your smart cabinet lock. The bridge provides the wireless connection required for remote access. If you're an Apple user, though, you will need an Apple HomeKit hub (i.e., Apple TV or HomePod). But Google Assistant and Amazon Alexa users will need the August bridge to connect with their voice assistant-enabled devices, and then control the cabinet lock remotely. If you already have a smart home system in your home, and its compatible with Yale smart locks, you can easily add this smart cabinet lock to your ecosystem.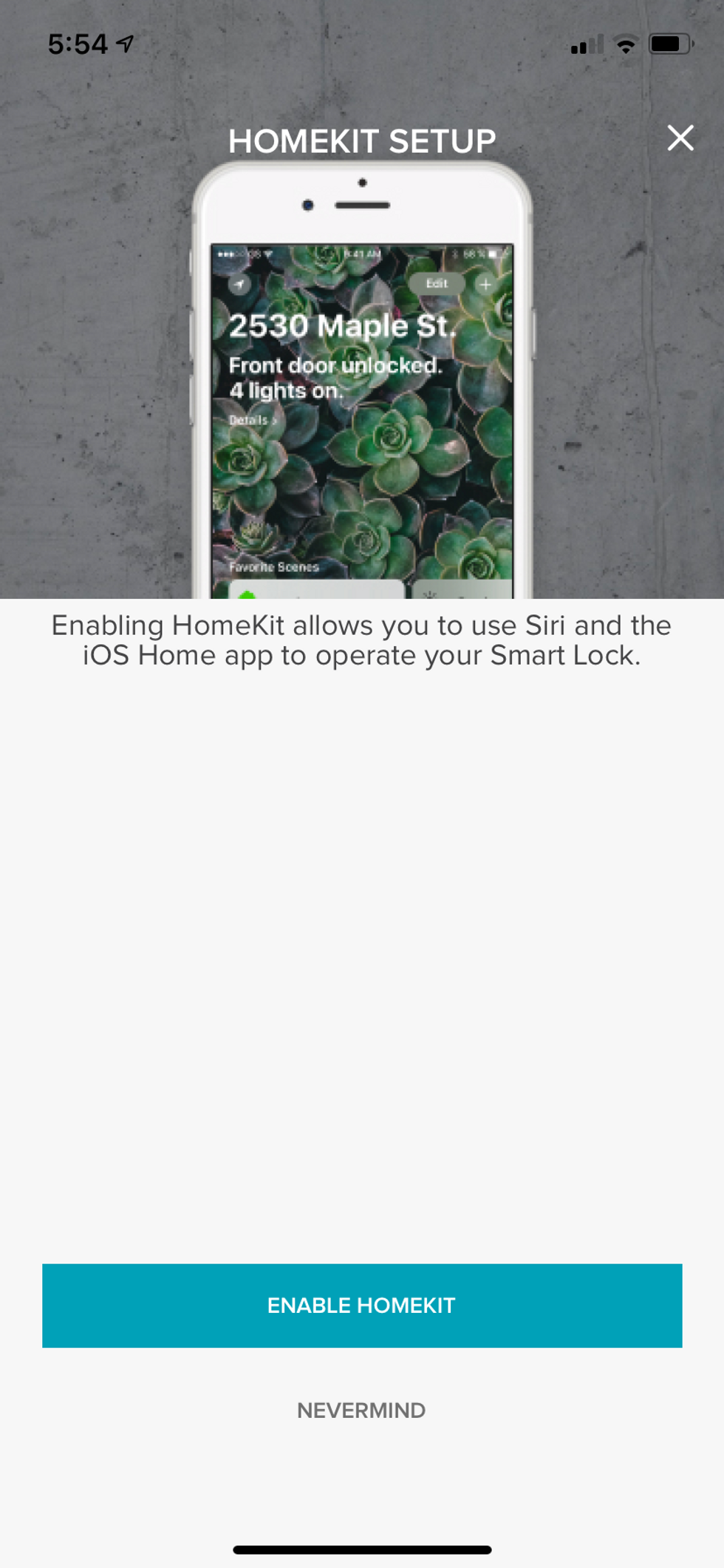 Enable Apple HomeKit integrations in Yale Access app.GearBrain
Performance
We tested the Yale Smart Cabinet Lock on a kitchen cabinets filled with snacks and cookies, a favorite of young family members who often visit. The locked worked well, stopping the kids who thought they were sneaking snacks when we weren't looking. We even showed them how we could use our phones to lock and unlock the cabinet, and informed them we could monitor when the cabinet was opened and closed. Those are both extremely useful features for parents who want to keep an eye on things, particularly snacks kids like, but maybe shouldn't have right before dinner or bed.
During testing, we did find the Bluetooth connectivity spotty unless we were right next to the lock. When we used the Connect Bridge, however, connectivity was fine. Also, keep in mind the posts holding the lock are made of plastic. And while they seemed strong enough to prevent little children from opening the cabinets, an adult might be able to rip open the cabinet. You might want to consider bolstering the lock with screws that are provided.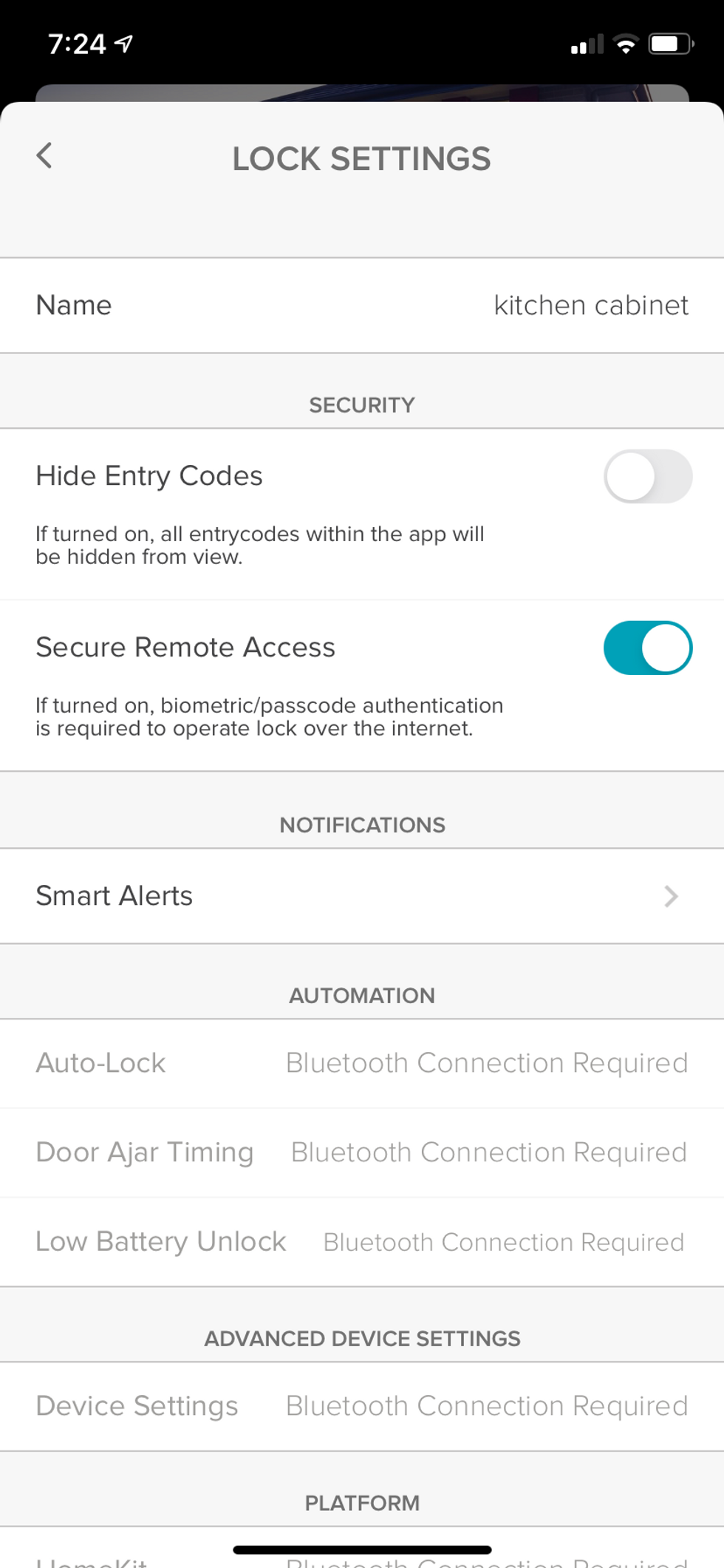 You can easily adjust settings for you Yale Smart Cabinet Lock in app.GearBrain
Who else would benefit from this new smart cabinet lock? Besides parents who want to lock and monitor drawers or cabinets, this smart lock would work well in a home office desk or cabinet. With many people working from home due to the pandemic, the Yale Smart Cabinet Lock can be used to lock a drawer with important documents or maybe even a liquor cabinet.
For home use, the Yale Smart Cabinet Lock is a no brainer, we think, for keeping medication safe and sound, and could easily be used on a drawer in your dresser, an end table or even double cabinet doors, although setup for this last option will be a bit more complicated.
Summary
The evolution of the smart lock has come a long way since GearBrain started testing devices 5 years ago. First, there were Bluetooth smart door locks which provided limited remote access. Then smart locks allowed control from anywhere when connected to a hub. Next we started to see different styles of smart door locks emerge, with some only requiring you to change half of your existing deadbolt lock, and others just the inside pieces. Now smart locks can run more than just the front and back doors, and easily be added to your existing smart home ecosystem.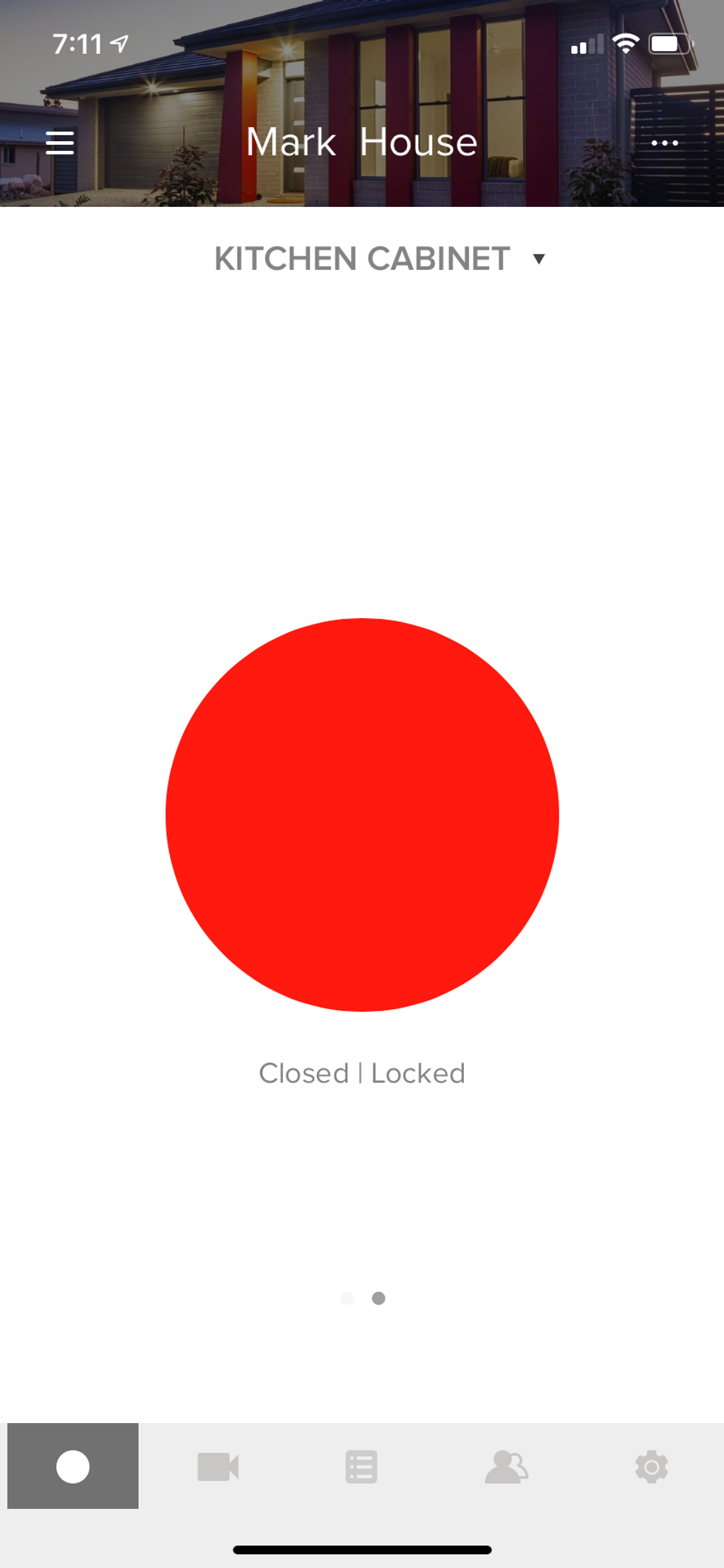 Operate Yale Smart Cabinet Lock and all other Yale smart locks in one app.GearBrain
Yale Smart Cabinet Lock is a suitable addition to any smart home that wants to secure and monitor vital items in a home. It's easy to install, even though we'd like to see an even simpler option for double cabinet doors, for example. But we like that this smart lock does not limit people to just one app to monitor and secure the lock, and instead lets you tap other options you may already have installed. (We honestly don't need another app on our smartphone.) Having a way to control all our locks in a home through a central system is great, and one of the best attributes for Yale Smart Cabinet Lock.
Pros:
Smart home integrations
Remote access via Connect Bridge
Monitor access
Cons:
Size of the lock
Hard to connect two cabinet doors
(Check out The GearBrain, our smart home compatibility checker to see the other compatible products that work with Google Assistant and Amazon Alexa enabled devices.)
Best Smart Home Locks www.youtube.com