Like GearBrain on Facebook
Wireless headphones and earbuds are excellent ways to let us listen to music, soundscapes, and podcasts while we work, exercise, meditate and even sleep. But headphones can be heavy, and earbuds can fall out.
Those issues are designed to be avoided with a headband-like device called SleepPhones. At $100, these hold two wireless speakers in place next to the ear, which can connect over Bluetooth to a smartphone or even a computer. We tested them over a variety of setups, to see how they worked, fit and sounded.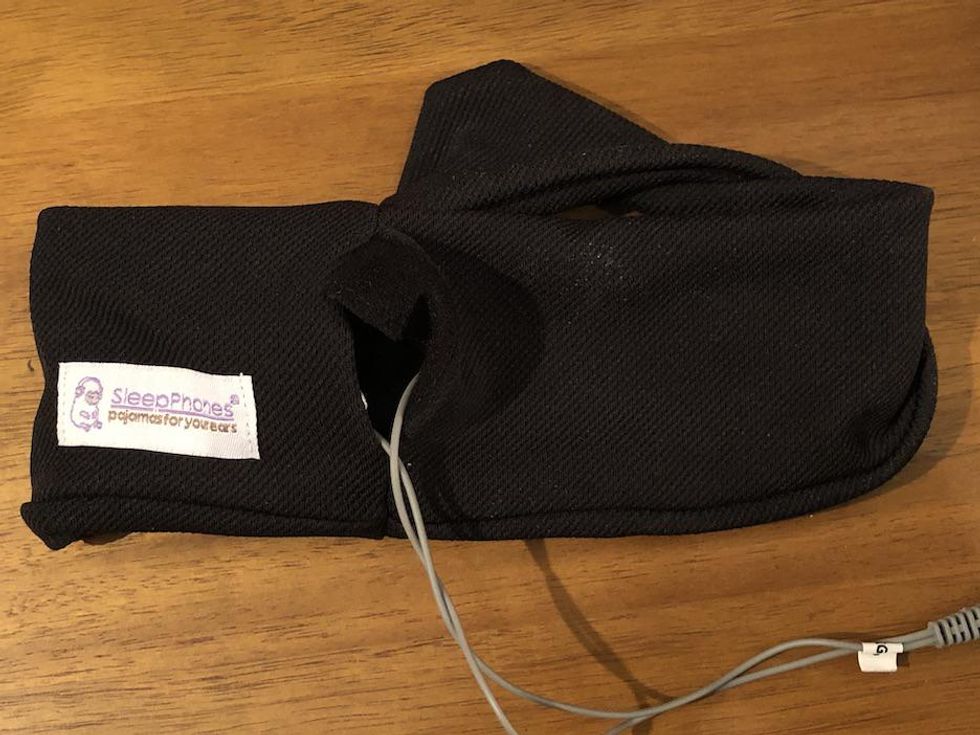 The speakers and power bank all fit into an opening in the backGearBrain
Set-up

Launching the SleepPhones takes only as long as you'll need to charge the power bank, which is about three hours. You get a USB charging cable in the box, and to get the power bank charged you'll pull that piece out of the headband, unclip it from there, and attach it to the charging cable.
Then, once charged, you'll just reattach the power bank again to the clip inside the headband. But before tucking it in, you'll want to link the SleepPhones over Bluetooth.
Bluetooth

I found this very easy, able to connect to a smartphone and a computer as well. There are three buttons on the power source, and up and down button which controls volume and skips tracks, and a center square button which works as a power button, launches Bluetooth and also works as a play and pause button.
Like most Bluetooth devices, if you're moving the connection from one item, like a smartphone, to another, such as computer, you'll need to switch off Bluetooth on the former so the latter can pick up the speaker. You'll want to look for SleepPhones in the list of Bluetooth devices, and connect that.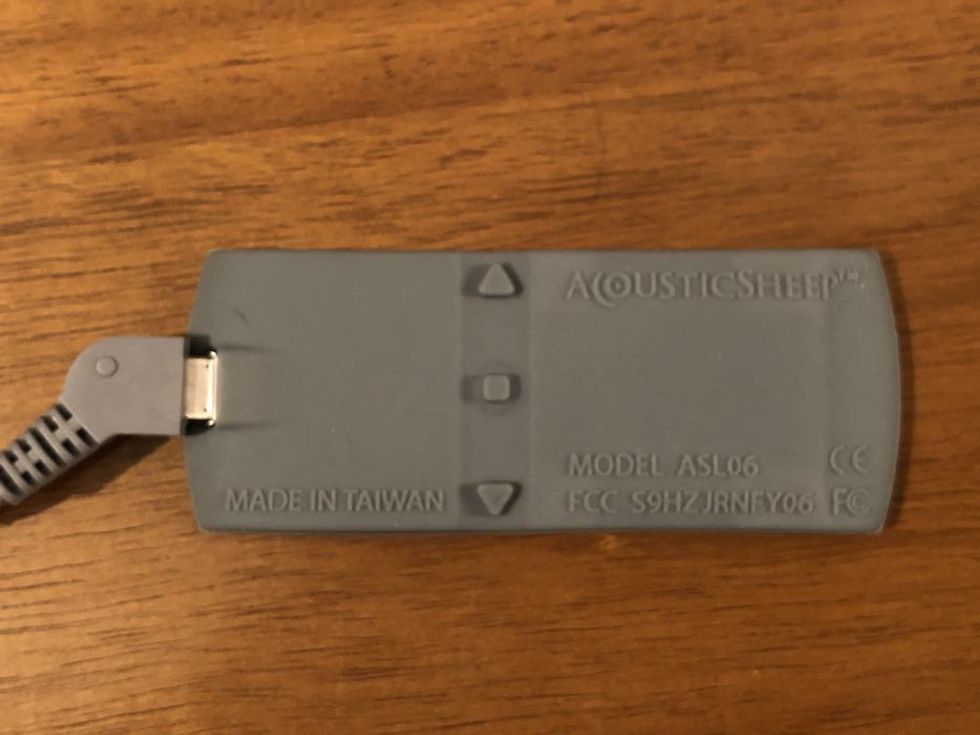 Buttons on the power bank control the deviceGearBrain
Note that after each use, AcousticSheep, which owns SleepPhones recommends that you charge it each time. But the power bank can hold up to 10 hours of charge.

Fit
I tested the small/extra-small size and found they fit very well. I have a small head, and saw these stayed in place while exercising at home as well. (Although, do note that the company makes a separate set of headbands called RunPhonesThe one problem I did have? As I moved about on a pillow, they shifted off my ears — which is not ideal for the sleep use the product is designed to address. But if you're using them for an hour or so to fall asleep, they should hold. Still, don't expect them to be in place when you wake up in the morning.
I was concerned that the power source and speakers would feel uncomfortable against my head and ears. But with the power supply in the back, and the speakers in place, I found them pretty comfortable for a long period of time, even an hour. That second hour though? I found myself adjusting them often, and finally reaching for my wireless headphones.
Even so, the device is not extremely thick, but feels more like a thick sock rather than a padded headband. This, however, makes it possible for the headband to be washed, even in a machine. To do so, you're going to need to take the speakers and power source out of the SleepPhones — and they're all connected together and can be removed from the one opening in the back.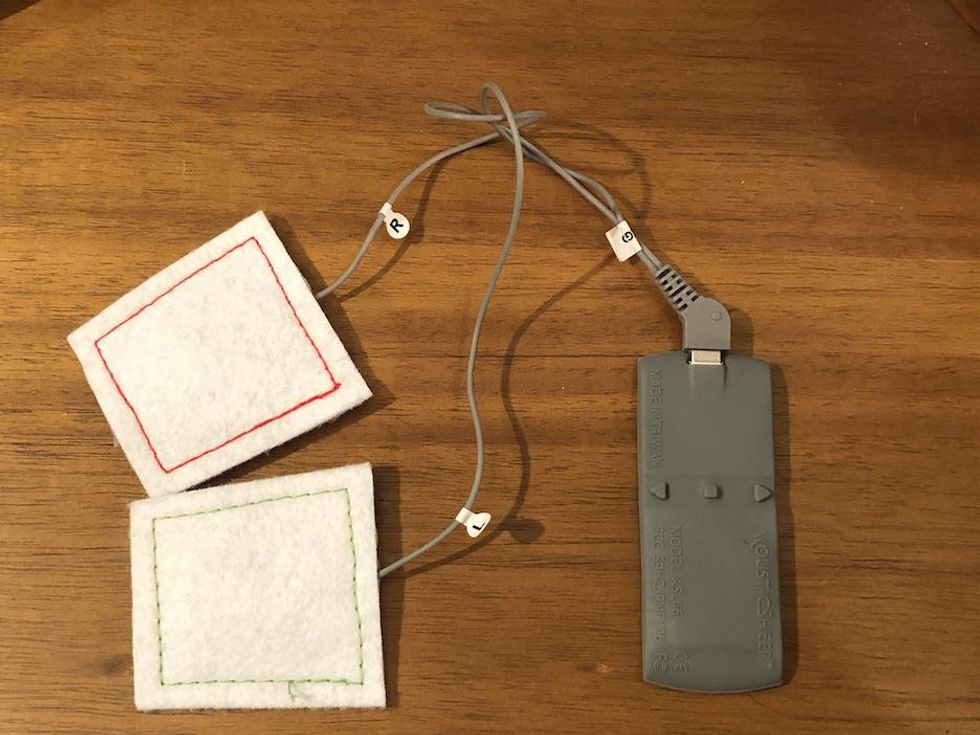 The speakers and power bank can be pulled out so you can wash the headbandGearBrain
Sound

I was surprised actually by the quality of the sound through the speakers. There was clear stereo separation, and that was a huge plus. Sound though was fairly flat, not much in terms of brights, and the bass was fairly heavy, with a low tone.
I was able to control the sound through either the smartphone or a computer. But you can also control the volume through the power source in the SleepPhones. Though you're very unlikely to pull that out of the headband to increase or decrease the sound.
Price
You'll pay $99.95 for the wireless SleepPhones, and you can pick them up in four colors in the polyester fabric including black, royal blue, grey and pink, or in a fleece material (which we did not test) in black, grey and lavender.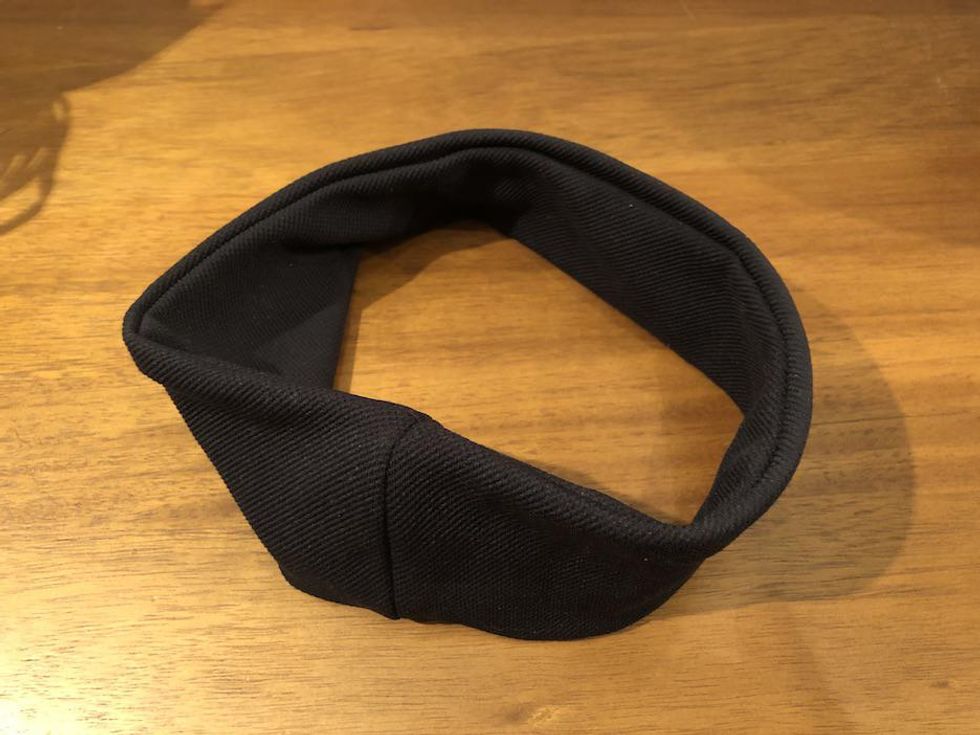 The SleepPhone comes in a polyester material, as above, and also in fleeceGearBrain
Worth picking up?

I found the SleepPhones a very helpful device, even more so if I was someone who liked to listen to music or meditations while falling asleep. They were though extremely comfortable for listening to music while working, and even watching a video, and while doing some light exercise too.
For those who do like listening to sounds as they're in bed, the SleepPhones would be a great investment sheerly for their comfort, and also for not having to worry about wireless earbuds falling out and getting lost while sleeping.
The price, at $100, is a bit high considering the material is not that thick and you can certainly pick up wireless earbuds for less. But knowing the speakers will stay in place while sleep in the headband itself is worth an extra price, we think, for many.
Pros:
Sound
Comfortable fit for an hour
Does not need an app
Cons:
Headband is not very thick
Wires need to be removed each time you want to wash it or charge it
Price
New SleepPhones Wireless Sleep Headphones by AcousticSheep | Bluetooth Headband Headphones for Sleeping & Travel | Original and Most Comfortable Sleeping Headphones (Large, Pitch Black (Breeze))
From Your Site Articles
Related Articles Around the Web
Like GearBrain on Facebook