Like GearBrain on Facebook
Air quality monitoring has become an hot topic in the last few years – especially since we have all spent so much time at home over the last 12 months. Danish company Airthings is one company in this space, with its Wave air quality monitors available for a couple of years now. We first reviewed the Wave back in 2018, followed by the Wave Mini in 2020.
Read More:
But those devices connect to the Airthings smartphone app using Bluetooth, so the data they collect can only be checked when you are nearby. Now though, there is the Airthings Hub, which connects these monitors to the web for remote access, and along with a Wave and a Wave Mini they together form the House Kit reviewed here.
As well as temperature and humidity monitoring, the standout features here are how the Wave can detect radon levels, and how the Wave Mini uses artificial intelligence to indicate mold risk in whichever room it is placed. Up to two Wave sensors can be added to one Hub, and for our system we have connected the included Wave and Wave Mini, plus a second Wave Mini from a previous review.
Airthings House Kit review: Hardware and setup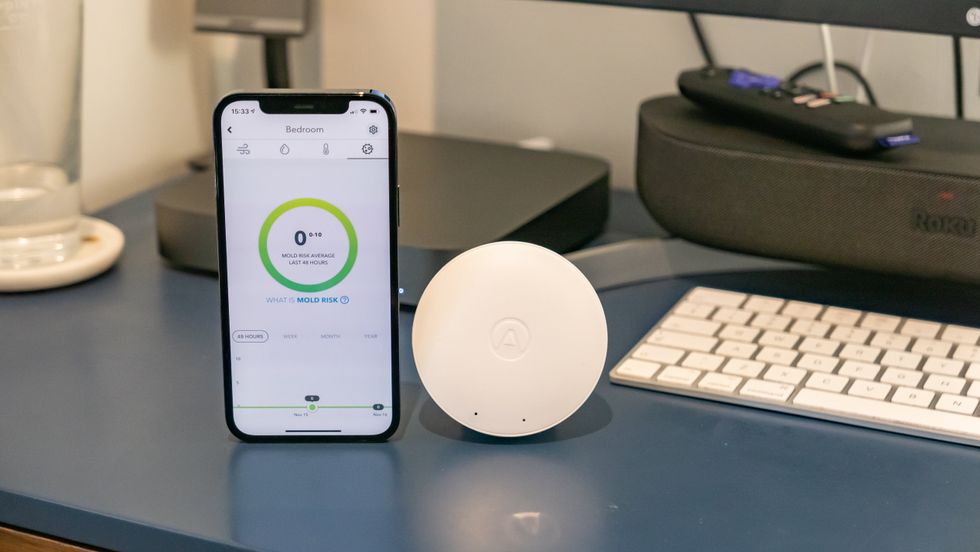 The Airthings Wave Mini and Airthings smartphone app GearBrain
Setting up Airthings devices has always been fairly simple. First you'll need to download the Airthings smartphone app (free for iOS and Android), then create an account with your email address and follow the in-app instructions to add each of the two sensors included in this kit. We have covered the setup process in more detail here.

Once the two sensors are added to the app, you can attach the Hub to your router and add that to your system too. Then it's a case of adding the sensors to the Hub, after which the data they collect can be viewed remotely and when away from the home. We think the Hub is particularly useful for anyone who has a second home or office they want to keep an eye on from afar. With this system you will be alerted if humidity or radon levels spike, no matter where in the world you are.
Before we go any further, we should explain that, during our time with the House Kit, the Wave sensor repeatedly failed to deliver its data correctly to the app. After a couple of system resets, we headed into the Airthings customer support system, which can be accessed from the app or company website.
Powered by Intercom, this system works very well, as you can chat with an advisor and even send them screenshots of error messages. This meant we were able to share the problems we were having, which Airthings confirmed to be a known fault. We received a message the next day to say the error had been fixed, and after trying again everything worked correctly.
It isn't ideal when a device fails to work properly right out of the box, but we were impressed by how Airthings dealt with this, communicated well, and fixed the problem quickly – and crucially, all while we acted as a regular customer and not a professional reviewer.
As for the rest of the House Kit hardware, the Wave and Wave Mini are both relatively compact, fitting into our home without standing out too much. The Wave is just under 5" in diameter and 1.5" deep, and the Wave Mini is approximately 3" in diameter and 1" deep.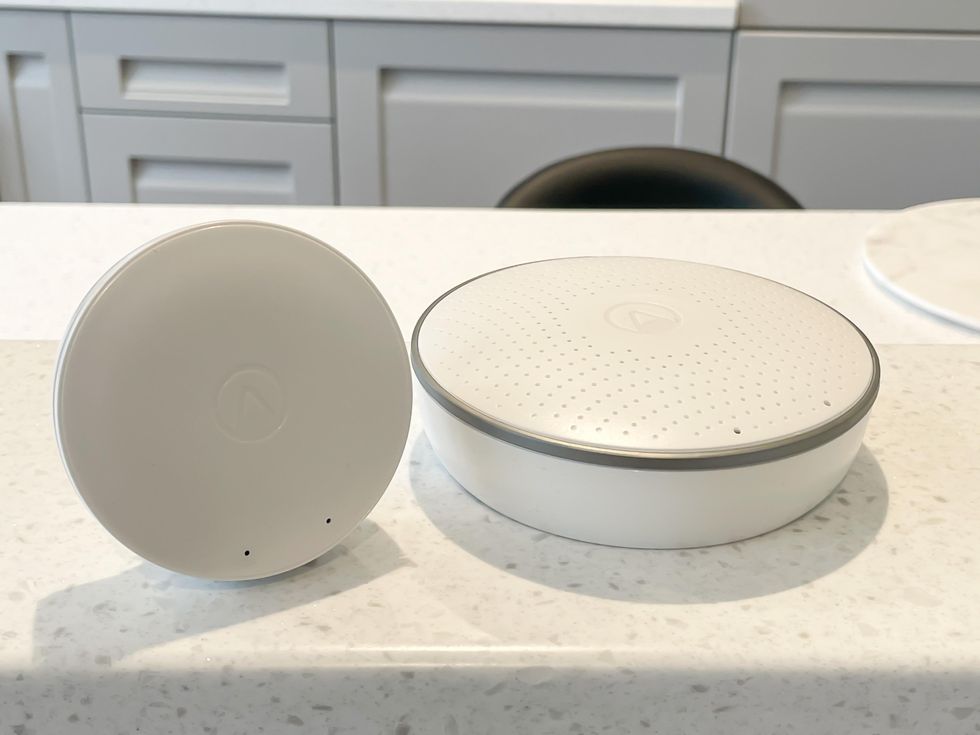 The Airthings Wave and Wave Mini GearBrain
The sensors are simply designed and should blend in with most home decor, while the Mini includes an optional stand for it to sit up vertically. Both are powered with AA batteries and the app shows the remaining charge percentage for each device.

The Hub is fairly large, being approximately 5" square, but given it plugs into your router it can likely be hidden under a table or wherever else you put your router.
Personally, I prefer the design of the Awair Element, with its digital readout, and it is a little cheaper than the Wave yet has an internet connection without needing a hub like Airthings sensors do.
Airthings House Kit review: Software and features
When adding a new sensor to an Airthings system, it takes seven days to calibrate. During this time you can view live data from the sensor, like temperature and humidity. But to get a more accurate representation of your air quality, and how to changes over time, you'll need to be patient and wait a week for the calibration process to finish.
Once that has completed, the app shows how each metric of each sensor varies over time, plotted on a line graph that turns from green to orange then red to indicate unsuitably high levels. The plotting of this data is mostly fine, but a couple of user interface issues arose – for example, the line sometimes crosses over dates written on the x axis, so they can't always be read clearly. You also can't zoom in to look more closely at historical data, and the 'month' view organizes time by the number of weeks since January 1, which isn't as intuitive as using dates.
While data plotted over weeks and months is useful for understanding long-term changes, it is difficult to see the exact time at which a change in temperature/humidity/radon occurred.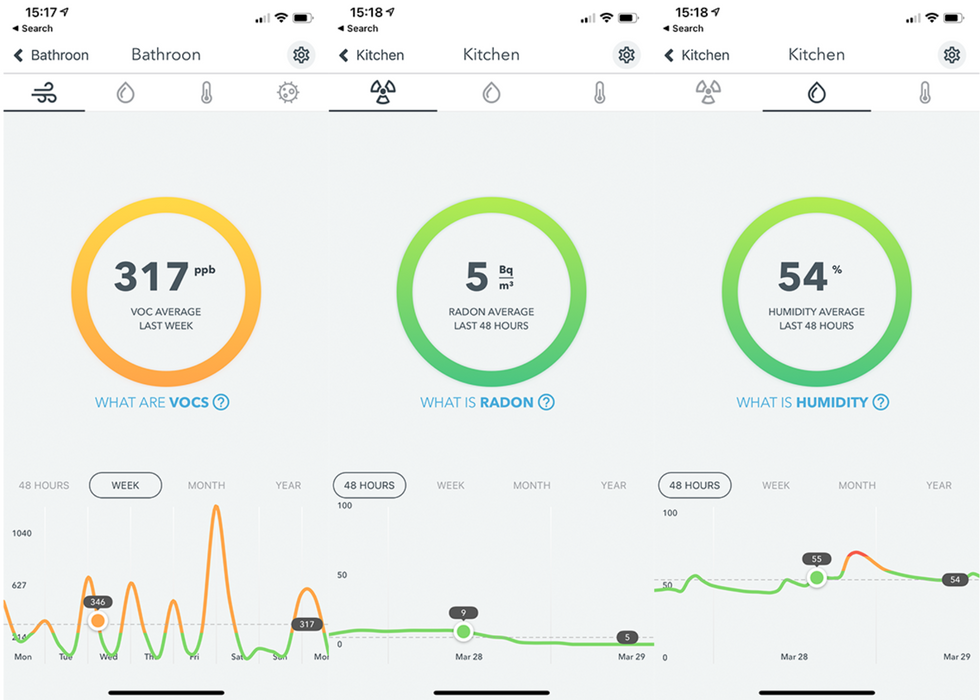 Airthings readings showing VOCs, radon and humidityGearBrain
That said, the way the app presents an at-a-glance view of your home air quality is useful. Looking now, I can see how humidity spiked in the kitchen yesterday evening; I received a notification from the app at that moment too, and can put the change down to cooking. I can also see that humidity rises and falls in the bathroom every morning, coinciding with when the shower is used. The data makes it easy for me to see how humidity falls back to the same level again every day; if it remained high then there might be a ventilation problem.

I also hope the mold risk reading remains at zero, but if it rises at all I'll see that and investigate ways to ventilate the windowless bathroom more thoroughly. Thankfully, I can see how radon levels in the kitchen have remained low and in the green section of the graph throughout my time with the Airthings House Kit.
And remember, because of the Hub I can view all of this data while away from home if I wanted, and I would be alerted if any of the metrics suddenly spiked.
You can also check on general air quality in each room by waving at the sensor. This briefly illuminates a light ring on the front that shines green, orange or red depending on general air quality at that moment.
The Wave and Wave Mini — plus a second Wave Mini I already had — work well together to present a detailed picture of my home air quality. But they don't both collect the same data. The Wave tracks radon levels, but doesn't monitor VOCs (volatile organic compounds), and the Wave Mini misses out on radon detection but does offer VOC and mold risk alerts (albeit using an algorithm and not by actually measuring mold spores in the air). Both record temperature and humidity. Neither can monitor CO2 levels, as that is reserved for the Wave Plus. It's okay, you have every right to be a little confused by all this, as with this kit you have to pick which room gets radon monitoring but not VOC, and which gets VOC and mold but not radon.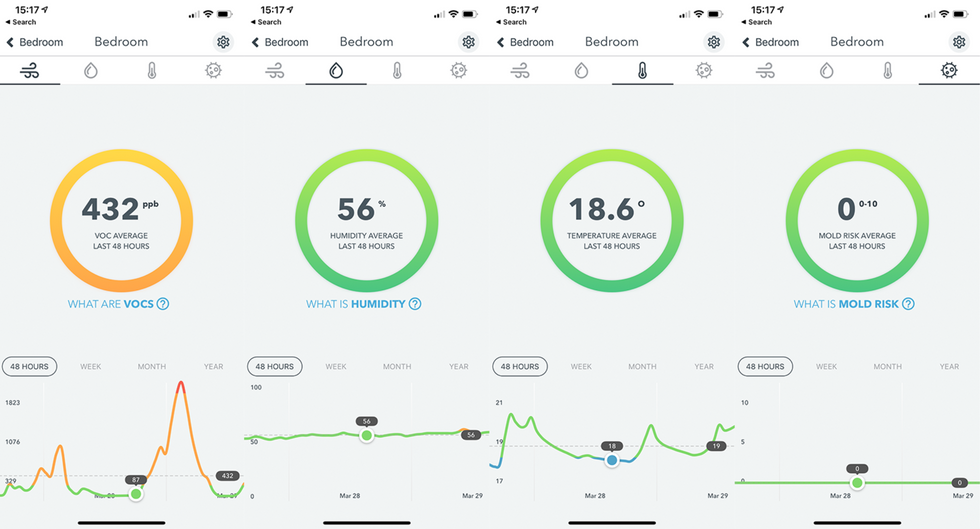 All of the readings from an Airthings Mini air quality monitorGearBrain
Airthings House Kit review: Value

The confusion between what sensor can do what is compounded when you look at the price. The Wave Mini is $80 at the time of writing (March 2021), and the Wave is $200, despite it recording three metrics compared to the Mini's four. Then we have the Wave Plus, which normally costs $230 and is therefore the flagship model complete with six metrics (adding CO2 and pressure but missing out on mold risk), yet it is currently $180, making it better than the Wave but $20 cheaper.
The House Kit is $299, making it $60 less than buying its three components separately. Or you could buy the Wave Plus, Wave Mini and Hub for $340, giving you more features (the VOC, CO2 and pressure metrics the Wave misses out on) for not much more money.
It is also worth comparing this kit to the competition. The aforementioned Awair Element is currently $150, yet measures temperature, humidity, CO2, chemicals (like VOCs) and PM2.5; it also connects to your router and can be viewed remotely, doing away with the need for a hub. The Airthings kit has the advantage of monitoring two rooms at once, as well as radon in one room and mold risk in the other, and can be added to, with the Hub working with up to 10 Airthings sensors at once. But for an all-in-one system it's hard to beat the Awair Element at this price.
Airthings House Kit review: Smart home connectivity
We covered smart home connectivity of the House Kit in our installation article, but will quickly say again how the system works with Alexa, Google Assistant and IFTTT. The voice assistants have limited use, as all you can do is ask the assistant to ask Airthings to tell you about the various metrics the sensors measure. We found Google Assistant really struggles to understand "Airthings" and instead tries to open an app called Hair Things. It's quicker and easier to reach for the phone app instead.
Things are more promising with IFTTT, as you can create applets to activate a smart plug connected to a dehumidifier when humidity levels get too high, or to a heater when the temperature falls below a certain level. Other IFTTT functions flash Philips Hue lights when radon levels are too high, but we think a simple smartphone notification is a more useful alert in that particular case.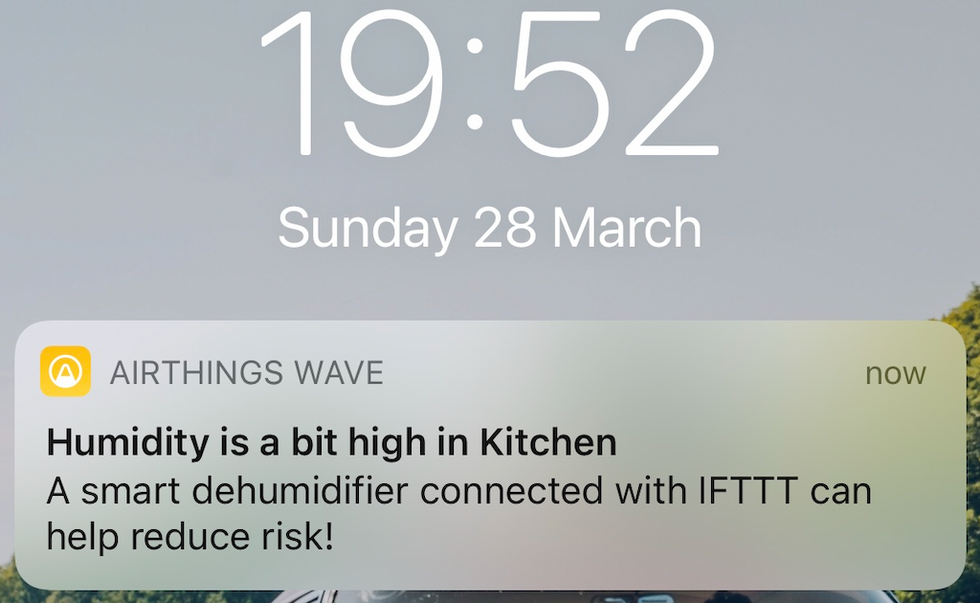 Example of an alert from the Airthings appGearBrain
Airthings House Kit review: Verdict

It is difficult not to feel the Airthings House Kit is a little overpriced, or should instead come with the Wave Plus and not the regular Wave.
That said, if the price isn't a concern for you, then this is a nice system that is easy to set up, feels well-made, is discreetly designed, and appears to do a good job. Changes in the air of each room were plotted quickly, with humidity rising quickly on the app when running a shower, then falling accurately right after.
Alerts came through to the app promptly, and adding the Hub makes checking up on the sensors and their readings much more convenient than with Bluetooth. Battery life also seems to be good, with our older Wave Mini showing 89 percent after five months of use. We also like how the sensors illuminate to give a quick summary of your air quality as you pass by, or wave at them.
However, the lack of CO2 monitoring from this kit, and VOC only on the Mini, is disappointing, especially when that metric can be added to your smart home (along with others) for a lower price elsewhere. We'd also like to a more detailed way to view historical data.
But if you plan to build a whole-home air monitoring system, Airthings is well worth considering as you can build a system up gradually, as funds allow, by adding up to 10 sensors to the Hub. Add in a few IFTTT applets attached to smart plugs, and you have yourself a nice bit of home automation.
Pros:
Easy setup and use
Discreet design
Radon and mold monitoring
Cons:
High price with Wave instead of Wave Plus
Voice assistant integration isn't too useful
Hub's 10-device limitation may be a factor for larger homes
Airthings 4200 House Kit, Radon, Mold Risk & Indoor Air Quality Monitoring System, Multi-Room
From Your Site Articles
Related Articles Around the Web
Like GearBrain on Facebook