Like GearBrain on Facebook
Amazon has designed an Echo smart speaker just for children, loaded with a kid-friendly version of Alexa and the FreeTime Unlimited subscription service, with shipping starting May 9.
Priced at $79.99 — $30 more than the regular Echo Dot — the Kids Edition is a standard black Dot but comes with a protective rubber case available in red, green and blue, and a year's subscription to FreeTime Unlimited (normally $2.99 per month). Amazon also promises that if the device is damaged or broken within two years, it will be replaced with a new one for free.
Read More:

The hardware of the Echo Dot Kids Edition is exactly the same as the regular Dot, but the addition of FreeTime — which will also be available for regular Echo owners from May 9 — turns the device into one aimed at children. With FreeTime enabled, Alexa's voice recognition system is tweaked to work better with higher-pitched children's voices, and will only serve up age-appropriate content.
FreeTime is split into two tiers. The first is free and includes parental controls to make Alexa kid-friendly; this includes options to stop Alexa from responding at certain times of day (after their bedtime, for example), and a way to block out services like shopping, news and third-party skills which plug into other apps, like Uber.
Parents can check via their Alexa app what the children's device has been used for, and they can delete Alexa's voice recordings here too — something which can also be done with regular Alexa devices.
Echo devices with FreeTime enabled will not be able to interact with other smart home devices at launch, but Amazon says this will be added at a later date.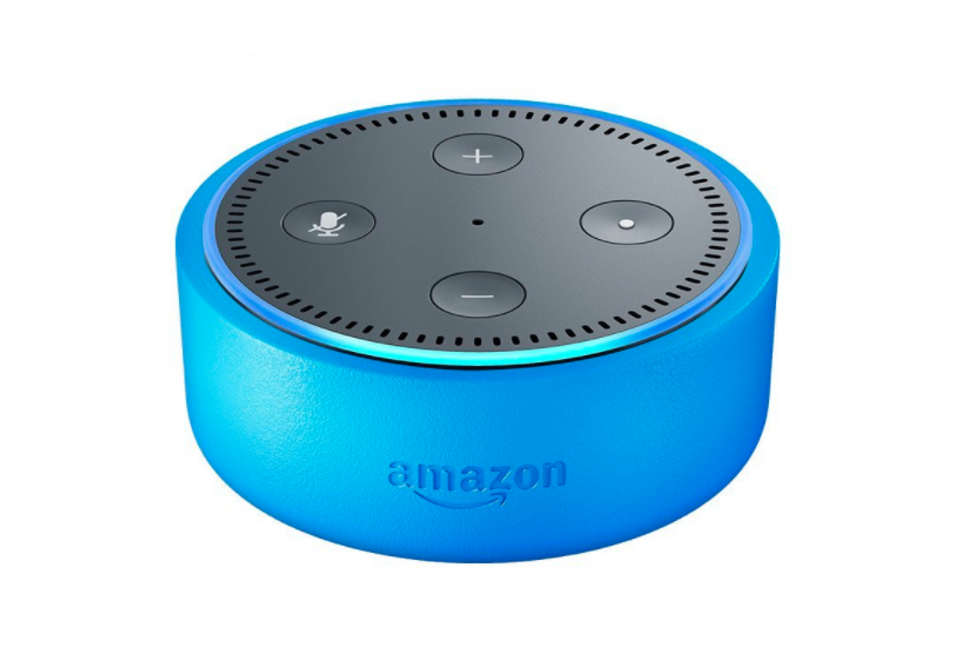 The $79.99 Dot for kids comes with a protective caseAmazon
Children and technology
FreeTime also enables a feature where Echo devices can be used as an intercom service for speaking to your children from a different room, but where the device cannot be used to call anyone or any device outside of the home. Prime Music customers can set their child's Echo Dot to not play music with explicit lyrics.
Amazon says FreeTime will not be available on devices with a screen, like the Echo Show and Echo Spot, a nod to acknowledging its responsibilities when it comes to targeting technology at children. And that's a concern among educational researchers and even doctors.
The American Academy of Pediatrics (AAP), as well as other institutions around the world, are concerned about children's use of technology. This includes screens, like those of smartphones, tablets and televisions, but the AAP is keen to address 'media' as a whole rather than screens specifically.

Speaking in late-2016, AAP fellow Jenny Radesky said: "Families should proactively think about their children's media use and talk with children about it, because too much media use can mean that children don't have enough time during the day to play, study, talk, or sleep. What's most important is that parents be their child's 'media mentor'. That means teaching them how to use it as a tool to create, connect and learn."
More features

The second tier is FreeTime Unlimited, which costs $2.99 a month but 12 months' worth is bundled with the Echo Dot Kids Edition. This gives children access to over 300 child-friendly audiobooks from Audible, Amazon says, plus suitable ad-free radio stations and premium Alexa skills from Disney, Nickelodeon and National Geographic.
Licensing deals with Disney and Nickelodeon mean children using FreeTime Unlimited can switch Alexa's voice for that of their favorite characters — although only for simple functions like the Echo's morning alarm.
If a child says "Alexa, I'm bored" the assistant will come up with age-appropriate suggestions for things to do, like play games or tell jokes. Enabling FreeTime also activates a new function called Magic Word, which helps to teach children to say 'please' when asking Alexa to do something, or when asking her a question.
The $79.99 Echo Dot Kids Edition is available to pre-order now and shipping will begin on May 9. The device will be exclusively available in the U.S. at launch. It is unclear if or when FreeTime will come to non-Echo devices with Alexa, like the Sonos One.
Check out The GearBrain to see what other connected devices work with Amazon Alexa enabled device.
Like GearBrain on Facebook