Like GearBrain on Facebook
Although Amazon Echo smart speakers are usually described as smart home devices, there's no reason why you shouldn't take one away with you. In fact, Alexa and the compact Echo Dot can make the perfect connected travel companion.
Having relocated to Hong Kong for a week, but with the intention of continuing my daily work as normal, I decided to pack a third-generation Amazon Echo Dot to keep me entertained and informed 6,000 miles from home. Here's why you should do the same for your next vacation.
Read More:

The Echo Dot is compact
Unless you're travelling very light indeed, the Echo Dot should be no bother to slip into your suitcase or backpack. The latest third-generation model is a little larger than its predecessor, but still small and light enough to take with you.
Another small drawback of the newer model is that it requires its own power plug and cable, instead of using a generic mini USB connection - so you'll need to take the plug - but, again, this shouldn't be too much of a concern for most travelers.
Of course, if suitcase space isn't a concern, then a larger Alexa device like the regular Echo or even the Sonos One will give you a better experience. But for most travelers the Echo Dot is your best bet - especially when it costs just $50.
Sound quality is adequate for a hotel room or small Airbnb rental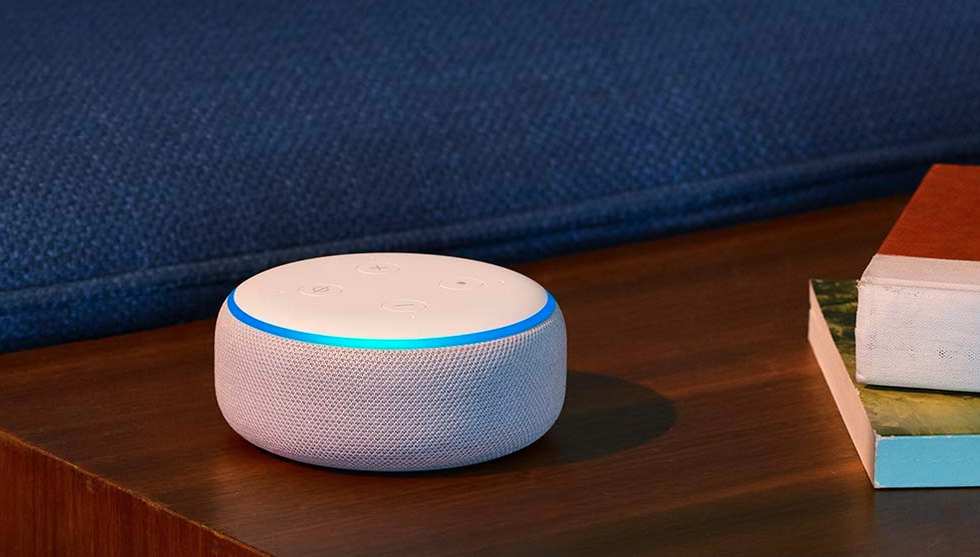 The Echo Dot can easily fit into any suitcaseAmazon
It may be slightly larger than before, but the latest Echo Dot has much-improved sound quality over the older model. You might not want to power a house party with the Dot, but for a small hotel room it's perfect and plenty loud enough.

In any case, if you're a conscientious traveler you won't be playing music all that loudly, given the close proximity of hotel guests next door, or the neighbors of your Airbnb or holiday rental. In my small Hong Kong room, I've only needed to raise the Echo Dot's volume to level two or three out of 10; that way, I can hear it clearly without worrying about annoying the apartment next door.
Again, if you have the space - perhaps you have booked out an entire property to yourself - then a larger Alexa device will mean louder, better music.
It's quick and easy to connect Alexa to a new Wi-Fi network
It took me just a couple of minutes to get my Echo Dot connected to the Airbnb's Wi-Fi network. All you have to do is plug it in, waiting for it to boot up, then press and hold the action button (that's the one with the dot on it) for six seconds.
This initiates the Echo's Wi-Fi pairing process and turns the light orange. Next, open the Alexa app on your smartphone, go to add a new Echo device, input the Wi-Fi password, and away you go.
How to change Alexa's location
There's one last thing you need to do to fully set up Alexa on holiday; change the location. To do this, open up the Alexa smartphone app (or go to alexa.amazon.com). Then tap on Devices, select your device (the Echo you've taken on vacation), pick the country you're visiting from the list, enter the address of your hotel or holiday rental, and tap Save.
Now, Alexa on that specific Echo device will know where it is. This means local information like the weather forecast and nearby places (restaurants, bars, train stations etc) will be accurate.
Just a couple of minutes after unpacking the Echo Dot from my suitcase, I now have Alexa set up and ready to inform and entertain me.
Alexa can act as your local tour guide, weather reporter, and translator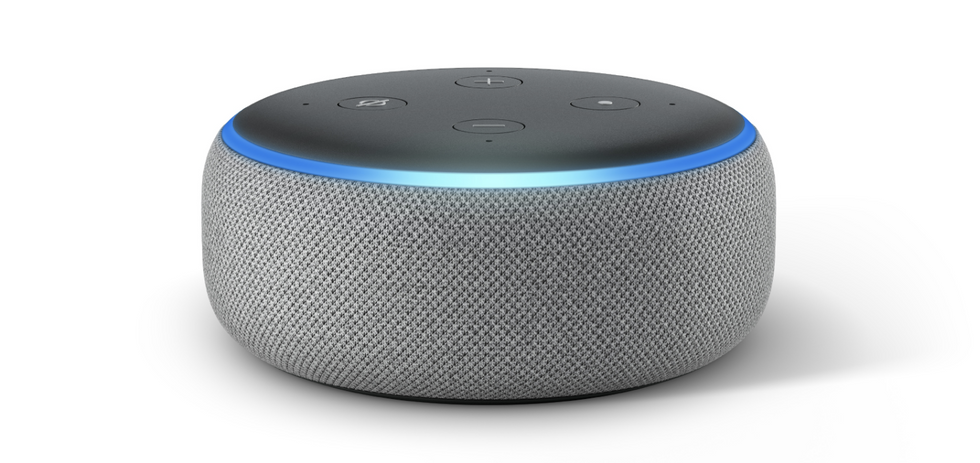 Alexa works in almost 100 countries around the worldAmazon
Now everything is set up, you can easily use Alexa to learn about local amenities like shops, bars, restaurants and transport options. Alexa will also deliver the local weather forecast without you needing to specify where you are, and it can help with the local language too.

While in Hong Kong, I've used Alexa for weather forecasts - useful, given the amount of rain here at this time of year - and for learning about the local area.
But Alexa's translation abilities lag behind those of the Google Assistant. For now, Alexa can only speak English and a handful of European languages, including Spanish, Italian and German. Alexa told me that she cannot yet speak Cantonese, the language used in Hong Kong, when I asked for help, and Mandarin Chinese is also off the table for now.
Curiously, the Alexa smartphone app can help a little, by using Microsoft Bing to show some translations when asked - including English into Cantonese - but the translation appears on-screen in Chinese characters, with no English equivalent.
Amazon has a fair bit of catching up to do here, as the Google Assistant and Apple's Siri each have support for over 20 each. Google can even understand two languages at once for bilingual households, and can act as a translator or live interpreter, actively translating both sides of a spoken conversation between two people speaking different languages.
If you think your vacation will require some new language skills, I'd suggest packing a Google Home Mini, or using the Google Assistant app on your smartphone for when Alexa can't help.
That said, Alexa is entirely capable when you ask her to translate a language she knows, like Spanish or German.
Remember, you can also use Alexa to check what time it is at home, find out how long it'll take to walk somewhere, and perform currency conversions.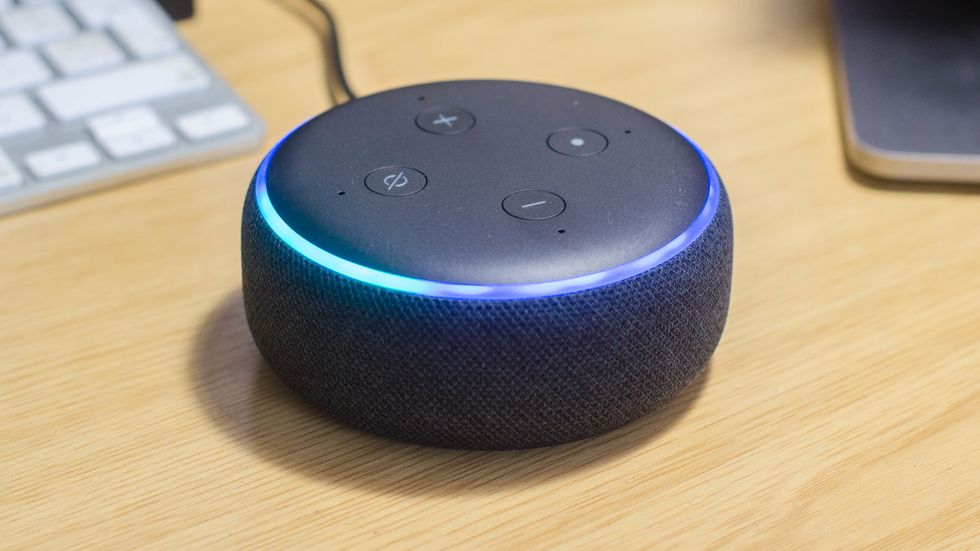 A six-second press of the action button connects the Echo Dot to a new Wi-Fi networkGearBrain
Be entertained as if you're at home

The Echo Dot is a great way to take music, podcasts, audiobooks and radio stations on vacation with you. Alexa's access to some music and radio services will depend on the country you visit - most work fine in Hong Kong, but not mainland China, for example - but in most countries everything works exactly as it does at home.
There's no setup needed here at all. Once the Echo is connected to a Wi-Fi network, everything works just as it does at home. This means you can ask Alexa to play music and playlists from Spotify, or fire up a digital radio station from anywhere in the world.
Keep tabs on your smart home
Although the Echo Dot won't be able to control any smart devices in your hotel room or rental property, you can still use Alexa to control your own devices back home. This means you can make sure all your heating and smart plugs are switched off while you're away, and set the lights to come on at night to make it look like you're home and throw potential burglars off the scent.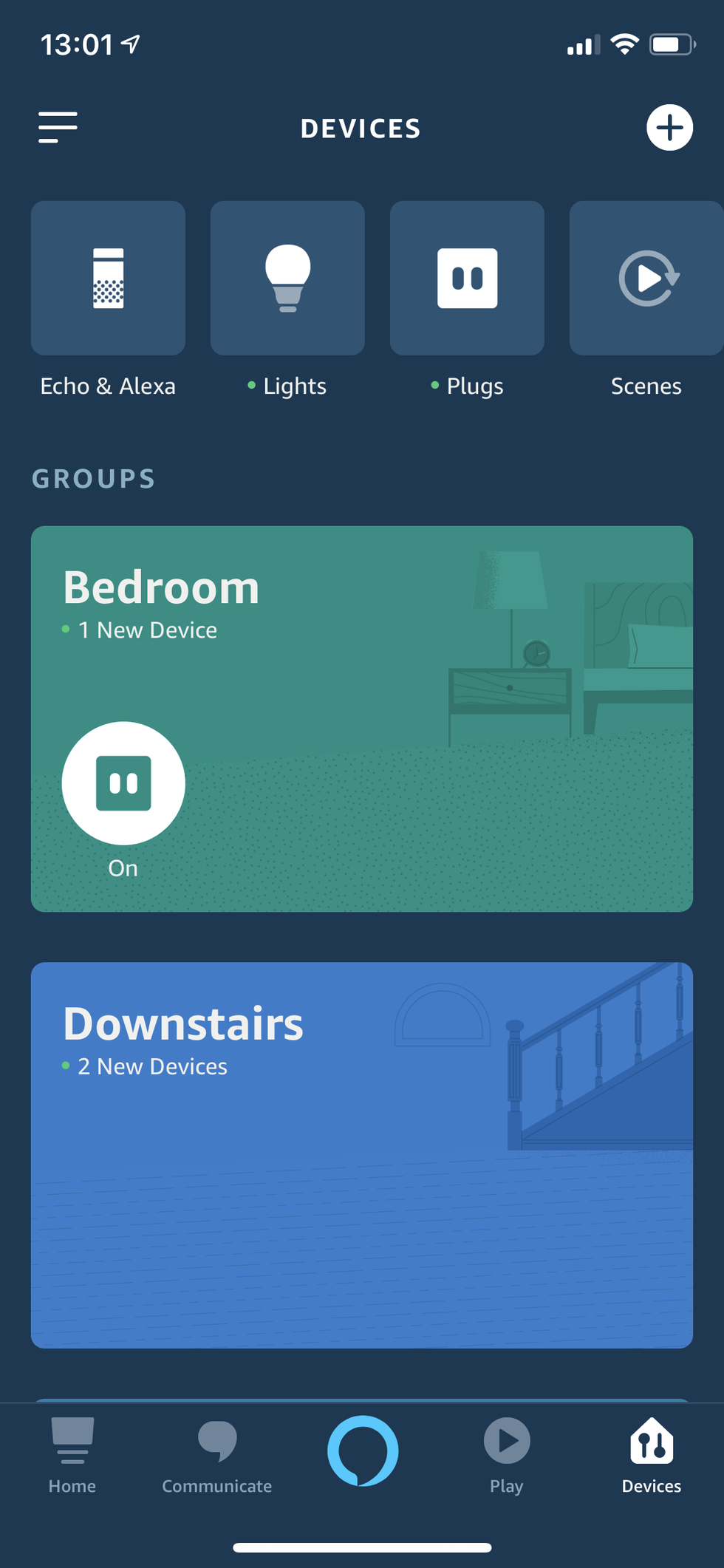 You can use Alexa to control your smart home from anywhere in the worldGearBrain
Alexa is a smart alarm clock

I personally don't use Alexa as an alarm clock at home - I have some Philips Hue lights for that instead - but while traveling the Echo Dot makes for a great substitute. Just say something like: "Alexa, set an alarm every weekday for 7am" and the assistant will faithfully wake you up each day.
You can use the Alexa app to adjust the type of alarm, and set Alexa to wake you up with music or a radio station instead if you prefer. Just make sure you are setting the alarm for the correct Alexa device. I almost set a daily 6:45am alarm for the Echo Dot in my lounge in London instead of the one I have with me in Hong Kong - something my housemates wouldn't have been too happy about.
Expanding on this, you can create a routine just like you would at home, where Alexa can be set to say good morning, read out news headlines and the local weather forecast, then play some music at a set time for each day of your holiday.
Comforting and familiar, wherever in the world you are
It may sound strange, but for the solo traveller there's something comforting about interacting with Alexa when 6,000 miles from home. Just as I do in London, I can ask Alexa about the weather each morning, then have her play my Spotify playlists or usual BBC radio stations (albeit with an eight-hour time difference).
The Echo Dot is a compact device which is easy to tuck into a suitcase, but packs a wide range of features to help make your hotel room or holiday rental smarter and more homely. From music and radio, to local weather and a morning alarm, taking Alexa abroad makes you realize she's more than just a home-based assistant.
Check out The GearBrain, our smart home compatibility checker to see the other compatible products that work with Amazon Alexa enabled devices.
How to Use Amazon Alexa Enabled Devices www.youtube.com
Like GearBrain on Facebook