Like GearBrain on Facebook
Google and Amazon have waded into a public smart home spat, resulting in YouTube disappearing from the Amazon Echo Show less than five months after launch — yet YouTube remains on Amazon's Fire TV.
Released earlier this year as an extension to Amazon's Echo-branded smart speaker range, all powered by the Alexa assistant, the Show is the first Echo to feature a display. As well as showing news headlines, weather forecasts and supporting video calls, a major feature of the Show was displaying YouTube content, summoned by voice commands.
However, asking the Echo Show to play a YouTube video now causes Alexa to say: "Currently, Google is not supporting YouTube on Echo Show."
Despite YouTube content being effectively banned from the Echo Show, it remains accessible on Amazon's TV streaming products, the Fire Stick and Fire TV. But even there, signs of turbulence between Google and Amazon are not difficult to spot; the YouTube 'app' on Fire TV is merely a link to the service's TV-optimised web page, similar to that used by smart TVs.

A statement released to the press by Amazon emphasized the inconvenience and confusion caused to both of the company's customers: "Google has chosen to no longer make YouTube available on Echo Show, without explanation, and without notification to customers. There is no technical reason for that decision, which is disappointing and hurts both of our customers."
In return, Google said Amazon's implementation of YouTube on the Echo Show "violates our terms of service agreement, creating a broken user experience." Google adds that, after being "in negotiations with Amazon for a long time," it hopes "to be able to reach an agreement and resolve these issues soon."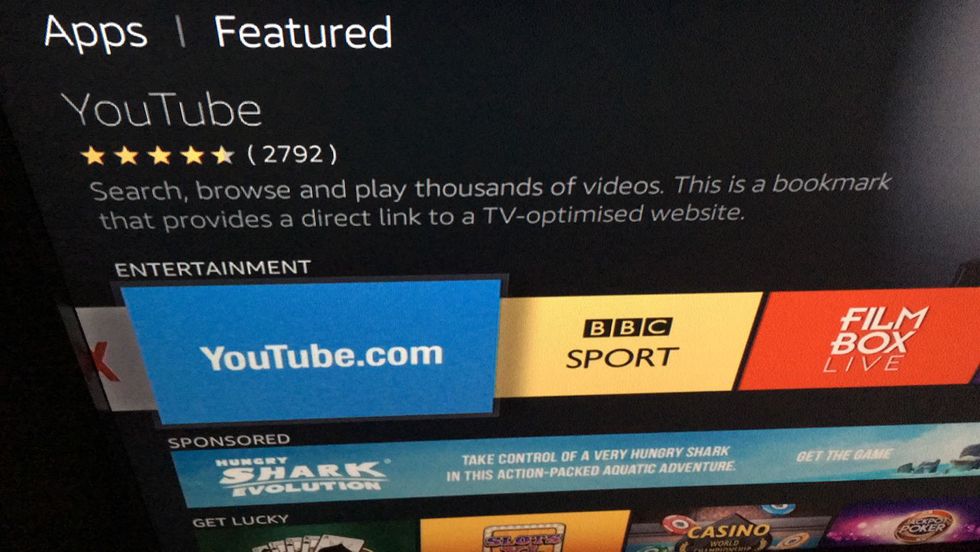 YoTube remains available on the Fire TV - but only as a very basic web appGearBrain
Google's problem with the Echo Show is how users are unable to subscribe to YouTube channels, and how the app doesn't offer video recommendations. Put simply, the app has fewer features here than on other devices, like smartphones and the web, so Google is no longer willing to play ball.
Of course, Google would rather you do away with the Echo entirely and watch YouTube videos by asking the Google Home smart speaker to stream them to your television via Chromecast. But not every Amazon customer will have a YouTube-friendly screen in the same location as their Echo Show, and for them Google's actions may feel unfair and unjustified.
Such disputes are nothing new. Google removed Microsoft's own YouTube app from the Windows Phone store in 2013, because the app allowed users to hide advertisements and download videos. YouTube never created an official alternative, forcing customers to use the web browser instead.
With both Amazon and Google fighting for superiority in the nascent smart speaker market, content conflicts like this will likely continue.
Like GearBrain on Facebook