The Apple HomePod smart speaker will gain a range of new features before the end of the year, including radio streaming and ambient sounds.
Although not spoken about on stage at the company's iPhone 11 and Watch Series 5 launch this week, the new features are now appearing on the HomePod page on Apple's website.
Read More:
First to launch will be access to 100,000 radio stations. Streaming radio is something rival smart speakers like the Amazon Echo and Google Home have offered natively for a long time, and for some readers it might be a surprise to learn the two-year-old HomePod doesn't have access to radio via Siri, Apple's voice assistant.
But, thankfully, radio stations will arrive on September 30. Apple says 100,000 stations will be available, including live, local and global stations. Accessing a station is done by just asking Siri to start playing it.
Also coming soon is a new HomePod feature called Ambient Sounds. This ability is similar to what is already available from Amazon and Google, a feature that is designed to help you relax or sleep by playing sounds like ocean waves, forest birds and rainstorms on demand. Apple says Ambient Sounds will come to the HomePod "later this fall" but is not giving a specific date yet. Google Home speakers have offered this feature since 2017.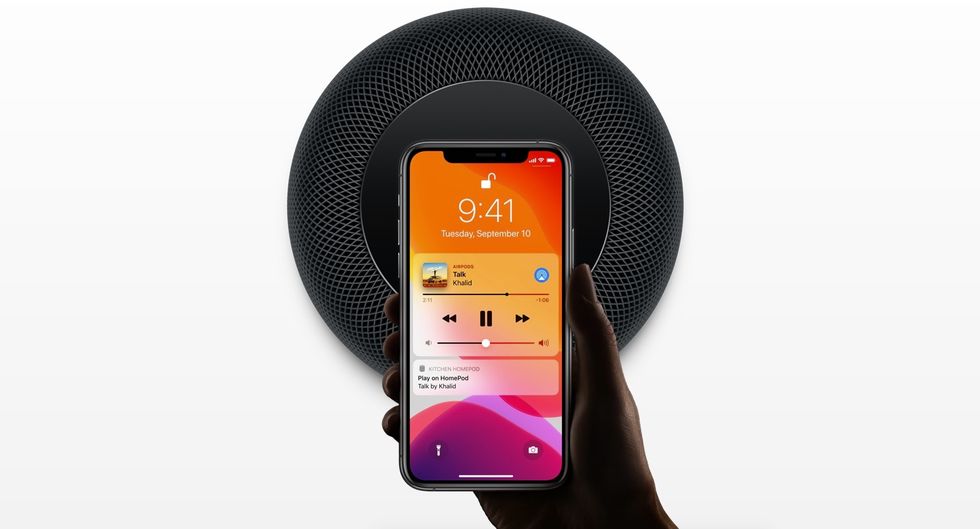 Music can be switched from iPhone to HomePod with a waveApple
The fall will also see the HomePod become more personalized. With this update, first announced back in June, the HomePod will be able to recognize the voices of up to six different people in the same family or household, then play music based on the tastes of whoever asks. When a user says: "Hey Siri, play some music," a playlist will start based on their own listening history and preferences.

This system will also give Siri the ability to read out messages, lists and calendar entries aloud, and make calls, based on the personal details of the person speaking. That way, when you ask Siri on the HomePod about your calendar entries for today, you'll get the right answer — but if your partner or roommate asks the same question, Siri will read out that person's schedule instead.
Finally, the fall will see a new feature where phone calls, music or podcasts can easily be 'handed off' between HomePod and also an iPhone or an iPad. For example, if you are listening to music on your iPhone as you walk home; when you get in, holding your iPhone close to the HomePod for a moment will then transfer the music to the speaker, and play the song from there.
The same can be done when leaving, so if you're listening to a podcast on the HomePod you can hold your iPhone against it and the podcast will switch from speaker to smartphone.
How Apple Homekit Works www.youtube.com