The Apple Watch is already capable of spotting the potential symptoms of atrial fibrillation, thanks to its heart rate monitor and ECG app.
But now, the European Heart Journal says the smartwatch can also detect the symptoms of coronary ischemia. This comes after data collected by the Apple Watch of an 80-year-old patient was used to help her receive treatment at the University Medical Center Mainz, in Germany.
Read More:
Apple Watch Series 5 (GPS, 44mm) - Gold Aluminum Case with Pink Sport Band
The woman arrived at hospital with complaints of chest pain, lightheadedness and an irregular heart rhythm. Doctors performed a 12-channel ECG, but despite being far more capable than the single-lead ECG of the Apple Watch, this revealed no evidence of ischemia.

The patient mentioned how she had previously suffered from an irregular heartbeat, as flagged up by her Apple Watch.
The journal reports how these recordings, saved as PDFs by the watch, were shown to doctors, who then spotted "tracings with marked ST-segment depression." This is often a sign of myocardial ischemia, where blood flow to the heart is obstructed by a buildup of plaque in a coronary artery.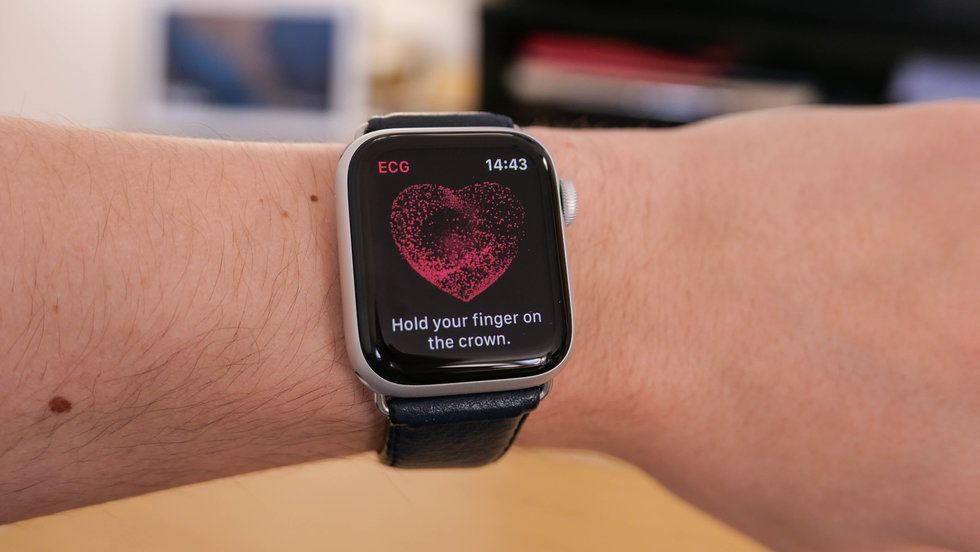 Apple Watch taking an ECG GearBrain
Based on this data provided by the Apple Watch, the patient was transferred to the catheterization laboratory where she received a coronary artery stent, leaving the hospital a day later.
Cardiologists Michael Drexler and Thomas Münzel, from the European Heart Journal, concluded: "As many experts and patients as possible worldwide should know that the Apple Watch ECG app can be used to diagnose cardiac arrhythmias and it may also be able to detect coronary ischemia. When used appropriately, the digital diagnostic aids may prevent myocardial infarctions and save many lives - as in the case of the 80-year-old patient from Mainz."

The Apple Watch has been able to take an ECG since the Series 4 model was introduced in 2018. A new smartwatch is expected to launch later this year, likely called the Watch Series 6, arriving alongside a new 5G iPhone in September.
How to Setup an Apple Watch www.youtube.com