Best Buy is shuttering its Insignia Connect line of smart home products in two months, on November 6, 2019. Some customers will be able to get compensated for the money they've spent as e-gift cards, but they're going to have to apply — and they'll need to serial number for each device.
The devices in question include the WiFi Smart Plug and Smart Plug with metering, the WiFi Smart Light Switch, the Wi-Fi Camera and the WiFi Convertible Freezer/Fridge.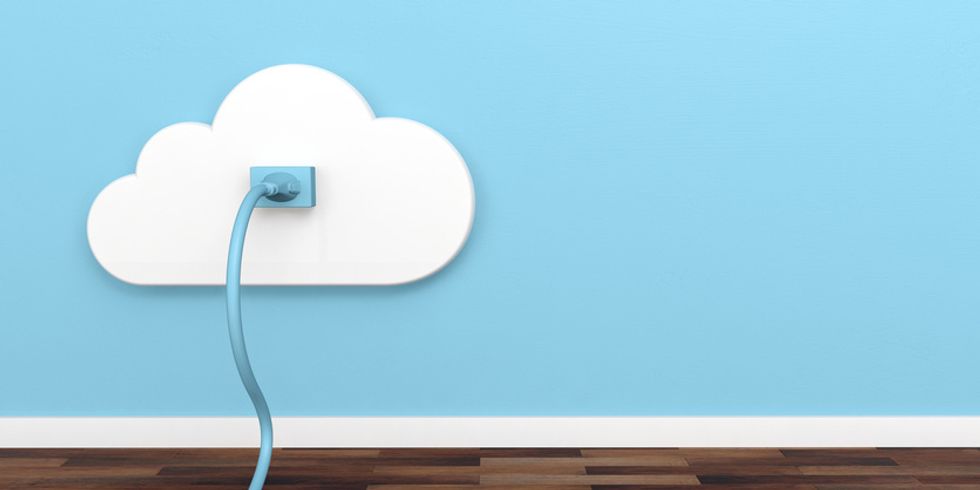 Some Insignia products will work, but won't be connected to the app Getty Images/iStockphoto
Smart home lines are closing

Best Buy's Insignia Connect is not the first smart home line to end. Stringify closed at the end of June 2019, and Leeo has warned its customers that its smart home line may close at the end of September 2019.

Iris by Lowe's shuttered at the end of March 2019, but in that case the company released its source code on GitHub making it potentially possible for people to keep that line of devices running.
Customers are still reeling and unsure how to proceed in some cases, regarding Google's decision to shut down Works With Nest — and replace it with Works With Google Assistant on August 31.
Branded smart home platforms have fought to break past the dominance Amazon Alexa and Google Assistant have in the market. (Check out The GearBrain, our smart home compatibility checker to see the other compatible products that work with Google Assistant and Amazon Alexa enabled devices.)
One issue is data storage associated with apps. When customers buy a product, they're not necessarily paying a monthly fee. While some apps do have a subscription charge, not all do. And this data storage can be costly for companies.
Ending the Insignia platform won't render these devices as useless. And because some Insignia products work with Apple HomeKit — although not the the Insignia Freezer — they're expected to continue to operate.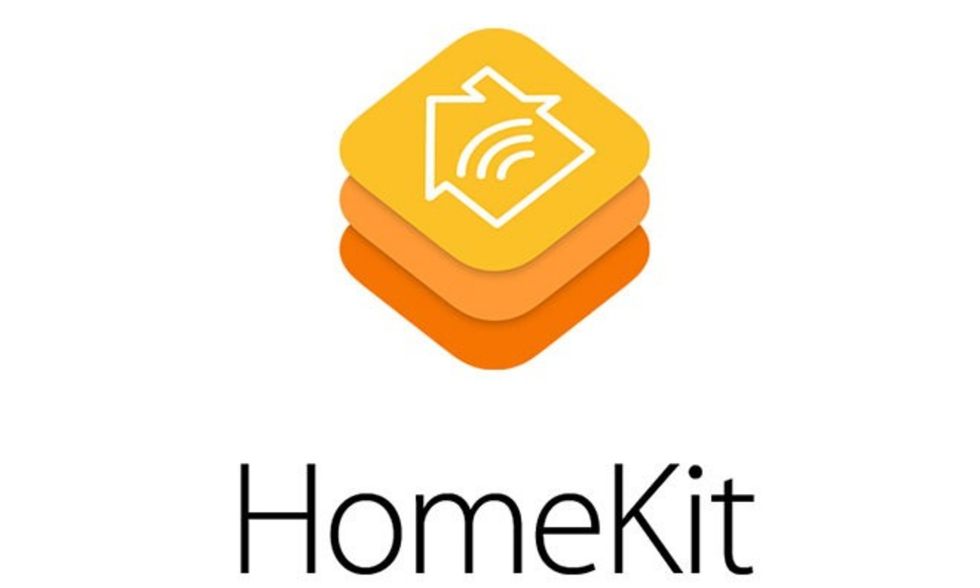 For those Insignia products that work with Apple HomeKit, some smart features will remainApple
Insignia Freezer

An Insignia freezer, for example will still work — and likely keep your items just as frozen as before. What won't work any longer are many of the A.I. features that go through the Insignia platform. So on the freezer, for example, you'll be able to see the temperature display but won't be able to run or operate the freezer through the Insignia Connect app.
WIFi Smart Plugs
With the WiFi Smart Plugs, for example, any scheduled timers set up before the platform is discontinued will work. The button on the plug will also work manually as an on and off switch. But expect the LED light on the plug to start flashing on and off when the Insignia platform is pulled. And of course the Insignia Connect app won't work any longer.
The WiFi Smart Plug with metering will work just like the regular smart plugs. But this specific plug with metering works with Apple HomeKit. That means it can continue to be controlled wirelessly through Apple HomeKit including creating scheduling and wirelessly turn in it on and off. But — the metering function will end when the Insignia platform closes down and, like he regular smart plug, the LED light is going to flash on and off.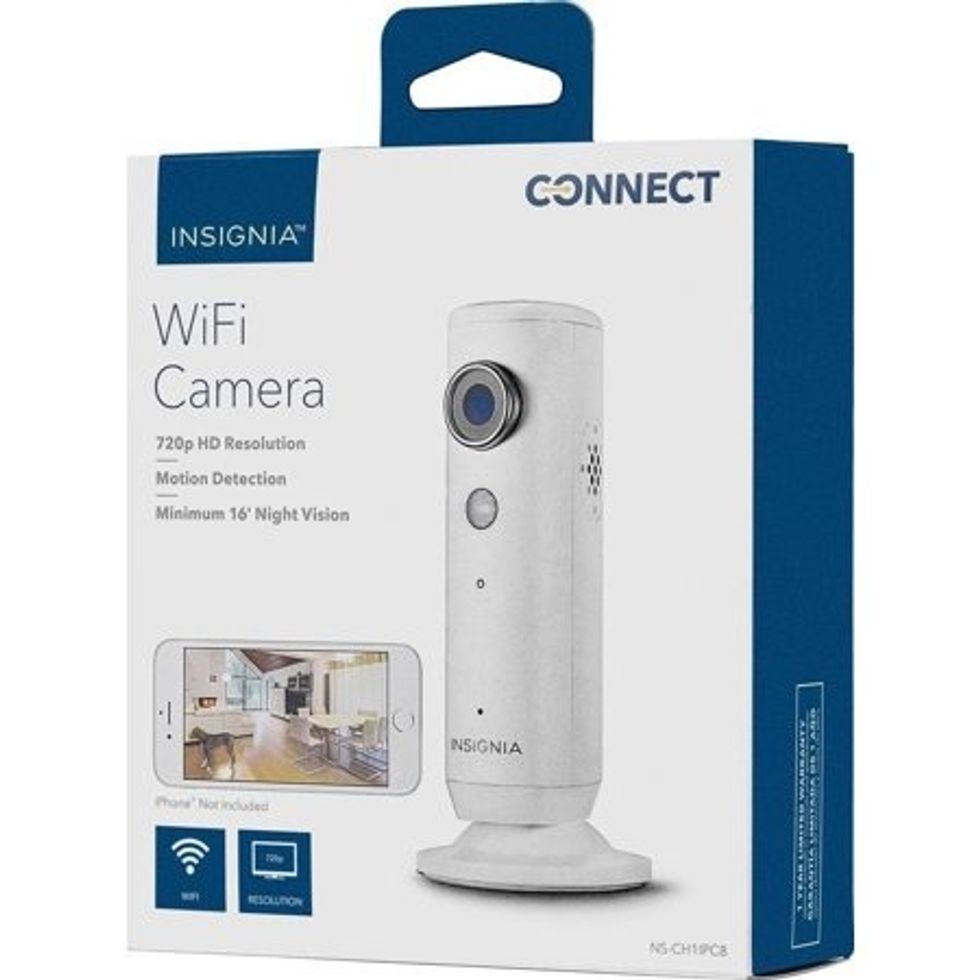 The Insignia WiFi Camera will not work at all after November 6Insignia
Wall Switches

Scheduled timers, created before Insignia shutters, will work, but the app will be closed down. The button will also work as a manual on and off switch.
But the Wall Switch is also HomeKit compatible, so you can use through Apple as a wireless device, turning the switch on and off and creating schedules.
Wi-Fi Camera

The Insignia Wi-Fi camera will completely stop working. It doesn't work with Apple HomeKit, and there is nothing on it that Best Buy says will work.
More crucially, any video you have stored through the Insignia app goes away after November 4, 2019. Customers will need to make sure that if they need that video, they download it to another source before that date.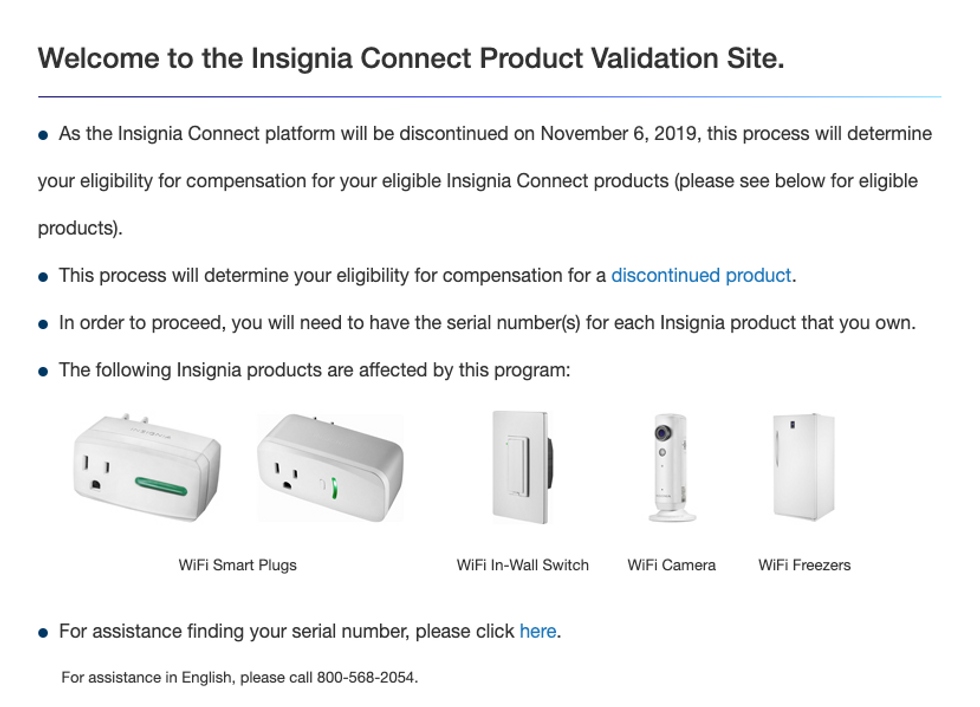 Customers need serial numbers from their Insignia products to see if they're eligible for compensationGearBrain
How to apply for compensation

Those who have Insignia devices, will need to go to a special web site hosted by Best Buy, and then click if they're a United States or a Canadian customer.
Next, they'll be prompted to enter their first and last name, and their email address.
Then, you have a place to enter their serial numbers of their devices. And if you don't know how to find them, Best Buy is offering tips on how to locate these numbers based on the model of your device.
Be aware, that the maximum number of serial numbers you can check — and apply for compensation against — are 10. That's certainly a large number. But for home owners with large spaces who may have purchased a home full of switches, plugs, a freezer and a few cameras, that may not be enough.
Best Buy is telling those customers to call the help line — not a bad number to call if you find you're having trouble with the web site as well. That number is 800-568-2054.
The e-gift cards are not refunds — you can't get your money back. But you won't have to worry about them expiring.
Unboxing in less than 10 seconds - Brilliant Home Control Switch www.youtube.com