Like GearBrain on Facebook
The CES technology show was an online-only affair for 2021. But, while the hotels and conventional halls of the show's usual Las Vegas home remained empty, the traditional showcase of ever-bigger, ever-brighter televisions remained for all to see.
The usual players like Samsung, LG, Hisense, Sony and TLC showed off their latest TV creations during the January 11 press day, each giving us a look at what to expect from TV tech through 2021 and beyond.
Read More:
Here are some of the biggest TV highlights from CES 2021:
Samsung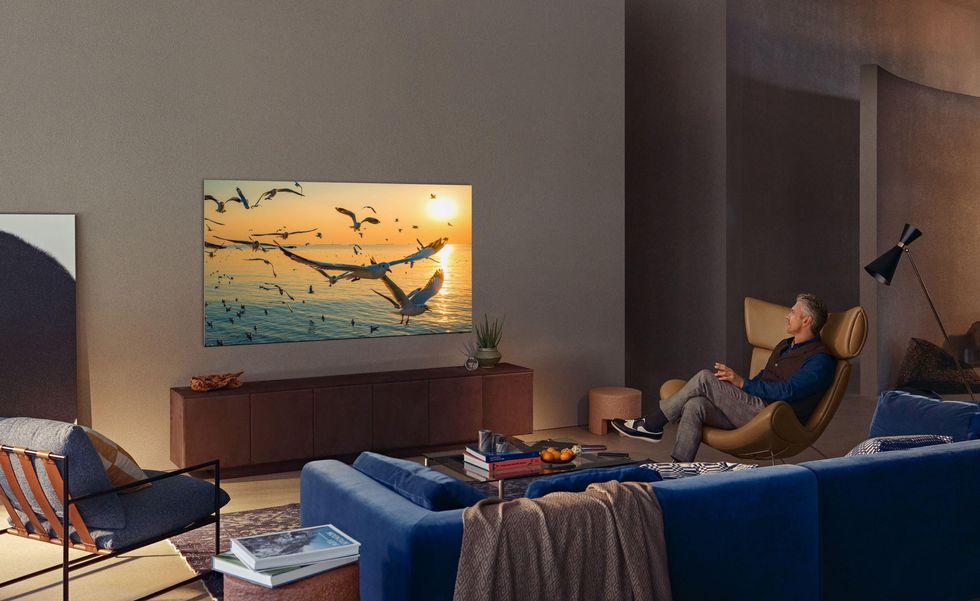 Samsung is one of several makers of new Mini LED televisions Samsung
Like several of its peers, Samsung announced its CES news before the show actually began. This news included the debut of Samsung's New QLED and MicroLED televisions. The former is Samsung's take on Mini LED, the technology adopted by several TV makers this year where screens are illuminated by LEDs that are far smaller than on older models.

Being smaller means more can be fitted – tens of thousands on each TV, in some cases – and this means more precise control over the lighting of a TV. The end goal here is to produce a far greater contrast ratio, and also create a TV that can light up an image precisely, while leaving unlit areas in total darkness.
Rather than being far-off concept technology, Samsung says Mini LED tech will appear in its 2021 Infinity One Design televisions later this year. The company says these TVs will also benefit from improved artificial intelligence to upscale HD and 4K content into 8K resolution, and they come with a new remote that is powered by a solar panel on its back (plus a USB-C port for if the battery runs completely flat).
A feature across all of Samsung's 2021 TVs is Samsung Health and the new Smart Trainer feature that turns your TV into a home workout system – perfect while gyms are shut during the pandemic.
Not to be confused with Mini LED, Samsung also used CES to show off its Micro LED screens, which are the retail-ready version of The Wall concept we saw from the South Korean company two years ago. This is Samsung's answer to the OLED screen technology used by LG and Panasonic, using self-illuminating pixels instead of an LED backlight, and with almost no bezel. These TVs are available with 99-inch and 110-inch options, and come with equally huge price tags – expect to pay $155,000 for the former. Thankfully, Samsung's Mini LED screens will be far more attainable.
LG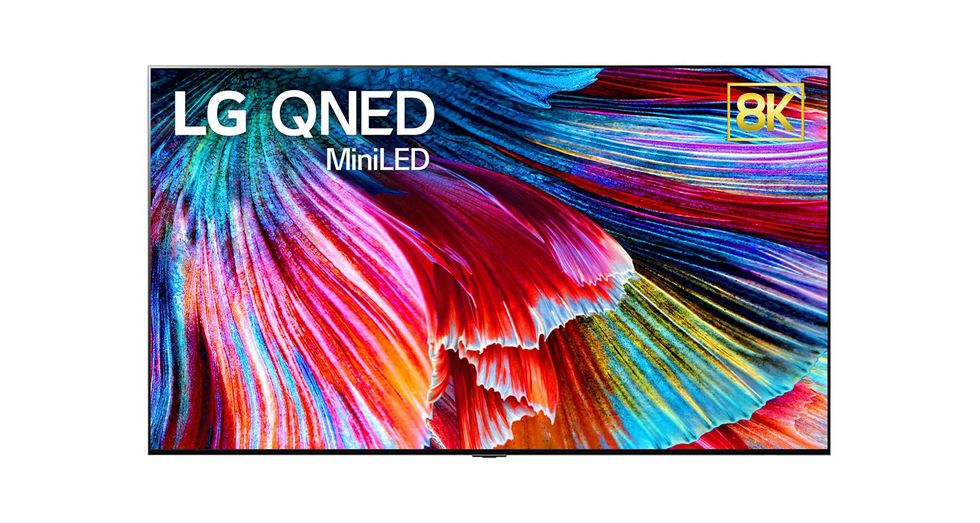 LG's new QNED Mini LED television technology LG
Arch TV rival LG also used CES to show off a new range of mini LED televisions, in this case called QNED. To sit below the company's OLED panels, its QNED Mini LED televisions will likely make for stiff competition for Samsung's equivalent, along with similar options from TCL.

LG has a range of 10 new 4K and 8K TVs with QNED technology, with sizes up to 86 inches and a video game-friendly refresh rate of 120 Hz. LG says its screens are lit by up to 30,000 tiny LEDs split into 2,500 dimming zones (each of which can be fully lit or completely black) and have a contrast ratio of 1,000,000:1. We can't wait to see how these new mini LED televisions from Samsung and LG compare once they hit stores later in 2021.
LG also announced its first sensibly-sized, 42-inch OLED televisions, which should help put the technology, which has until now been exclusive to larger TVs, into more homes than ever when it arrives later this year.
Looking further into the future, LG loves to show off new prototype TV screens at CES, and 2021 was no different. The company announced a 48-inch OLED monitor that bends into a curved shape for gaming, then goes flat again for watching movies. It also announced a transparent OLED screen designed for hotel bedrooms and restaurants alike.
TCL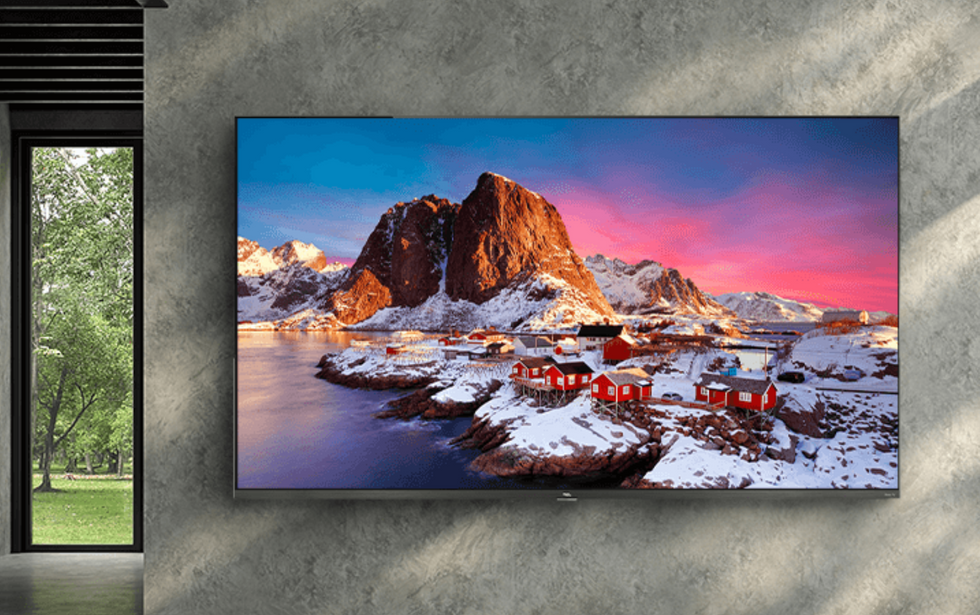 TCL's new XL Collection from CES 2021TCL
Hong Kong-based TCL might not be a name to match the clout of Samsung and LG just yet, but this week saw it make some major television announcements nonetheless. These included the company's second-generation of mini LED screens, with 8K resolution.

The company will also begin selling its first televisions with the Google TV operating system later in 2021, starting in the US then expanding internationally. These screens will have mini LED backlighting, 8K resolution and QLED tech.
Generally priced lower than its rivals, there is talk that TCL's newly-announced screens could be the first to take 8K resolution below the $1,000 threshold later in 2021.
Hisense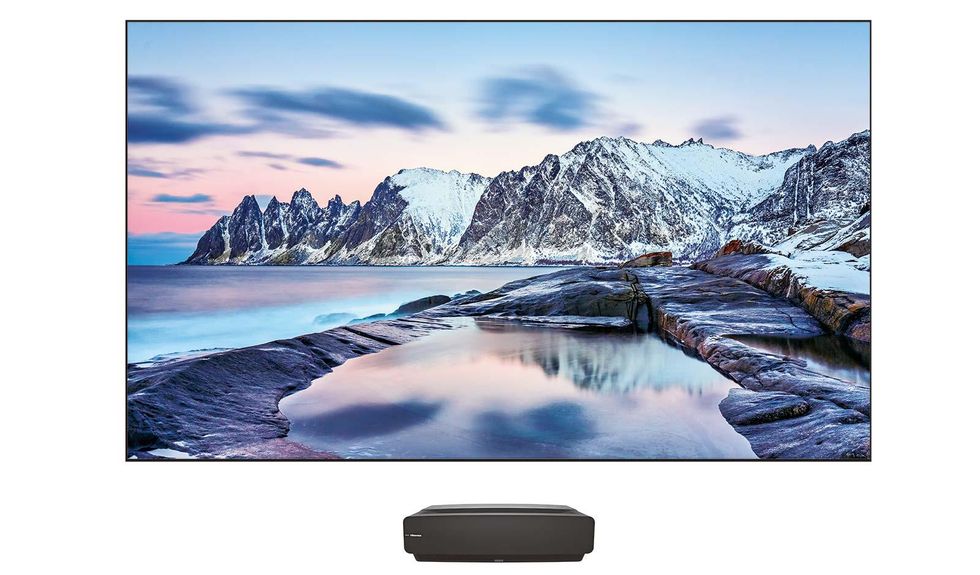 Hisense Laser TV show-throw projector Hisense
The highlight of Hisense's CES news wasn't a TV at all, but improvements to its 'Laser TV', short-throw projectors. Instead of beaming an image across a room onto a screen, these projectors can sit on your existing TV stand or media unit, because they create a picture over a much shorter distance – hence the 'short throw' part of their name.

The new TriChroma Laser TV range features a new RGB light architecture that improves color production and means a picture that is brighter than a regular TV, Hisense says. The picture produced can be set to between 75 and 100 inches, bringing cinema-scale TV to your home without the need for a massive television. There's not much more to say just yet, but we hope to see more of Hisense and its Laser TV technology through 2021; if the prices are sensible than we suspect these projectors could make a great alternative to ever-larger televisions.
Panasonic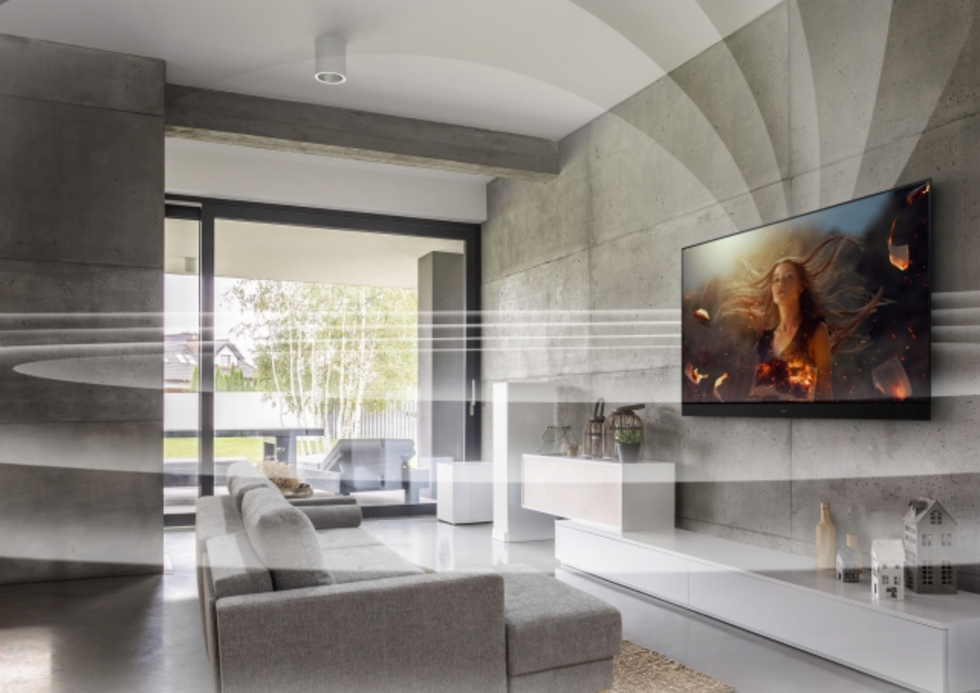 Panasonic JZ2000 has upwards- and sideways-firing speakers Panasonic
Panasonic had a quieter CES than others this year, but we still rate the company's new JZ2000 television. As well as being a high-end OLED TV offered with screen sizes of 55 and 65 inches, the JZ2000 creates Dolby Atmos surround sound by firing sound out of its sides and top.

That way, audio channels are sent out from the TV in directions that fill the room with sound, creating a 360-degree audio experience – at least compared to many regular TVs and their sub-pair speakers.
As well as promising quality audio without the need for a sound bar, the Panasonic TV offers Dolby Vision and HDR10+, plus Dolby Vision IQ and HDR10+ Adaptive. The latter two formats adjust the picture based on ambient light conditions of the room the TV is in. There is also Filmmaker Mode, where the TV automatically adjusts to display a movie exactly as the director wanted it to be.
Sony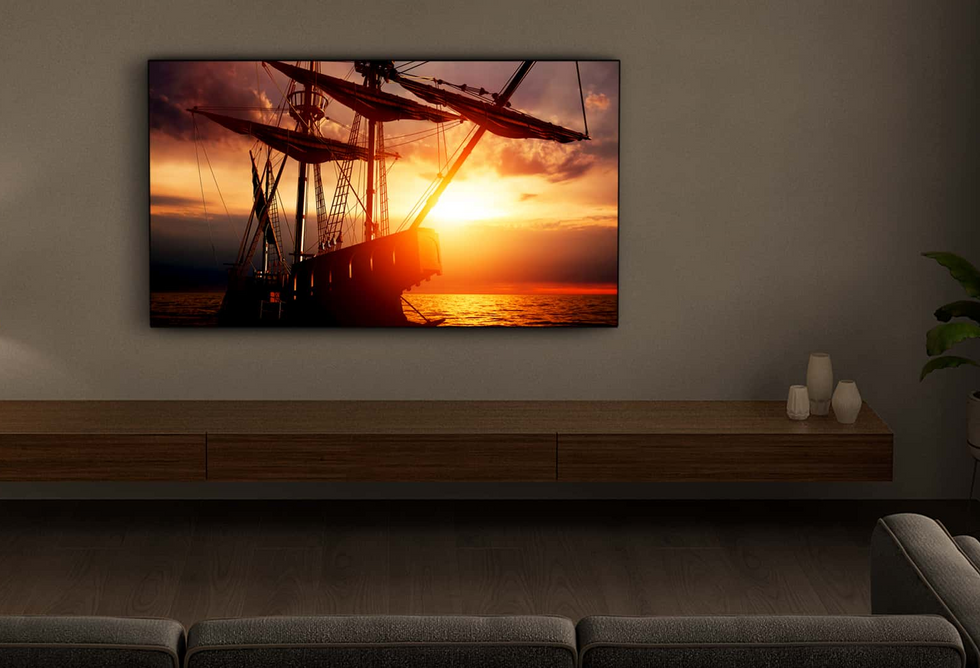 Sony's new Bravia XR LED television for 2021Sony
Central to Sony's television news at CES 2021 was image quality, and particularly a bid to use a new processor to produce more lifelike images. Sony is doing this with its new Cognitive Processor XR, an image processor that it says will bring "cognitive intelligence" to its new Bravia XR LED and OLED TVs.

Sony says this new technology looks at each frame of content shown on the TV, then splits it up into zones, works out what's going on in each, then adjusts the picture accordingly. The company says this technology works in a similar way to how our brains perceive imagery. The result is claimed to be more realistic skin tones, among other improvements.
The artificial intelligence of Sony's new TVs for 2021 will also help them upscale HD and 4K video into 8K for its 8K Master Series Z9J TVs, which are offered with screen sizes of 75 and 85 inches. As with other Sony offerings, all of its 2021 TVs will include Google TV as their operating system, complete with voice control via the Google Assistant.
Lastly, Sony this week announced a new streaming service called Bravia Core. This platform is offered exclusively to owners of the new Bravia XR televisions, and Sony says it will offer "near lossless" Ultra HD video quality almost on par with that of a UHD Blu-ray disc.
Sony says the system will stream at speeds of up to 80Mbps, which is far above the minimum requirement of around 20Mbps required for Ultra HD streaming from platforms like Netflix and Prime Video.
However, instead of replacing Netflix, Bravia Core will serve up a handful of free movies from Sony Pictures to those who buy Bravia XR televisions. The movies will be redeemed using credits that come with the purchase of a new Sony TV. New and classic titles are offered, but exactly how the credits system works isn't known for now. The promotion converting credit into movies will run from February 2021 until February 2022.
Sony XBR-65X900F 65" Class LED 4K Ultra High Definition HDR Smart Android TV with an Additional 1 Year Coverage by Epic Protect (2018)
Like GearBrain on Facebook