BMW has shown off its first electric SUV, called the iX3, in full production-ready form for the first time.
First revealed as a concept car back in 2018, the iX3 is now almost ready to take the fight to Jaguar with its electric I-Pace, Audi with the E-tron and Mercedes with the EQC.
Read More:
To be produced in China for the global market, the BMW iX3 features an all-new battery and motor combination. It will go into production soon, and is the first of three all-new electric BMW models due to go on sale within the next 18 months.
Based on the X3, the iX3 shares a similar design to its petrol- and diesel-powered sibling, but features a blanked-off grille at the front, and blue detailing that has become BMW's electric and hybrid signature, having previously appeared on the i3 and i8.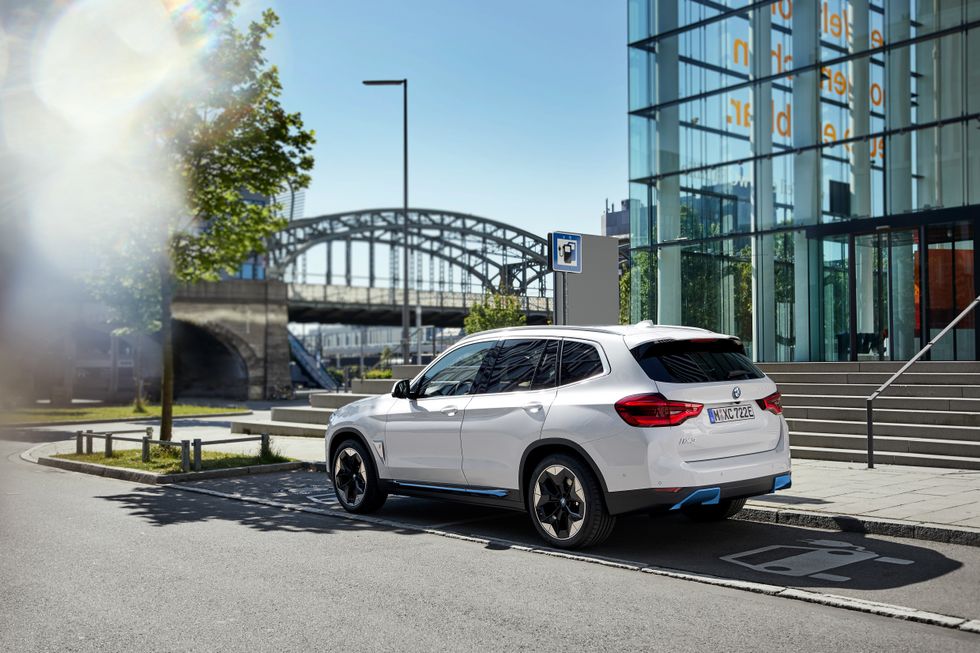 The iX3 is due on sale in 2021 BMW
BMW says the iX3 and its 74kWh battery pack is capable of 285 miles using the new WLTP test cycle, which equates to 323 miles using the NEDC cycle. The company is yet to announce an EPA range figure for the US market. Real-world range is likely to be in the region of 250 miles, depending on driving style, location and ambient temperature.

Performance stats include a 0-62mph (100km/h) time of 6.8 seconds and an electronically limited top speed of 112 mph. Total power output is 286 horsepower and 400 Nm of torque. And, while it may look like a four-wheel-drive, the iX3 is exclusively rear-driven, with a single electric motor on the rear axle.
Interestingly, BMW has opted for a current-excited electric motor, which uses an electrical current, instead of the more common permanently-excited motors used by other EV makers. Where those rely on a physical magnet, the BMW uses a current to create magnetism, thus removing the need for certain rare mined materials.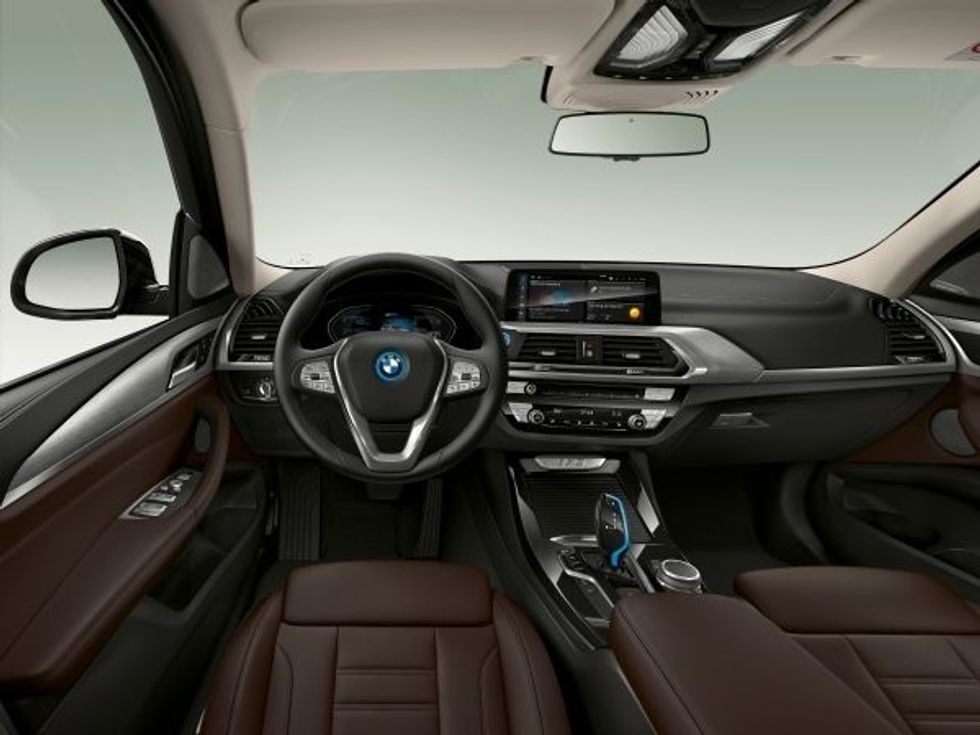 Cabin of the electric BMW iX3BMW
BMW claims the new motor is vastly more efficient than any it has used before, including those in the i3 and i8. This means 30 percent more power density and 93 percent more energy efficiency.

Making its debut in the iX3 is a new sound system from BMW called IconicSounds Electric. This isn't a music system, but instead an augmented sound track to replace the sound of an engine. Developed in collaboration with movie score legend Hans Zimmer, the system "adds extra emotional depth to the driving experience," BMW says.
Although BMW doesn't have its own charging network like Tesla, iX3 drivers will receive the BMW Charging Card, which gives them access to more than 450,000 public charging points worldwide. Charging speeds of up to 150kWh (using a 400 volt system) mean the battery can be filled from zero to 80 percent in 34 minutes.
Prices will be announced later in 2020, with production starting in 2021.