Smart lights are one the easiest ways to start building a smart home — they can save money and are simple to launch. However, before buying any smart lights, you need to decide where you want the controls of your smart lighting: at the lamp, or light level, at the switch?
If you are renting, and not comfortable with electricity, we recommend you have control your lights at the lamp or the light level. But if you're comfortable with electricity, smart switches are a good, economical option, especially if you have a lot of lights in the room. Most experienced smart lighting companies offer both switches and lights, letting you easily mix and match smart LEDs and switches if needed, such as C by GE. We got a chance to test the C by GE C-Start Smart Switch in a real home to see how it performed under normal conditions. Here is what we found.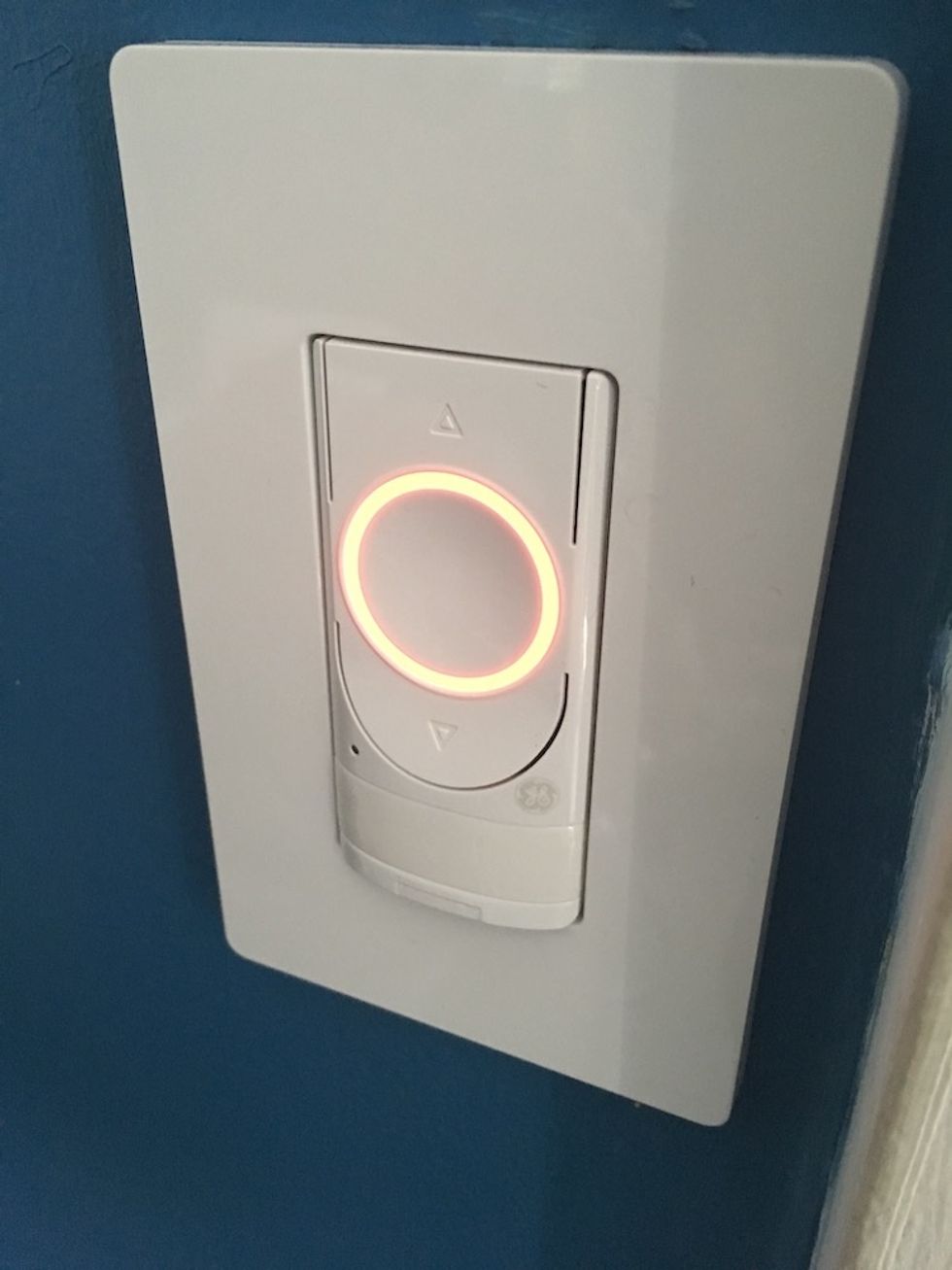 Picture of C by GE C-Start Switch installed.GearBrain
What is It?

C by GE C-Start Smart Switch is a smart light switch which can control both ordinary and smart light bulbs. You don't need a hub, and the system is easy to setup. Using the C by GE app, you can set schedules, control your lights when away from home and even setup voice controls using Amazon Alexa or Google Assistant.
C by GE offers several different types of smart switches: motion + dimming, dimming, on/off button, on/off toggle and on/off paddle. All provide one-touch control for an entire home if paired with C by GE bulbs and/or plugs as long as there's a neutral wire and a Wi-Fi connection in your home. We tested the C by GE Motion + Dimming smart switch which has a built-in motion sensing, ambient light detection, dimming control and light ring indicator.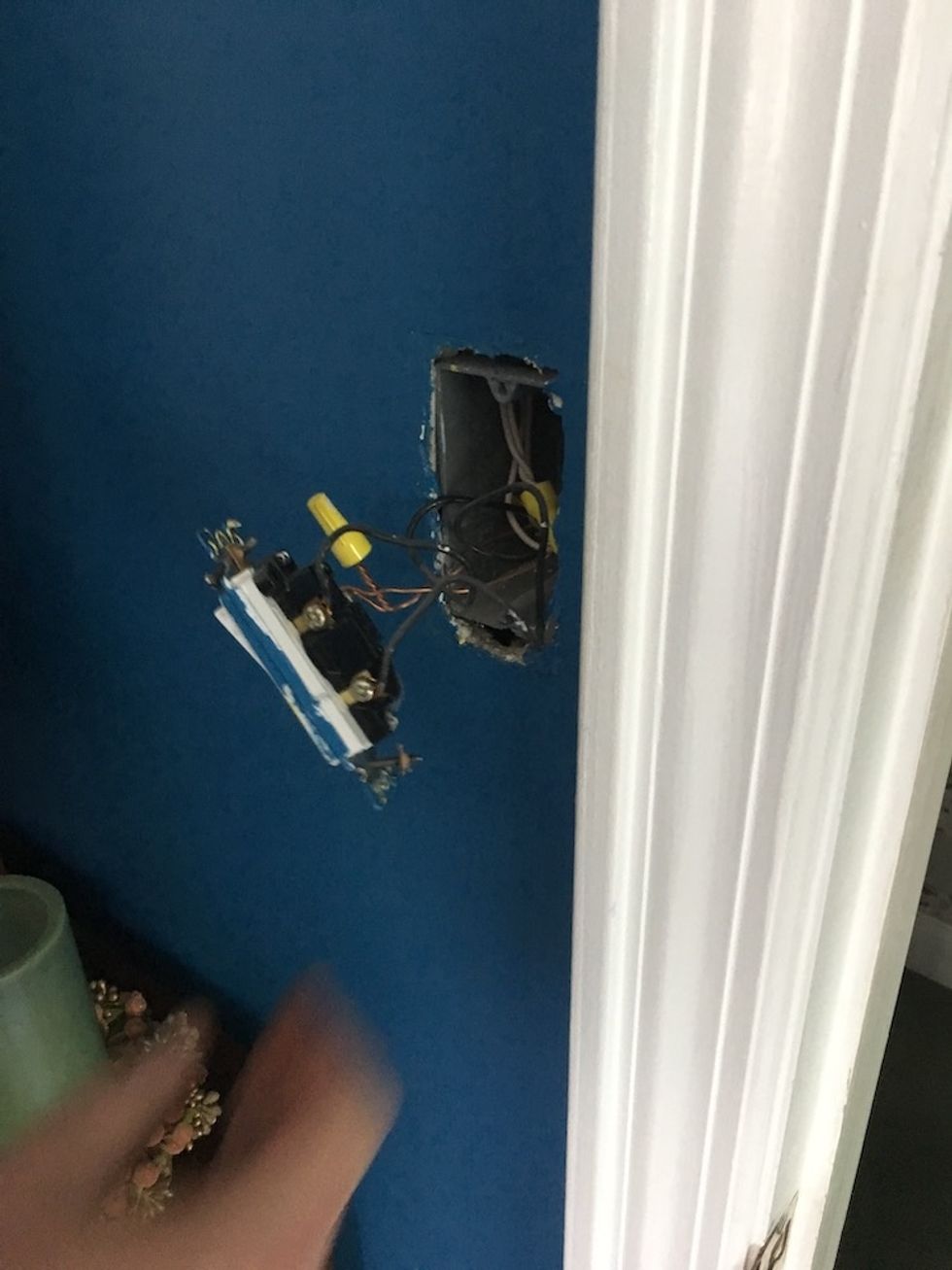 Remove old light switch but turn power off first.GearBrain
How do you install the switch?
Installation is just like all other smart switches. First, make sure you have a neutral wire behind your walls, or the switch won't work. Next, make sure your existing switch has a power rating of 120V AC 60-Hz . Since the switch connects to the internet over a wireless Wi-Fi signal, make sure your home router has 802.11 b/g/n @ 2.4GHz wireless connection. If you have a dual band model, this switch will work but not on the 5GHz frequency setting.
If everything is compatible, installation is rather simple:
Turn off the power to the existing switch.
Remove the old switch and install the GE C-Start smart switch.
Next, turn the power on and download the C by GE app from either the Google Play (Android) or App Store (iOS).
Now follow instructions in the app to add your C-Start switch to the C by GE app. If you run into any issues, you can always visit the Support section in the app, where there are instructional videos to help you.
Some other things to note? The switch is a single pole switch but can be configured into a three-way switch if needed, but it's difficult. If you're doing this, go to the GE C by GE site (in the Support Section of the app) to find the instructions. Also, when installing the switch, make sure you have enough room in your junction box to fit the wires, wire connectors and C-Start switch, as this is a large device, and you don't want wires to come loose, which could potentially create a fire.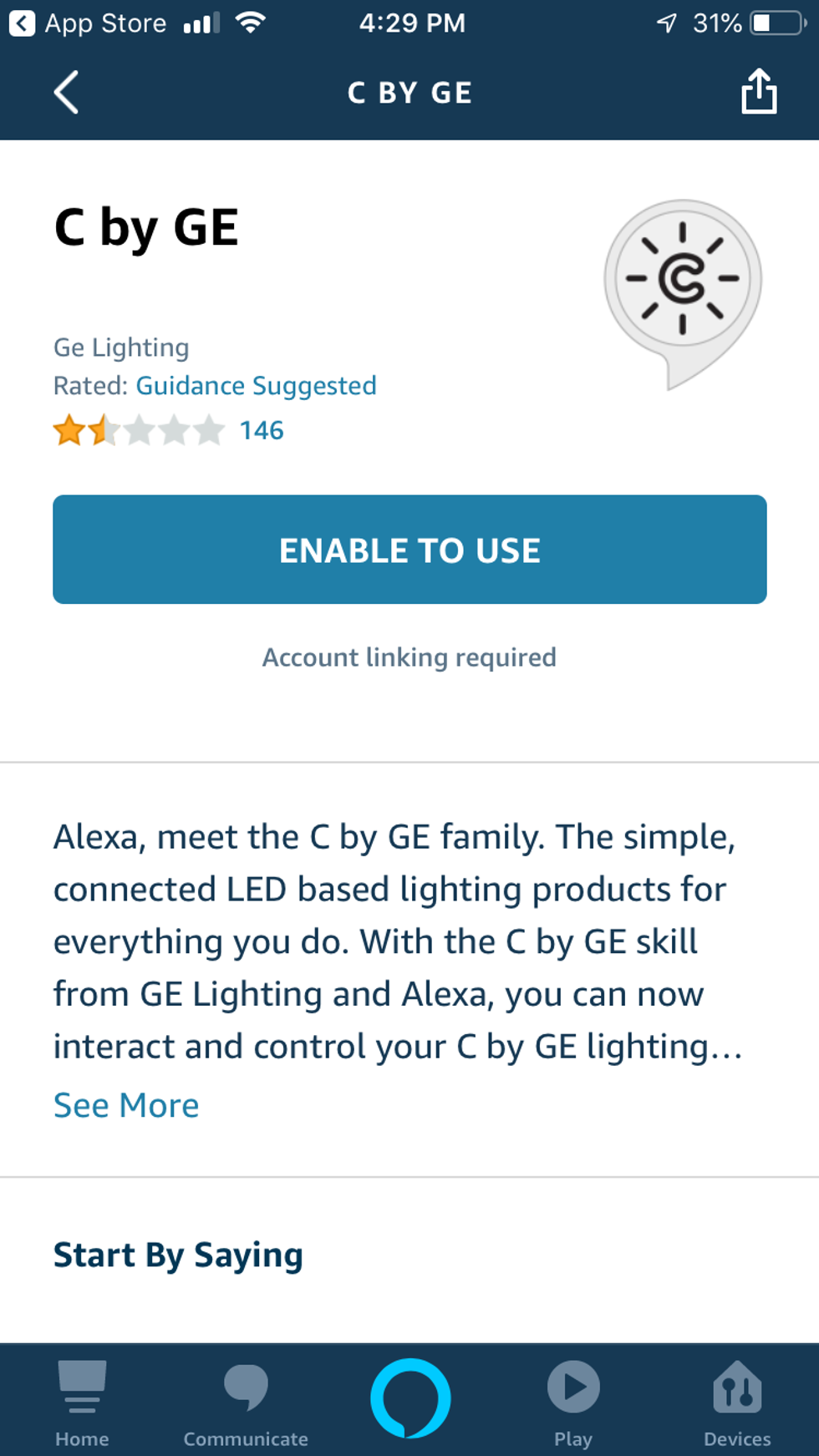 C by GE C-Start works with Alexa and Google Assistant.GearBrain
Smart Home Integrations

C by GE has a good smart home ecosystem, working with Amazon Alexa and Google Assistant enabled devices. Apple HomeKit compatibility is coming soon, but you will need a C-Reach Smart Bridge, which acts as a hub. We tested both Google Assistant and Amazon Alexa integrations and the switch was immediately recognized by both platforms. Make sure when setting up your smart switch to pick a recognizable and easy to say the name. That way you can control the switch easily by voice through these smart speaker assistants.
How well does the switch work?
For our test, I asked my electrician to help. After watching him install the switch, I now believe I could do this too as it's similar to other smart switches when it comes to installation. You will need to make sure you have four wires in the wall for the switch to work properly, including a neutral wire. If there are only two wires, your home is likely older and won't be able to use the switch without updating your wiring. Don't want to invest in that? C by GE smart lights are then a better choice, as you can have the same control of the smart bulbs through your smartphone when connected to your home Wi-Fi.
We had a few hiccups during testing with the switch. In the middle of the night, the lights connected to the C by GE smart switch went on, even though the room was empty. We got up out of bed, walked to that room, and turned the lights off manually. A few minutes later, the light turned back on again. Opening the app, I noticed there was a firmware update, which I installed, and then turned off the light. A few minutes went by, and the light turned on again. Finally, I turned the lights off using the app and they stayed off.
We asked C by GE and they mentioned the motion sensor on the switch is very sensitive. It can detect the slightest movement and turn your light on, including if there is no motion in the room. Our switch was facing a window and the motion sensor picked up motion from the tree outside the window. There are a few steps you can take to prevent this from happening, based on our conversations over email with C by GE Support.
We recommend you set up the motion response schedule in the C by GE app. Go to "room motion sensor" for the room where your switch is installed, and create a schedule. Also check the firmware to make sure you are running the most current version. Finally, take the following steps:
Delete the switch out of the app and reset it by holding down the on/off button until the light turns red.
Add a new location in the app by going to Settings - > Locations - > + , then, delete the old Location.
Pull the air gap on the bottom of the switch out for 10 seconds or more and push it back in.
Add the switch back to the app.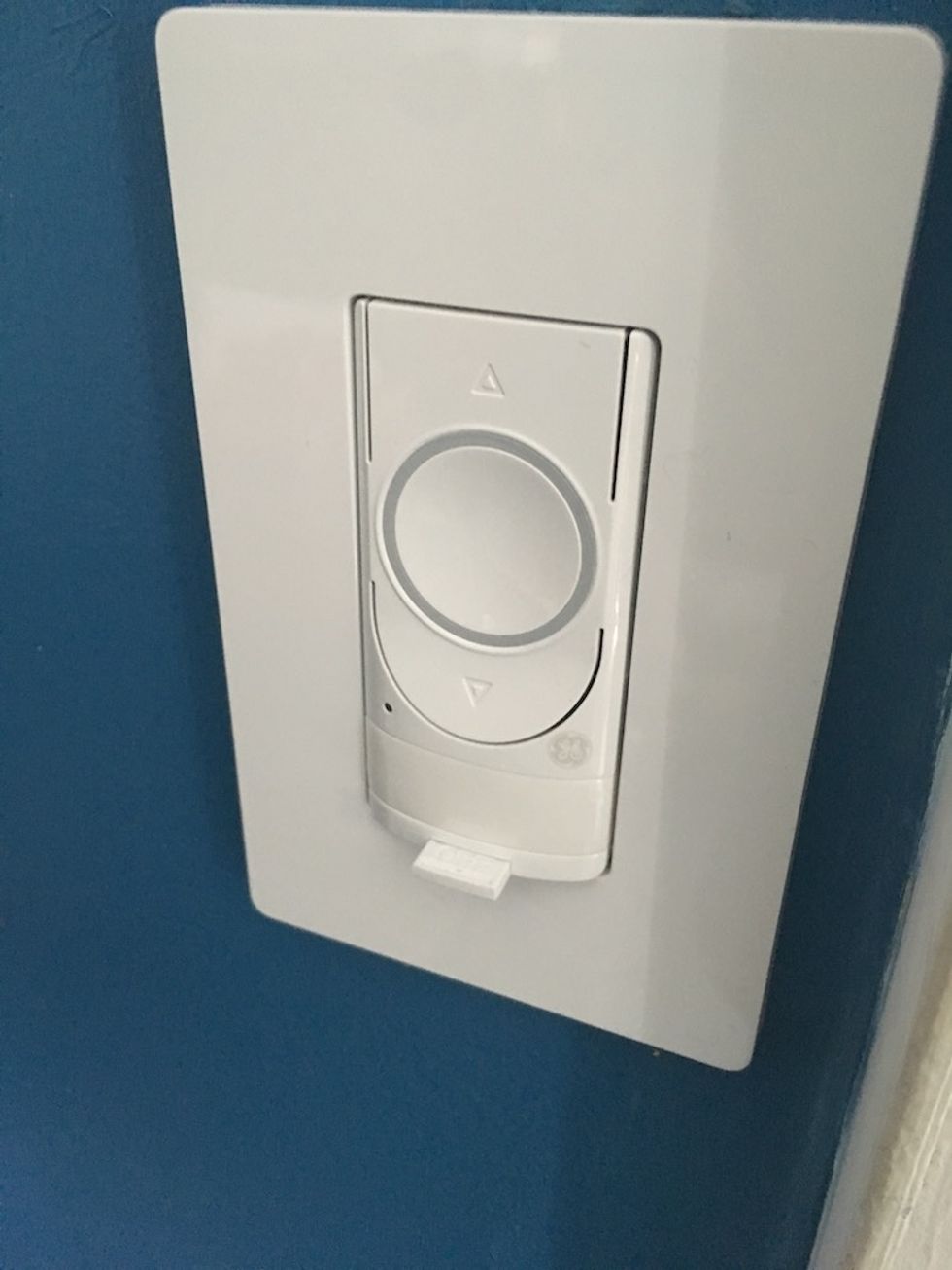 Picture of C by GE C-Start smart switch with air gap out. This turns off power to the switch.GearBrain
Another issue we had was around automations and scenes. When you're away from the switch, or out of your home, you can't set up, edit or delete automations and scenes. We could enable and disable the automations when we were in proximity of the switch, but not if we were out of the house. At first we wondered if this had to do with our Wi-Fi connection, but that was working fine. Then we got a notice in the app informing us that you can't configure the switch when you're away but only control turn them on and off. Other automations require that you're in Bluetooth range, something to note if you buy these switches.

Finally, the motion sensor functionality is nice, but you can't adjust the time it takes for your lights to turn off after you leave the room. The company is working on this feature and hopes to have a solution in the near future. But for now, it will take five minutes for your lights to go off once you leave the room and no motion is detected. This is rather long, especially when compared with other smart switches we have tested that had motion sensors. We look forward to seeing this improved.

Cost
The cost of the C by GE Smart Switch Motion + Dimming smart switch is $75, and you can pick one up at Best Buy and Amazon. Other C by GE C-Start smart switch models are available at Lowe's, Best Buy, TrueValue and Amazon. While $75 may seem expensive for a smart switch, even with motion sensor and dimmer capabilities, we think it's well-priced.
Smart switches by Leviton (Decora) and WeMo, which have dimmer capabilities but lack motion sensors, cost around $30. Smart switches by Lutron Caseta, which require a hub, cost between $40-$50. Then there are smart switches with motion sensors and dimmers, but are woven into extensive smart home integrations, and are priced higher, like the Brilliant Smart Switches, which run over $300 per switch. The only smart switch we found that is similar to C by GE Motion + Dimming smart switch is the ecobee Switch+ Smart Light Switch which has motion sensing, dimming capabilities, ambient light sensors, and works with Alexa. You can pick one up for $78.80 on Amazon today.
Summary

C by GE smart switch is a well made, smart switch that can work in any connected home today that has the right electrical wiring. It's easy to install, integrates with Google and Amazon, and doesn't require a hub, unlike many smart switches with motion, ambient light sensors and dimmers. However, C by GE has new smart home integrations coming that will require a C-Reach Smart Bridge, something to note in particular if you're on Apple HomeKit's ecosystem.
The switch is priced well, based on its features. Many smart switches either have one or two integrations, such as dimming, or act as the brains of your smart home. C by GE smart switch has a strong number of features for today's smart switch which are easy to setup and control. We would like to be able to decrease the amount of time a light stays on when you leave the room. The company is working on this solution and we look forward to testing it in the near future.
If you are looking for a smart switch to be integrated into a broader ecosystem without needing a hub, you can do it with this switch but only if you're using Amazon Alexa or a Google Assistant-enabled devices. We think using one of these smart speakers as a smart hub is a good idea anyway, as both have rather large and expanding ecosystems to help you customize your smart home.
Finally, be aware that the design of the switch differs from other smart switches, as it has a more modern look. We liked the features, particularly the light ring on the switch, which we felt made it easy to find during the night.
C by GE smart switch is a solid device, manufactured by a company with many years of lighting experience. If you already own C by GE smart lights, this is a great smart device to add. The combination can help you get the desired lighting in your home with ease and help you save money. Just be aware that the C-Start switch with motion + dimming is sensitive, and can even pick up someone moving around in their sleep. Luckily you can make adjustments in the app so you can get a good night's sleep without interruptions.
Pros and Cons
Pros
Lots of sensors: motion and ambient lighting
Easy to install
Works with Alexa, Google Assistant and C by GE smart bulbs
No hub required
Cons
Spotty performance from motion sensor (very sensitive)
Need to be close to switch to setup automations
Hard to set up as a 3-way switch
Can't adjust motion sensor time to shut off lights after leaving room.
Works on limited wireless connections – Wi-Fi only (i.e. no Z-Wave or Zigbee.)
Motion Sensor + Dimmer Switch Specifications
Switch Function: On/Off/Dimming/Motion and Ambient Light Sensing
Style: Touch
Color/Finish: White
Wall Plate Size: Standard
Grade: Residential
LED Indicators: Yes
Volts: 120V
AC: 60Hz
Power Capacity: Max 150W LED
Power Capacity: Max 450W incandescent/halogen
Wi-Fi: 802.11 b/g/n @ 2.4 GHZ
Minimum Requirements: Wi-Fi connection and electrical box with neutral/ground/lead/load wires
Warranty: 2 Year Limited Warranty