Like GearBrain on Facebook
As consumers learn how to better protect themselves against malware and phishing, cyber criminals are now switching to other areas of our lives - like hacking the smart home.
Cyber security company McAfee believes that smart home gadgets - security cameras, smart speakers like the Amazon Echo, internet-connected door locks and alarm systems - are prime targets for criminals looking to cause physical damage which wasn't previously possible.
Read More: CES 2018 - the biggest news from the world's largest tech show, live from Las Vegas
As a result, the company has partnered with D-Link to offer a new Wi-Fi router it claims actively helps protect smart home devices from attack.
Announced at the CES technology show in Las Vegas, the $250 D-Link AC2600 router is claimed by McAfee to "provide consumers with a comprehensive solution that automatically increases security for devices on the home network." The router is expected to go on sale in the second half of 2018.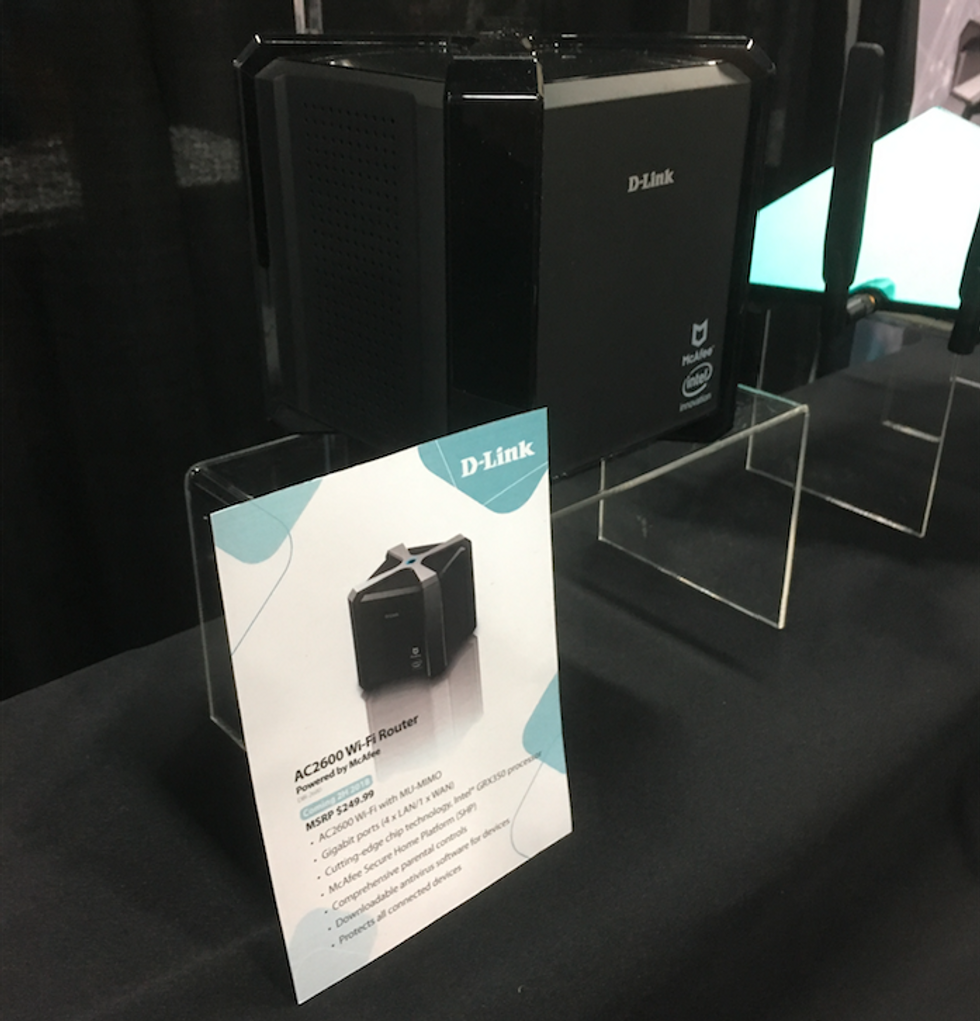 AC2600 router has McAfee protection and Intel power to keep all connected smart home gadgets safeGearBrain
The expansion from conventional cyber security to protecting the smart home comes at a key time for both McAfee and consumers, as smart speakers like the Google Home and Amazon Echo enter our homes. These bring with them dozens of other web-connected devices, such as lights, thermostats, air conditioning units, garden watering systems, door locks, alarm systems and much more. Although smart on the outside, these devices often have varying degrees of security baked in.
While hacking lights and music systems might sound like little more than an online prank, the owners of smart homes with internet-connected locks and alarms must take their cybersecurity extremely seriously.
McAfee said in a press release: "As education and awareness rises, individuals and organizations are getting better at protecting against malware like ransomware...this improvement is likely to drive cybercriminals to adjust their tactics and target less traditional, more profitable targets, including high net-worth individuals, businesses and connected home devices."
McAfee says it is working with D-Link to "provide security in an increasingly connected world with features like adaptable machine learning, parental controls, protection for Internet of Things devices and more."
Also announced at CES this week was Samsung Secure Wi-Fi, which uses McAfee technology to encrypt information and online activities. The service is available now on the Samsung Galaxy Note 8 smartphone in the UK, Germany and France.
For more from CES, click here CES 2018 - the biggest news from the world's largest tech show, live from Las Vegas
Like GearBrain on Facebook