Like GearBrain on Facebook
First just for Prime customers, the Amazon Echo has grown into a fully-fledged family of smart home gadgets — arguably some of the most talked-about devices of the past year.
Amazon biggest update is about to launch, extending its family with new models that all boast Alexa support.
Before upgrading, take a look at what the new Echo 2 has to offer — and how it compares to the original Echo. Maybe you need a new device, perhaps you don't, but we can help you decide.
Amazon Echo vs Echo 2: Design

Echo 2 is much a smaller device than the original, boasting an extended range of colors and finishes. Although the radius of the new Echo's cylindrical design is the same as the original — the Echo 2 is 148 mm tall, much shorter than its 235 mm tall predecessor. The shorter Echo also weighs less: 820 grams compared to 1,045 grams.
There are new colors and finishes for the new Echo, a nice upgrade from the original's black or white plastic options. Echo 2 comes in silver, with a range of textured covers that include charcoal, light grey and sandstone fabric, plus oak and walnut.
Looking less like a consumer tech gadget — and more like a fashionable piece of smart home decor — could help the Echo 2 spruce up more interiors than before. After all, Amazon wants you to install multiple Echo devices across the house: Designing the gadget to look at home in the living room, kitchen and bedroom — as well as the office and TV room — is key.
Amazon has removed the original Echo's volume dial from the top of the device, replacing it with volume buttons like on the Echo Dot. But everything else remains unchanged — and that means mute and listen buttons are still on top, with a micro USB port on the device for power and an auxiliary port for connecting a sound system.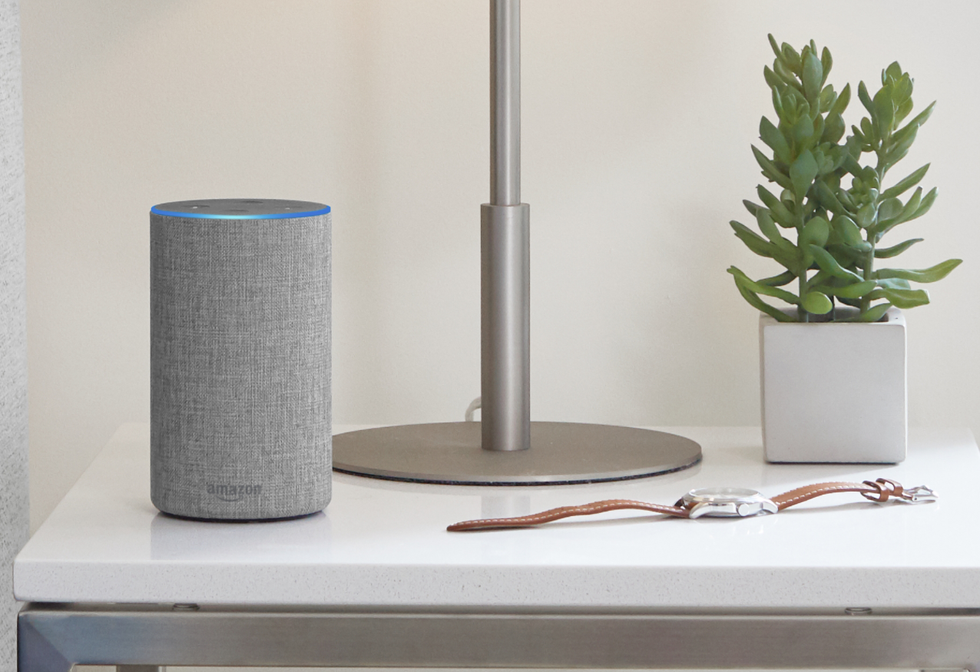 The Echo 2's fabric finishes make it feel more at home than the originalAmazon
Amazon Echo vs Echo 2: Audio performance
The new Echo has a 2.5 inch woofer (the same size as the original, but the speaker itself is different) and a 0.6 inch tweeter (smaller than the 2 inch tweeter of its predecessor). Amazon claims audio quality, already good on version one, is even better than on the new device — and the system is now tuned by Dolby to create what Amazon calls "360-degree, room-filling sound."
Both Echo devices have seven microphones to help the gadget hear you clearly and pick out a real person's voice even if music or your TV is playing.
Amazon Echo vs Echo 2: Alexa and features

Because Alexa's intelligence sits on Amazon's servers — rather than on the device itself — her ability to understand you does not vary from one Echo to another. As a result, the Echo 2's Alexa will have exactly the same set of features as the original — this holds true for the Echo Dot too. (In other words, don't upgrade because you think you'll get better Alexa Skills with each new device.) Alexa will become more intelligent over time — on all devices.
A new feature coming to Alexa, to coincide with the new Echo range, is 'Routines'. Once set up, these allow Alexa to perform multiple tasks after just one instruction from you. For example, say 'Good morning' and Alexa will (once configured) switch on the lights, open the curtains, switch on your connected coffee machine and read the news headlines.
Amazon Echo vs Echo 2: Price
The original Echo cost $180 when it launched in late-2014. But as is the way with advances in technology, the Echo 2 will cost just $100 when it goes on sale on October 31. For a limited time, if you buy three and use the code ECHO3PACK at the Amazon checkout then you will receive a $50 discount, making them $83 each.
Alternatively, Amazon is currently selling refurbished versions of the original Echo for $90. But for the extra $10 we would say the newer model is worth it, given the more compact size, increased color options and claimed audio improvement.
Like GearBrain on Facebook