GearBrain has tested and written about smart air monitors and their role in today's smart home. These connected devices monitor the air quality in your home, but sensing levels of the CO2, volatile organic chemicals (VOCs) and other elements like the dust in the air. But what these devices don't do is clean the air. If you want to monitor and clean the air, then you need an air purifier. We were sent one of these devices, a smart air purifier by Coway called the Airmega AP-1512HHS, and tested the device to see how it would work letting us know not only if our air was unhealthy, but if the purifier would also clean up problems it detected, without requiring we open a window — or do anything. cleaned it too without us having to do anything, including opening a window.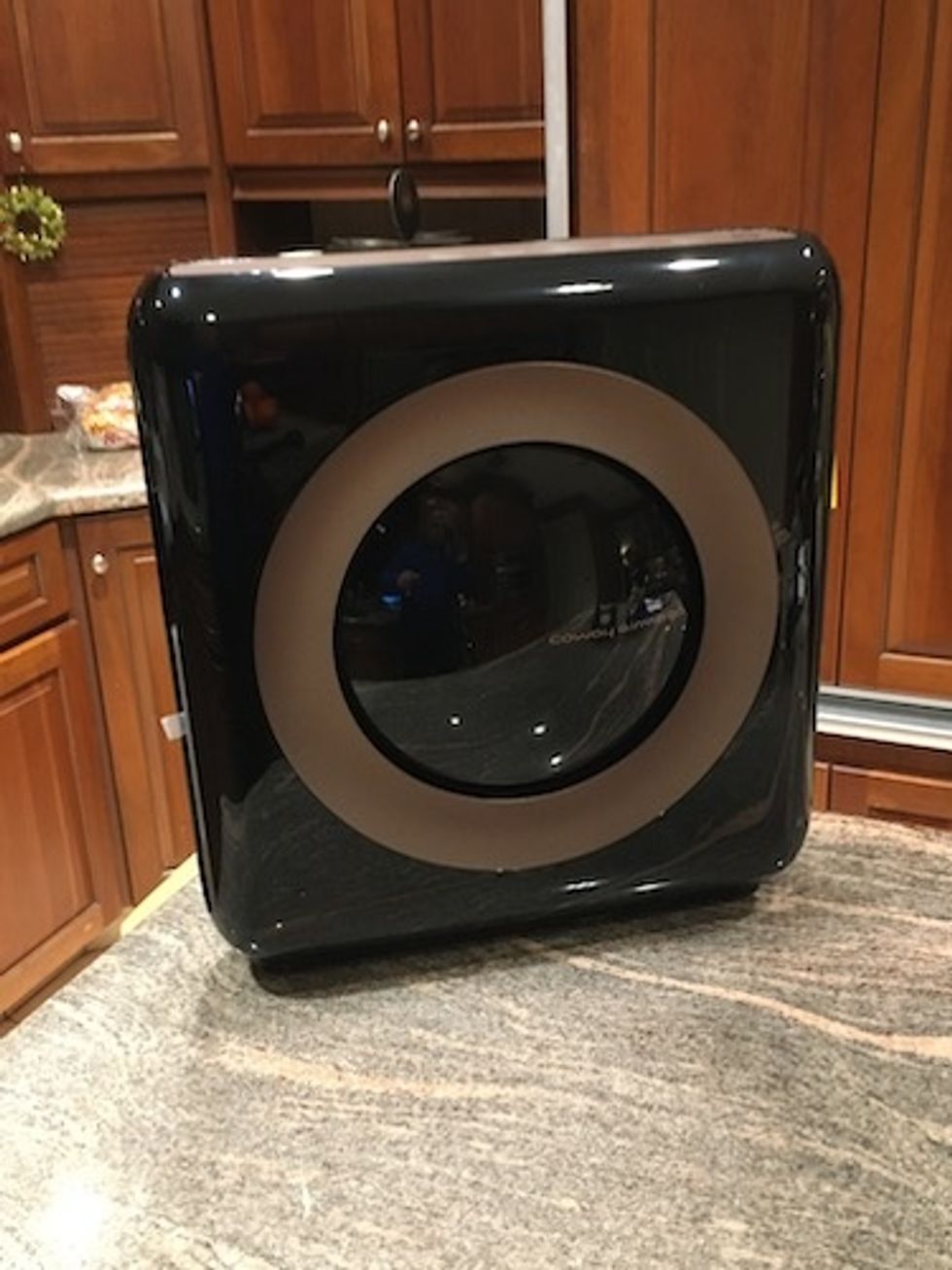 Coway Airmega AP-1512HHS Smart Air PurifierGearBrain
What is Coway Airmega AP-1512HHS?

The Coway Airmega AP–1512 HSS is a smart Wi-Fi enabled air purifier that covers about 325 square feet. The purifier works through the IoCare mobile app, both iOS and Android, and uses a three-stage filtering system, which the company says will eliminate pollutants as small as .3 microns.
Coway Airmega has features which include automatic air speed control, an air quality indicator and an Eco mode for energy. You can monitor the state of your filters, schedule the monitor when you want it to work, and get updates when you choose about the air quality.
Smart Home Integrations
The Coway Airmega also works with both Amazon Alexa and Google Assistant voice platforms. For Alexa, you need to download the Alexa Skill for Coway, and for Google Assistant just enable the Google Assistant routine. We connected the Coway Airmega to both platforms and found the process very easy. The key for both of these integrations will be the naming convention you use to help Alexa or Google identify your Airmega, especially if you have more than one in our home.
For Alexa integrations, Coway recommends using certain nicknames based on NATO Alphabet (i.e. Alpha, Bravo, Charlie, Delta, etc.), Planet Order (i.e. Sun, Mercury, Venus, Earth, etc.) or Rainbow Spectrum (Read, Orange, Yellow, Green, Blue, Indigo, Violet) when you have multiple Airmegas in your home. Nicknames are not assigned via Airmega or Amazon Alexa app — you have to do it. But know these are the names Alexa will recognize when you say a command, so make a point of writing them down or remembering them.
Coway Airmega Works with Amazon Alexa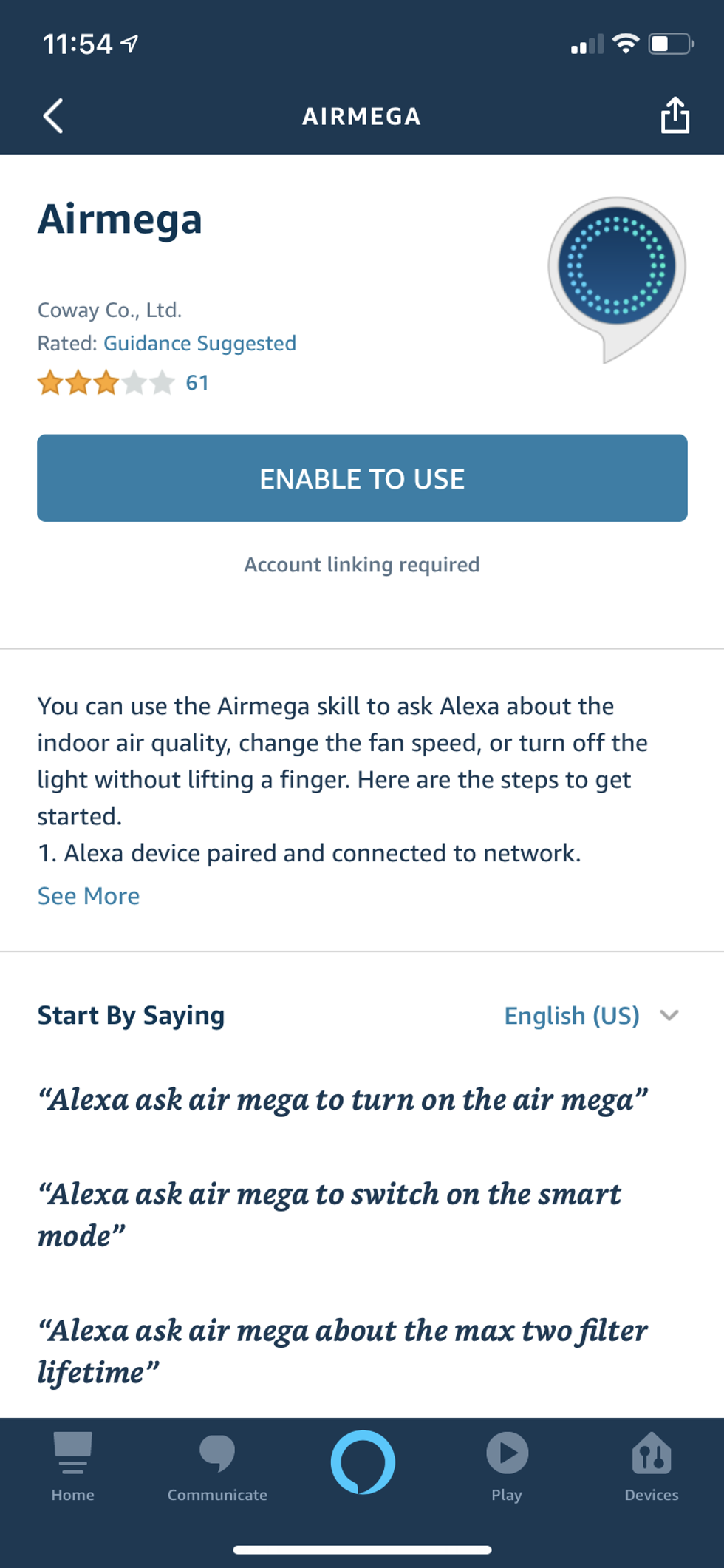 Connect Coway Airmega with Amazon Alexa Skill
GearBrain
Coway Airmega Works with Google Assistant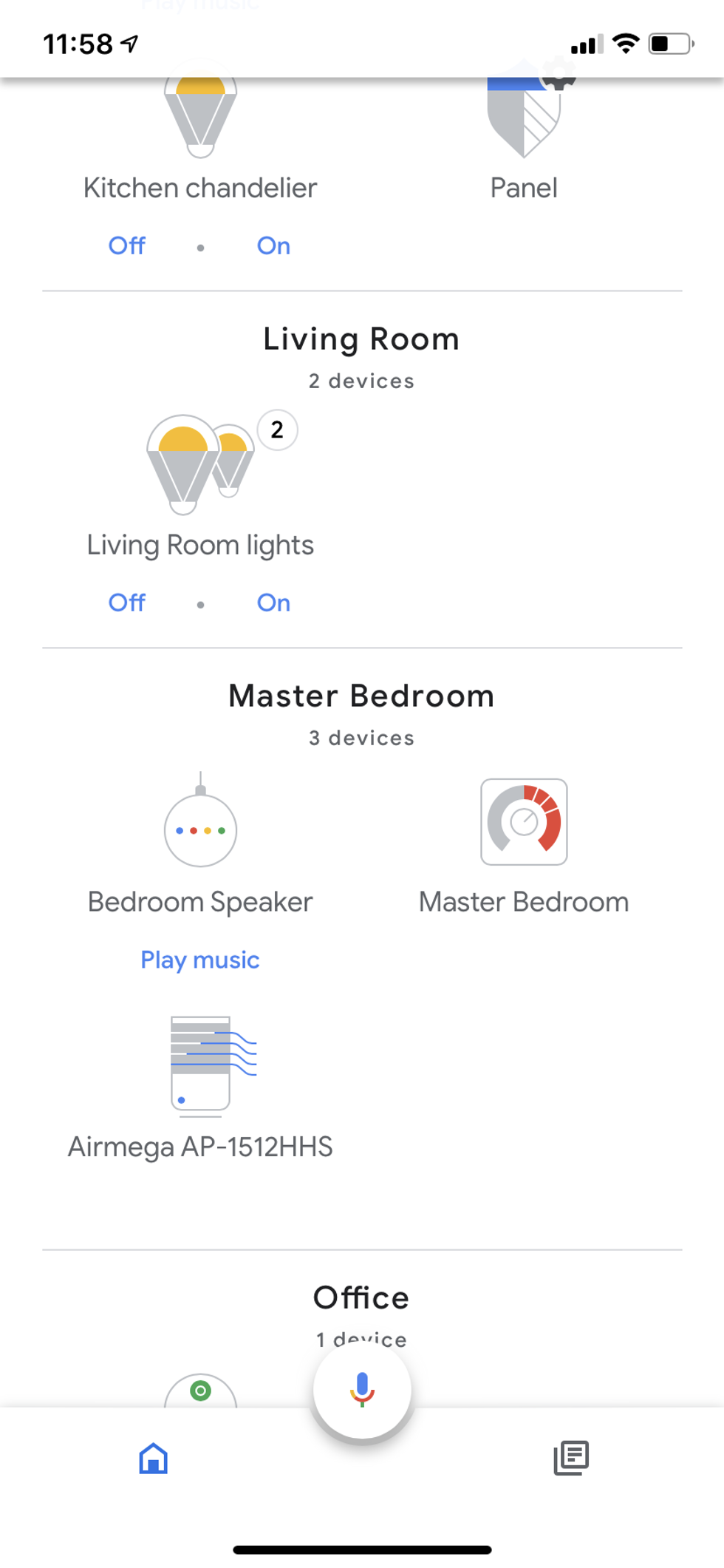 Connect Coway Airmega with Google Home app
GearBrain
For Google Assistant-enabled device owners, like the Google Home Hub, this integration is very easy. Just go to setup a device in the Google Home app and search for device already setup. You will see Coway listed. Just click on Coway and follow the steps to complete your setup. During the setup you will see Google assigns the purifier the name, "Airmega AP-1512HHS." But you can easily edit it in the app to whatever you want Google to recognize this device or devices.
Features
One of the features of Coway Airmega we liked is its three-stage filtration system. The Airmega comes with one pre-filter, one honeycomb-activated carbon filter, and one true HEPA filter system. This system is designed to clear the air of airborne odors and pollutants. It's this system, when combined with Coway's always-on air quality indicator, which can sense when the air in your room is potentially unhealthy, and adjusts the fan speed to clean the air as quickly as possible. There is also a filter replacement indicator on the Airmega which helps you know when to clean or replace the filters. The mobile app also has this feature.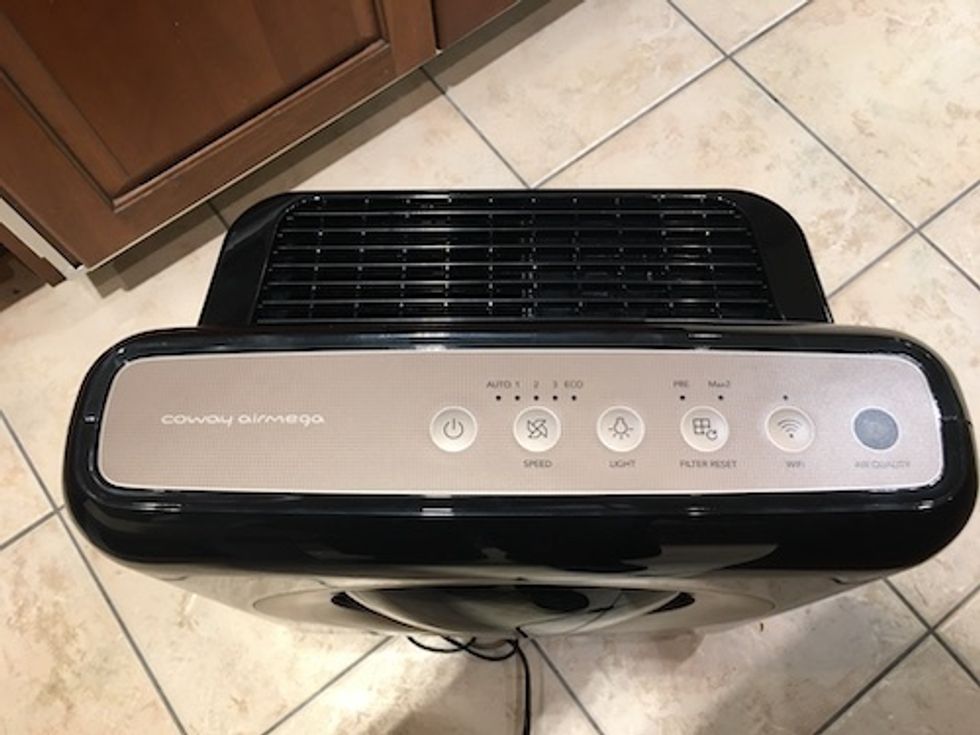 Contrls on top of your Coway Airmega AP-11512HHS which includes a night light.GearBrain
You can also use Eco-Mode with the Coway Airmega is the Eco-Mode, which tells the purifier to only run the fan when the sensors detect that it's needed, which can help you save money on your electric bill. The fan comes with five pre-set speeds which you can control on the Airmega's touchscreen controls.
Setup of your Coway Airmega is easy. Just unbox your smart air purifier, install the three filters and download the IoCare mobile app onto your smartphone. Make sure you take off the clear wrapping around the Max2 filter before installing this piece. Once your filters are in place, then plug your smart air purifier into a wall outlet of the room where you'll be using the Coway Airmega.
Who should use this smart air purifier?
Coway Airmega is designed to help individuals with asthma and allergies, as well as pet owners and smokers, capturing airborne particles including dust, pet dander and mold. It can also reduce air contaminants and odors related to second-hand smoke. For pet owners, this smart air purifier can effectively reduce pet-generated contaminants from indoor air.
The cost of Coway Airmega AP-1512HHS air purifier is $299 and available for purchase on Coway's site as well as from Amazon. You can also get replacement filters at either location and they cost $69.99 for the Max2 Filter Set on the company's site, and $37.94 on Amazon.
Performance

How well did the Coway Airmega perform for us in our test house? It did exceptionally well. We found the purifier was removing contaminants enough that one of the people in our test house stopped getting nose bleeds. We moved the purifier into another room for a night and that person started having issues again.
We also found the light on the Coway Airmega useful as a night light. While it's quite bright, you can turn it off on the actual device, or through voice commands using either Amazon Alexa or Google Assistant.

The Coway's IoCare app can also be setup to send you notifications if it detects that the air quality is unhealthy, and also when your filters need to be cleaned or replaced. You can also monitor the air quality outside your home. We found the notifications worked correctly, letting us know when we needed to clean the filters, for example. Do note that when you do clean them, make sure they are dry before you put them back on your Airmega. The filters will not work as well when damp.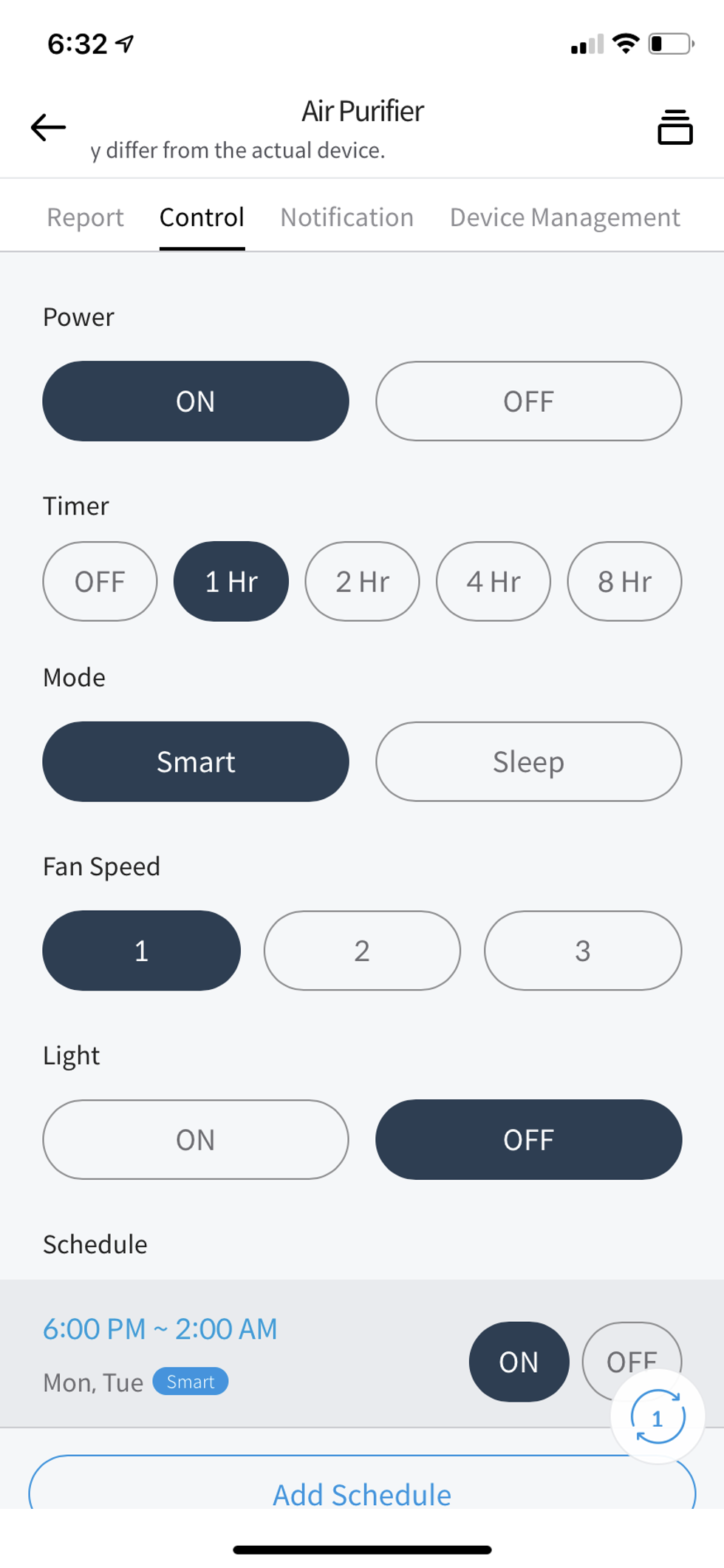 Alexa and Google Assistant were able to change the speed of the fan, the mode and also set a timer. But you can't use these voice assistants to get the Airmega to start, if it's currently not working.
Finally, we found two issues when testing the Coway Airmega. The first one is its size. The purifier is rather large. The Airmega APO-1512HHS dimensions are 16.8"x18.3"x9.6" (HxWxD) and weighs 12.34 lbs. It's much bigger than a smart air monitor like Awair or Laser Egg — but this device also works as an air purifier, and typically these kind of devices are large in order to adequately clean and filter a room.
The Airmega does cover 325 square feet which is a good size room like a living room, entertainment room, den or master bedroom. But you will need to find a place in a room where you feel it will not standout due to its size. We found the performance of the smart purifier well worth it.
The second issue was the noise level of the fan. When the fan does turn on, we found it can get rather loud. For instance, we had Airmega on auto mode and when it noticed the air needed cleaning, the fan would come on and it would get loud and then as it slowed down, the noise level would, of course, drop. Placing the Airmega in a den, the fan noise might interfere with your TV viewing. Or if you have the Airmega in a bedroom, and you are a light sleeper, this could potentially wake someone up from their sleep. It's just something to consider before buying this device.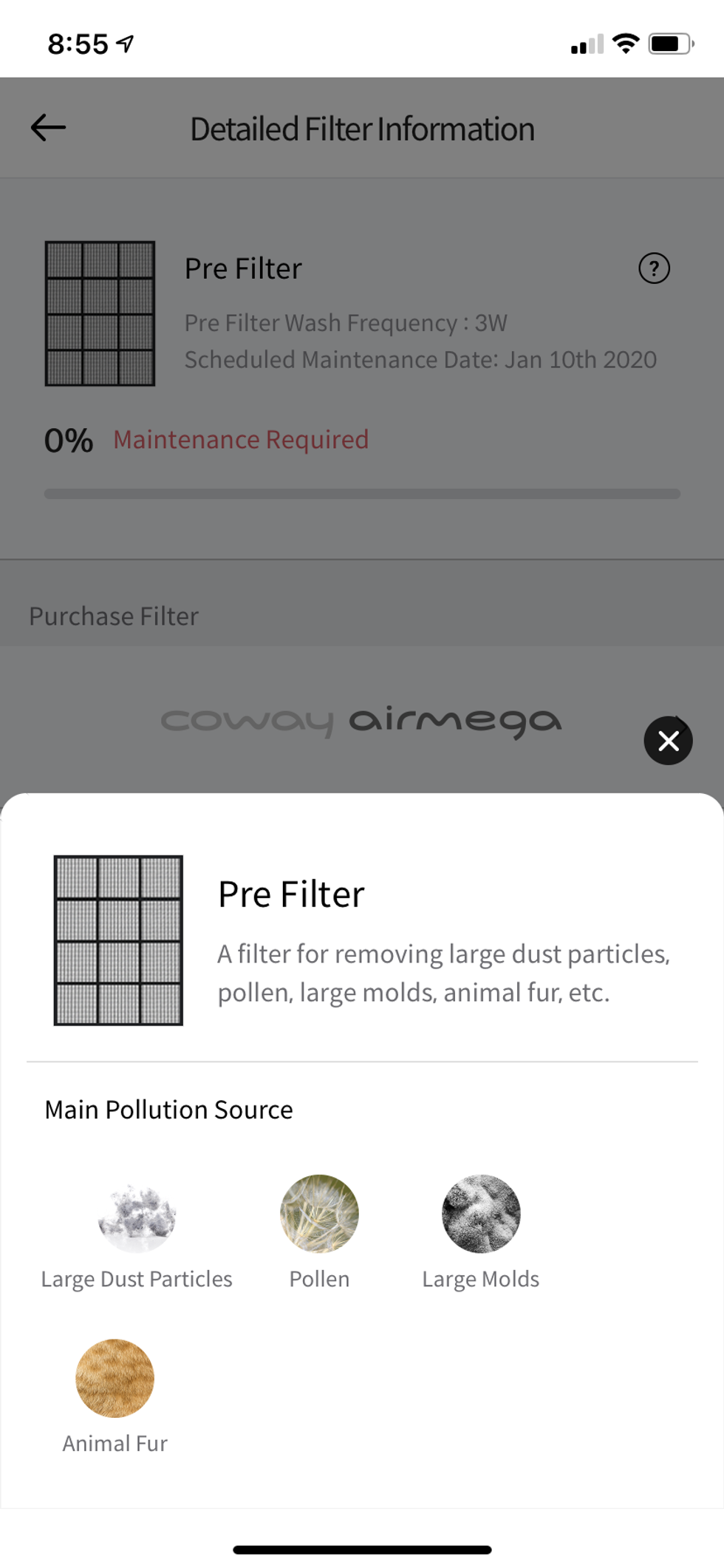 Coway IOCare app will tell you why your filter is dirty and needs to be changed or cleaned.GearBrain
Summary

GearBrain is a fan of smart air monitoring devices. However, while they can help you stay on top of the air quality in your home, they don't clean the air. If you want a device that not only monitors the air but can clean it too, then we recommend you consider Coway's Airmega smart air purifier. It does both, while also connecting with either Alexa- or Google Assistant-enabled devices.
The price may be a consideration, at $299, as a non-connected air purifier can cost between just $70 to $150. But these devices will not notify you when your filter needs to be change, nor when they notice the air quality is not ideal in your home. We actually found that the Airmega is well-priced when compared with other smart air purifiers like Dyson's Pure Hot + Cool Link HP02 WIFI Enabled Air Purifier which costs $599.99.
After testing the Coway Airmega smart air purifier in a real home, we found it performed exceptionally well, and by purifying the air, extended the ability of what a typical smart air monitor can do, a solid solution for consumers who want to both monitor — and clean — their air at all times.
Check out The GearBrain, our
smart home compatibility checker
to see the other compatible products that work with Google Assistant and Amazon Alexa enabled devices.
Pros

3 filter system, which monitors and cleans the air with HEPA filtering
Connects to Alexa and Google Assistant,
Real-time monitoring outdoor and indoor air quality
Cons
Cost
Noise level of fan
Size of unit
Coway AP-1512HH-FP AP-1512HH Replacement Filter