For Star Wars fans, the launch of the new Disneyland area is a long-awaited rush, a fully realized space that leads visitors into feeling they've walked into a bazaar on the planet Batuu.
Visiting in late July, we stood in the 75 minute line for the Millennium Falcon: Smugglers Run ride, walked through the shopping stalls and nabbed a coveted reservation at the new Oga Cantina. Even with Stormtroopers walking to keeping order, there are definitely some hiccups that Disneyland needs to fix.
Read More: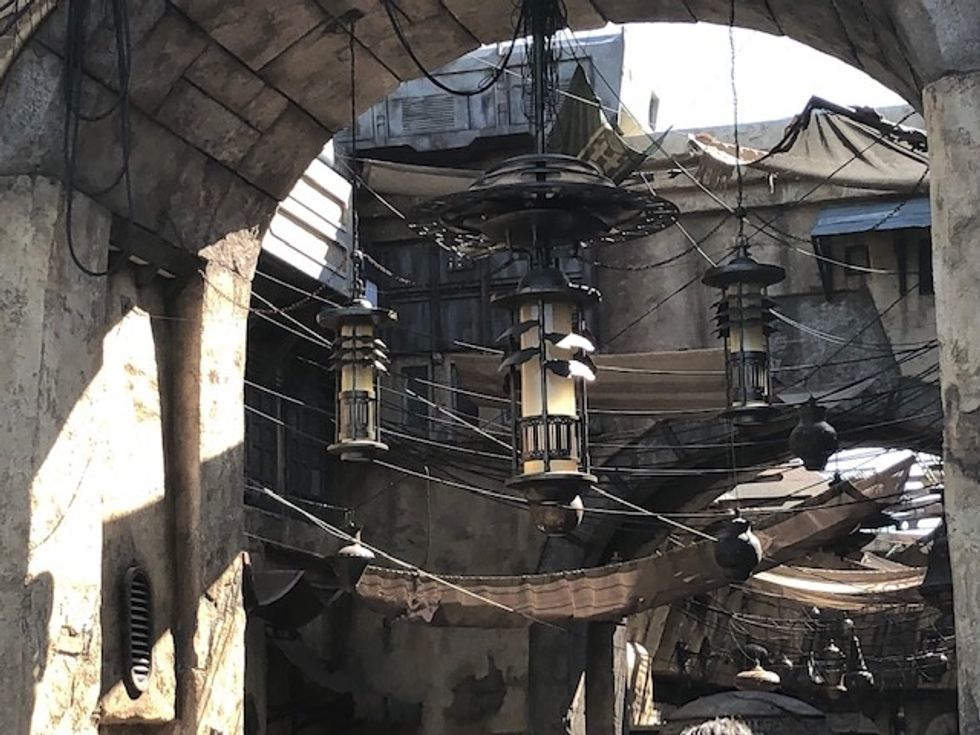 Galaxy's Edge best feature are the details that make guests feel they're on BatuuGearBrain
Walking in is half the fun
You can enter Galaxy's Edge through three entrances from the main park — one that pipes directly from Fantasyland, another that takes you closer to Frontierland, and a third that stems closer to Splash Mountain. Each one is well-rendered, dropping hints slowly from droid-shaped garbage cans or rock formations that give you the visual cue you're not in this galaxy anymore.
A lot of the space is open in Galaxy's Edge. Disneyland is putting in a second ride, called Star Wars: Rise of the Resistance, which is not scheduled to open until 2020. There's plenty of room for that ride, but the open space now gives a real breath, a luxury that's not often felt in the more crowded corners of Disneyland. As someone who has visited the park more than 50 times in my life — I grew up in Los Angeles — I truly marveled at this elbow room.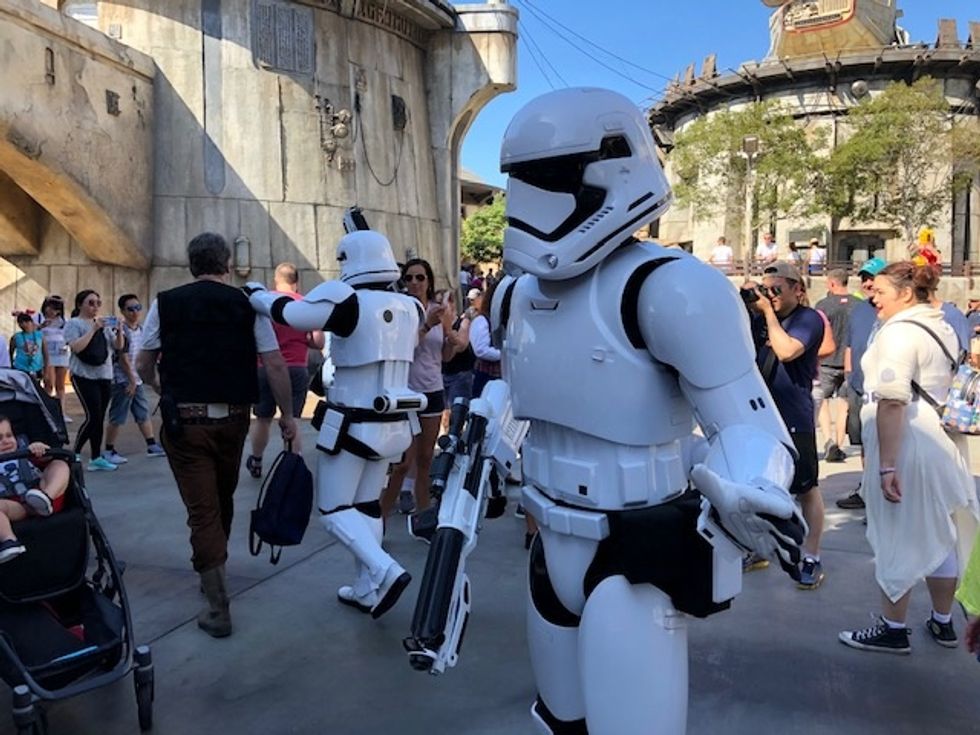 Stormtroopers walk around Galaxy's Edge interacting with guestsGearBrain
This attention to detail is something Disneyland excels at — sound effects of things rustling in the vegetation, droids that chatter, even costumed Stormtroopers who engage as public theater with park guests.

The open air bazaar, where you can pick up tin toys shaped as the Millennium Falcon and meat roasted on a spit, is some of the best of this. While there are truly few things to buy, well, few things that feel necessary, the space is fun and engaging — even down to the lettering, with words written in Batuuese and not English.
Honestly the best souvenir are the soda bottles. Coca-Cola recreated the Coke, Diet Coke, Sprite and Dasani water bottles into new shapes, with the sodas looking like thermal detonators and the writing even in Batuuese. At $5.50 each, they're the most affordable and clever souvenir you can walk away from Galaxy's Edge.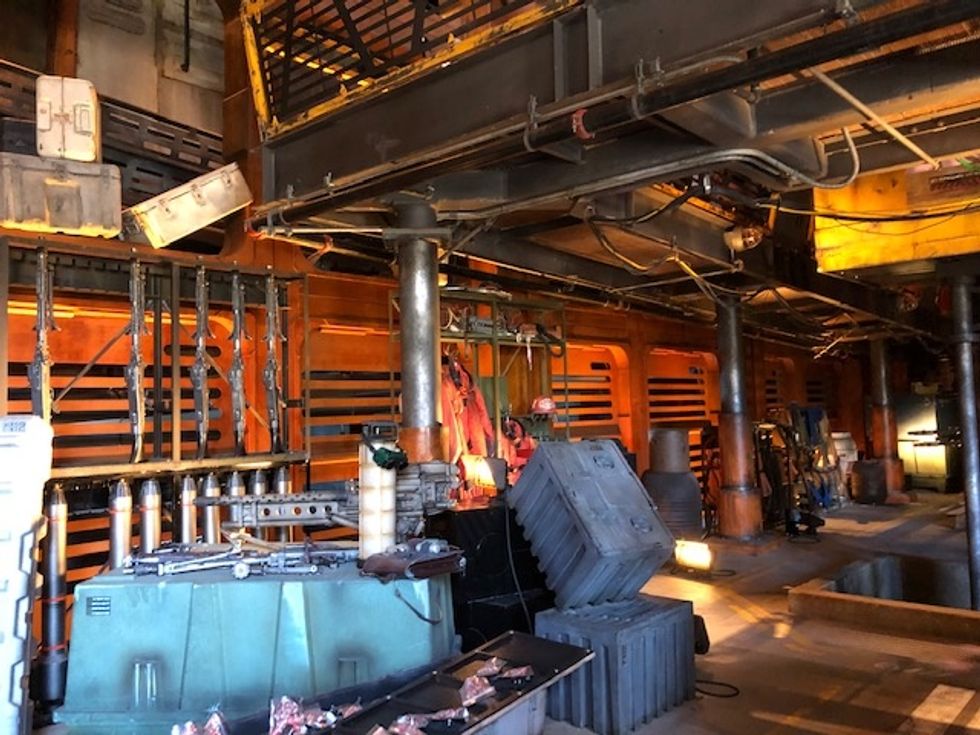 Part of the Smuggler's Run ride snakes guests through a garage where mechanics are fixing space shipsGearBrain
Millenium Falcon

The big draw is the new ride, Millennium Falcon: Smuggler's Run, set inside a fix-it shop tucked behind the life-size replica of the Millennium Falcon. Honestly, the ship once close up to it, felt smaller than I had always imagined. But that didn't deter the dozens that lined up in the heat to have their picture taken next to Han Solo's prize possession.
Disneyland, a master at knowing how to snake lines so people waiting never see the end, made a misstep with its new ride. A 75-minute wait on a 91°F degree day, took us into the backstage area. This is typically where characters and employees (cast members, in Disney language) go when they're leaving the park between shifts.
Lines were made with tape, people directing us how to stand in single file, and even with some tarps thrown over head, it was sweltering. You can also see into the back parking lot, which kind of takes the sparkle off feeling like you're on Batuu. Given the excitement around the launch, this line — or lack of — felt odd for Disney. We expect it to change.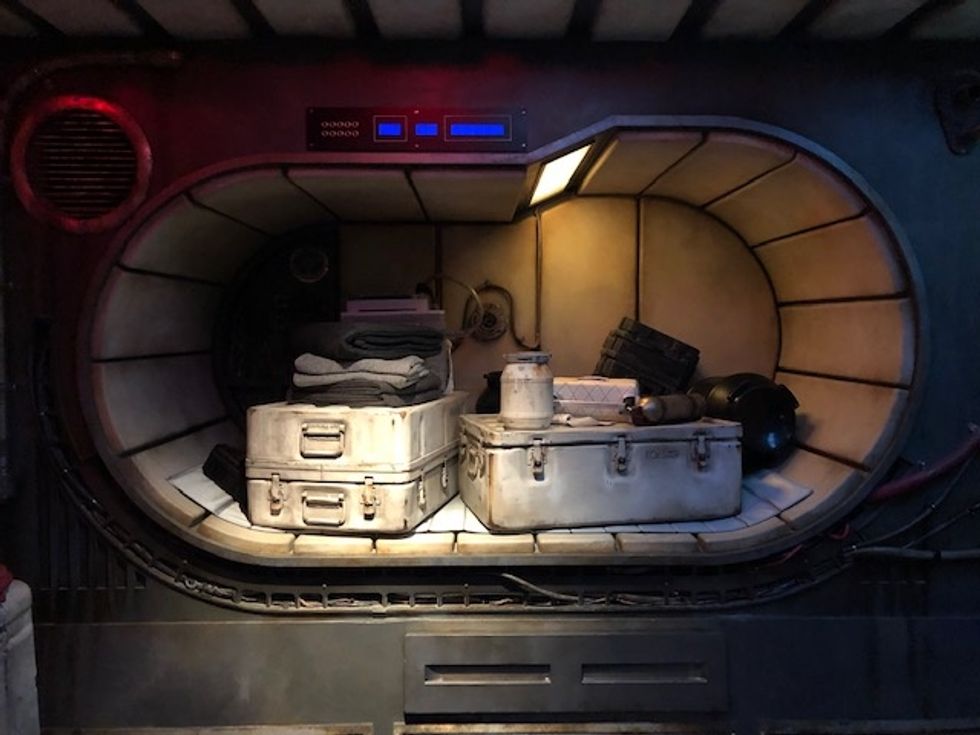 Cases inside a holding bay where guests wait to ride Smuggler's RunGearBrain
The ride, though, was the most interactive I've ever experienced at Disneyland. Six people ride together in what's meant to be the Millennium Falcon's cockpit. Each person has a job: Pilot, Gunner or Engineer and you push buttons to shoot, steer and fix the Falcon as you collect and return cargo. For anyone who has ridden the Star Tours ride, it's similar — a simulation which moves the car, along with virtual imagery flashing on the screen in front of you.
I've never seen this many flashing buttons — real buttons — on a Disney ride before. And I can't imagine the upkeep that the park is expecting to put in to maintain them. The ride, though, is extremely fun — and you are given a score, akin to the Buzz Lightyear ride, at the end telling you how well you flew and succeeded. That score doesn't impact how long your time is actually playing — but for the competitive among us, scores are make the ride that much more fun.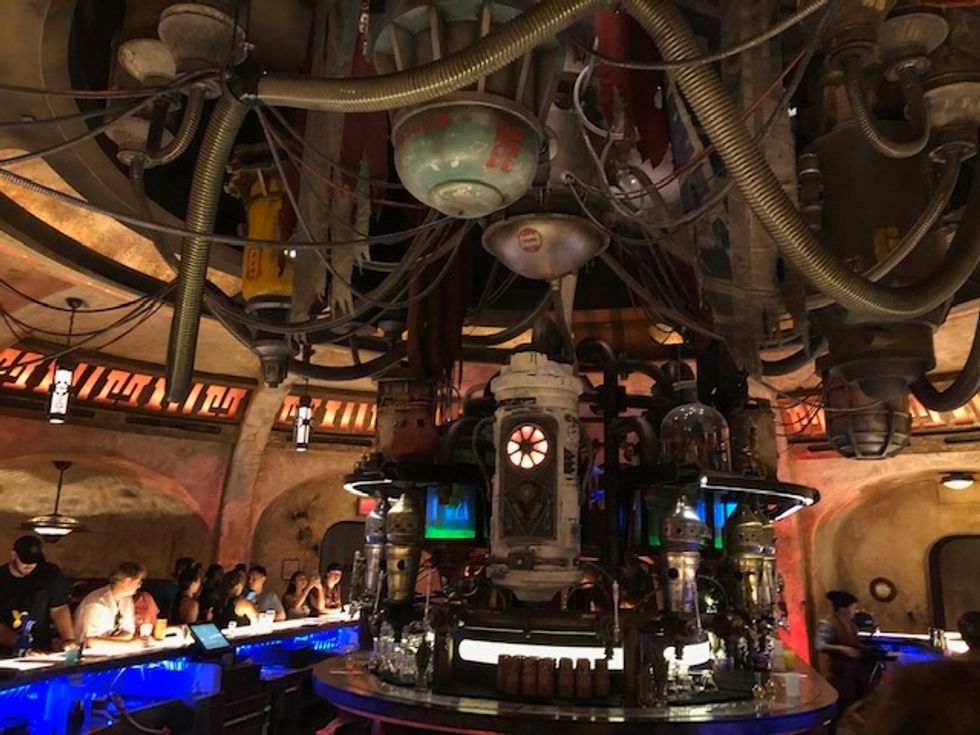 Bartenders serve futuristic looking drinks inside Oga's CantinaGearBrain
Oga's Cantina
One of the better rendered spaces is Oga's Cantina — and one of rare places in Disneyland where the public can actually purchase an alcoholic beverage.
Getting in takes an effort as you need reservations. You can get these 14 days in advance, and the park also opens up some at 7 am PT on the same day. There's some mention that you can get standby entrance, but as we stood in line waiting to go in we heard cast members tell guests that they needed reservations.
We checked in, and got a standing spot near the bar within 5 minutes after getting a same-day reservation that morning. It's awesome inside — an animatronic DJ spins tunes, the space is colorful and has a fantastic vibe.
The space has very little food, however, but a huge list of drinks, tons that are non-alcoholic — this is Disneyland — and they're beautiful, including one that's bright blue. The menu, however, proved another stumbling block.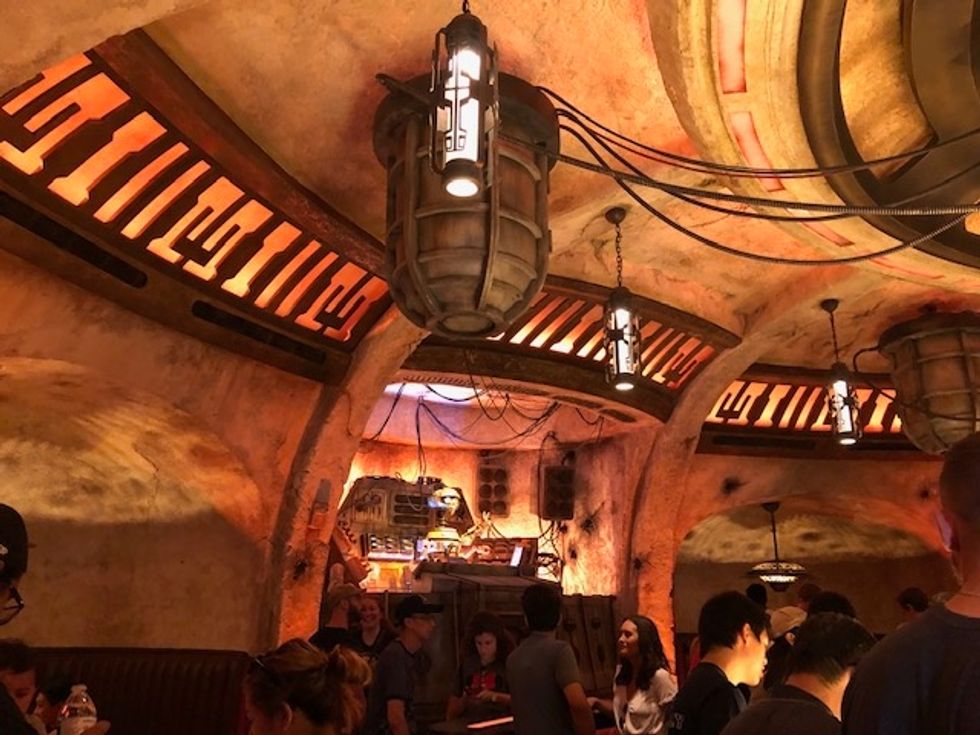 An animatronic DJ spins tunes as guests drink at Oga's CatinaGearBrain
We have a family member with celiac disease, and heard from four different cast members, including a bartender, manager, host and kitchen staff, what that person could and could not eat, each answer completely different.

While Disneyland is excellent typically at allergen listings, Oga's Cantina didn't hold up to that level of service. The best person who helped was the chef on staff — who extraordinarily checked read every ingredient to us — but by then our family member was so overwhelmed by the misinformation we left. We suggest if you get a reservation and have a serious allergy or celiac, just plan to hang out while others eat and drink until a printed allergy menu, as they have at other restaurants in Disneyland, is created.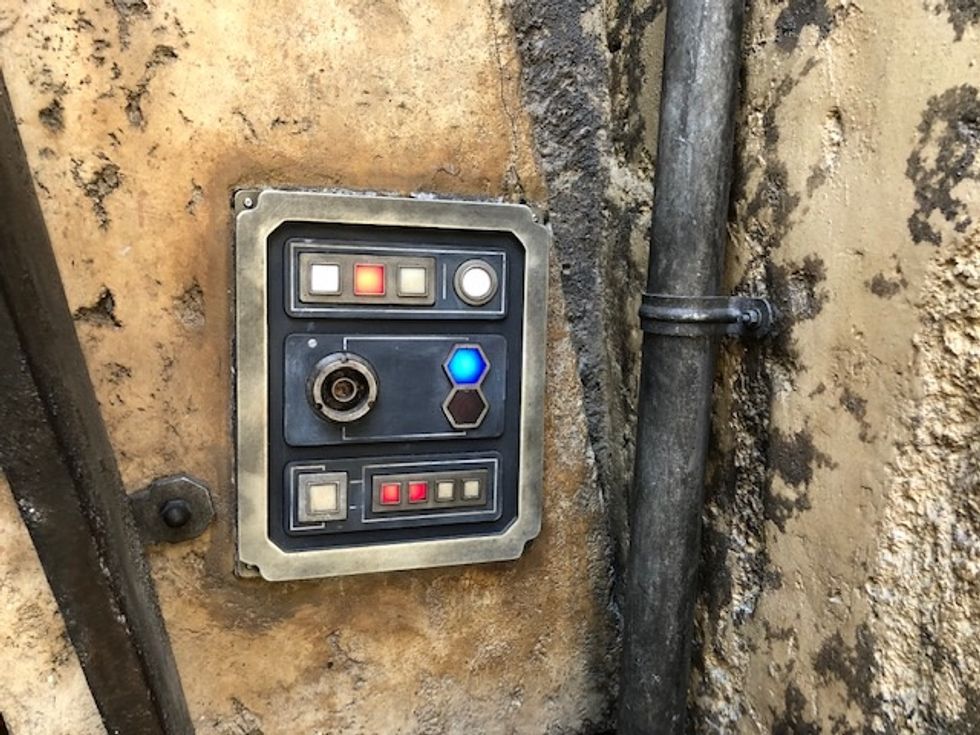 Details like entry bays with flashing lights add to the experience in Galaxy's EdheGearBrain
Animatronics

Going back to that DJ, these robotic creations are sprinkled throughout Galaxy's Edge, and truly well done. There's one inside Smuggler's Run ride, and others inside different stores, including Dok-Ondar's Den of Antiquities.
You can even build your own robotic creation, inside the make your own droid store, the Droid Depot. It's an expensive activity — $99.99 — but the space is fun, and children walking around carrying them looked pleased. For the bargain hunter, there are smaller wind up robots to buy even some replicas of BB-8, which, frankly, we found just as cool.
Worth the hype
While we hit some stumbling blocks inside Galaxy's Edge, it's unquestionably a great addition to Disneyland. If you're in the park when it opens, as we were, expect the space to be empty in the morning and not that much more crowded by the afternoon. Definitely don't miss it, even if you aren't ardent Star Wars fans. It's still a magical space, which is what Disney is all about.
Star Wars: Jedi Challenges www.youtube.com