Like GearBrain on Facebook
Anker, the company best known for producing power banks to keep your smartphone battery topped up, has entered the home security camera market.
Built by Anker-owned smart home brand Eufy, the EverCam sets itself apart from established rivals like Google-owned Nest by offering a claimed 365-day battery life.
Read More:
Where other wireless smart home cameras require charging every few months, Eufy claims its camera will last a full year - or three years if left in standby mode.
The new camera launched on Kickstarter this week, but after a day has already earned over 10 times its original target of $50,000. At the time of writing, the campaign has received over $540,000 from 1,750 backers. Eufy says deliveries of the camera will begin in September this year.
Ease-of-use is the $329 EverCam's USP, as it is completely wireless and can be installed without the use of any screws or fixtures. Instead, the camera connects magnetically to its mount, or to any metal surface already on the outside of your property. Incidentally, if the camera is moved before it is disarmed by its owner, a 100-decibel alarm sounds to deter thieves.
Footage is recorded to an encrypted SD card fitted to the camera's base station, which is installed inside your home and connects to both your router and (wirelessly) to the camera. The base station includes a backup battery so recordings can still be made if your home's power goes off.
If the EverCam lives up to its manufacturer's claims, it could be the ideal smart camera for renters. Often forbidden from making the changes required to install a regular wired camera, renters will be able to stick up the magnetic EverCam then take it with them when they move without leaving a mark. Providing they can find something metal to attach it to, of course.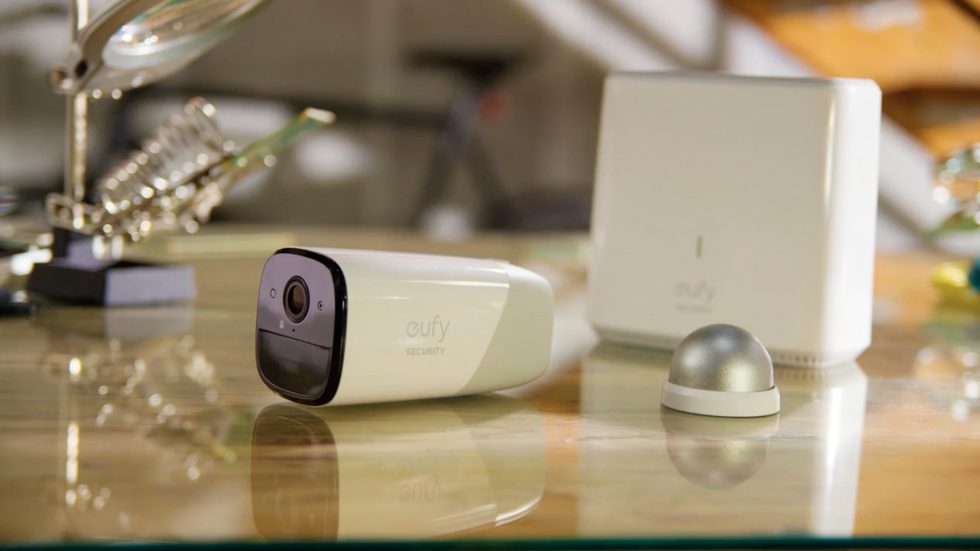 EverCam with its magnetic mount and base stationEufy
As well as making the most of Anker's battery-manufacturing knowledge, the Full HD camera uses artificial intelligence to help use as little energy as possible. First, it uses an infrared camera to detect the temperature of objects moving nearby. Too cold to be a living thing, and the camera will not record; too hot - a car, for example, and it will also not record.
If life is detected, the camera then uses AI to work out if this is a human or something else, like a passing cat. If it is a human, the camera uses more AI to work out if it knows that person or not. Eufy says the camera learns the faces of people in the household, so won't record or trigger an alert when it sees them (and once you have taught it who everyone is). Only strangers will cause recording to start.
Eufy claims this technology means the EverCam produces 95 percent fewer false alarms, although it doesn't say what this is compared to. Rivals like the Nest Cam IQ Outdoor also use facial recognition and AI to cut down on false alarms.
Helping to set the EverCam apart from rivals is how footage is stored locally for free, instead of in the cloud as part of a monthly subscription. Nest Aware, for example, costs from $5 per month (or $50 a year) to keep a recording of the most recent five days of video in the cloud. Eufy claims the EverCam's included 16GB SD card is enough to hold a year of recordings, based on the camera recording 10 motions per day for 30 seconds each time.
As with other smart camera like this, the EverCam has night vision and an app for watching a live video feed. Eufy says support for Amazon Alexa, Google Assistant and IFTTT will come later this year.
The EverCam's retail price is $329 for one camera or $499 for two. This makes each camera $20 cheaper than the Nest Cam IQ Outdoor, although that device is not wireless. For a limited time, Kickstarter backers can order one EverCam for $219 or two for $329.
From Your Site Articles
Related Articles Around the Web
Like GearBrain on Facebook