Smart home security cameras come in all shapes and sizes. And the common features tend to be high video resolution, night vision, two-way communication, zoom in capabilities and motion detection. One type of security camera that comes with all of these feature plus an expansive field of view (FOV) is a pan and tilt camera. These cameras are usually round shaped and can look like a ball hanging from a ceiling. They can provide up to 360-degree views and you use a mobile app to move the camera lens in all directions. Recently, Ezviz, a manufacturer of security cameras and smart home devices, sent us one of their pan and tilt security cameras called Ezviz C6W Pan & Tilt Wi-Fi Camera. We tested it on a real home and here is what we found.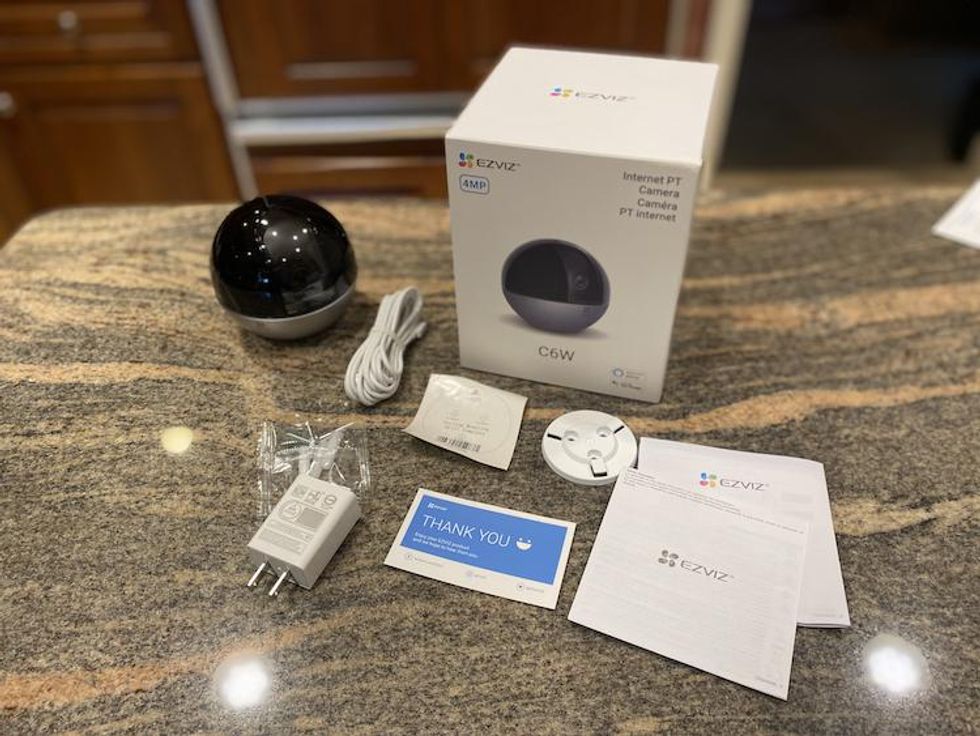 EZVIZ C6W Pan & Tilt Camera unboxedGearBrain
What is Ezviz C6W Pan & Tilt Wi-Fi Camera?
Ezviz C6W is a Wi-Fi connected pan and tilt camera. It records in 2k video resolution and can track motion with 4x zoom capability. The camera also provides a 360-degree panoramic view, a privacy shutter, two-way audio, H.265 video technology, person detection and infrared night vision up to 10 meters or 33 feet.
This Ezviz camera is setup and controlled by the Ezviz app which is available in the App Store (iOS) and Google Play (Android).
One of the unique features of Ezviz camera is it's auto-zoom tracking capabilities. The camera can automatically zoom in to track movement and assist you in seeing what's going on in your home. The Ezviz app allows you to set motion detection to track only humans. If you have a dog or small children running around, this is a must have in a security camera or you can get a lot of false notifications or alerts.
With all types of security cameras, the big question is where to store your recorded videos and images. For Ezviz C6W, you have two options to store videos: in the cloud or locally. If storing locally, you can use a MicroSD Card that can store up to 256 GB of videos. If using the cloud, Ezviz offers 7-Day free trial of CloudPlay Storage which is only in certain markets today. For our test market, USA, we had cloud storage. All plans provide 24/7 event-based video history for either 3-, 7- or 30-day rolling periods. All videos are securely stored in the cloud using AES 128-bit encryption, TLS encryption protocol and multiple authentication steps.
The cost of a video storage plan is based on number of days you want to record/store videos and the number of cameras you want recording events. The cheapest plans are for a single camera. The first level is the 3-Day plan which costs $3.99 monthly or $39.99 annually. The next level up is the 7-day plan which costs $5.99 monthly or $59.99 if paid upfront for the year. The 30-day plan is the most expensive and costs $10.99 monthly or $109.99 yearly. If you plan to use more than one Ezviz camera and want video storage, the 7-day multi-camera plan costs $8.99 monthly ($89.99 annually) and 30-day costs $15.99 monthly or $159.99 annually.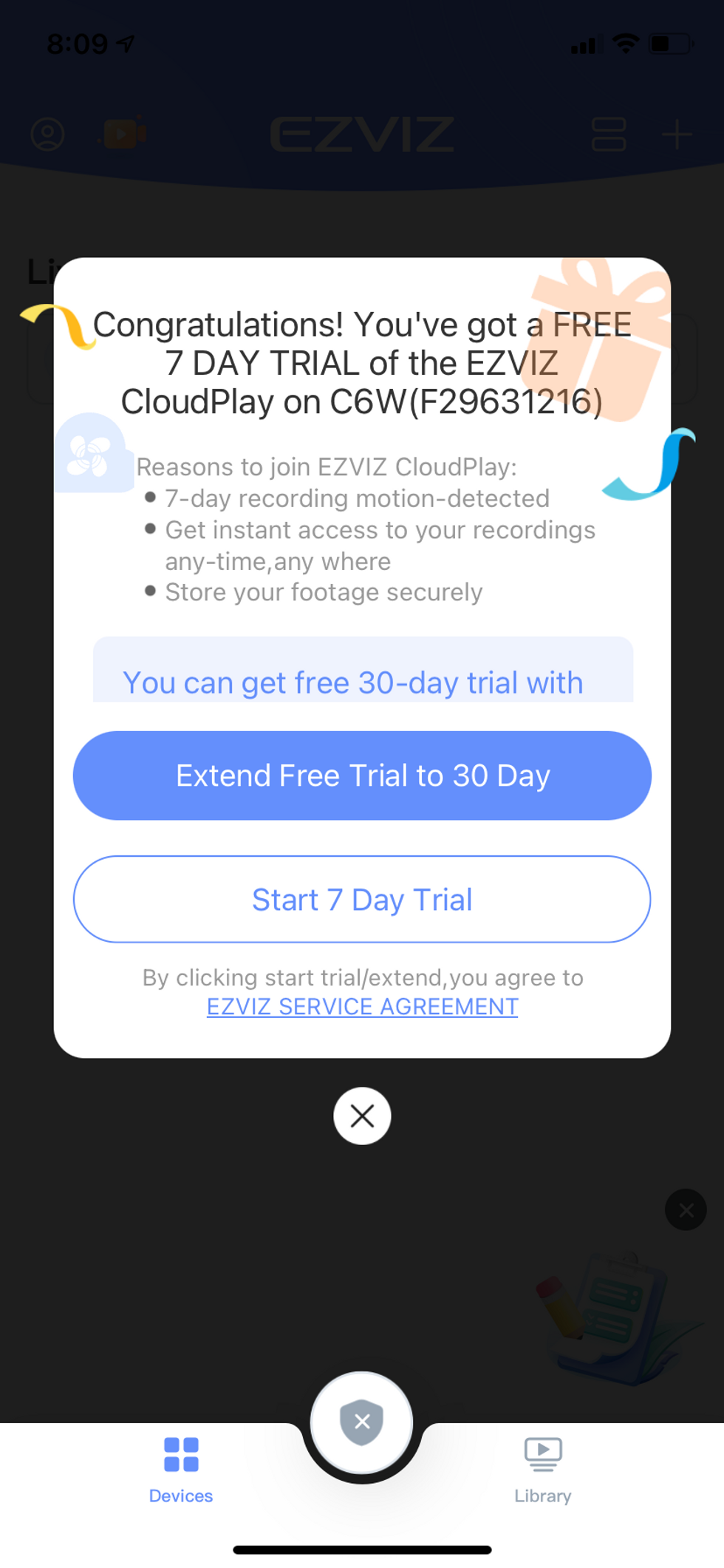 Get 7 Day free trial of CloudPlay with purchaseGearBrain
How to setup your Ezviz Camera?
Setting up the Ezviz C6W camera is rather easy. Just follow the instructions in the Ezviz app to add a device. However, make sure you check the Wi-fi connection at the location you plan to install your camera. This is important and should be done prior to you buying any security camera. Remember, you need a strong Wi-Fi signal when dealing with wireless security cameras. If you don't have one, there will be performance issues due to low Wi-Fi signal and you will have to get either a Wi-Fi extender or repeater.
When you get to pairing your Ezviz camera with your home Wi-Fi, make sure your camera is close to your router. It will make it easier to connect to your home Wi-Fi. Once connected, then move the camera to its installation location. Also, keep in mind your Ezviz C6W Pan and Tilt camera can be installed on a ceiling or underneath a shelf. The camera will adjust to how you install it which is nice.
Another important installation or setup tip involves the Advanced Image Settings which is powered by Ezviz's True-WDR technology. Depending on the room or area your Ezviz camera will be viewing, you will need to go to the Advanced Image Settings. Here you can adjust the camera's picture quality. For our test house, we had a lot of daylight coming into the room which made it very bright. Sometimes the glare from the windows was particularly bright. We were able to go into the Advanced Image Settings and activate the Backlight mode which helped us see more details from the overexposed parts of the video. We also played with the three image settings (original, soft and vivid) to find the optimum setting for day and night.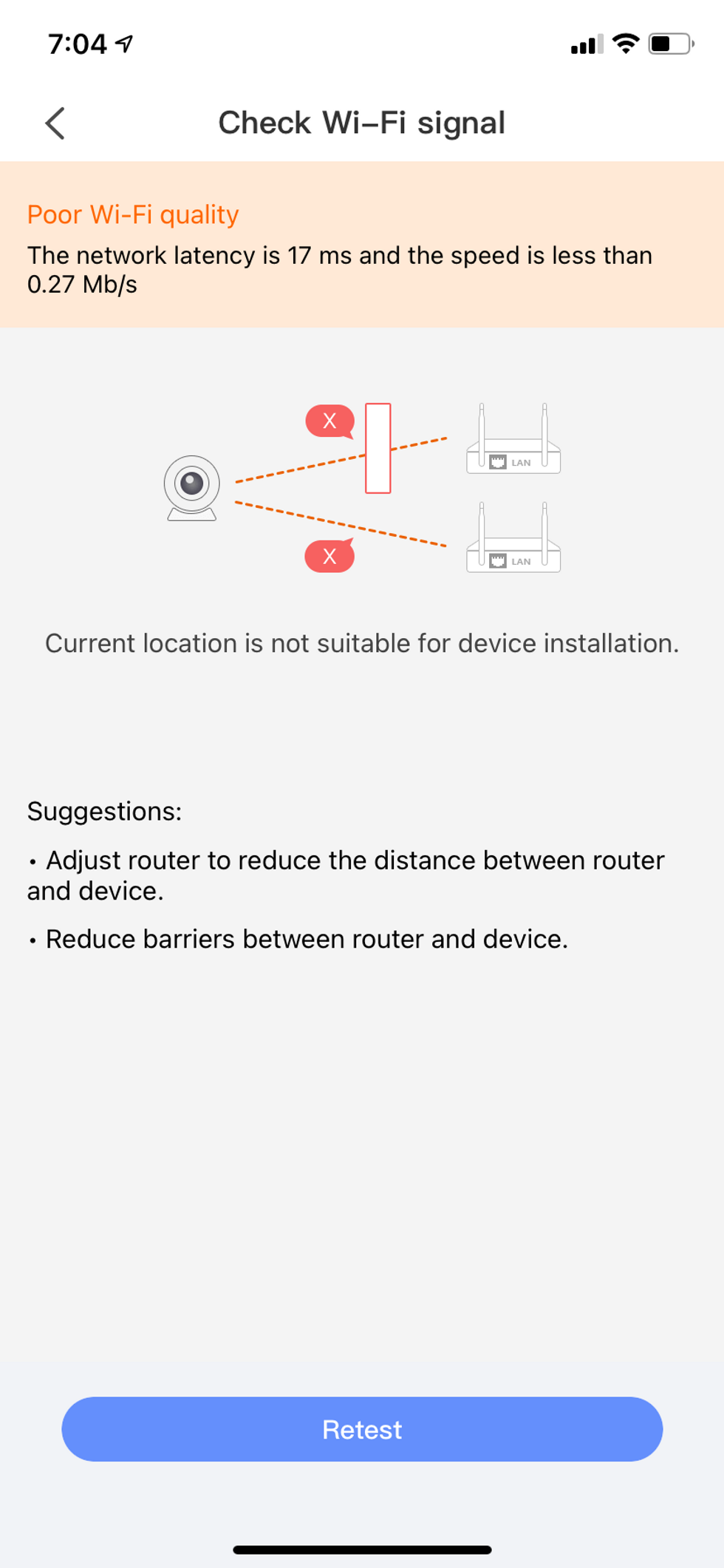 Make sure your location has good Wi-Fi signal. Ezviz app will help you see the Wi-Fi speeds which is optimal for the camera.GearBrain
Smart Home Integrations
Ezviz has several types of smart devices which can help you build a nice smart home. Besides security cameras, the company makes smart home sensors, motion detectors, smart video doorbells, smart bulbs, plugs and alarms. All these devices can be setup and controlled with the Ezviz app. Ezviz C6W camera works with Amazon Alexa and Google Assistant enabled devices. You can ask Alexa to start recording or view video from your Ezviz camera on a Google Nest smart display, like Nest Home Hub or Lenovo Smart Display. There are also IFTTT applets you can use to connect Ezviz camera with other compatible devices like WeMo Switch.
Performance
What is nice about the Ezviz camera is it's pan and tilt functionality. This feature is provides a larger field than a camera with a wide Field of View (FOV). We also like the auto-zoom tracking function and how you can set the motion sensitivity to track only humans. Something you need to have in a security camera or video doorbell if you have small children or pets in your home.
The 2K video during the day was clear and crisp even when on original image settings. When we zoomed in, we found the images were clear and easy to see. But when we compared the video resolution to other high video resolution cameras, like Vivint's Ping Indoor Camera it didn't standup at first. We were able to adjust the Advanced Image Settings to improve the video resolution to be on par with the other security cameras we had tested.
Original Setting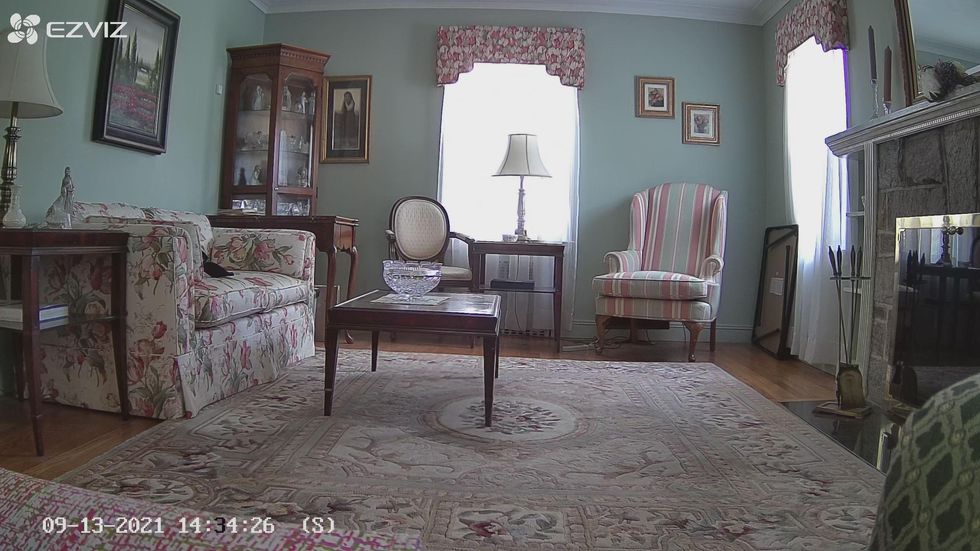 original setting in app
GearBrain
This is the original image settings in the Advanced Image Settings. Notice the brightness coming from the window.
Image Settings
Ezviz app Advanced image settings
GearBrain
Adjust image quality in the Ezviz app in the Advanced Image Settings
Vivid with Backlight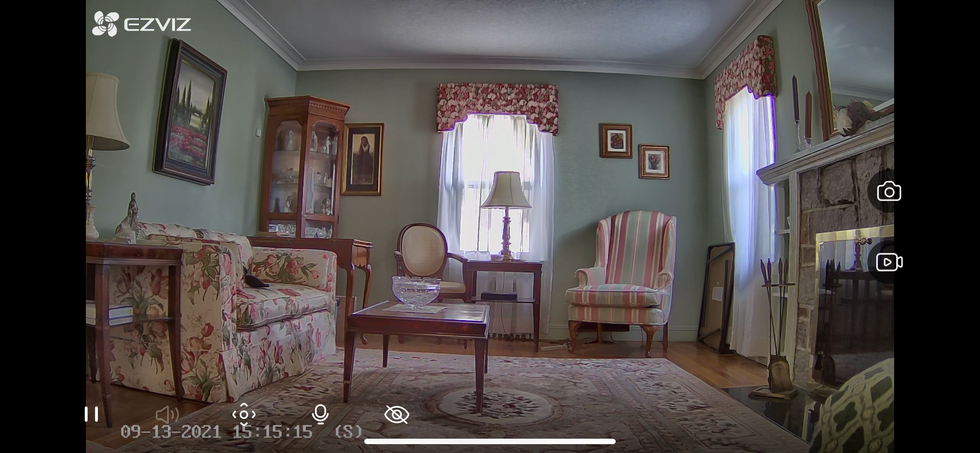 Backlight mode is on and vivid image settings
GearBrain
We adjusted Image and turned on Backlight Mode. In this image, you can now see the detail in the window. There is no more glare.
However, the night vision was not that good compared to other indoor security cameras we tested. The night vision is in Black and White and a little fuzzy when you zoom in on objects. We tried to clean it up using the Advanced Image Settings in the app. However, it didn't work as well as it did for us when adjusting the settings for daytime viewing.
We mentioned before how you need to decide how and where you want to store your videos. With Ezviz C6W camera, you have two good options: locally or in the cloud. Ezviz cloud plans area a little expensive when compared to some competitor's plans, like Ring. However, we like how you can store a lot of videos (256GB) locally using a MicroSD card. This is a good option.
Cost of Ezviz C6W Camera
One of the attractive features for Ezviz C6W cameras is its cost. The camera costs $89.99 and available on Amazon, Best Buy, Home Depot and other consumer electronics retailers. This is an attractive price for a pan and tilt security camera with 2K video resolution, large FOV, auto zoom tracking and night vision up to 33 feet.
Summary
If you are in the market for a pan and tilt indoor security camera with two-way talk, 10 meters of Infrared night vision, auto-zooming capabilities and works with either Amazon Alexa or Google Assistant enabled smart displays, Ezviz is a camera you should consider. Their price is attractive, and you have the option to store videos in the cloud or locally using a MicroSD card.
The Ezviz C6W Camera is a reasonable security camera to help you keep an eye on large spaces, like your basement or family room. It can be used to build a DIY smart home security system using other Ezviz security cameras and devices. You can also use a smart display powered by Amazon Alexa or Google Assistant as your security hub if needed. And the smart speaker's touchscreen can be the controller that helps you move the Ezviz camera around to see what your kids or pets are doing day and night. You can even use the smart speaker display as your intercom system.
Overall, Ezviz C6W Pan & Tilt Camera is a sound indoor wireless Wi-Fi smart home security camera that can help you see and track movement in your smart home at a sensible price.
Pros
Wide viewing angle – 360 degrees
Auto zoom tracking
Adjustable image settings - WDR
Price
Cons
Weak night vision
Monthly cloud storage is high
Does not integrate with smart home security systems
The GearBrain, First Compatibility Find Engine for Smart Devices www.youtube.com