Like GearBrain on Facebook
Ford is to more than double its investment in the development of electric cars and autonomous vehicle technology, taking the total outlay to $29 billion.
The company had originally planned to spend $11 billion on electric car and autonomous vehicle development. That figure was announced in 2018 and was intended to be spent by 2022.
Read More:
Now though, with the Blue Oval's first purpose-built EV arriving in dealerships imminently, Ford has upped the budget to a total of $29 billion, to be spent by 2025. A total of $7 billion will be spent on developing autonomous technologies, with the remaining $22 billion going on the design, development and production of electric cars, trucks and vans.
The company announced an electric version of its best-selling Transit van last year, and later in 2021 will reveal the first all-electric incarnation of the F-150 pickup truck, the best-selling vehicle in North America. The company's first purpose-built electric car, the Mustang Mach-E, was revealed in November 2019 and is due to arrive with buyers imminently.
Ford boss Jim Farley said: "The transformation of Ford is happening and so is our leadership of the EV revolution and development of autonomous driving. We're now allocating a combined $29 billion in capital and tremendous talent to these two areas, and bringing customers high-volume, connected electric SUVs, commercial vans and pickup trucks"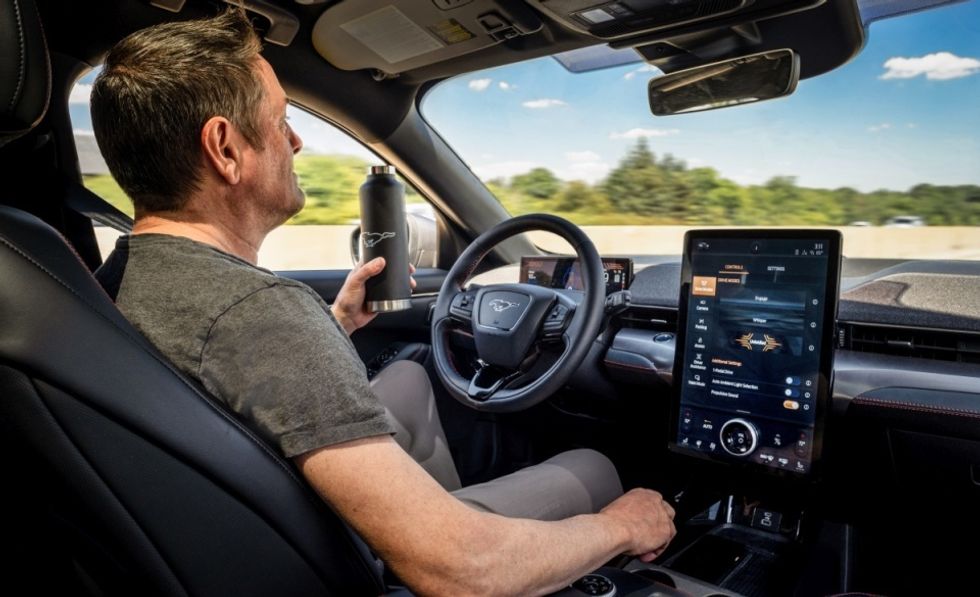 Ford to offer hands-free driving from the third quarter of 2021 Ford
This move shouldn't come as too much of a surprise. Electric vehicle adoption is accelerating across many markets as bans on the sale of new internal combustion cars are due to come into effect this decade. EV sales are set to soon overtake gas and diesel sales in some markets, and have already done so in Norway, where electric cars now account for more than 50 percent of new vehicle sales.

As well as the Mach-E, E-Transit and electric F-150, Ford is planning to make electric cars "fundamental" to its luxury Lincoln brand, and extend the number of battery options across the Transit lineup.
It is perhaps telling that the vast majority of this investment is going on EVs instead of autonomous technology. While Ford has spoken about autonomous technologies due to come to the Mach-E via software update, the system isn't available just yet. Once available, it will allow hands-off driving in a similar way to GM's Super Cruise, but only on highways that have been mapped by Ford in advance.
Ford says the technology will arrive via a software update on the Mach-E first, during the third-quarter of 2021.
Earlier this week, Ford announced a partnership with Google that will see it install the Android Automotive infotainment system in future vehicles, complete with Google Assistant, Google Maps and the Play Store.
ChargePoint Home Flex Electric Vehicle (EV) Charger upto 50 Amp, 240V, Level 2 WiFi Enabled EVSE, UL Listed, Energy Star, NEMA 6-50 Plug or Hardwired, Indoor/Outdoor, 23-Foot Cable
From Your Site Articles
Related Articles Around the Web
Like GearBrain on Facebook