Like GearBrain on Facebook
The Tesla Model S had been on the road for just two years when, in 2014, Apple was thought to have launched a car project of its own known internally as Project Titan but scarcely spoken about in public. The iPhone maker's automotive ambitions have ebbed and flowed in the seven years since. But recent news of a partnership with Hyundai has kicked Project Titan up a gear, and now an Apple vehicle is tipped to arrive sometime between 2024 and 2028.
Read More:
Project Titan's backstory
Believed to have begun in 2014, it wasn't until the following year that news of an Apple vehicle first leaked. Then, in 2015, reports came out that Tim Cook had met with BMW the previous year, toured the German firm's manufacturing facility, and shown particular interest in the i3 electric car.
Apple CEO Tim Cook had installed vice president and former Ford engineer Steve Zadesky behind the wheel of Project Titan, and early stories suggested the company was working on a vehicle more closely resembling a minivan than a car.
That same year, Apple was believed to have attended a European auto body conference under the name SixtyEight Research. The unknown company name stood out for being the only U.S. attendee to not already be a major automaker, and a sparse website once linked to SixtyEight Research appears to have changed ownership and now discusses professional counseling services.
Further fueling Apple's work on a secretive car project, was its link to Faraday Future in 2015, the U.S. electric vehicle startup that quickly denied the rumors and has since repeatedly teetered on the brink of collapse for years while developing its FF91 EV.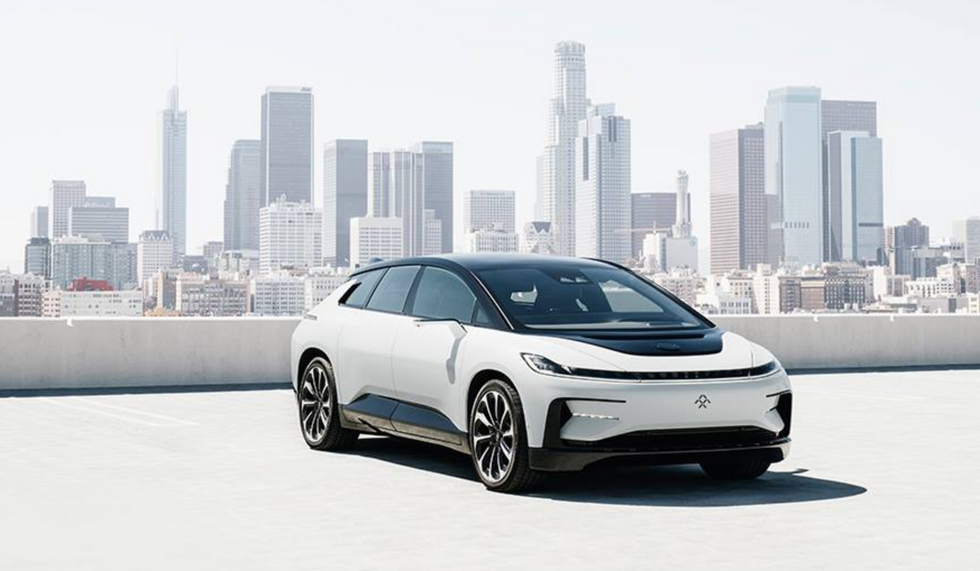 EV startup Faraday Future was believed to be related to Apple Faraday Future
Size and scope of Project Titan
One of the most consistent barometers for analyzing Project Titan has been the staff numbers associated with it. While no official figures are available, Silicon Valley has had plenty to say. Tesla boss Elon Musk said in January 2015: "It's pretty hard to hide something if you hire over a thousand engineers to do it," and added that Apple making an electric car was an "open secret." The Wall Street Journal reported a month later that "several hundred" Apple employees were involved.

Interest in Apple's mystery vehicle continued and Project Titan continued with a busy 2016. It was reported that Apple had dedicated an entire campus in Sunnyvale, California to its automotive division, and that neighbors were annoyed by loud "motor noises" coming from one of seven Apple-owned buildings late at night. One of those buildings was previously owned by SixtyEight Research.
2016 also saw Apple convince Bob Mansfield, a former senior vice president who served under Steve Jobs, to return from retirement and take control of Project Titan. Dan Dodge, the former CEO of BlackBerry's QNX infotainment division, was also brought onboard and Apple was believed to have begun working with Magna International, a giant automotive parts manufacturer.
By now, Apple had reportedly held talks with several automakers. As well as Cook's visit to BMW and discussions with Magna, Apple has been linked to arrangements with Mercedes and Volkswagen, potential alliances with Nissan and Chinese automaker BYD, and talks were reportedly held concerning a $2 billion takeover bid for supercar maker McLaren. These all came after Apple reportedly bid for Tesla back in 2013, before Project Titan is believed to have started.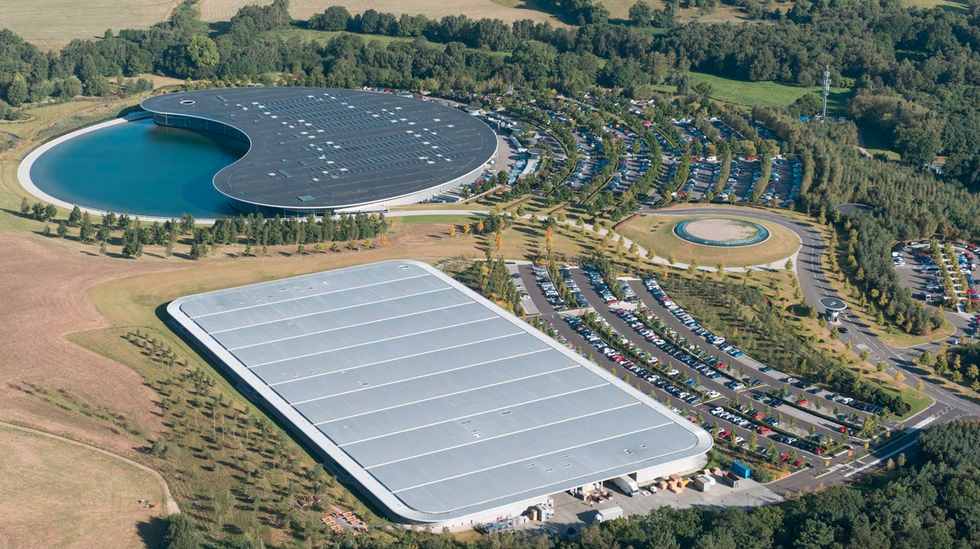 Apple was believed to be interested in purchasing supercar maker McLaren McLaren
Testing starts
Having still not spoken in public about its automotive plans, in mid-2017 Apple gained permits to test autonomous vehicles on public streets in California. The company still holds these permits, but has not yet upgraded them to test without a driver onboard – if indeed that is something Apple wants to achieve.

Following the permit approval, Cook told Bloomberg TV that Apple was "focusing on autonomous systems," leading some to believe it was now developing software for others instead of the far more complex task of creating its own vehicle. On autonomous systems, Cook added: "It's a core technology that we view as very important. We sort of see it as the mother of AI projects. It's probably one of the most difficult AI projects actually to work on."
As hype for an Apple-branded car cooled, it was later reported that autonomous driving technologies would be tested on shuttle buses operating on the two-mile route between Apple's Infinite Loop campus and new Apple Park facility in Cupertino, but these were never seen in public.
With the direction of Project Titan still unclear, one of the few concrete pieces of evidence of its existence appeared online in November 2017, when Apple computer scientists Yin Zhou and Oncel Tuzel published a paper on autonomous vehicle technology. The paper discusses a technology that earned "highly encouraging results" when it came to spotting pedestrians and cyclists exclusively using data from a lidar sensor.
Hardware or software?
At this point, at least three years since Project Titan began, it wasn't clear if Apple was working on a physical car of its own to take on Tesla, or on software to fit to other vehicles, as Waymo does. Indeed, it wasn't clear if Apple knew what it wanted at this stage either.
The start of 2018 saw Apple register 27 self-driving vehicles with the California DMV, making use of the permits it was granted the previous year. With hardware plans still a mystery, Apple continued to develop autonomous technology, and by September 2018 it held 70 autonomous vehicles test permits, a number that put it behind only GM and Waymo. That year also saw another change of leadership for Project Titan, with Apple hiring Doug Field, the former senior vice president of engineering at Tesla.
At this point, Apple analyst Ming-Chi Kuo claimed that the vehicle could arrive at some point between 2023 and 2025, after a pair of augmented reality devices that had become a priority for the iPhone maker.
2018 saw the revival of an earlier rumor concerning the production of autonomous shuttle buses for Apple employees. In May 2018 it was claimed Apple had partnered with Volkswagen to make such a vehicle but, as before, little has been seen of this project since.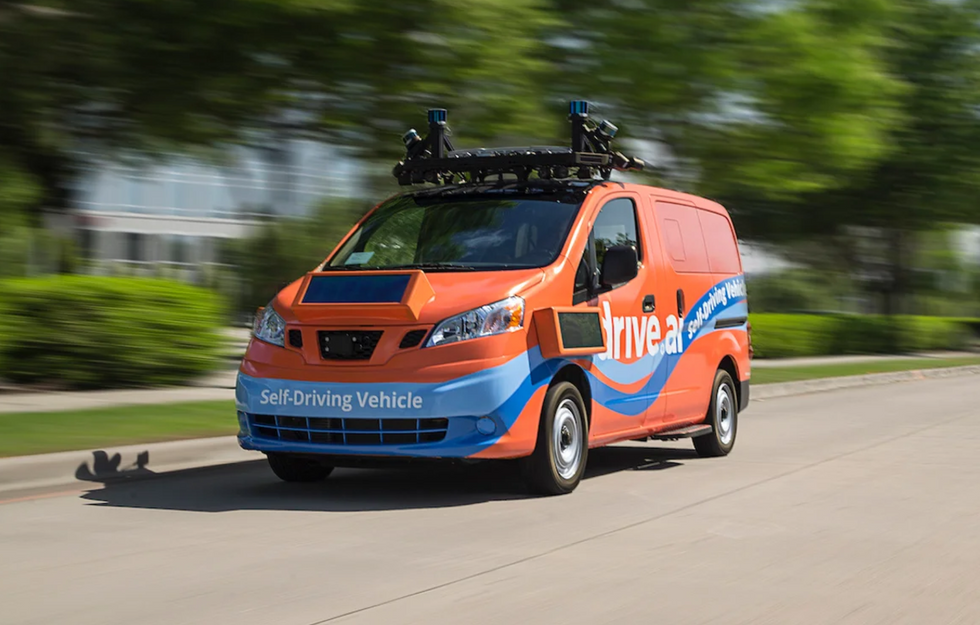 Apple acquired autonomous start-up Drive.ai in 2019Drive.ai
Apple buys Drive.ai
The end goal for Project Titan was still unknown at this point, and 2019 began with reports of 190 members of the team being laid off by Apple. Six months later, Apple acquired Drive.ai, a driverless vehicle startup based in Mountain View, California. The company was effectively saved by the Apple takeover, having been on the brink of bankruptcy and preparing to lay off 90 employees a week later.

Despite operating in a crowded market, Drive.ai had shown promise with its fleet of modified Nissan NV200 vans. According to its Crunchbase profile, the company raised $77 million of investment over five rounds; it was once valued at $200m, but Apple is believed to have paid less than the $77m it had raised.
The rest of 2019 remained quiet for Project Titan, and much of 2020 passed by without a single 'iCar' rumor, until yet another change of leadership was reported by Bloomberg in December. This time, Apple's auto project had fallen into the hands of John Giannandrea, Apple's head of artificial intelligence. The move further reinforced an earlier belief that Apple is more interested in creating autonomous software instead of an actual car.
However, in December 2020 it was claimed yet again that Apple still had its eyes on an electric vehicle of its own. This time, Reuters claimed the vehicle would use "next level" battery technology and arrive in 2024. Volkswagen boss Herbert Diess said of the news: "We are looking forward to new competitors who will certainly accelerate the transformation of our industry."
A partnership with Hyundai
In what could be the biggest piece of Project Titan news for quite some time, South Korean automaker Hyundai said in January 2021 it is in the "early stages" of talks with Apple on an EV partnership. "Apple and Hyundai are in discussions but they are at an early stage and nothing has been decided," the company said, before its share price shot up 20 percent.
But, just hours later, Hyundai backtracked to say it was talking with a number of potential EV partners, this time without naming Apple. As ever, Apple remained silent on its automotive plans. Later that month, an unnamed Hyundai executive told Reuters how the company was "agonizing" over whether to go ahead with a partnership with Apple. Hyundai had until now established a reputation for building everything itself, even manufacturing its own steel, and so building an Apple-badged vehicle would be a significant departure from its usual business practice.
Speculation surrounding the Apple car continued into February 2021, with news that Apple had hired Porsche's Vice President of chassis development Dr Manfred Harrer, according to Insider Deutschland. It was claimed in the same week that Apple plans to confirm an investment of $3.6 billion into Kia Motors, a division of the Hyundai group rumored to be preparing to produce a vehicle for Apple in the US. The deal could be confirmed as soon as February 17, according to publication DongA Ilbo. It is claimed Apple plans to produce as many as 100,000 cars per year, later expanding to 400,000.
There is little doubt that Apple is still working on automotive technologies of some kind. But, as this brief history of Project Titan demonstrates, it has remained unclear for almost seven years whether Apple wants to build an electric car or sell autonomous technology to others, or even if it truly knows what it wants yet.
Hopefully the picture will become even clearer through 2021, and perhaps Hyundai's apparent misstep in announcing its Apple tie-in will lead to more information arriving soon.
Like GearBrain on Facebook