Like GearBrain on Facebook
One of the core functions of Amazon's Alexa assistant is called Routines. At their simplest, routines are automated instructions for Alexa to perform certain tasks. Routines can be configured to occur at a certain time each day, or on specific days of the week. They can also be triggered when you say a certain voice command, when you dismiss an alarm, or when a smart home device like a video doorbell is activated.
A simple example of an Alex routine is how the assistant can be programmed to read out the day's news headlines and weather forecast at a set time each morning, or when you turn off your morning alarm.
Read More:
When first setting up Alexa for myself back in 2018, I configured the virtual assistant to say good morning at 7am every week day, then announce the local weather forecast and read out our flash news briefing, which includes top stories from the BBC, Economist and Guardian, plus a status report for the London Underground. Alexa then switches on our bedroom light as I drag myself out of bed. Downstairs, my office desk lamp is also switched on.
This is just scratching the surface of what Alexa is capable of with Routines. The limit depends on how many smart devices you have in your home for the assistant to communicate with. Fill the house with Philips Hue light bulbs, a Nest smart thermostat and a connected coffee machine, and Alexa will take care of your morning routine for you.
Another routine could see Alexa switch everything off and turn the heating down when you say 'Alexa, bedtime', or dim the lights and close the window blinds when you say "Alexa, it's movie night".
How to set up Alexa Routines

Creating your first Alexa routine is simple and takes just a couple of minutes in the Alexa app. To get started, follow these instructions:
Open the Alexa smartphone app
Tap on More in the lower-right corner
Tap on Routines
Tap the + icon in the top-right corner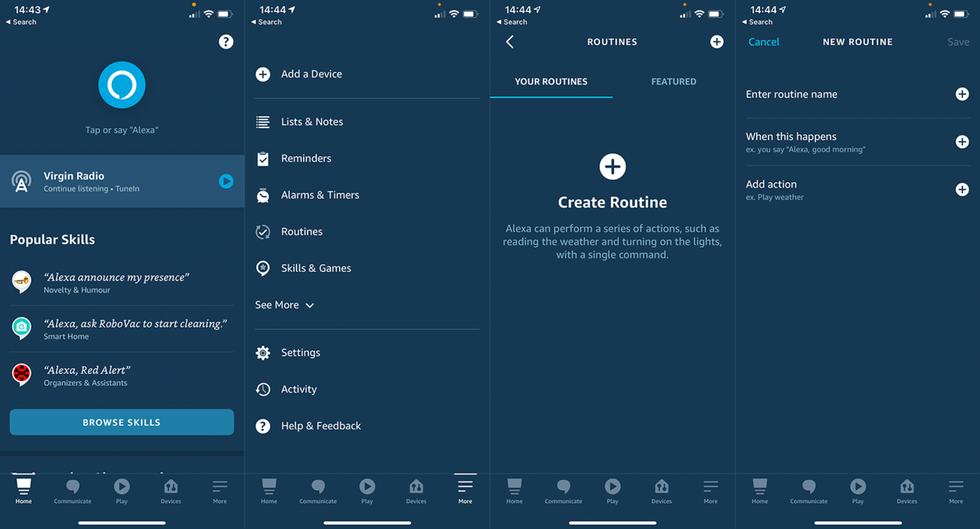 Creating a routine with the Alexa appGearBrain
On this page you are asked to give the routine a name (such as Good Morning), pick what happens to trigger the routine. This could be a schedule, a voice command, the press of an Echo Button, or the action of another smart home device. After this, tap on the 'add action' button and pick what should happen when the routine begins. You can add multiple actions and decide which order they occur in.

One of the actions, called Wait, gives you the option of breaking the routine up into sections with gaps between. For example, you can set Alexa to turn on your bedroom lights, then wait five minutes before reading out the news headlines and weather forecast. Alexa could then be programmed to wait 20 minutes (while you have a shower, for example) then turn on your desk lights and fire up the coffee machine. The time between each segment of the routine can be set to anything from five seconds to 55 minutes.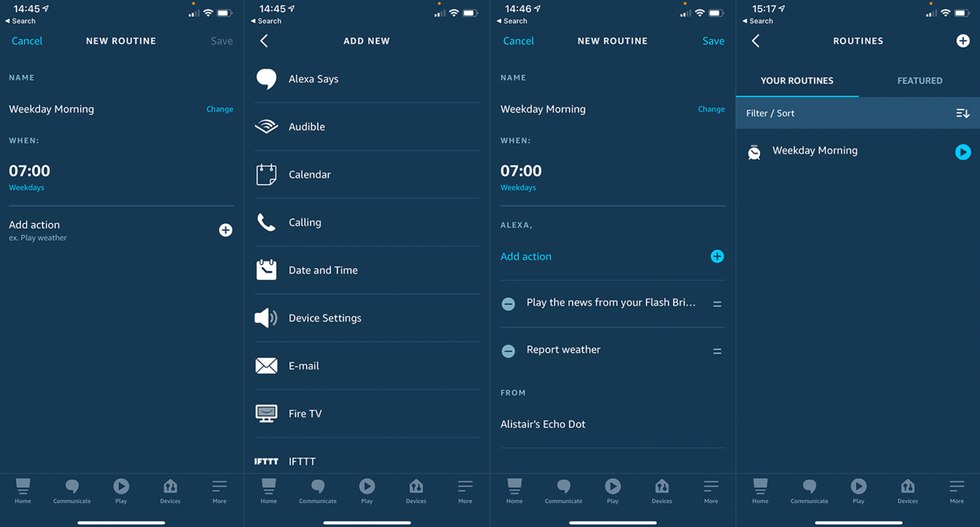 Creating a routine with the Alexa appGearBrain
If you don't like the idea of Alexa talking to you at 7am, that's fine. You can just pick smart home actions like switching lights and other devices on — there's no need to have her speak at all.

Once you have created a routine (or several) you can test them out by pressing the blue play button, seen in the final screenshot in the image above. To edit a routine, just tap on it on that same screen of the Alexa app. To delete it, tap on the routine then tap on the icon with three dots in the top-right corner and tap Delete Routine.
The Alexa app lets you set up as many routines as you want. We think having one to switch things on in the morning, one to turn everything off at night, and several to quickly adjust several lights at once are the most useful. But there is plenty of scope for creativity here, just as with other smart home automation platforms like IFTTT (If This, Then That) and the routines function of Google Home. Apple's Home app has a similar Siri-controlled system called Automations.

Smart light control with routines used to be quite basic, but Amazon has improved things over the years. You can now have Alexa set your lights however you like. For example, I use Philips Hue lighting and can have Alexa pick from any of the scenes I already have in the Hue app, including defaults and scenes I have created myself. The only control missing from the Alexa routine system here is adjusting lights over time, so lights can't be set to gradually change using a routine.
Make Alexa speak, and even say whatever you like
Routines can also make Alexa speak. There are several default phrases to pick from, like 'good morning', as well as a set of fairly cringeworthy jokes and compliments, and ways to say the assistant is happy you are home. This is all quite gimmicky, but could be fun if you have kids at home.
It is also possible to type a message for Alexa to say. For example, I once created a routine where Alexa would prompt me to answer the door when a Ring Video Doorbell was rung. Sure, it isn't necessary, but my housemates found it amusing.
Naturally, the power and usefulness of routines depend on how many smart home devices you have, and how much of their operation you would like to automate. We look forward to creating more complex routines as our smart home expands.
Check out The GearBrain, our smart home compatibility checker to see the other compatible products that work with Amazon Alexa enabled devices.
GearBrain shows Alexa and Google Assistant controlling the Philips Hue Go www.youtube.com
Like GearBrain on Facebook