"Good morning. Currently it is three degrees with clear skies and sun. Today you can expect intermittent clouds. Here's your flash briefing. In headlines from BBC News…" The lights switch on and we get out of bed.
This is a morning with Amazon Alexa and the Routines function, where she can be programmed to do several things at once — either after hearing a single command from you, or at a scheduled time each day.
Read More:
We configured the virtual assistant to say good morning at 7am every week day, then give us the local weather forecast and read out our flash news briefing, which includes top stories from the BBC, Economist and Guardian, plus a status report for the London Underground. She then switches on our bedroom light as we drag ourselves out of bed. Downstairs, our office desk lamp is also switched on.
This is just scratching the surface of what Alexa is capable of with Routines. The limit depends on how many smart devices you have in your home for her to communicate with. Fill the house with Philips Hue light bulbs, a Nest smart thermostat and a connected coffee machine (via the Home Connect skill), and Alexa will take care of your morning routine for you.
Another routine could see Alexa switch everything off and turn the heating down when you say 'Alexa, bedtime', or dim the lights and close the window blinds when you say 'Alexa, it's movie night'.
Ring Video Doorbell Pro with Echo Show 5 (Charcoal)
How to set up Alexa Routines

Open the Alexa app or go to alexa.amazon.com
Tap the menu icon in the top-left corner
Tap on Routines
Tap on the + icon to set up a new Routine
Here you will be asked to configure the two sides of a routine. The first is the instruction and the second is the action. The instruction can either be spoken, or set to be issued to Alexa at a certain time, then repeat every day, every weekday, or anything in-between.
To create the example at the start of this article, tap the 'at scheduled time' option and set when you would like Alexa to say good morning and begin her routine.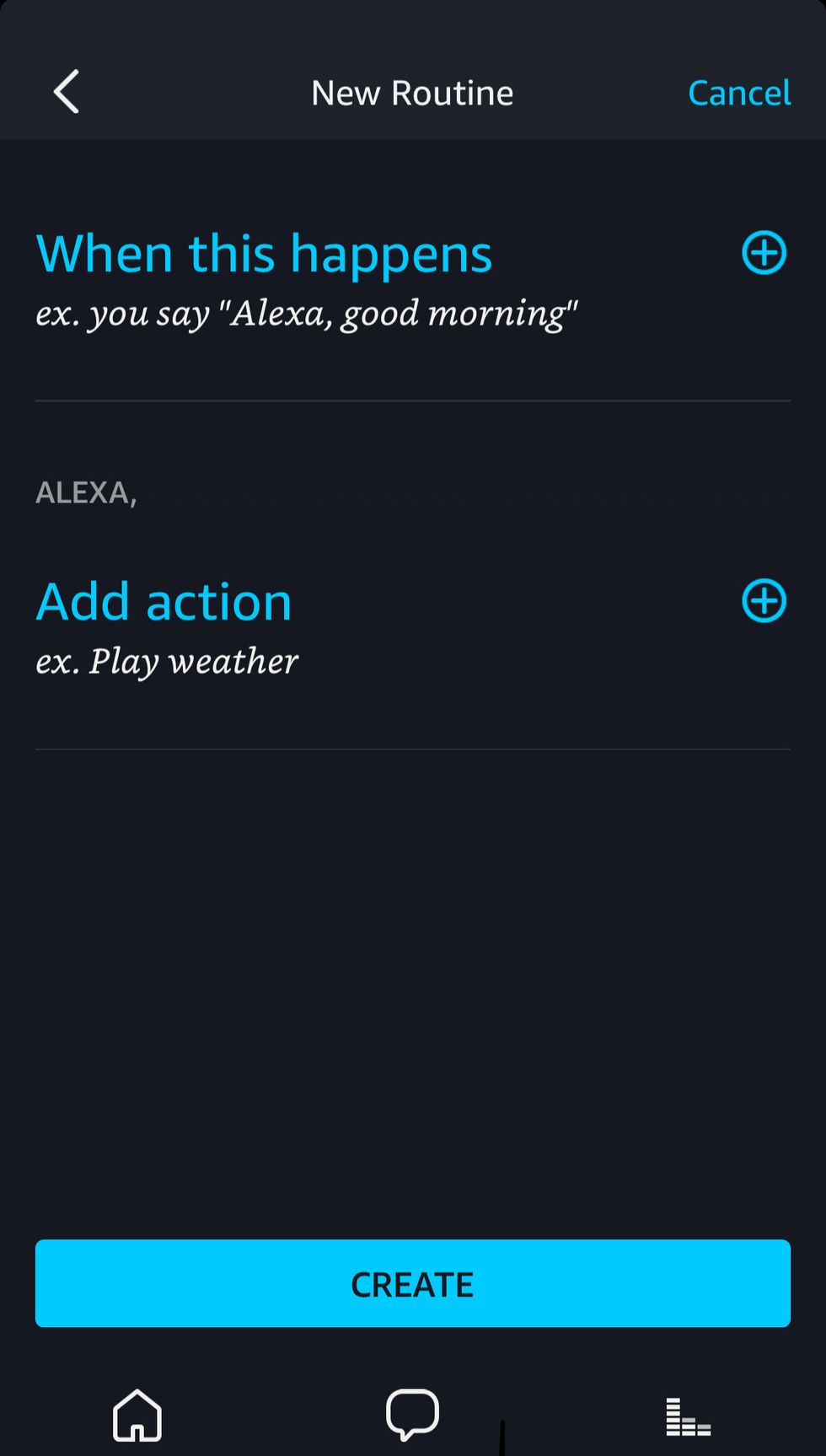 Making a new Routine is as simple as setting a command and an actionGearBrain
We included instructions to say good morning, switch on our desk lamp, play our news briefing and read out the weather forecast.
Once you have a list of actions you can change the order by pressing on the six-dot icon on the left and dragging them up or down. You can delete by tapping the stop sign on the right, and add further actions. The 'from' section at the foot of the page relates to where in the house you want Alexa to speak. We chose our Upstairs group.
Read More: How to set up Alexa Groups
If you don't like the idea of Alexa talking to you at 7am, that's fine. You can just pick smart home actions like switching lights and other devices on — there's no need to have her speak at all.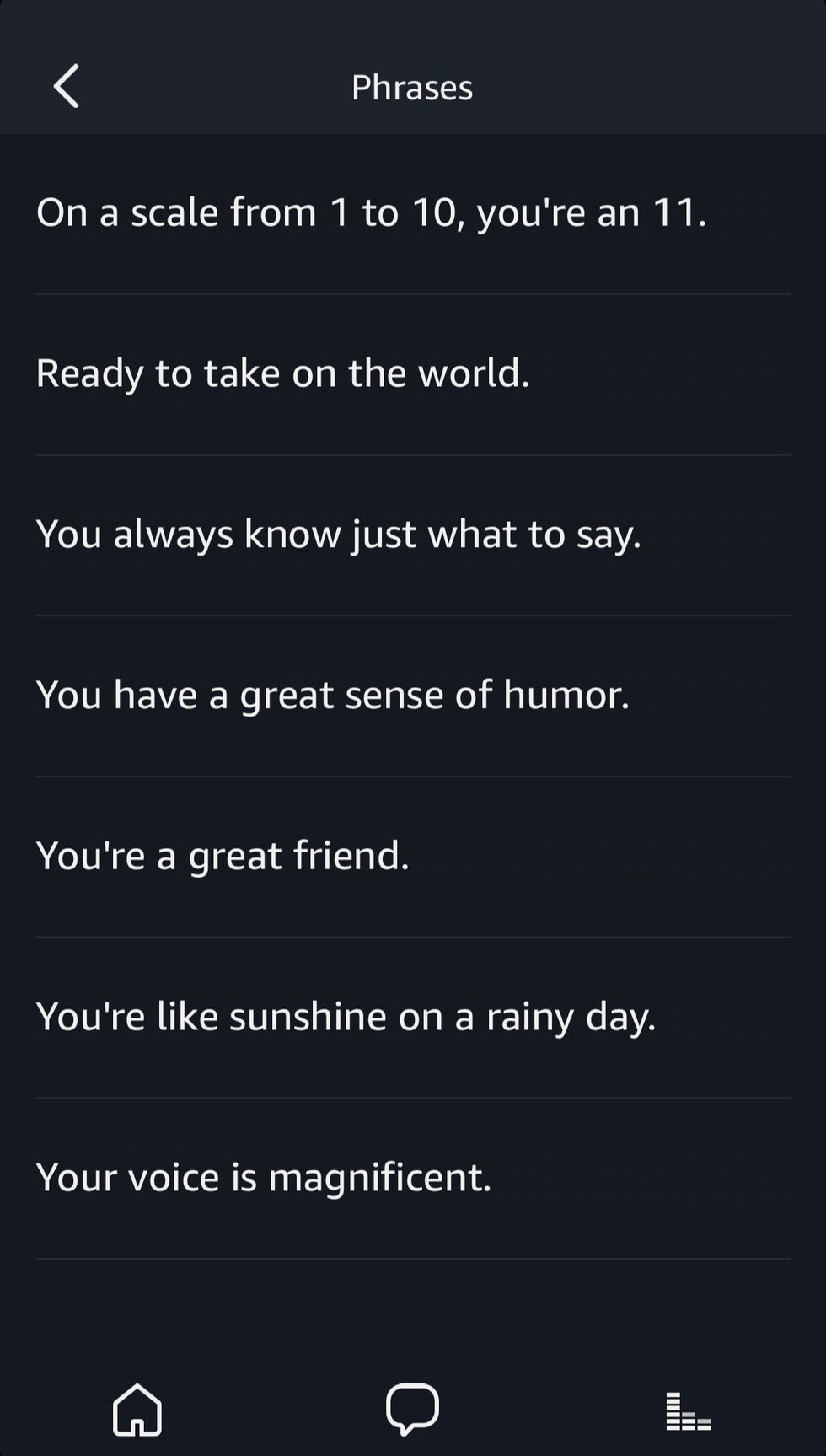 Some of the things you can schedule Alexa to say are a bit...oddGearBrain
On that note, some of things you can tell Alexa to say are a bit strange. You can program her to say happy birthday, but you can't pick a date for this — you can only pick a day of the week, so this could only be set the week before your birthday. One of the phrases here is 'I hope your birthday is as wonderful as you are', which we feel is a bit cringeworthy.
So too is 'You're a great friend' and 'You always know just what to say'. We'd use these for pranks on our partner or to impress the kids, but not much else. In fact, programming your virtual assistant to say 'Don't worry, I'll hold down the fort' when you say 'Goodbye, Alexa' on your way out the door has Dad Joke written all over it.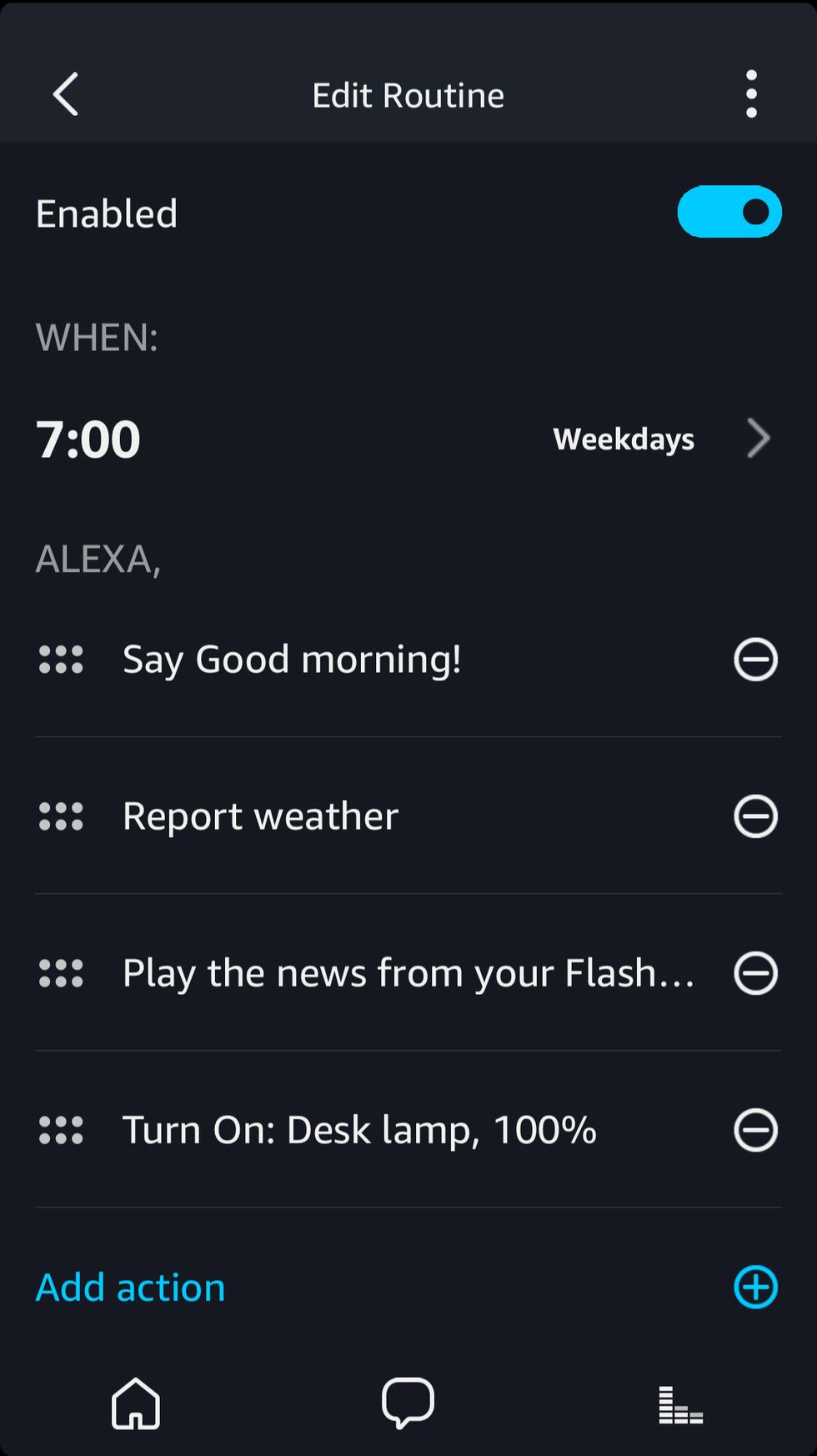 A completed Routine to be actioned every morningGearBrain
The Alexa app lets you set up as many routines as you want. We think having one to switch things on in the morning, one to turn everything off at night, and several to quickly adjust several lights at once being the most useful.

One downside we discovered is how Alexa's control of smart lights is too basic when creating a routine. While you can ask her out loud to 'make the room blue' with a Philips Hue bulb at any time, you can only tell her to switch the light on and to a certain brightness as part of a routine. Because a Routine cannot be told how to operate the light, it will switch on to the last setting you selected in the Philips Hue app — in our case, this was a soft orange glow from the previous evening, rather than the bright, crisp white we'd like to work with.
To change Alexa's morning briefing, tap the menu icon in the Alexa app, then go to Settings and scroll down to Flash Briefing. Tap 'get more flash briefing content' and pick what you would like to include.
Naturally, the power and usefulness of Routines depend on how many smart home devices you have, and how much of their operation you would like to automate. We look forward to creating more complex Routines as our smart home expands.
Check out The GearBrain, our smart home compatibility checker to see the other compatible products that work with Amazon Alexa enabled devices.
Echo Dot (3rd Generation) - Charcoal with 2 Smart Bulb Kit by Sengled
GearBrain shows Alexa and Google Assistant controlling the Philips Hue Go www.youtube.com