Like GearBrain on Facebook
As the launch of the Pixel 4 gets closer, Google just can't help itself, teasing that its new smartphone will have a face unlock system, and radar to understand hand gestures.
Revealed in a company blog post and YouTube video this week, the face unlock system looks very similar to that used by the current iPhone and iPad Pro, while the hand gesture system, called Motion Sense, appears to work like that of the LG G8. Google has confirmed the latter will use its Project Soli radar technology, which has been in development for several years.
Read More:
The Pixel 4 smartphone is expected this October, but after Google's previous phones fell victim to numerous leaks ahead of launch, the company has changed its strategy for 2019. Instead of keeping quiet while the world leaks its precious new handsets, Google is staying one step ahead by announcing the device's features and design ahead of the rumor mill.
Although not naming the iPhone or any of its rivals, Google took a swipe at other facial recognition systems which, it says, "require you to lift the device all the way up, pose in a certain way, wait for it to unlock, and then swipe to get to the home screen."
Google says the Pixel 4 "does all of that in a much more streamlined way."
The process starts with Google's new Project Soli technology, which uses radar to detect movement in front of the phone, then switches on the face unlock system. This then uses a combination of infrared, depth sensors and a visible light camera to identify your face. This is quickly fed into an algorithm, and the phone unlocks when it recognizes you.
Unlike with the iPhone XS, Google says face unlock on the Pixel 4 "works in almost any orientation," and it says the system can be used for making online payments and app authentication too. As with the iPhone, the processing of your face is done by the phone itself, with no data sent to Google's servers.
Field research

Google is keen to create a face unlock system which works correctly with anyone. To help it achieve this, the company has been collecting face scans from members of the public. Google representatives approach these people at random, then scan their face in return for a $5 gift voucher.
Google has confirmed that the scans are stored securely and anyone who has had their face scanned by Google (and signed a consent form) can request their data be deleted at any time. The goal here is to avoid the gender and racial bias apparently inherent in other facial recognition systems.
Motion Sense
With its Project Soli, Google has been working on motion sensing technology for the past five years. Google says the system uses radar to sense small motions around the phone and combines "unique software algorithms with the advanced hardware sensor" so it can recognize users and detect when you are nearby.
As well as spotting when you pick up the phone, then activating the face unlock system, the Project Soli radar will be used by the Pixel 4 to allow hand gestures. For now, Google says these gestures will be used to skip songs, snooze alarms and silence phone calls, all by waving your hand.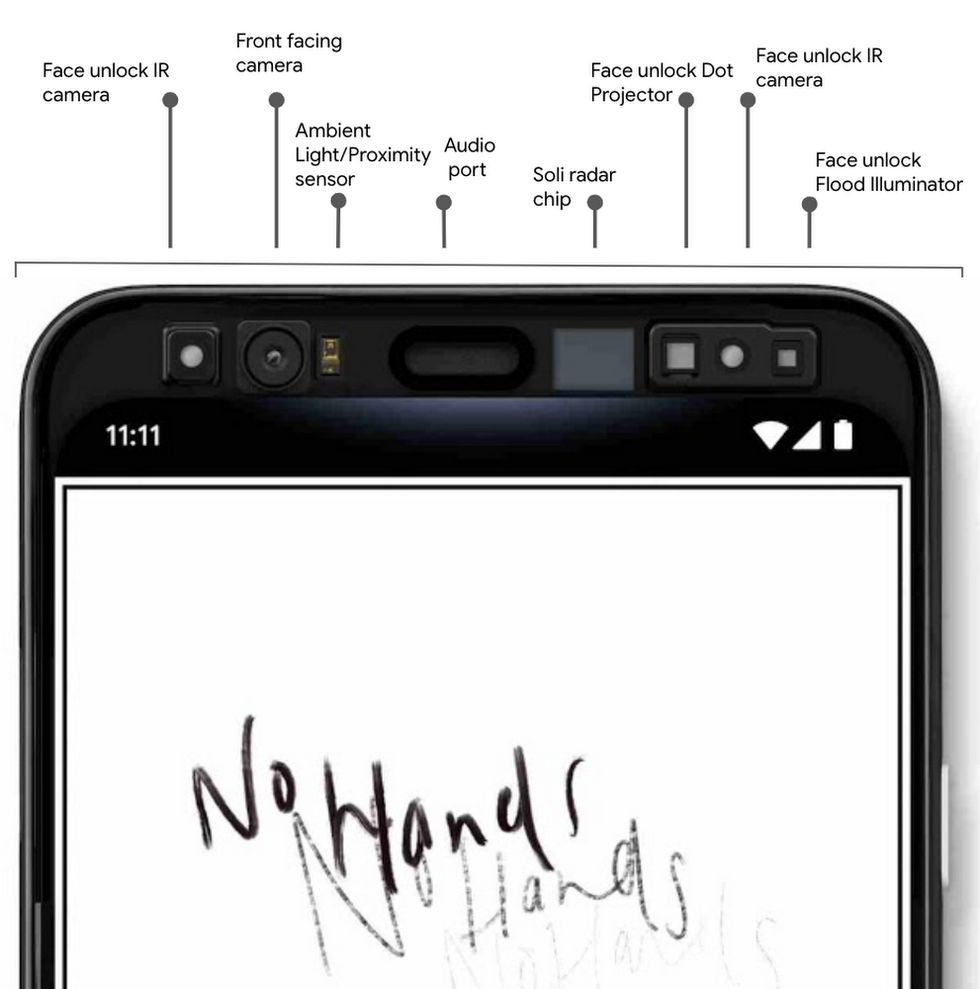 Th Pixel 4 uses radar for its hand gesture systemGoogle
We hope this system works far better than that of the LG G8, which we found clunky and difficult to use reliably. Google's use of radar instead of a time-of-flight sensor might help here.

Google added: "These capabilities are just the start, and just as Pixels get better over time, Motion Sense will evolve as well."
The company added that Motion Sense will be "available in select Pixel countries," suggesting the system won't ship on Pixel 4 handsets in every country.
From Your Site Articles
Related Articles Around the Web
Like GearBrain on Facebook