Like GearBrain on Facebook
Headphones use to be these big and bulky devices you put on your head and connect them to either your stereo system or maybe your smartphone/tablet. Today, headphones have morphed into stylish and "status symbol" audio devices that provide an immersive sound experience for everyone and not just audiophiles, movie lovers or gamers. You probably see individuals walking down the street or maybe on the train/bus winding down from a tough day at school or work with these new and still bulky headphones. But, after testing a bunch of these new headphones, we can see why these new headphones are so popular. The sound experience is incredible. You get unbelievable depth and precision in the sound which helps engross users with a full audio experience. We recently tested a new wireless Bluetooth headphones called The Haymaker which come with Premium 7.1 Surround Sound and more.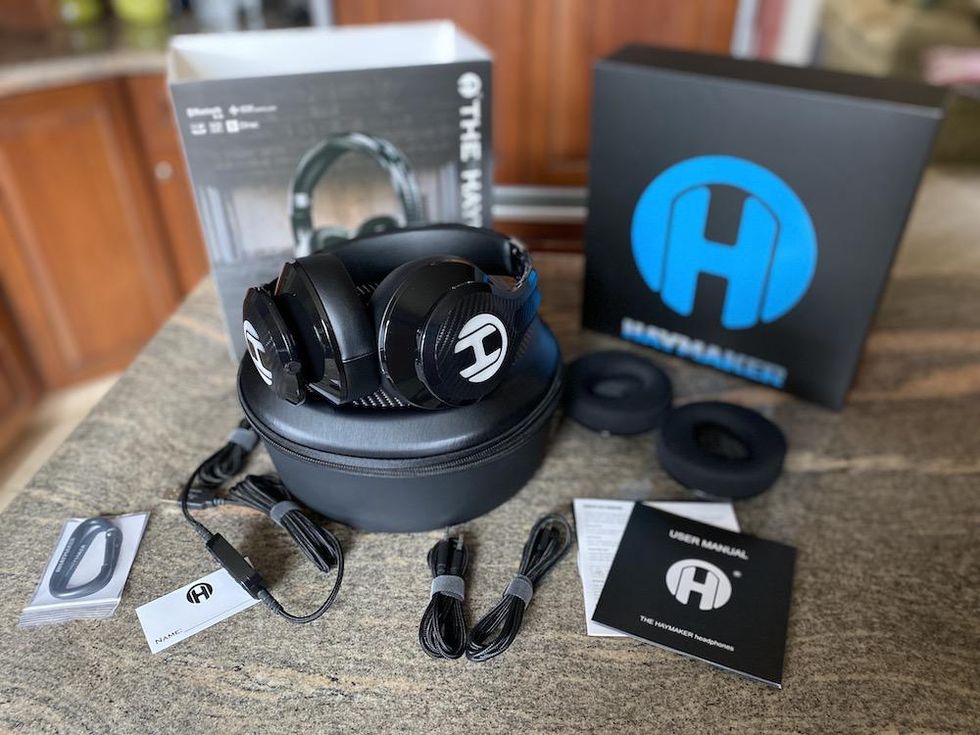 The Haymaker headphones come with a hard travel case, power cords, instructions and 2X extra ear pads.GearBrain
What is The Haymaker?
The Haymaker Headphones (HM100) are high quality over the ear headphones with premium 7.1 surround sound built in. They feature Active Noise Cancelling (ANC), premium HD sound, long lasting battery life and work on a Bluetooth 5.0 wireless connection.
The Haymaker comes with soft comfortable ear pads and a hard cover travel case with power cords. The power cords include 3-inch Aux. cable, 5" Micro USB-C cable and PC controller cable. The headphones also have 2 microphones with condenser ANC to use on phone calls or to control your smart devices.
One of the unique features with these new headphones is the controls. To control your Haymaker headphones, you will need to swipe either earphone. On the left side you just swipe to control music while swiping on the right will control the lights on your headphones. Yes, The Haymaker headphones come with LED lights on each ear as well as the headband.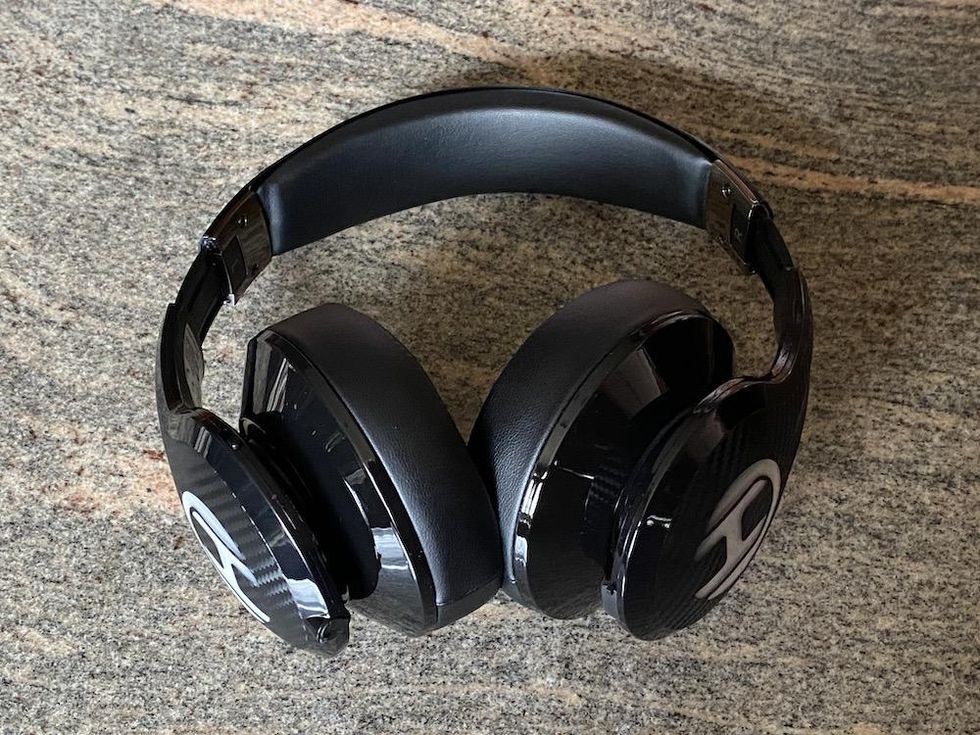 The Haymaker over the ear headphones come with ANC and 7.1 surround sound built-in. You also use touch controls to adjust your sound levels and the lights on the headset.GearBrain
The Haymaker headphones come with a 90-day money back guarantee, but the best feature is the battery life. These headphones with all the features and quality sound output, the battery life is very long, especially when compared to other premium wireless Bluetooth headphones with surround sound. According to the company, when in ANC mode, you will get 26 hours of play music. When ANC is turned off, you get 43 hours of continuous music or gaming.
Another unique feature The Haymaker Headphones offers is DIRAC 3D ultra-high-resolution audio for both playback and gaming. For those of you who don't know Dirac, this software helps optimize the digital audio to provide the perfect sound quality when listening to any type of music, movie or game. If you are a gamer, you will love this feature. Just download the software from The Haymaker site and you are ready to go.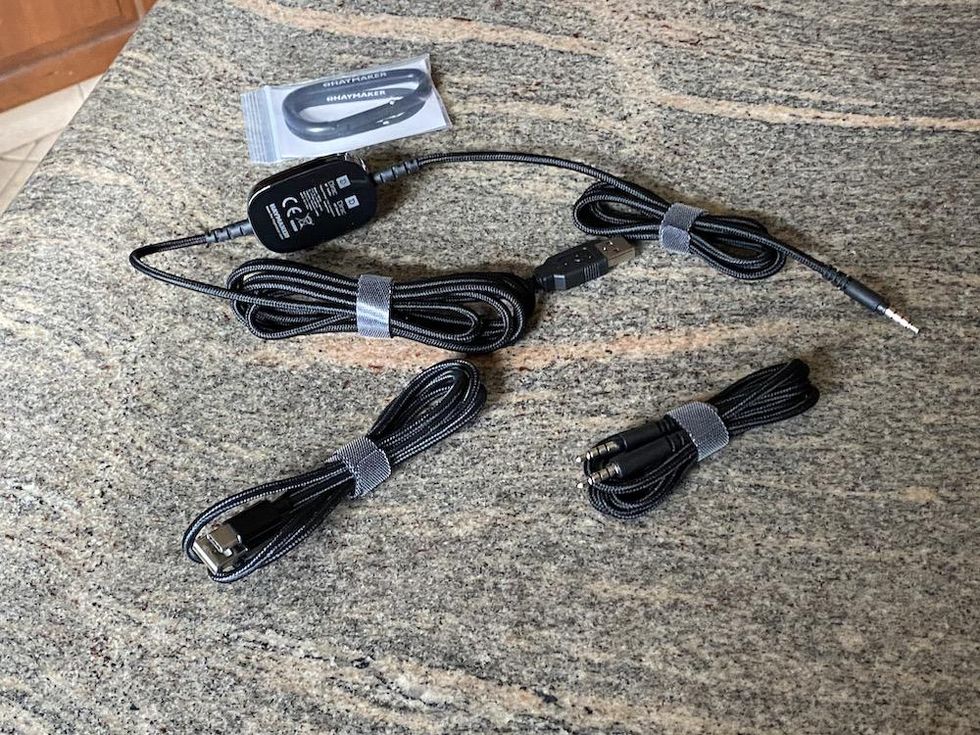 The Haymaker headpones come with power cords to keep you headphones going and connected to your PC or gaming console.GearBrain
How to Setup your Haymaker Headphones
Connecting the Haymaker headphones to a smart phone, tablet or computer is very easy. The headphones work with both iOS and Android devices as well as your PC (via USB input). Just unboxed the headphones and pair them with your smartphone via Bluetooth. Note there is no app for you to download onto your smartphone or tablet to control the sound quality of the headphones. You just need to make sure your smartphone is compatible with Bluetooth 5.0. If so, you are good to go.
Compatibility
The Haymaker headphones can connect wirelessly to any smartphone, tablet or PC if it has Bluetooth 5.0. And if your smartphone has Siri or Google Assistant, you will be able to use voice commands to control smart devices connected to your voice assistants.
For gamers, The Haymaker headphones are also compatible with Xbox, PlayStation (USB only supports audio output), Switch and any PC gaming. The headphones will work with gaming software DIRAC for Windows 7 or 10 64-bit systems too.
What files do the Haymaker headphones support? The headphones support APKS, APKS HD, APTXLL, AAC, SBC Codec files. Their gaming audio is DIRAC 7.1 Surround Sound, DIRAC HD Sound and Stereo 2.0.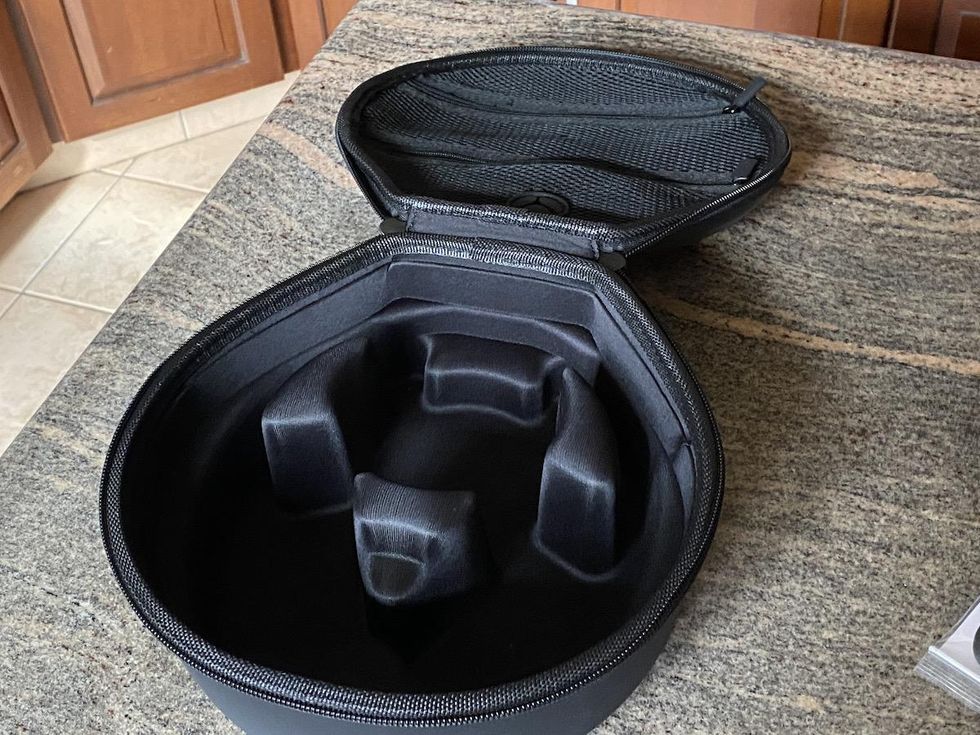 The Haymaker headphones come with a hard travel case for you to store your headphones and all the power cords.GearBrain
How durable on these headphones?
If you like to take your headphones on the road or to the gym, you are going to like The Haymaker headphones. Besides being lightweight, they are also very durable. The company uses long-lasting materials and components to help shield your headphones from the elements while they are generating high quality sound. And to help protect customers and provide a little peace of mind, they offer a one-year warranty on all their products.
How much do The Haymaker headphones cost?
The Haymaker headphones cost $329.95 and are available on the Amazon and company website. Is this a good price? Based on our experience in testing premium headphones like Bose QuietComfort 45 Wireless ANC headphones ($329), Beats by DR. Dre Studio ANC headphones ($349.99) and Sony WH1000XM4 ANC Headphones ($349.99), The Haymaker are priced right and are a good buy if in the market for a new pair of premium wireless headphones. And you get a nice hard traveling case with power cords as a bonus.
Test Results
For the past few months, we tested The Haymaker headphones at the gym, on the train, playing Xbox games, watching movies on a tablet and just hanging around listening to music. The quality of the 7.1 surround sound was incredible. We would have liked an app to adjust the sound quality but that is because we like equalizing the sound based on what we are listening too. However, you really don't have to adjust the levels since the sound is full and clear. And with ANC on, you get even a better immersive sound experience.
When phone calls, the sound was clear on both ends. We had no issues hearing the other party on the line. And the battery life was excellent. Over the past 2 months, the headphones are still working on the initial charge.
We did download the Dirac software to help improve the sound quality for gaming. This process might be a little challenging for some, but it improved the sound quality. However, not sure many users will notice the difference or go through this process.
The only issue we ran into during testing had to do with the ear pads. It seems the ear pads started to come off easily after a few weeks of using them at the gym and commuting to work. Not sure what was causing them to loosen so be on the lookout for this happening to you.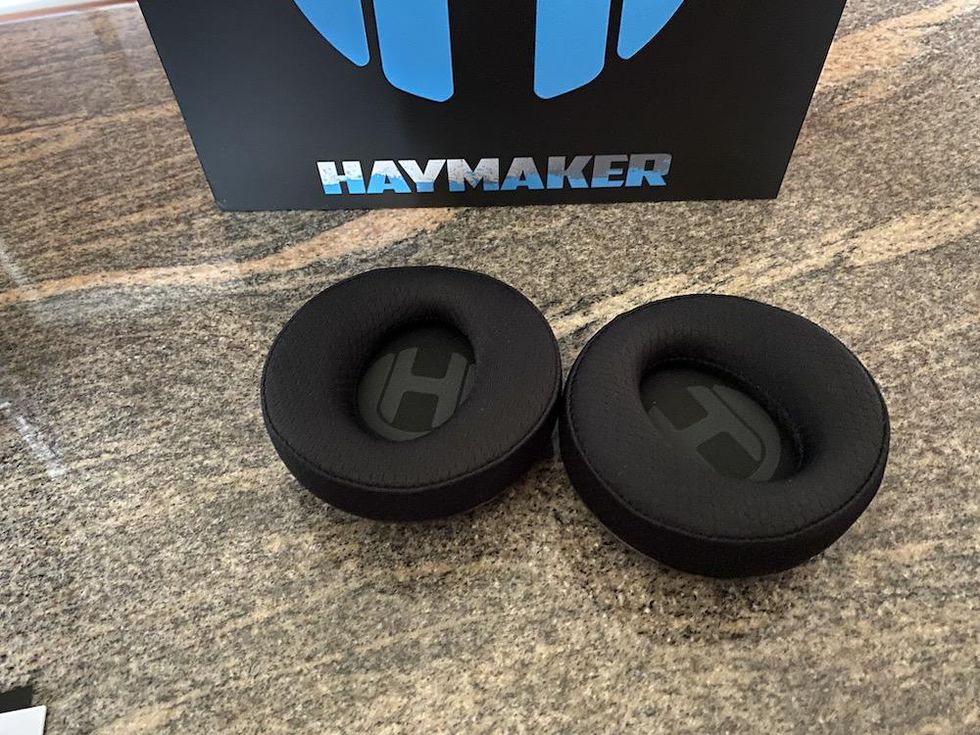 The Haymaker Headphones come with 2 extra earpads. GearBrain
Summary
According to the company, the Haymaker Headphones are the perfect headphones for the weekend warrior and not just audiophiles and gamers. After testing these headphones for the past few months, I can see why the company said this and I agree. The headphones are good for anyone looking for a good quality headphone with premium 7.1 surround sound. Gamers will like the immersive sound, but the touch controls might not measure up to your expectations. You can use voice commands when your headset is connected to your smartphone parentheses tablet or any other mobile device that connects via Bluetooth 5.0. This is a nice feature.
If you are in the market for good quality wireless headphones, we highly recommend The Haymaker. They are lightweight and have a very long battery life which is perfect for fitness lovers and travelers. You won't have to scout out outlets to recharge your headphones. The battery-life will give you ample hours of listening pleasure on a single charge. However, if you are a gamer, keep in mind these headphones might not meet your needs while playing your favorite Xbox game. Yes, they will provide incredible sound, but the touch controls are limited and there are other gaming headphones that might meet your expectations.
Being a music lover and former drummer in a band who did a lot of recording, I wish I had The Haymaker when I was recording. They are lightweight and offer a 7.1 surround sound which is an all-encompassing audio experience with and without ANC mode. Just make sure you don't wear them in an environment where you need to hear what's going on around you. Because you will not hear anything but what you are listening to on your headphones.
Pros
Price
ANC and Immersive sound quality
Long lasting battery life
Cons
Ear pads loosening
Touch controls
No app to adjust sound levels
Like GearBrain on Facebook