Like GearBrain on Facebook
When it comes to improving the sound of your television, the simplest and often cheapest option is to connect a sound bar. These work well and in some cases can even create artificial surround sound by having speakers angled at your walls and ceiling.
But for the best home cinema sound, you will want to invest in a so-called system of separates. This is where individual speakers for the front and rear of your room (and even the ceiling) are connected with speaker wire to an AV receiver, also known as an amplifier. This then connects to all of your devices, like streaming sticks and games consoles, and finally to your television.
Read More:
Installing a system requires far more effort than hooking up a sound bar (even a sound bar with wireless rear speakers and a subwoofer), but the results can speak for themselves.
With a system of separate speakers your surround sound experience is greatly improved, and where most sound bars have just a couple of HDMI inputs, many AV receivers have five or more, plus the option of connecting to a TV and projector at the same time, and can even handle 8K video.
In this guide we will first look as receivers at various prices, then focus on speaker systems, and speaker stands.
How to buy the right AV receiver for your surround sound system

Prices of AV receivers can vary from under $250 to over $2,000, so it is important to do your homework and make sure you are buying the one that is right for your needs. The most popular manufacturers are Denon, Yamaha, Sony and Onkyo.
These devices tend to be quite large, being narrower but much taller and deeper than a sound bar. You'll need to think carefully about where the receiver will be located, but remember that with longer cables it doesn't necessarily have to sit under or next to the TV. It could even be installed in a cabinet elsewhere in the room.
Their many connections may seem daunting at first, but they are remarkably simple devices. The majority of their connections are to your speakers and subwoofer, which connect using speaker wire to the receiver's red and white connections. These are usually spring-loaded or screw down to grip the bare speaker wire. The only other inputs you really need to know about are the receiver's HDMI connections for your media streamer, games console and other devices.
Features to look out for are compatibility with the Dolby Atmos and DTS:X surround sound standards, and some newer options from Denon also work with IMAX Enhanced. You should also check that the receiver can handle 4K video with HDR, but only pay extra for 8K if you already have such a television. For now, this is a luxury the vast majority of buyers can do without.
For now, the same can be said for a 120Hz refresh rate. The new PlayStation 5 and Xbox Series X games consoles can handle this, but very few televisions currently extend beyond 60Hz, so if you plan on keeping your current TV for a long time yet, 120Hz compatibility shouldn't be a must-have for your AV receiver. But if you want the very best, and want to future-proof your system, paying more for 120Hz isn't a bad idea.
Support for Bluetooth is also useful along with streaming systems like Chromecast, Spotify Connect and Apple AirPlay. Many receivers have Wi-Fi, with one or two small antennas on their back for connecting to online music streaming services.
More expensive AV receivers can output audio to more audio channels. What this means is, simpler and cheaper receivers work with 5.1 and 7.1 systems, where you have five or seven speakers spread around the room and one subwoofer.
Spend more money, and you will get a receiver that can output a system like 5.1.4, which includes five speakers at TV height, one subwoofer and four speakers that are either mounted to the ceiling, or fire audio up and off the ceiling to add a sense of height. You can even get 7.2.4 systems, where the two refers to a pair of subwoofers.
Away from connectivity, an important metric to consider is the output of your receiver measured in watts; naturally, a higher number means more power and the ability to produce greater volume. Being compatible with High-Res Audio is also a useful thing to have, especially if you intend to stream high-quality music from services like Tidal and Amazon Music HD.
Here are some AV receiver options to consider:
Denon AVR-S540BT – $299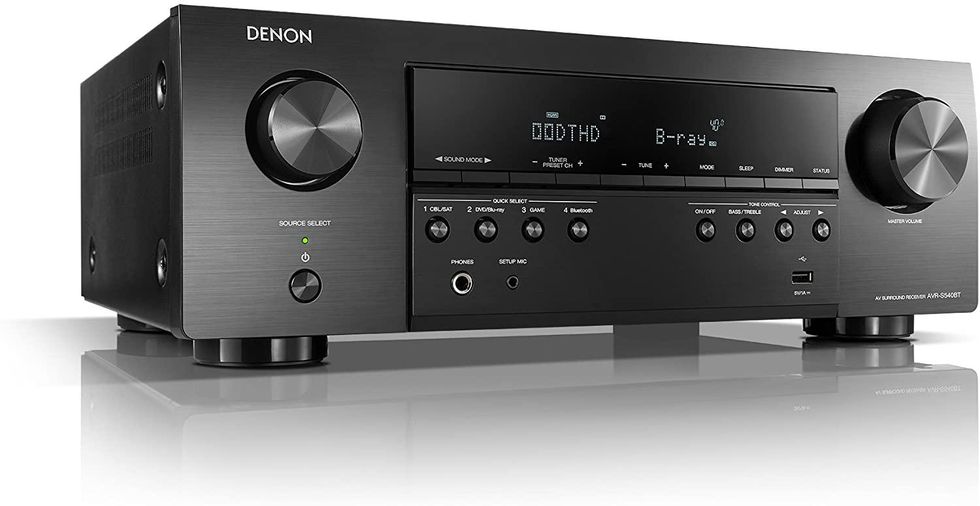 Denon AVR-S540BTDenon
This is a well-priced Denon receiver with support for 5.2 surround sound systems and 4K Ultra HD with HDR and Dolby Vision, plus Bluetooth. It can stream from Spotify, Pandora, Tidal and other services, and can be made part of a whole-home audio system with Denon's Heos function.

It can handle Dolby TrueHD and DTS HD Master Audio, but doesn't have support for height speakers in the ceiling, so can't produce Dolby Atmos. The receiver has five HDMI inputs and one output, meaning it can be connected to a Blu-ray player, media streamer, cable or satellite box, game console and a computer all at once.
Denon AVR-X2700H – $900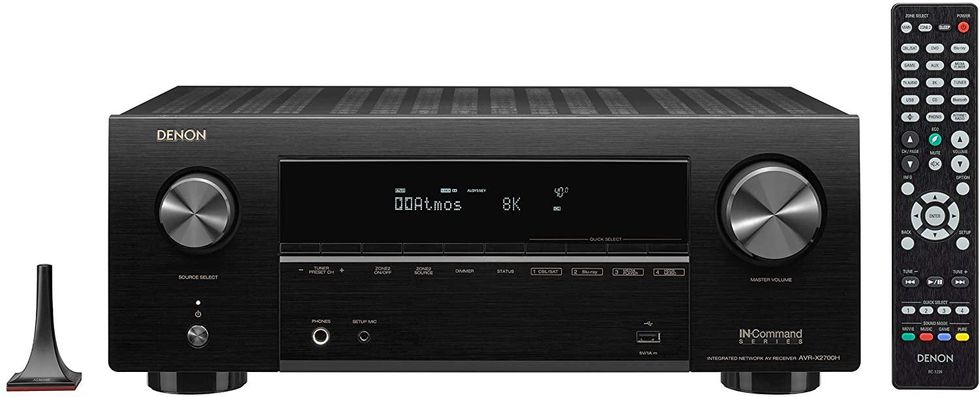 Denon AVR-X2700HDenon
This Denon receiver can handle 8K video with HDR at 60Hz, or 4K video at 120Hz. It supports seven channels of audio and is compatible with 3D sound formats like Dolby Atmos (with a 7.1.2 system) and DTS:X, plus the new IMAX Enhanced system.

The receiver has six HDMI inputs (including one dedicated for 8K) and two HDMI outputs, so could be connected to a TV and projector at the same time.
Sony STR-DN1080 – $598

Sony STR-DN1080Sony
Somewhere between those two options is this receiver from Sony. It has a 7.2 output for Dolby Atmos and DTS:X, and can handle 4K video with HDR. It has six HDMI inputs and two outputs, plus Bluetooth, Wi-Fi and compatibility with Airplay and Chromecast.

How to buy the right speakers for your surround sound system
After picking a receiver it's time to choose your speakers. You can either pick up a kit of five or seven speakers, and some even come with a subwoofer too, Or you can mix it up and buy individual speakers for the front, rear and ceiling locations of your system.
Manufacturers to consider here include Klipsch, Sony, Polk Audio, Cambridge Audio, Focal, Q Acoustics, Bowers & Wilkins – and, if we're honest, many, many others. Unlike the Demon-dominated receiver market, the speaker market is a large and varied one.
You can spend a couple of hundred dollars, or literally tens of thousands on your perfect speaker system, with variables including size, design and of course power output.
What really matters here is buying the best speakers you can afford, but also picking up the speakers that physically fit best in your home. Many can be mounted to stands that either sit on the floor or fix to the wall, while others work well sitting on a shelf (indeed, they are known as bookshelf speakers), and others are designed to fit seamlessly into the ceiling. Some are very compact and take up very little space, while high-performance, floor-standing speakers can be huge.
Subwoofers tend to be sold separately (and are also rather large), and there's the option to buy upwards-firing speakers that are angled to bounce sound off the ceiling and connect to a receiver compatible with Dolby Atmos. Some front speakers also have integrated upwards-firing speakers on top. Lastly, the front-center speaker can be bought separately.
Because all of these speakers use bare speaker wire, they can all be connected to any receiver, meaning you can mix-and-match to suit your budget and space/performance requirements.
Here are some speakers to consider:
Klipsch Black Reference Theater Pack – $379

Klipsch Black Reference Theater PackKlipsch
Currently reduced massively from $999 to $379 on Amazon, this set of speakers includes five units for the front and rear of your room, plus a subwoofer. The speakers connect using bare wires, so are compatible with just about all AV receivers, and they are all very compact, with optional covers to provide a more subtle look if you prefer.

Polk Audio Bookshelf Speakers – $80 per pair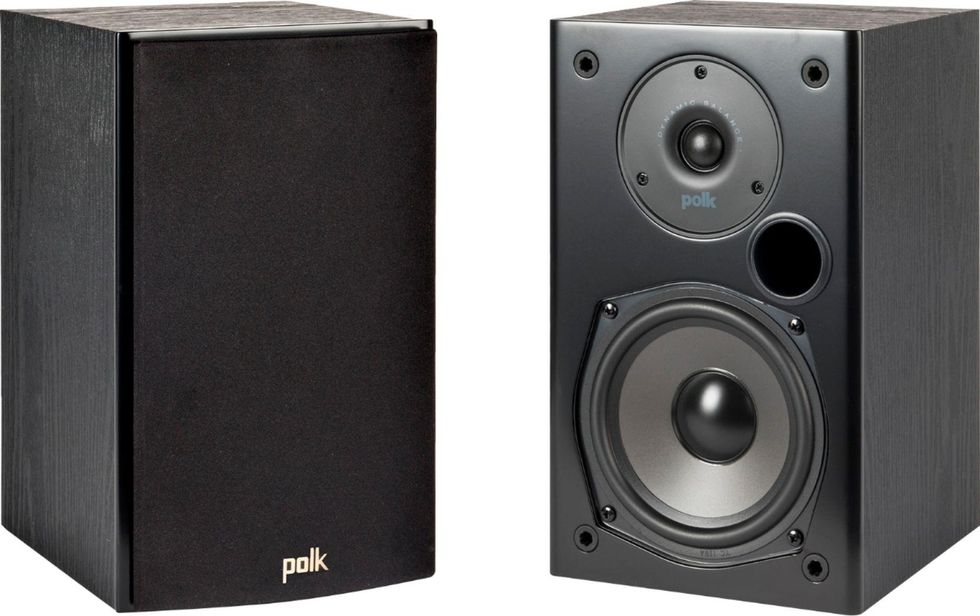 Polk Audio Bookshelf SpeakersPolk Audio
This is a good value pair of bookshelf speakers designed to fit at the front or rear of your surround sound system. They could also be used as the highly-mounted Atmos speakers if sat on high shelves, or as the side speakers to the left and right of your seating area. They are Dolby and DTS compatible and connect using the bare-wire standard, so are very easy to connect to any AV receiver.

Sony Core Series Bookshelf Speakers – $120 per pair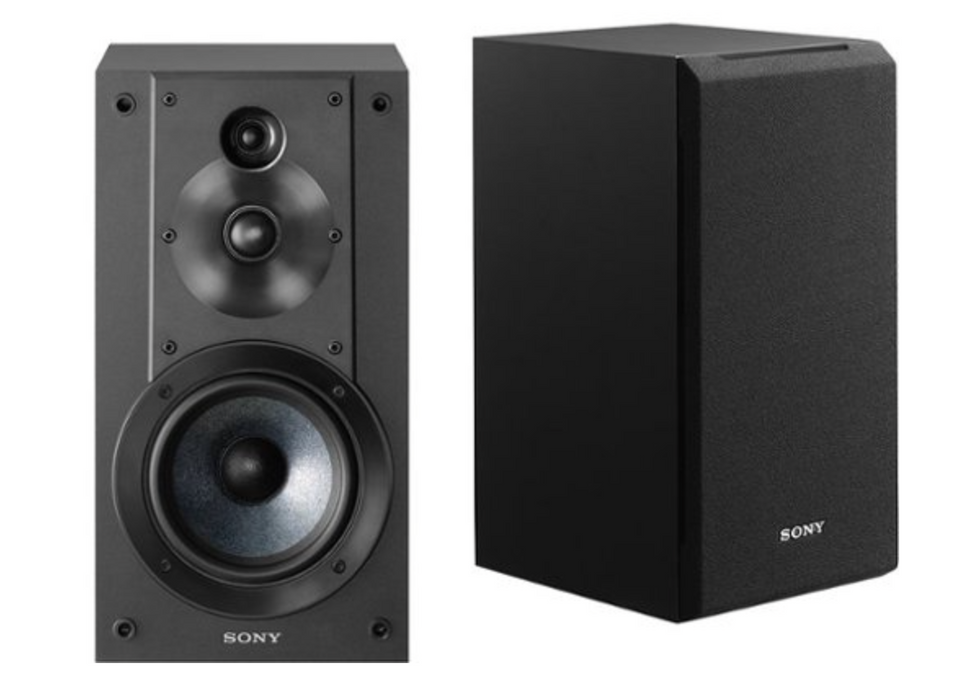 Sony Core Series Bookshelf SpeakersSony
Another pair of bookshelf speakers, these from Sony have five-inch drivers and are compatible with the Hi-Res Audio standard. As many bookshelf speakers do, they have removable black fabric covers for creating a more subtle look.

Sony Atmos Speakers – $160 per pair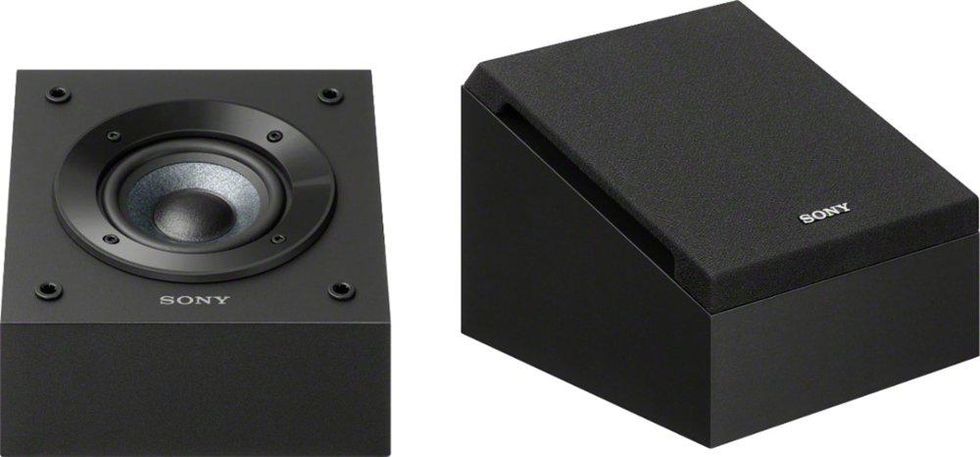 Sony Atmos SpeakersSony
This pair of speakers are designed to fire sound upwards and off the ceiling, adding height to a Dolby Atmos system. They can be sat on a shelf next to the TV or even on top of your existing front speakers.

Yamaha 725W Kit – $480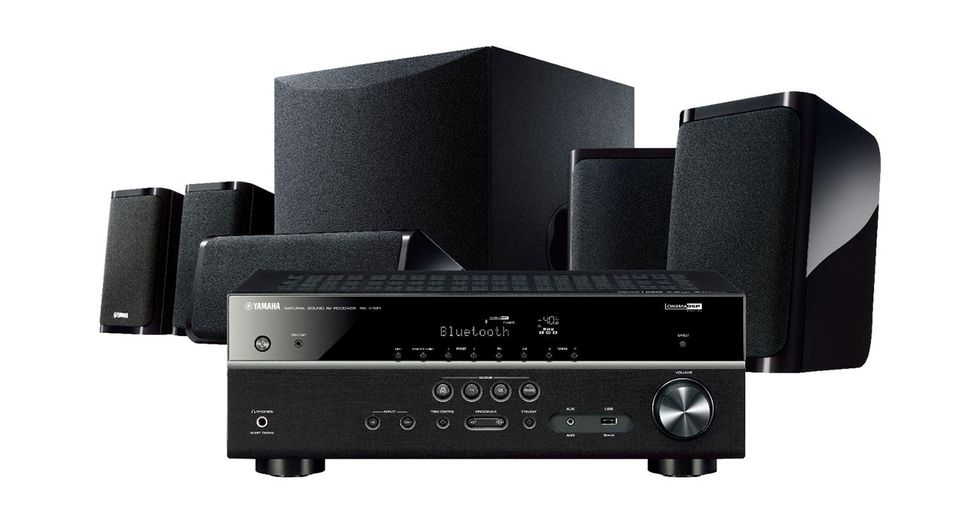 Yamaha 725W KitYamaha
Lastly, this lot from Yamaha includes both an AV receiver and a 5.1 speaker kit. The receiver has four HDMI inputs capable of handling 4K video and 5.1 surround sound.

Speaker stands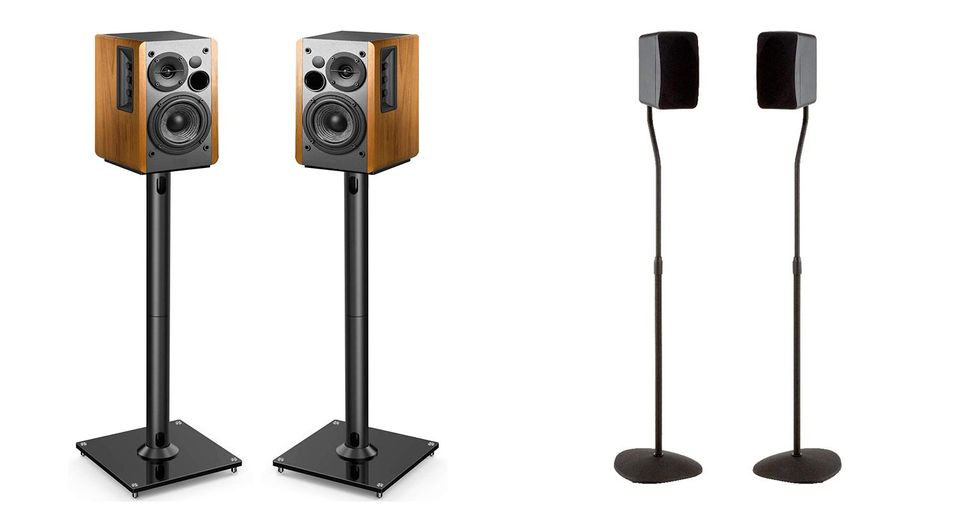 Speaker standsPerlesmith / Sanus
Lastly, you might want to buy some speaker stands. You will likely have space for your front speakers on the unit your TV is sat on, but unless you have shelves in just the right place, stands for the rear speakers make a lot of sense. Unless you have tall, floor-standing speakers, of course.

These stands are sold in pairs and start at around $40, but can cost over $100. Worthwhile features include height adjustment, but really it's just a case of buying the stands you like the look of, and which are sturdy enough for your speakers.
Here are some options:
Sanus Adjustable Height Speaker Stands – $40
Perlesmith Universal Floor Speaker Stands – $76
TransDeco Speaker Stands – $137
Check out The GearBrain, our smart home compatibility checker to find the smart home cinema surround sound system that works for your smart home.
Like GearBrain on Facebook