Like GearBrain on Facebook
Alexa Routines are an easy way to teach the assistant to do several things at once. For example, a Routine can be created that stops your morning alarm, switches on the lights, adjusts the thermostat, reads out the news and weather, then plays a certain playlist.
Now, Amazon has improved this system further by making it easy for Routines to be shared with other Alexa users. Instead of talking friends through the numerous steps it takes to create a Routine, you can send them a link via text, email or social media.
Read More:
Once they have the link, they just have to click on it and the Routine will be created automatically in their Alexa app. They can then adjust certain parameters (such as picking which of their smart lights they want Alexa to switch on each morning) and they're set.
Sharing Alexa Routines is available now, but only for users in the US. We expect to see Amazon roll the feature out internationally at a later date.
To share an Alexa Routine, follow these instructions:
Open the Alexa smartphone app
Tap on More in the lower-right corner
Tap on Routines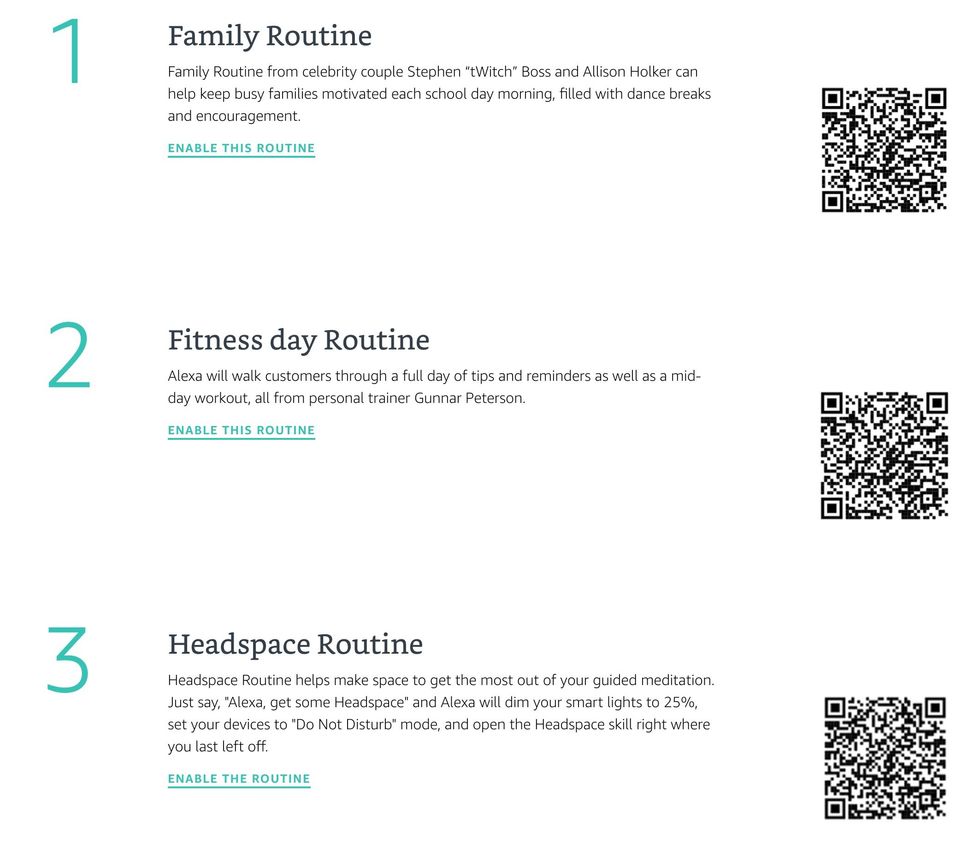 Examples of shareable Alexa Routines created by AmazonAmazon
Now pick the Routine you want to share and tap the new share button. You can now decide whether you want to send the routine through a text message, email, or via a service like WhatsApp.

When receiving a shared Routine, tap on the link and follow the instructions to add it to your Alexa app. At this point, you can customize the Routine by changing any of the options shown in yellow. As mentioned above, this can include changing which smart lights the Alexa Routine interacts with, and in what way (brightness, color etc).
To help get the ball rolling on sharing Alexa Routines, Amazon has created eight for users to try out. These are available
on this page
and you can enable them either by clicking the link on your phone, or by pointing your smartphone camera at the QR code and following the instructions.
Bose Home Speaker 300, with Amazon Alexa built-in, Silver
Check out The GearBrain, our smart home compatibility checker to see the other compatible products that work with Amazon Alexa enabled devices.
Introduction of The GearBrain, The First Compatibility Find Engine for Smart Devices www.youtube.com
Like GearBrain on Facebook