Like GearBrain on Facebook
As well as chiming, ringing and speaking aloud, Alexa on Amazon Echo smart speakers using a ring of LED lights to deliver notifications or let you know something is wrong.
The light spends much of its time switched off, and most users may only be familiar with it shining blue when Alexa is listening, thinking or speaking.
Read More:
But there is much more to it than that. That light can also shine yellow, red, orange, green, purple and white. Each of these colors means something different, but Alexa doesn't always accompany the light with a spoken message or smartphone app alert, so it can be confusing as to what the change of color means.
What follows are the color Alexa's light can turn, along with a description of what each one signifies:
Blue – Alexa is processing your request. The light will illuminate in circles to let you know Alexa is thinking. A steady blue light ring means Alexa has head its name and is listening.
Yellow – A pulsing yellow light ring means a message or notification is waiting for you, or there is a reminder that you missed. To progress from here, say: "Alexa, what are my notifications?" or: "Alexa, what are my messages?". Sometimes users will see this light if Alexa has a status update for an incoming Amazon delivery.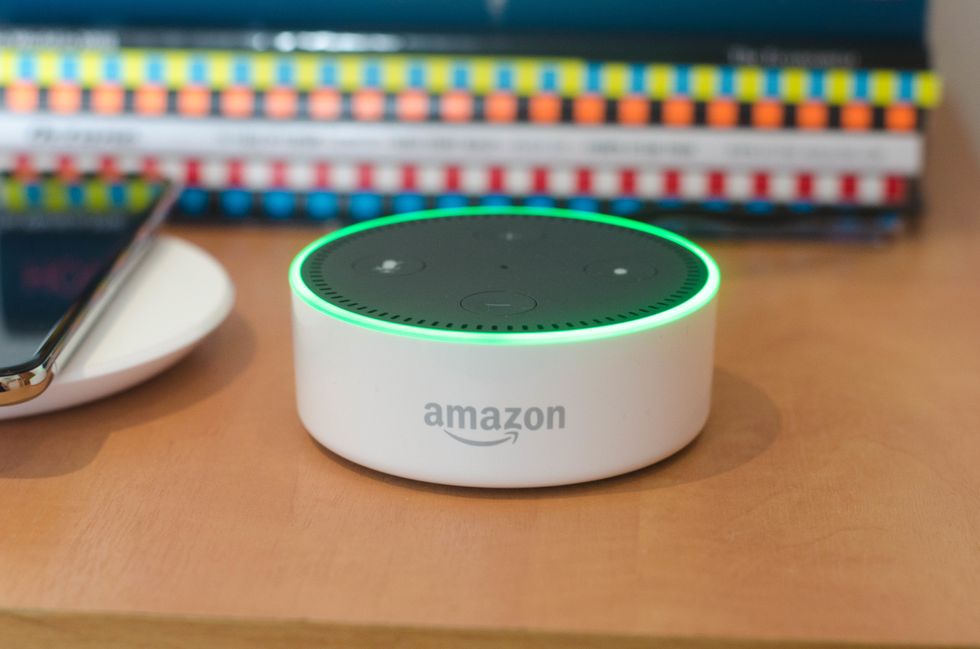 The light shines green when on a call GearBrain
Red – This is a warning to let you know that your Echo device is having Wi-Fi or other connectivity issues. The red light is also used when you turn off the camera and/or microphone of your smart speaker or display.

Orange – An orange light traveling in a circle is shown when the device is in setup mode, or is trying to connect to the internet. You will see this light when setting up a new Echo for the first time, or when you have performed a factory reset.
Green – A pulsing green light means you have an incoming call on your Alexa device. This could be someone trying to call you through their Alexa app, or from their own Echo speaker. A solid green light is shown when that Echo device is on an active call, or being used for Drop In.
Purple – This light is shown by Echo devices if they encounter an error during WI-Fi setup. But, somewhat unrelated, the purple light is also used to show the Do Not Disturb feature is switched on.
White – Finally, a white light ring is used to show a change in volume when pressing the plus or minus buttons. It also means Alexa Guard is turned on and in Away mode.
See How Amazon Alexa Can Save You Money on Your Grocery Bill www.youtube.com
Ring Video Doorbell Pro with Echo Show 5 (Charcoal)

Like GearBrain on Facebook