Like GearBrain on Facebook
Editor's Note: On January 31, 2019 Lowe's announced it was discontinuing its Iris line and service as of March 31, 2019. GearBrain has highlighted steps you can take on how to find out if your Lowe's by Iris product is eligible for a redemption.
Iris's assortment of devices put the emphasis on security. There's a communications hub, but apps only support iOS and Android devices. You'll also need to budget for a $9.99 a month service fee to get anything more than basic features.

(You can visit Iris Pro Monitoring Starter Kit Review to see the latest products from Iris by Lowes.)
If you're looking for the home automation gear that is easiest to buy, hands down Iris wins because you can get it at any Lowe's home improvement store. The Smart Kit that I looked at included all the basics with an emphasis on security. You can buy add-on Iris modules, but the assortment is limited compared to Insteon, and there's no DIY module like those found in the Insteon or WeMo catalog.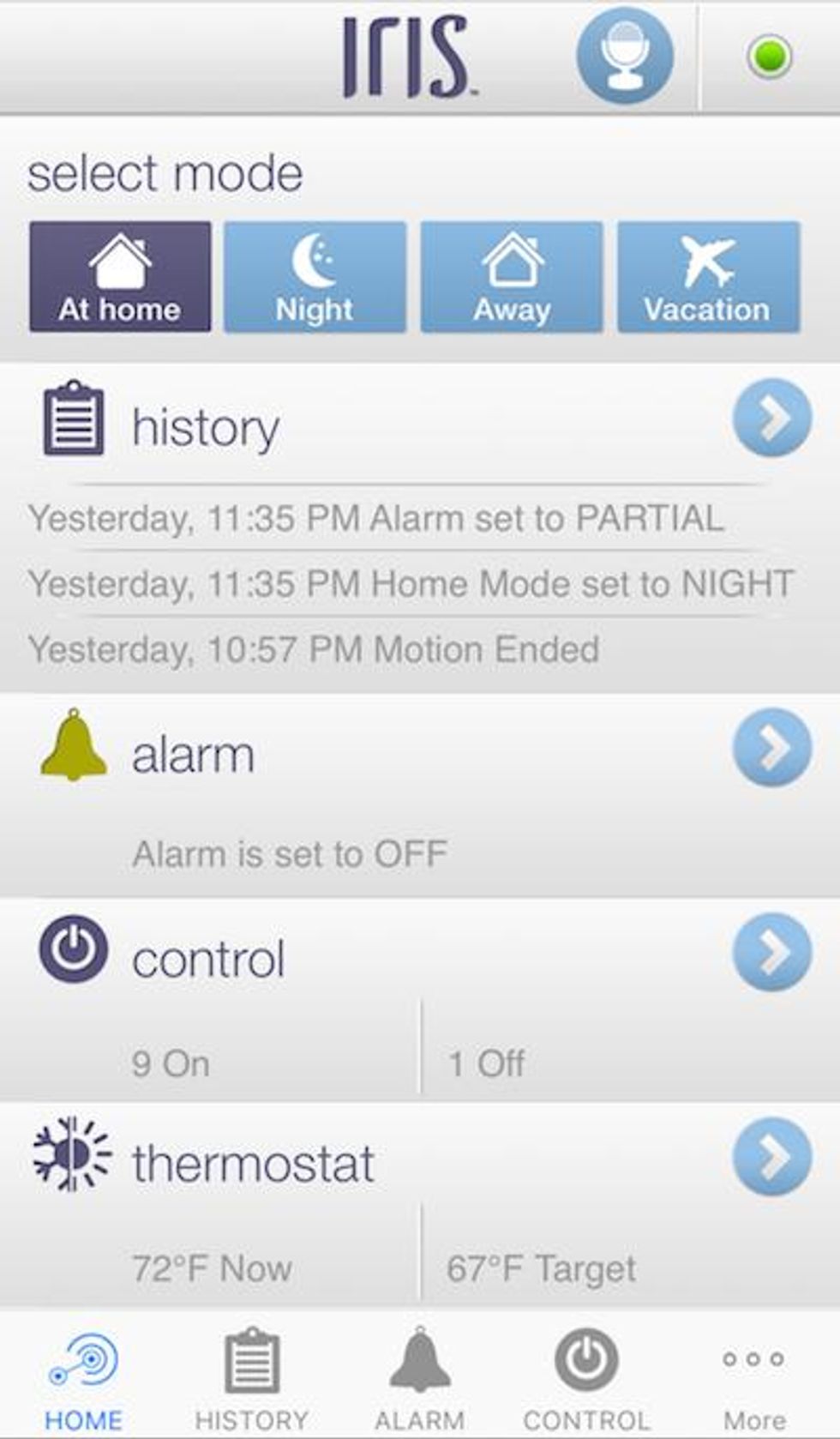 Iris is Z-Wave/ZigBee compliant, and that opens the door to lots of third-party products, potentially. The problem is that the Z-Wave/ZigBee standards are rather loose, and Lowe's states that only products that have a "Works with Iris" logo are guaranteed to be 100 percent compatible. Other third-party Z-Wave/ZigBee devices might work; might work partially but be missing features or functions; or might not work at all.

Iris starter kits come in three flavors, ranging from the basic $179 Safe and Secure Kit (which includes a hub, two window or door contact sensors, a motion sensor and a keypad) to the $300 Smart Kit (which includes everything in the Safe and Secure kit, plus a Smart Plug wall outlet, a thermostat and a range extender). You won't find a web cam or leak detector in any of the Iris starter kits, but these are available as accessories. Other available extras include waterproof outdoor power modules, connected fire alarms and entry door locks that integrates with Iris. Everything in the starter kits can also be bought separately. Pricing ranges from $20 for door/window contact sensors to $200 for Iris-enabled locks and deadbolts from Schlage and Kwikset.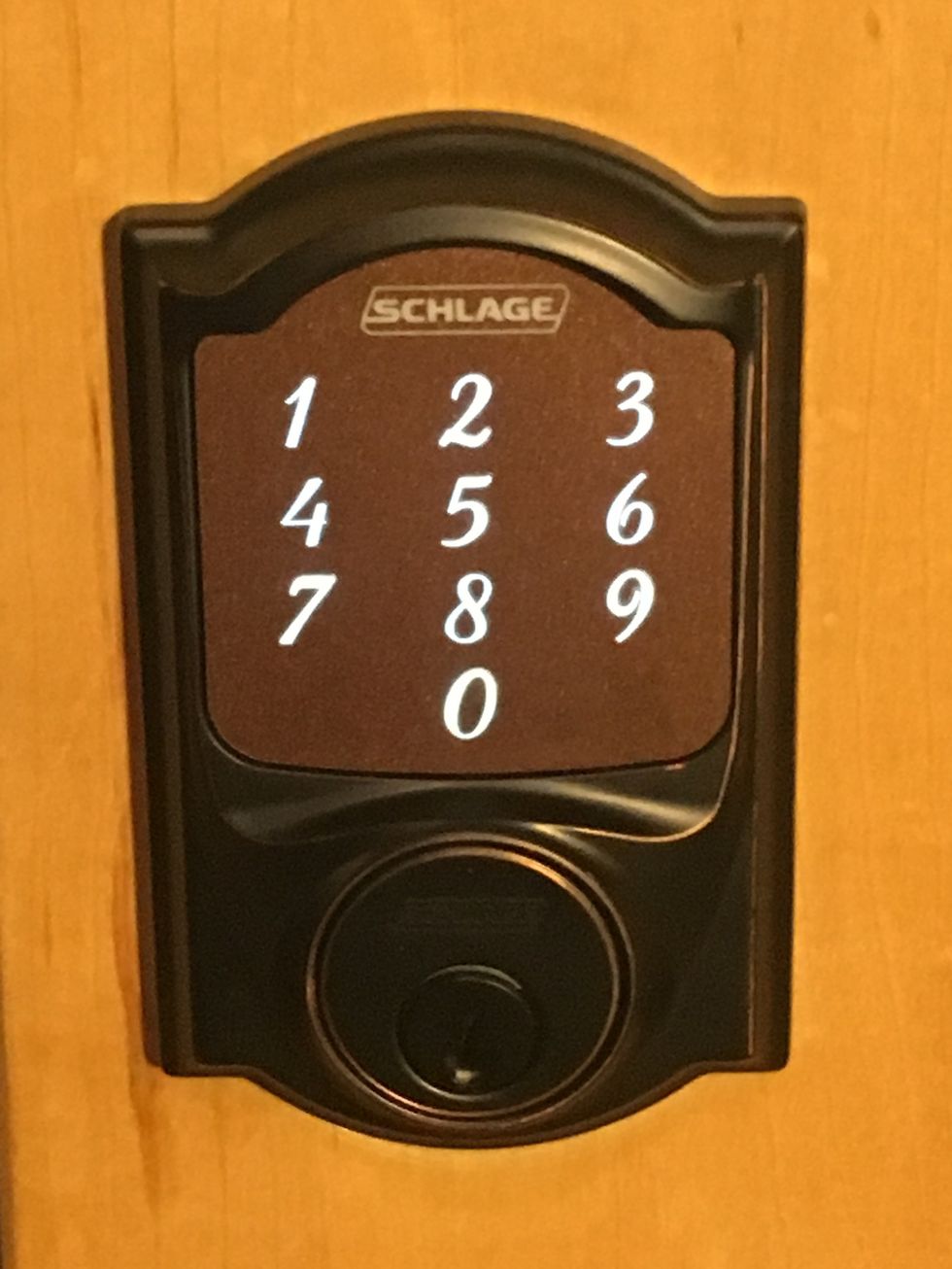 Schlage Sense smart lockGearBrain
Like Insteon, Iris modules create a mesh network, separate from your Wi-Fi network, in your home, simultaneously supporting both the Z-Wave and ZigBee protocols. Unlike Insteon, there's no wired networking. There are apps available for both iOS and Android. The Iris website also offers control features, and that can be accessed on any platform. You will need to use the web site to configure Iris, set up schedules and do certain advanced functions.

As is the case with Insteon's hardware, using a communications hub eases the gear's set up. The Iris hub is large, about twice the size of Insteon's. Like Insteon, it needs to be plugged into your router via an Ethernet cable, and one is included in the box.
On to my set up: After registering with Iris's Web site and plugging the hub in, I had to enter that I had the Smart Kit, which allowed the software to select which items were to be installed. This one-stop set up trumps what I experienced with either WeMo® or Insteon. On the downside, you will have to type in the hub's serial number (no QR code that you can just scan here) and it took several tries for the hub to be recognized.
With Iris, the basic service is free, but there's a $9.99 a month charge for a Premium subscription. While the first two months are free, there's no way to avoid signing up for the Premium subscription to start with, and you'll need to provide a credit card number to finish the set up process. If you don't want or need Premium, you'll need to remember to cancel the service to avoid a surprise credit card charge when the trial period ends. The Premium service includes advanced controls, such as the ability to control several modules with a single rule. Some of the features that require Premium with Iris are free under both WeMo® and Insteon.
With sign up out of the way, next I put the batteries into the modules for the motion and contact sensors. The Iris system then found the hub and connected it with the modules. The kit I tested comes with a range extender, extending reach by about 50 percent — plenty for a 3,000-square foot house.
All told, Iris took the longest to set up out of the three systems I looked at, clocking in at about an hour and 15 minutes. None of it was particularly difficult, but if you get out of your depth, Iris will send a technician to your house to install everything for $150.
Usability once everything is up and running is pretty good. The Iris iOS app is the only one I encountered to support the fingerprint scanner in the latest generation of Apple's mobile devices. The Iris interface is also the most advanced I worked with during my reviews, right down to the ability to segregate devices by use at night and during the day. You can even have presets for going on vacation. The interface allows you to set specific times for lights and appliances to turn on and off, or set them to go on at sunset and off at sunrise. You can monitor power use and cost as well as adjust the house's temperature from far away. There's a handy History section that lets you go back in time to see what Iris has been doing at home. With all that going on, the interface can look crowded, particularly if you have lots of modules.
Iris has a heavy emphasis on home security features — there's even an entry keypad included in the basic kits — so-much so that the system can be the basis for a full-house alarm system. Rather than calling a central monitoring service, the system can alert you via text messages if something unexpected happens, like motion or a door opening in a supposedly empty house. The Safe and Secure kit even includes an imposing window sticker that claims the house is "Monitored by Iris."
In the final analysis, Iris is best as the basis of a home security system that can also do some home automation tasks. More than with either of the other options I looked at, you'll need to purchase extra gear to fill in the gaps for other automation tasks — and be prepared to pay for services that the others give away.
Check out The GearBrain, our smart home compatibility checker to see the other compatible products that work with Iris by Lowe's
Iris offers a DIY option, plus the backing of Lowe's for those who want a little hand-holding.
Pro: security, communication hub, easy to buy, thorough interface, supports iPad fingerprint scanner
Con: service fees, iOS and Android software only, lack of accessories
Like GearBrain on Facebook