Editor's Note: On January 31, 2019 Lowe's announced it was discontinuing its Iris line and service as of March 31, 2019. GearBrain has highlighted steps you can take on how to find out if your Lowe's by Iris product is eligible for a redemption.
One of GearBrain's first reviews was the Iris by Lowes smart home system, which earned high marks for the robust number of devices you could connect to its hub. We did have concerns with its expensive monthly monitoring fee and limited ecosystem, although a monthly fee for smart home systems at the time was the norm. Today, this is not the case as a growing number of DIY installation and professional monitoring smart home systems don't require a contract — or they offer a free DIY home monitoring service. A home automation plan? Not necessary. Iris Pro-Monitoring Starter Kit is falls into this category with a DIY home security set-up that does not require a monthly fee — but does let you sign up for professionally monitored security if you want.

Recently, Lowes sent us an Iris Pro Monitoring Starter Kit to test, and here is what we found after pairing other connected devices to its system including the Nest Learning Thermostat, Amazon Alexa, Yale Assure smart locks and Phillips Hue smart lights.
What is Iris Pro Monitoring Starter Kit?

The iris by Lowes Pro Monitoring Starter Kit is a DIY smart home monitoring and control system. You can get 24/7 emergency dispatch services and free alerts through its app. Iris uses your home Wi-Fi router to connect to devices via a Zigbee or Z-Wave wireless connection, which we've found easy to do in the past.
The Iris starter kit comes with a smart hub, a contact sensor, a motion sensor and a smart key fob. The hub is your controller and the contact sensors will monitor your home's doors and or windows. The motion sensor detects movement in your home, and the smart key fob will arm and disarm your system.
How to Setup Your Iris Pro Monitoring Starter Kit
To setup the Iris Pro Monitoring Starter Kit, start by downloading the Iris app from either the App Store (iOS) or Google Play (Android) to your smartphone, and then connect the Iris smart home hub to your home Wi-Fi router. You won't need to do any wiring save for connecting your Iris hub to your home Wi-Fi router. Do make sure you have a strong wireless broadband connection to get the Iris system working properly. Once connected to broadband, link the devices by following the instructions in the Iris app.
Note that Iris will make you go through a double verification process for security purposes, which we found unique but also a nice touch.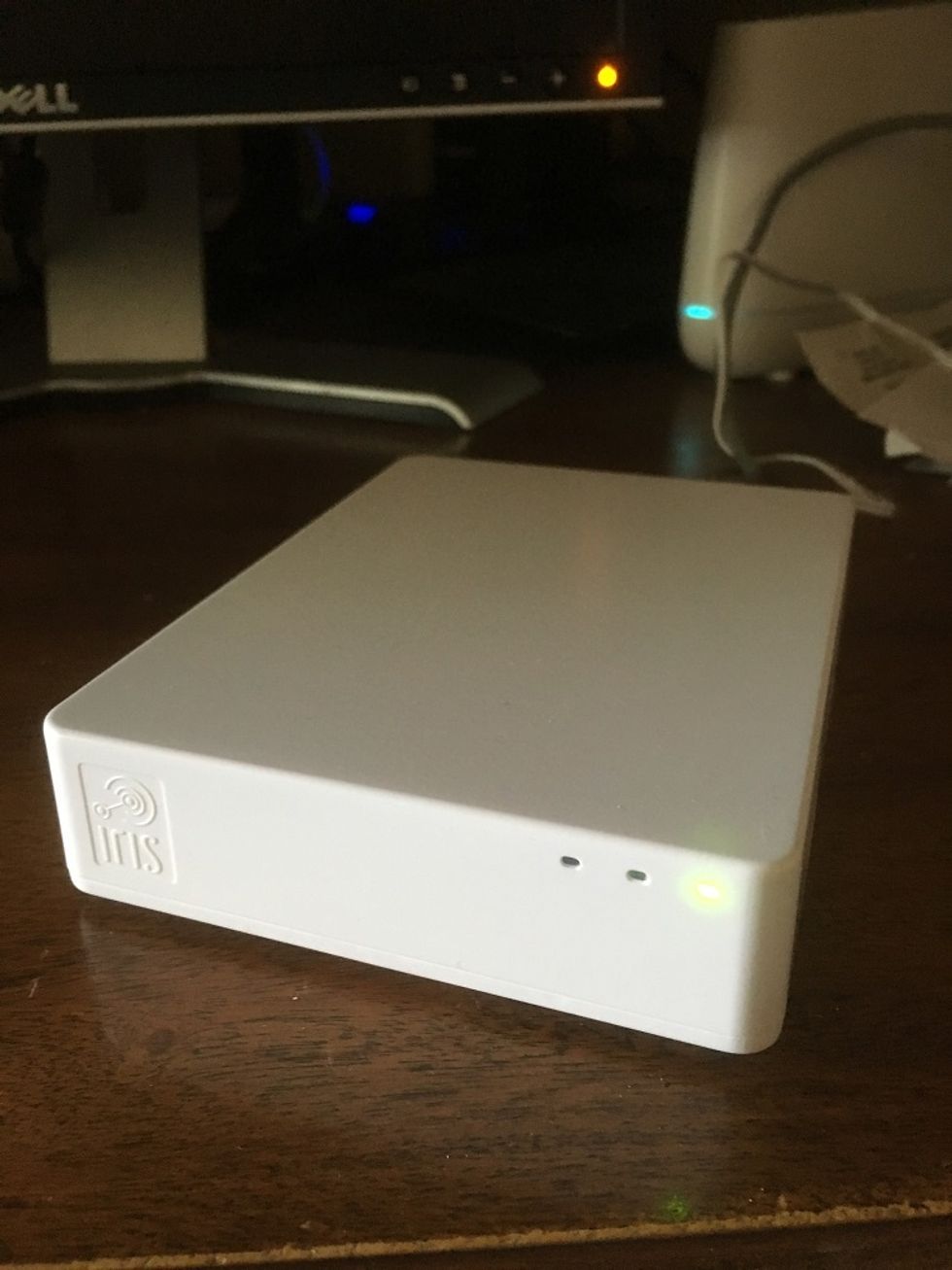 Iris smart hub works on Z-Wave and Zigbee wireless connection.GearBrain
Iris Service Plans

Iris surprised us by asking that we choose which which smart plan we wanted right at the start: pro-monitoring, premier, and basic. Normally we see this later in the setup so get ready to choose.
The basic plan is free and offers a self-monitoring service as well as smart home automations, which supports over 100 connected devices and requires you set them up yourself. Originally Iris didn't connected to security cameras — now they do. You can also set up rules, schedules and scenes for any device connected to the system, and manage them devices remotely, even stream video on your smartphone via the free Iris app. You get a 24-hour view of the log of events, but you will need a monthly monitoring plan to store any recorded videos.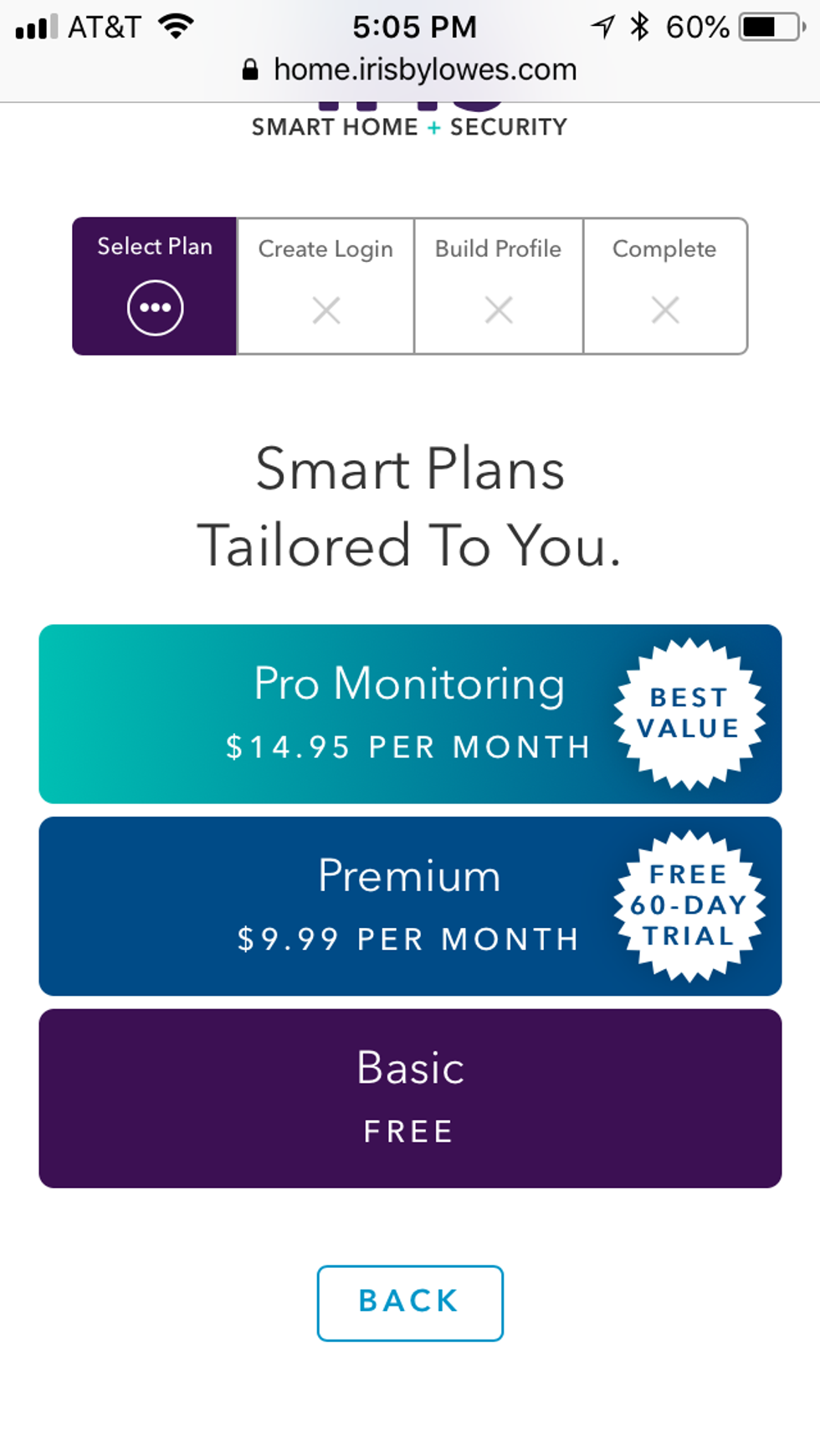 iris offers three smart plans: basic, premium and pro monitoring.GearBrain
The premier plan costs $9.99 a month and comes with a three 60-day trial period. The premium package offers self-monitoring, advanced smart home automation, video storage and air service plus everything in the basic plan. You can tag up to six people to get notified of an alarm, and tap into a 14-day history and event log. The plan also includes 3GB video storage, self-monitoring Care Service so family members can get notified if daily routines are disturbed, and an alarm tracker which lets you know in real-time if something goes off in your home.

The pro-monitoring plan costs $14.95 per month and offers 24/7 monitoring and Alarm Tracker plus all the features in the premium package including 4G cellular backup.
Pairing Devices to Your Iris Pro Monitoring Starter Kit

After setting up the Iris hub and your service plans, you can start to pair your devices, both those under the Iris brand and any other Z-Wave or Zigbee product that works with the Iris by Lowes system. Here is the list of Iris devices for you to choose from:
Car Pendant
Contact Sensor
Garage Door Controller
Indoor Camera
Indoor/outdoor camera
Outdoor camera
Motion Sensor
Range Extender
Security keypad
Smart button
Smart FOB
Smart plug
Water leak sensor
Wi-Fi Switch
1st Gen Care Pendant
1st Gen Contact Sensor
1st Gen Key FOB
1st Gen Motion Sensor
1st Gen Security Keypad
1st Gen Smart Button
1st Gen Smart Plug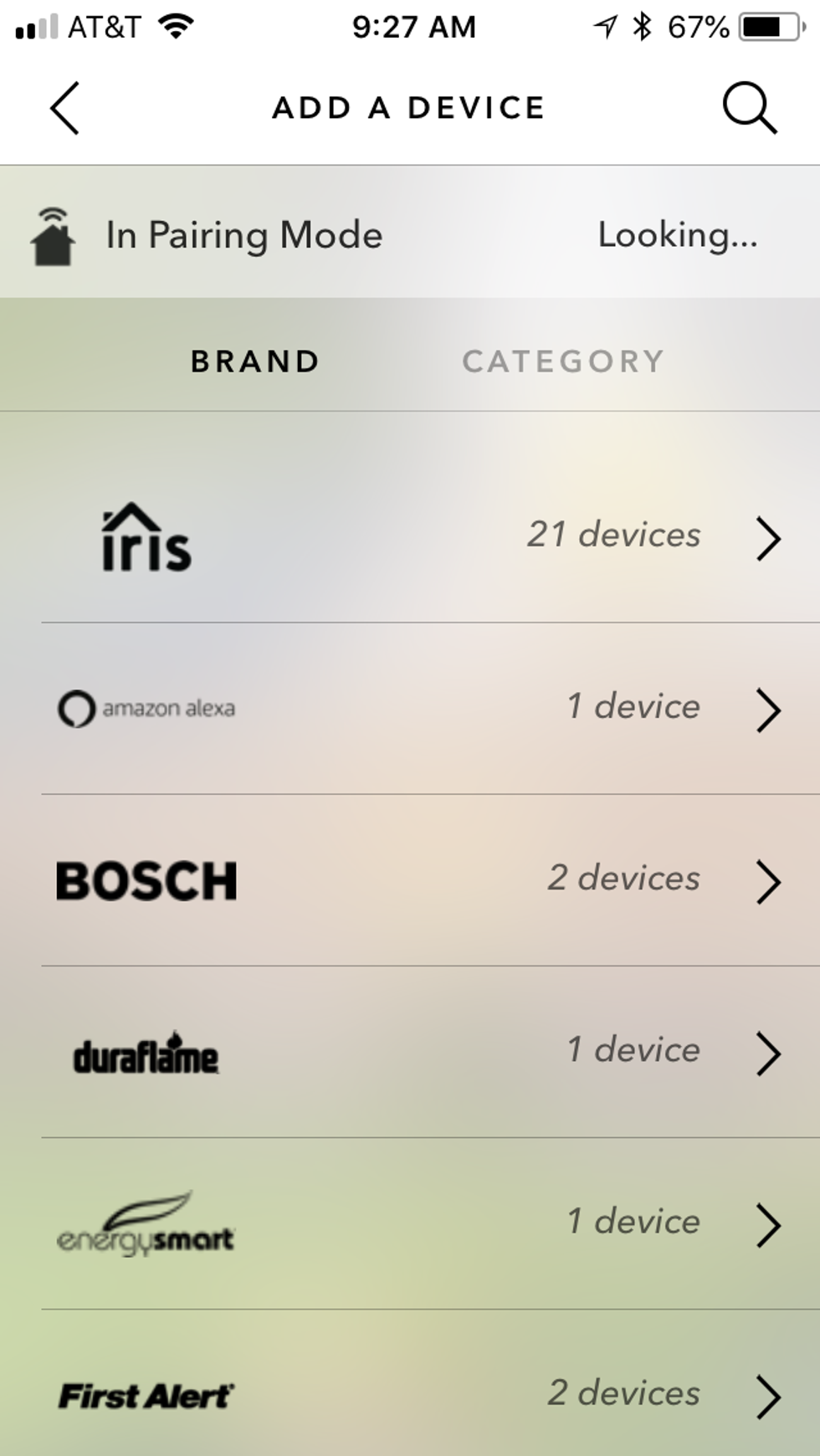 Iris offers a robust ecosystem of connected devices and services that work on their platform.GearBrain
And besides the products Iris makes or fall under the Iris brand, there is an extensive list of compatible best of breed connected devices which work with your Iris system. Here are some of these best of breed products:

Amazon Alexa
Bosch (Radion PIR Motion Sensor and Radion TriTech Motion Sensor)
Duraflame (Space Heater)
Energy Smart (Electric Water Heater Controller)
First Alert (Smoke & CO Detector and Smoke Detector)
GE (Z-wave switches, dimmer switches, fan switch, occupancy dimmer and switch as well as Zigbee dimmers, switches, plugs and outlets)
Genie (Aladdin Connect door sensor and garage door controller)
GoControl (garage door controller and programmable thermostat)
Halo Smart Labs (Halo and Halo Plus)
Honeywell (smart Wi-Fi thermostats (RTH9580, RTH6580WF, RTH8580WF) and Z-Wave touchscreen thermostat)
Keen Home (smart vents)
Kwikset smart locks (SmartCode Deadbolt locks – Z-Wave (888 Series, 910 Series, 914 Series, 912 Series, 916 Series) and Zigbee (912 and 916 Series))
Leviton (Decora and Lumina RF Zigbee, Z-Wave and Z-Wave Plus dimmer switches, electrical outlets, appliance switch and light switches.)
Nest Learning Thermostat
NYCE (door hinge sensor and tilt sensor)
Orbit Irrigation (12 station smart sprinkler controller and Hose Faucet Timer)
Osram Lightify smart lights (12 smart light products)
PetSafe (pet door)
Philips Hue Smart Lights (over 20 different Philips Hue smart light products)
Radio Thermostat (CT101)
Schlage smart locks (BE369+, FE599, BE468 and BE469)
Sengled smart lights (4 types of LED bulbs)
Somfy (blind controller and blinds & shades)
Springs Window Fashions (basic remote, cellular shade, roller shades and virtual cord remote)
Utilitech (glass break sensor, indoor siren and water leak detector)
Whirlpool (water softener)
Yale Real Living smart locks (Assure Deadbolt locks – Z-wave and Zigbee: YRD210/216/220/226/240/246/256)
To see the full list of compatible devices that work with Iris, check out The GearBrain, our smart home compatibility checker.)
Iris will also support any of its original devices, which is not true for all smart home systems. Instructions to pair all devices (both Iris brand and others) are easy to follow, especially if you are a novice in building a smart home. The Iris app walks you through each step, and has video tutorials to help you connect to the Iris hub.
Challenges with Iris Pro Monitoring Starter Kit and Iris Platform

Not all smart home systems or platforms are perfect, and unseen challenges pop up during setup, or as you pair devices. The smart home market is made up of evolving technologies — some companies move faster than others. We tested and paired several connected devices to the Iris Pro Monitoring Starter Kit: Amazon Echo, Yale Real Living Z-Wave smart lock, Philips Hue smart lights and a Nest Learning Thermostat.
These connected easily, except for one: Orbit. In our test house, we have an Orbit 6-station smart sprinkler controller, but Iris is only compatible with Orbit's 12-station timer as well as its new Smart Faucet Hose. Orbit told GearBrain they're still working on this integration, so if you own anything other than the Orbit hose or 12-station timer be prepared that they may not work for now.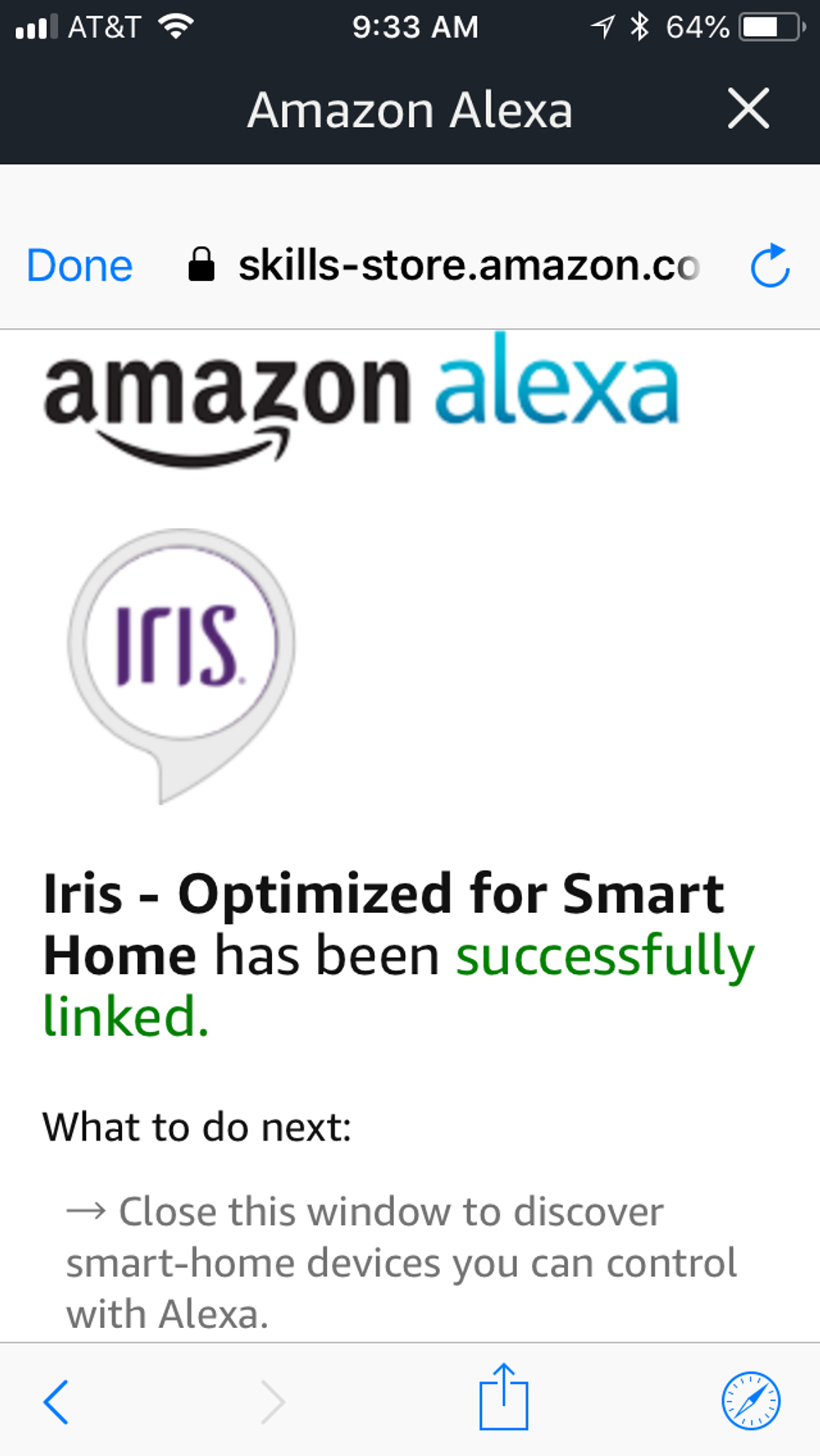 iris works with Amazon Alexa.GearBrain
Difference between 1st Gen Iris by Lowes system and Iris Pro Monitoring Starter Kit

Iris has made several upgrades since we last wrote about their first generation kit. Then, they had just two starter packages: Iris security for $99.00 and Iris Automation for $129. (Both are still available on its website.) The Iris Security Starter Kit included a keypad, motion sensor, two door/window sensors, and a hub. The Iris Automation Starter Kit came with the same devices — but instead of a keypad you got a smart switch, Wi-Fi extender and a panic button.
The initial Iris by Lowes system had several features: the ability to work during a power outage (although video recording didn't work), and a variety of devices that worked with their system. You also got the Care Package feature, which let you monitor a family member 24/7, and could set up modes like at home, night, away and vacation. A free subscription plan only allowed one person to use the system, but to have multiple people access it you needed to pay $4.99 a month. You could also sign up for a Premium Plan at $9.99 a month, which included "Iris Magic," home automation actions that you set system rules, alerts and triggers.
Today, Iris Pro Monitoring Starter Kit comes with the smart hub, contact sensors motion sensors and a smart fob, much like its first generation kit — but the number of devices you can connect have increased to include brands like Honeywell and Schlage. You still need a monthly plan for professional monitoring but now you don't have to sign a contract, most notably for home automation features.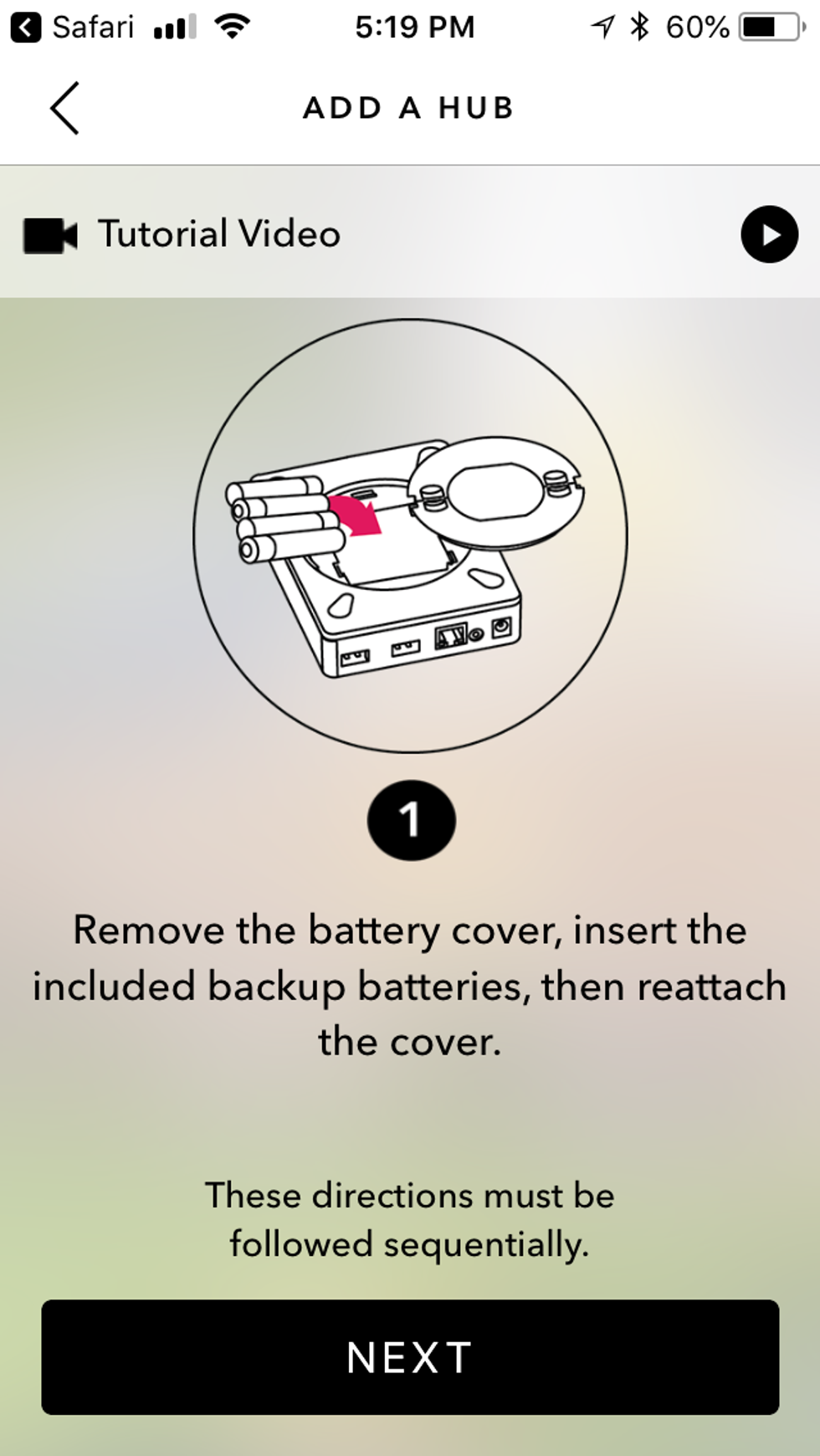 iris app offers video tutorials to help you setup your iris Pro Monitoring system or any devices.GearBrain
Using Iris App

Iris has also updated its app with this new product, making it, in our opinion, much easier to control and monitor your devices. You can monitor the status of your home and the devices through the dashboard, for example tapping into the temperature inside your house if you have a smart thermostat. Motion detection events are also listed in the app, and you can arm, disarm and even change the chime sound on your Iris Hub.
You can setup scenes or automations (i.e. control multiple devices at once, such as scheduling your lights to go or off), which we found easier than other smart home systems we've tested. The app also includes tutorials and FAQs in the app if you need help with any device or the setup process.
Cost

The Iris Pro Monitoring Kit costs $149 but is currently available on Iris by Lowes website . You can also purchase the Iris Security Pack, Iris Automation Pack, Iris Lighting Pack and other Iris devices on Iris by Lowes site.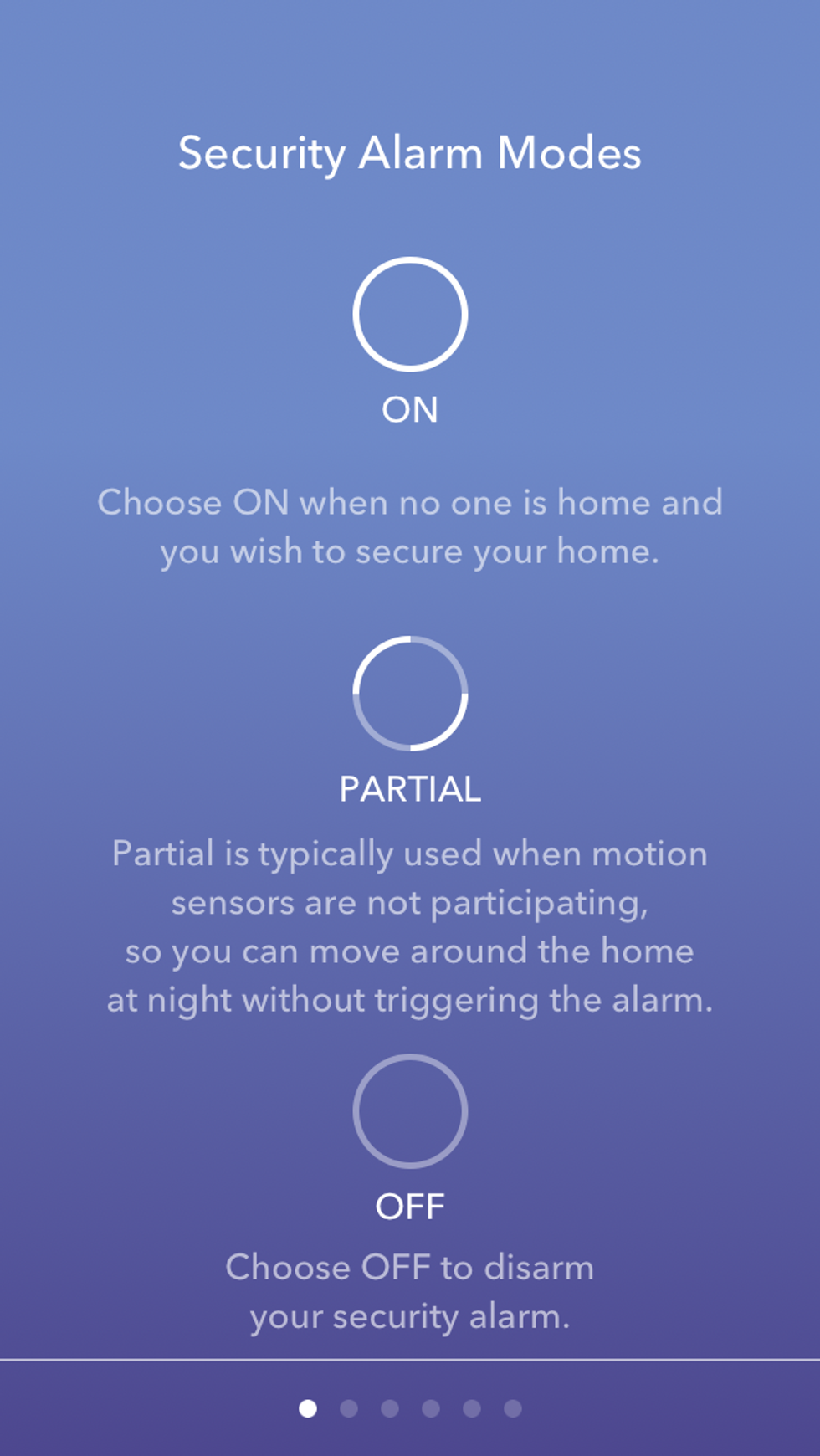 Using the iris app, you can set your alarm's security modes to on, off or partial.GearBrain
Summary

Iris has made many changes to its platform since we first reviewed its system, we think for the better. We initially liked the wide range of connected devices you could connect to the first generation start kit, but found the cost of the plans made the system very expensive to use. Today, we like how Iris had more products and new partners to help consumers build a customized solution for a home of any size.
Back when Iris launched its first generation system, we were seeing new DIY home security and automation systems emerge which made Iris look like an expensive solution. Today, this is no longer the case. Iris has improved its DIY installation and monitoring system with built-in home automation for free — only charging you for professional monitoring service and video storage. We are surprised, still, that Iris doesn't include a security camera in its starter kit, but some other competitors do the same, including the Samsung SmartThings ADT starter kit.
If you are looking for a DIY home security and automation system that you can build yourself, and customize for your specific needs, Iris by Lowes is a good solution to consider. If you currently own Z-Wave or Zigbee devices, like smart locks or lights, the, Iris Pro Monitoring Starter Kit is a great place to start — especially if you are not tech savvy. We think the kit is easy to use, can be uninstalled and moved with you to your next home, and has enough options to help you feel secure at home, whether you want to pay for a professional monitoring plan or not.