Kangaroo has a new doorbell camera, the Doorbell Camera, priced competitively at $19.99. The outdoor security device can work on its own, and shoots images of people approaching the door, triggered when someone rings the doorbell or is picked up by a motion sensor. The camera then snaps images that are used to create a loop akin to a GIF, sending real time alerts to people so they can know if a package has been delivered, and when.
The device pairs with a smartphone, and also integrates with Google Assistant and Amazon Alexa. With rounded edges, the Doorbell Camera is oval in shape with a round button at the bottom, and the camera lens at the top.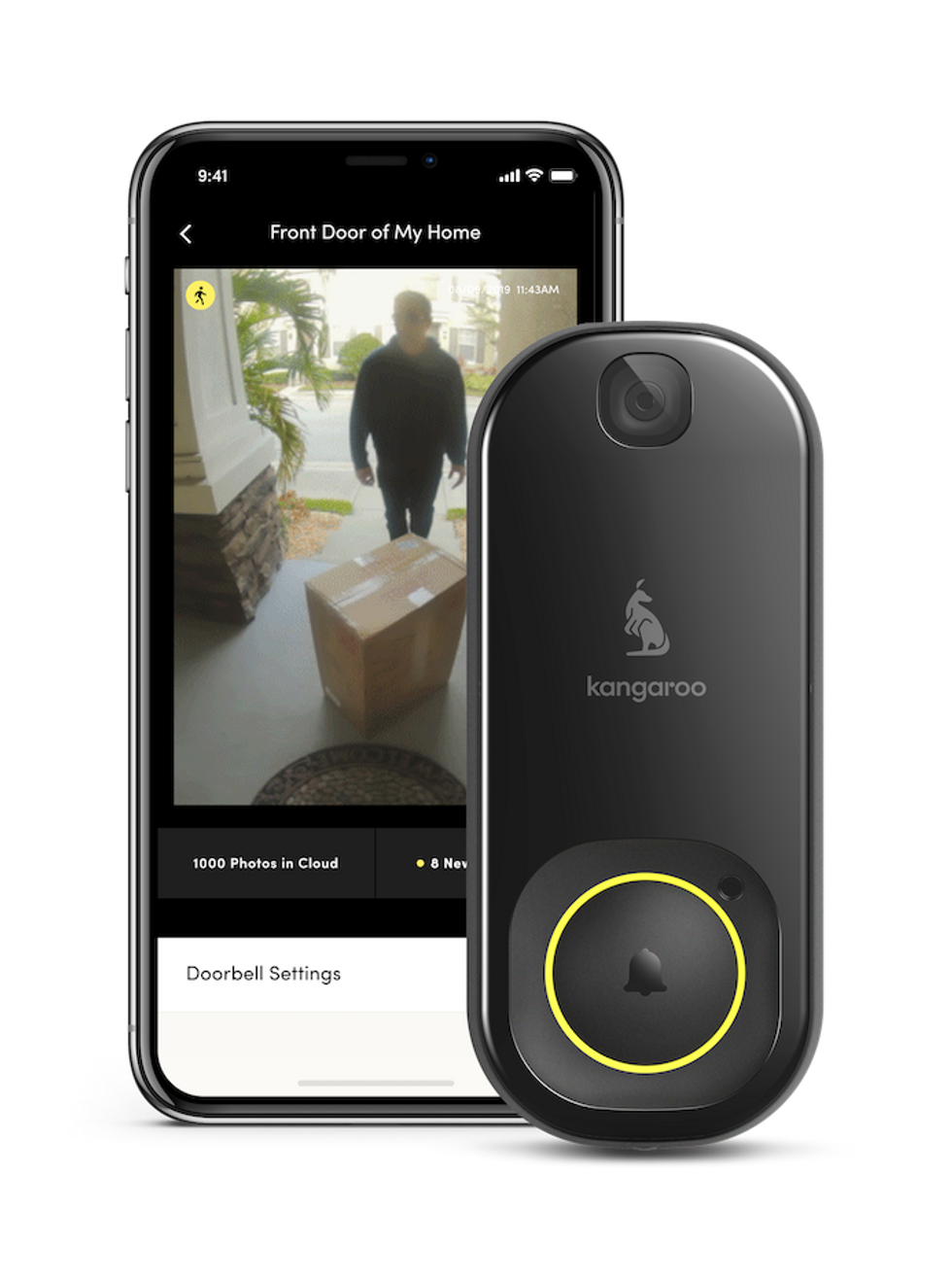 The Kangaroo Doorbell Camera works with a smartphone, sending real-time alertsKangaroo
Kangaroo is known for its low-cost smart home devices, launching its first, a motion sensor, in August 2018, which can be self-monitored or monitored by the company and launched with a subscription as low as $1 a month. The company has steadily released additional products including sensors, a smoke alarm, a siren and security cameras at CES 2019.

The doorbell camera will work with three AA batteries, and able to power itself for about 18 months meaning it does not need to be hardwired into a home to work.
People can buy the new Doorbell Camera and put the device to work on its own, or they will be able to pair the smart home security camera with the company's upcoming Doorbell Chime, as well as its Siren + Keypad. Customers will also be able to buy the Doorbell Camera if they purchase a Kangaroo Security Kit, a more robust package of devices that work together and include two motion and entry sensors, the Siren + Keypad, and a yard sign. They'll also be able to buy the Doorbell Camera with the upcoming Kangaroo Chime $19.99 when that second device launches in late June of this year.
Customers can start pre-ordering the new doorbell camera today, with shipments expected to go out by the end of May.
Kangaroo Home Security Motion Sensor (1 Pack)
Smart Video Doorbell Buying Guide - GearBrain www.youtube.com