Like GearBrain on Facebook
Think of the smart plug as step one to building a smart home. These small products plug into an outlet and have one job: turning anything that attaches to it into a smart, connected device. They're the training wheels to a smart life — and this includes the Kasa Smart Wi-Fi Plug by TP-Link, a $17 device that's one of the more affordable and simple smart devices to use.
Getting started

The Kasa Smart Wi-Fi Plug by TP-Link comes in two different designs. There's a large, rounder design, and a slimmer designed smart plug. We tested the larger model.
Opening the box, you'll find nothing but the actual Kasa Smart Wi-Fi Plug and a one-page instruction card. After plugging the smart plug into an available outlet, follow the instructions on the card save one step. The card tells you to download the Kasa for Mobile app. But what you really want is the Kasa Smart app.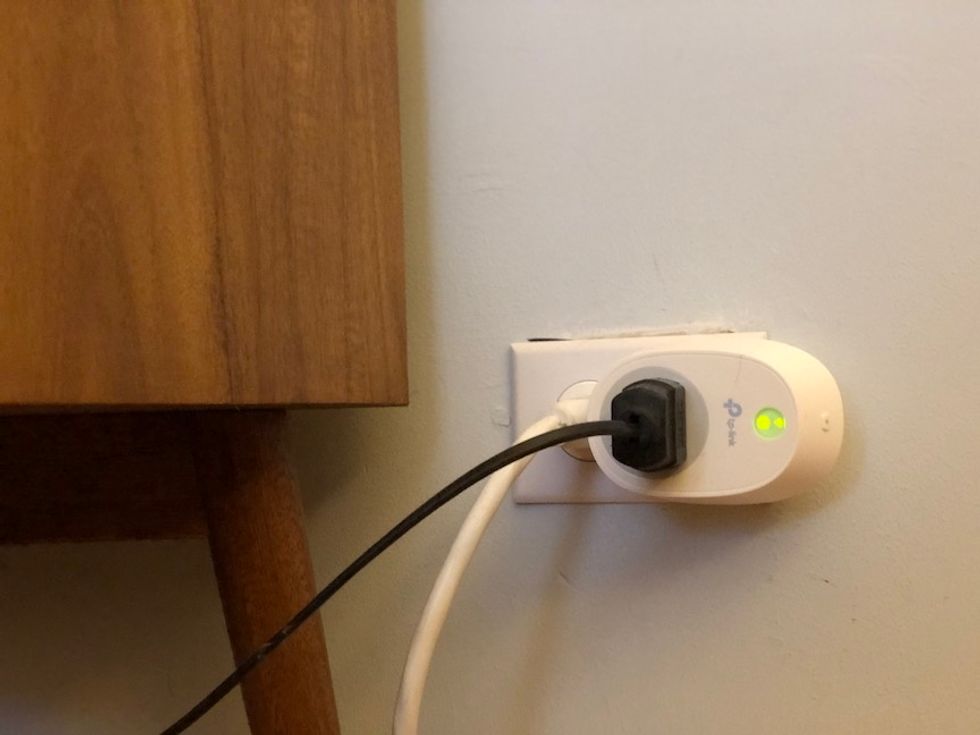 The Kasa Smart Wi-Fi Plug by TP-Link has a green light that turns on to let you know it's workingGearBrain
Walking through the app, you'll be asked if you want to get notifications, or give the app permission to know your location. This is one where you may want to say yes, as it opens up the possibility for more scenes and automations, including turning on lights plugged into the smart plug to turn on at sunrise and sunset.

Do remember what you've decided to call your Kasa smart plug, whether that's "smart plug," "room plug," "Kasa," or whatever name you've give it. You'll need to know that when you set up the Amazon Alexa and Google Assistant voice assistants links. Also remember your password, as you'll need that as well to link the voice assistants to the Kasa smart plug too.
Only after setting up the app, can you start adding your smart plug to the app. What's nice about the Kasa app is everything has a picture. You're not just choosing a device based on its name, but what it looks like. That's extremely helpful as sometimes we think we have one product, and a brand has a different name.

We found the smart plug, and then connected to its Wi-Fi, allowing the device to then be found by our Wi-Fi as well. We then needed to download some firmware — just another way of saying there was a software update — which took a few minutes. We were ready to go.
How the smart plug worked

A smart plug allows you to control other devices that aren't necessarily smart, in other words, able to connect to the internet and run through automations that you can control via an app or even your voice. The Kasa Smart Wi-Fi Plug from TP-Link supports both. This means you can schedule lights to come on at certain times of the day, or play music at a specific time, or even ask the light to turn on, once connected to Amazon Alexa, Google Assistant or Microsoft Cortana.
We plugged a lamp into our smart plug, one that is decidedly not smart, and through the Kasa app were able to set up a schedule for the light to come on every day at 4 pm. We created this through the Scenes tab and the Activity tab.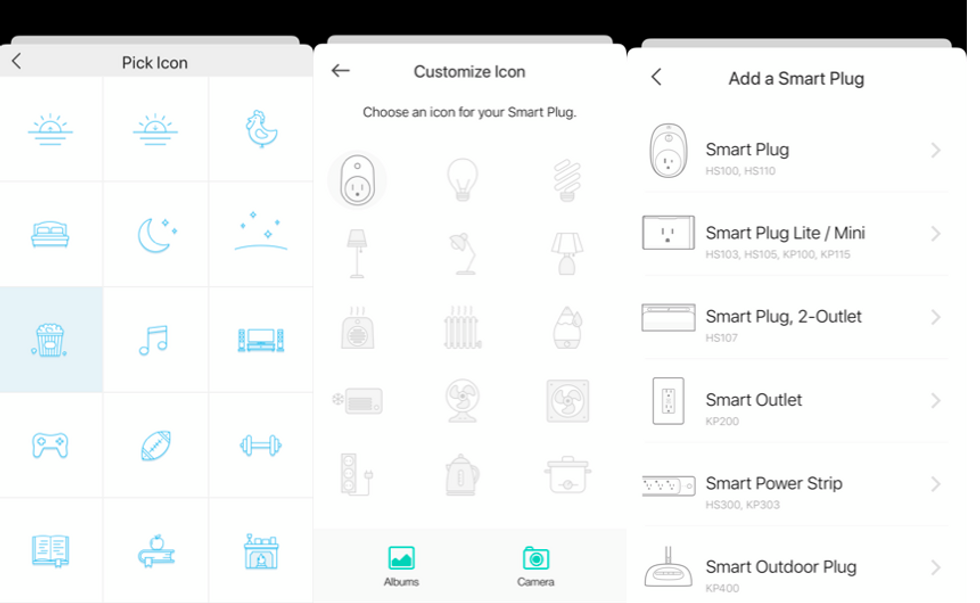 The Kasa for Mobile app is easy to use, making it simple to set up the Kasa smart plugGearBrain
You'll start with the Scene tab, at the bottom of the app, which allows you to pick some specific options, like Good Morning, Exercise or even create your own custom scenes. Once you've selected these Scenes, you'll pick a visual icon to associate with it, and then choose that option later in your Activity tab to activate them for your smart plug.

Once you've picked a few scenes to add to your smart plug, you can choose to schedule them picking them to run at a specific time on a specific day, or every weekday, for example. The Activity tab also keeps a running list of all the times something has happened through the smart plug.
While you can control everything through the app, you can also through the power switch that is on the plug itself. As long as it's connected to the Wi-Fi, the Scene you've set up will take place that you've set up.
Smart home connections
You can connect the Kasa Smart Wi-Fi Plug from TP-Link through to smart assistants including Amazon's Alexa and also Google Assistant and Microsoft Cortana. Linking them is very simple through each of the corresponding apps.
We were able to test the connections with both Amazon Alexa and Google Assistant and found they worked extremely well, after going through the steps to connect them. We did not test Microsoft Cortana.
But you can also integrate the Kasa Smart Wi-Fi Plug from TP-Link with Samsung SmartThings and IFTTT as well.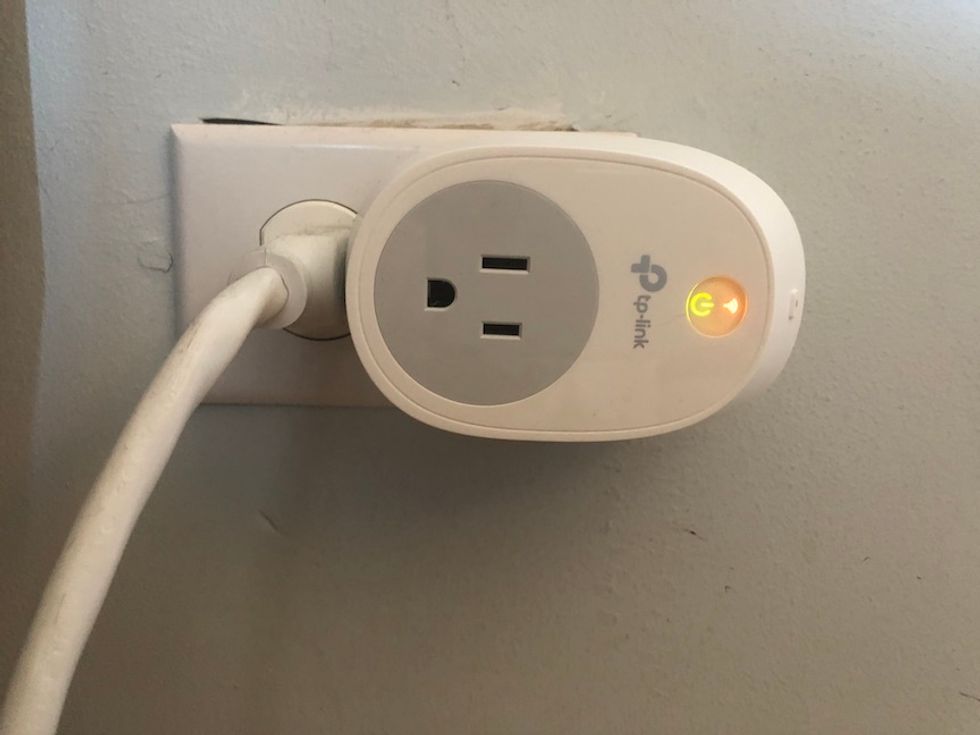 The Kasa Smart Wi-Fi Plug by TP-Link we tested is larger, but you can pick a smaller, slimmer designGearBrain
Price

The Kasa Smart Wi-Fi Plug from TP-Link, the HS100 version, is $16.99, and the Kasa site sends you to Amazon to buy this.
Worth buying
The Kasa Smart Wi-Fi Plug is one of the best first smart devices you can buy. The company makes the process of adding the Kasa Smart Wi-Fi Plug very simple, whether that's installing the app, the device itself, connecting a non-smart electrical product like a lamp or fan. Even more, you can use the smart plug through many of the major smart assistants including Amazon Alexa, Google Assistant and Microsoft Cortana.
For anyone who has some interest in what this smart home lifestyle can bring them, the Kasa Smart Wi-Fi Plug is the perfect first starter product — it's affordable, it's designed well and it just works. You really can't ask for more than that.
Pros:
Price
App is wonderfully designed with clear icons
Can control by voice assistants including Alexa, Google Assistant and Microsoft Cortana
Cons:
A bit large in size
Does not work with Apple HomeKit
The HS100 style will only let you plug in one device
Kasa Smart Plug by TP-Link,Smart Home WiFi Outlet works with Alexa, Echo&Google Home, No Hub Required, Remote Control, 12 Amp, UL Certified, 2-Pack (HS103P2)
Introduction of The GearBrain, The First Compatibility Find Engine for Smart Devices www.youtube.com
From Your Site Articles
Related Articles Around the Web
Like GearBrain on Facebook