Like GearBrain on Facebook
LG is considering bowing out of the smartphone market this year, having lost around $4.5 billion over the past five years and holding less than two percent of the global handset market.
This news was shared with LG staff by company chief executive Kwon Bong-seok this morning (January 20), then reported by The Korea Herald . Reassuring staff, the CEO reportedly said: "Regardless of any change in the direction of the smartphone business operation, the employment will be maintained, so there is no need to worry."
Read More:
A company official later confirmed the news, saying how LG needed to "make a cold judgement and the best choice," adding: "The company is considering all possible measures including sale, withdrawal and downsizing of the smartphone business."
LG's mulling over plans to leave the smartphone market shouldn't come as too much of a surprise. The company holds a sub-two percent share of the global smartphone market, and just 1.33 percent in Europe according to Statistica . This puts it in the same ballpark as Motorola and Realme.
Chinese firms Xiaomi and Huawei hold a circa-five percent share of the worldwide phone market, despite the latter currently not selling through official channels in the US. Fellow South Korean firm Samsung leads the way with a 30 percent share.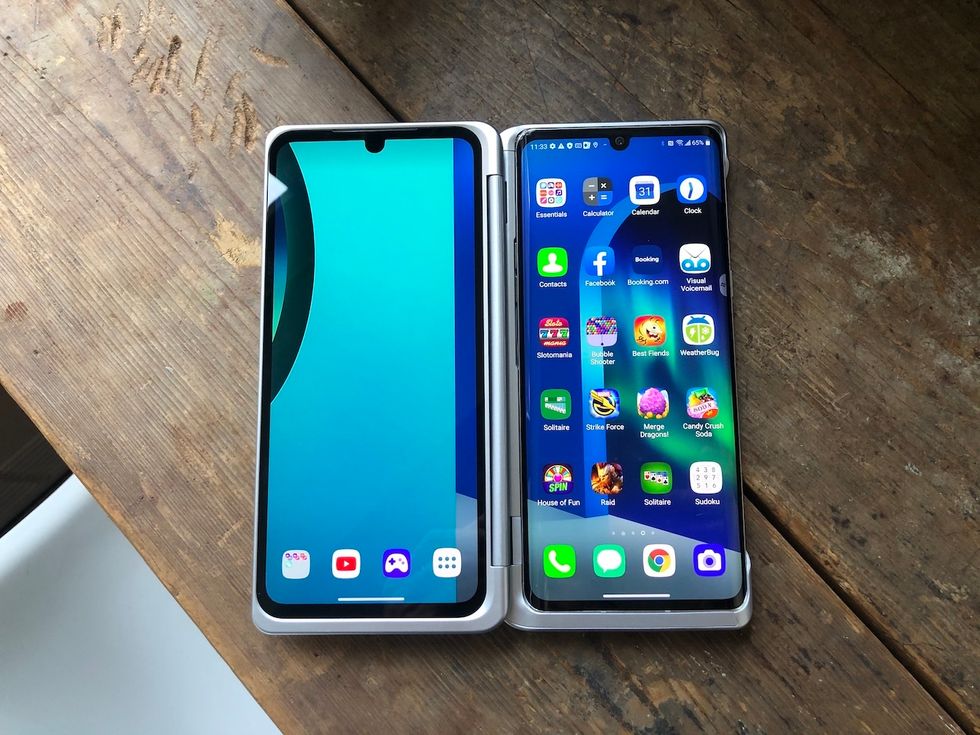 The LG V50 Dual Screen smartphone GearBrain
Once seen as a viable alternative to Samsung and others, LG's smartphone business has attempted to carve out a niche for itself in recent years with increasingly obscure handsets, which drew interest but failed to hit the mark. Instead of joining Samsung, Motorola and Huawei with a folding phone of its own, LG focused first on 5G then decided to offer a second screen via a case accessory for its V50.

LG also launched the elegant Velvet and the unusual Wing , which rotated into a T shape, revealing a second display beneath its main screen. The company earned praise at this year's CES technology show with a brief glimpse of a prototype smartphone with a rollable screen that could be made larger and smaller without the crease of a folding phone.
Although at the concept stage for now, LG said the rollable phone is real and will launch as a handset consumers can buy at some point in 2021. But even if it does become a reality, the phone will surely be expensive, therefore selling in small numbers and unlikely to improve LGs market share.
It looks like LG hasn't quite made its mind up just yet. Korean publication TheElec claimed earlier in January, in a now-deleted article, that the company was planning to exit the smartphone business. LG later told Android Police that the claim was "completely false and without merit."
LG has enjoyed far greater success with its TV division, where it is the leader when it comes to OLED panels, and consistently takes the fight to Samsung, TCL, Sony and others. LG recently announced its QNED screens with mini LED technology .
LG is also a string name in the smart home space. Although it doesn't have a broad range of hub-like speakers and displays to rival Google and Amazon, its smart, internet-connected kitchen appliances are popular.
It would be a shame to see LG leave the smartphone market, but with such huge financial losses nor would it be a surprise. We would like to see LG shift to focus even more on its TV and smart home appliance divisions, taking the fight to Samsung on a more level playing field.
Like GearBrain on Facebook