Like GearBrain on Facebook
Apple is launching its latest operating system update today, macOS Mojave. Many of the features are going to make your laptop or desktop feel more like a mobile device, with some favorite iOS apps coming to the Mac system.
While macOS Mojave has been out in beta for some months, since Apple's Worldwide Developers Conference in June. Today, however, is when the OS will be pushed out to everyone, and update to macOS High Sierra. Here are the big updates.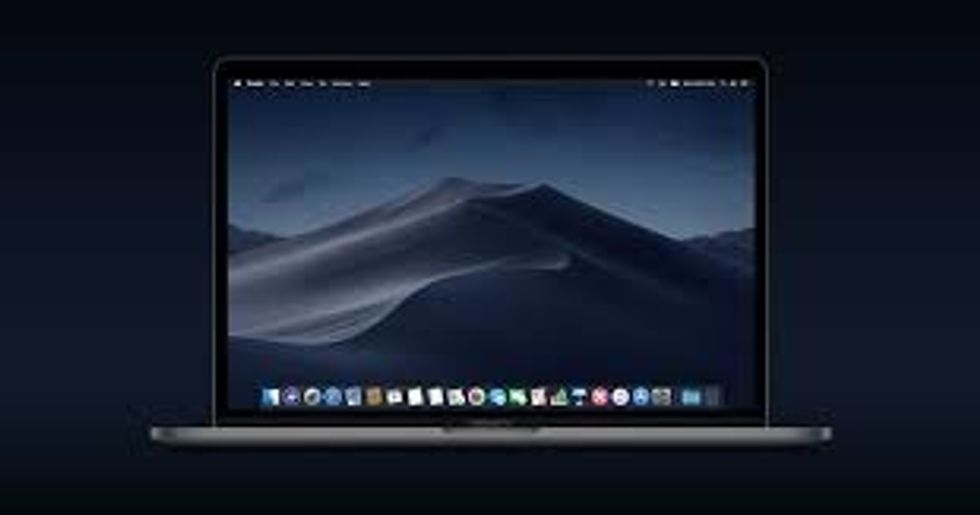 Apple
Dark Mode
Dark Mode is a feature that Apple's adopting — and already available from a number of third party apps, which allows your screen to appear to adjust to the natural light around you. This new update turns the screen — including the dock at the bottom of the bar — into a darker gray, so you can browse your apps more easily.
The default wallpaper, which is the new sand dunes presumably in the Mojave desert, your background, also changes, darkening and lighting based on the time of the day. It's subtle but nice, and having out screens adjust tonight as the day gets darker is nice.

Do keep in mind that if you've selected your own customized background, like a photo of your dog, that won't change based on time of day.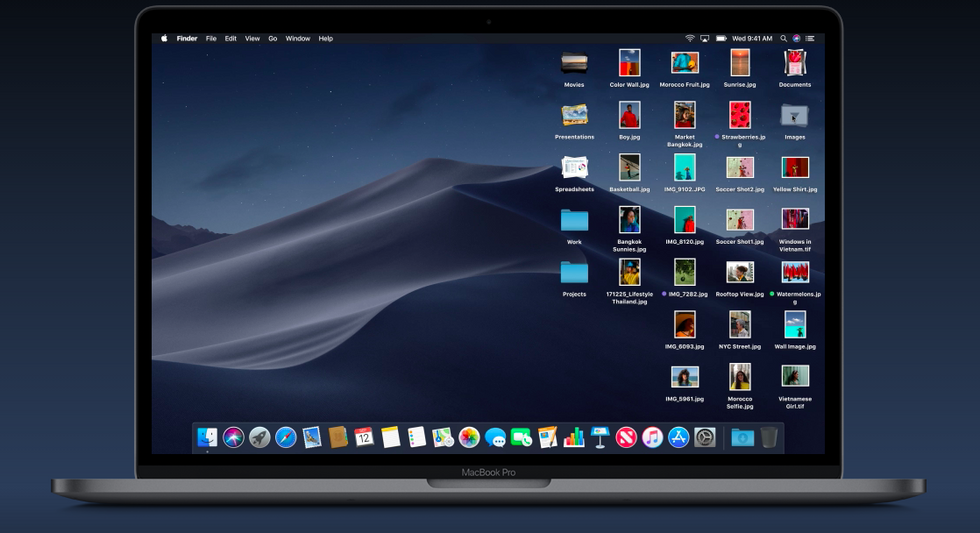 Apple
Stacks
Stacks is an organizational fiend's dream, and those who love a minimal look. You can now organize files, placing them in virtual piles or stacks so they're on top of each other creating a lot more empty space on your desktop. This will work with document files, PDFs, photos, spreadsheets and videos.
You launch Stacks by making a two-finger tap on your touchpad, or just one finger if you use a Multi-Touch mouse. Then select Get Stacks from the drop down, and your files will shoot to the right.
You'll need to classify the stacks so they actually know how to organize themselves — you can do this by date, or by tagging them into specific groups such as naming them like "Work." If not, they'll sit in a pile called Other. To open these files, just click on that specific stack, an downward arrow will appear, and everything that's in that stack will open up so you can select what you need.
You don't have to use Stacks however — and we suspect there will be plenty of people who won't want it. Just go back to the menu where you clicked Get Stacks, and click again. Everything will revert back to where they were originally on your desktop.
Screenshots

If you're a big user of screenshots (like some of us) Apple just gave you a ton of new options. After clicking the required key tab combo Shift-Command-4, you'll see a new group of features you can choose from instead of just outlining the area you want to capture and snapping a shot.
You can now use that one function to choose whether you want to grab the entire screen, record a video of the screen, record a video of a highlighted area, or just the area you outlined yourself. There's also a timer function, which means you can have the computer wait five or 10 seconds before taking the shot — incredibly helpful if you want a video to run for moment, or you want to rearrange something on the desktop, or close a window, before the shot is taken.
The screenshot is left on your desktop as a thumbnail, and from there you can drag it into a document, mark it up or share it.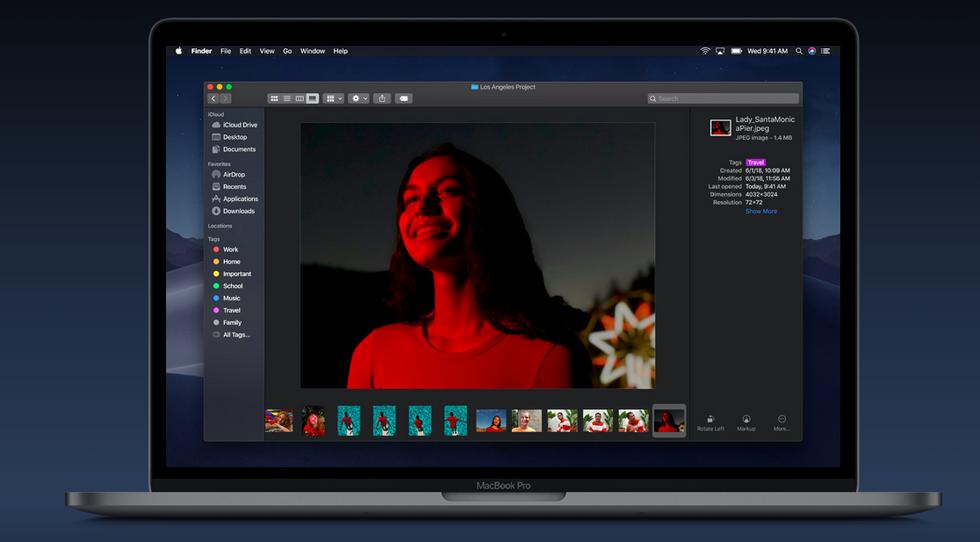 Apple
Finder
Anyone who needs to do light photo editing from their desktop is going to appreciate the updates to Finder. Here, you'll be able to see photos based on how they look, and see all their meta data which is just a fancy way of saying all the details that make up a file. For a photo, you'll see when it was shot, what it's tagged and even its dimensions and its resolution and tons more including what device you created the file on (like an iPhone or a Mac) and even the f stop of the digital camera.
You'll also be able to take what Apple calls Quick Actions from there. These are quick adds which include rotating the image, writing on it in a Markup, even trimming video and creating PDFS — without having to open a new application. Some of us are going to find this a huge time saver.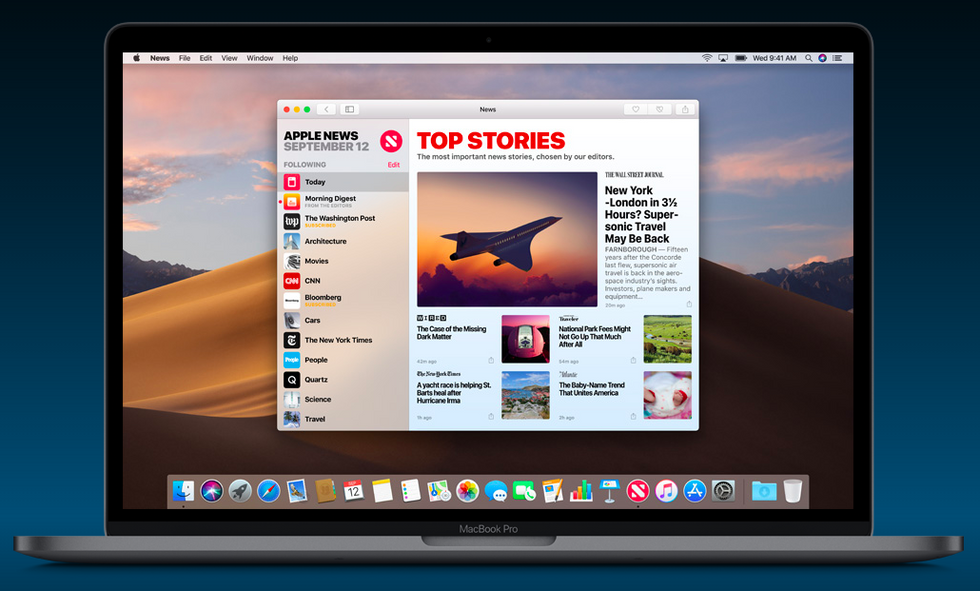 Apple
Mobile options to desktop
Four popular mobile apps are on their way to you computer. News, Stocks, Voice Memos and Apple Home will now be usable right from Mojave. You'll also be able to read something on a commute home on News from a mobile device, and it will pick up where you left it on your desktop.
Security
Apple is also making it harder for Facebook and other social media sites to follow you as you browse the web on your desktop. If you're clicking Like and Share buttons, or commenting in widgets, these little apps will not be able to activate tracking.
As they do on your mobile device, when you download apps to your desktop, the computer will now prompt you to give them permission to accessing your camera and your microphone. (And you can say no.)
You also get strong passwords — as you do from your mobile phone — which Apple will automatically create then store for you, auto populating your sign-in screens.
Like GearBrain on Facebook