Putting up lights around the home can help boost the holiday spirit. When they're outside of a house, it sometimes hard to get them timed to go on at sunset and off again at sunrise. I've often had to look as well for an outside plug that was weatherproofed to last longer than the holiday season. Jasco has all-in-one solutions, designed for the season, including an indoor and an outdoor smart plug, both of which control lights year-round, scheduling interior and exterior lights with a smartphone or by voice commands through Amazon Alexa or Google Assistant. Called Jasco's myTouchSmart Wi-Fi smart plugs. these Wi-Fi-enabled devices are easy to use, as you don't need a connected hub.
Jasco sent us two versions of its myTouchSmart Wi-Fi plugs to test: an outdoor/indoor Wi-Fi smart plug with a heavy-duty grounded plug and weather resistant, and an indoor-only digital Wi-Fi smart plug. Both plugs require a grounded outlet, also known as a three-prong outlet, and work with LED, CFL, incandescent and halogen compatible lights.

We first tested Jasco's myTouchSmart Wi-Fi indoor/outdoor plug. This indoor/outdoor plug is heavy-duty, designed specifically for outdoor use, but can be brought indoors if you want. It has a heavy-duty weather resistant casing and grounded plug (three prong), and setup is extremely easy. You just insert the myTouchSmart plug into the outlet, download the myTouchSmart app from either App Store (iOS) or Google Play (Android) and follow the instructional setup video. I recommend you watch it, to help with the setup process.
myTouchSmart Wi-Fi Outdoor/Indoor Plug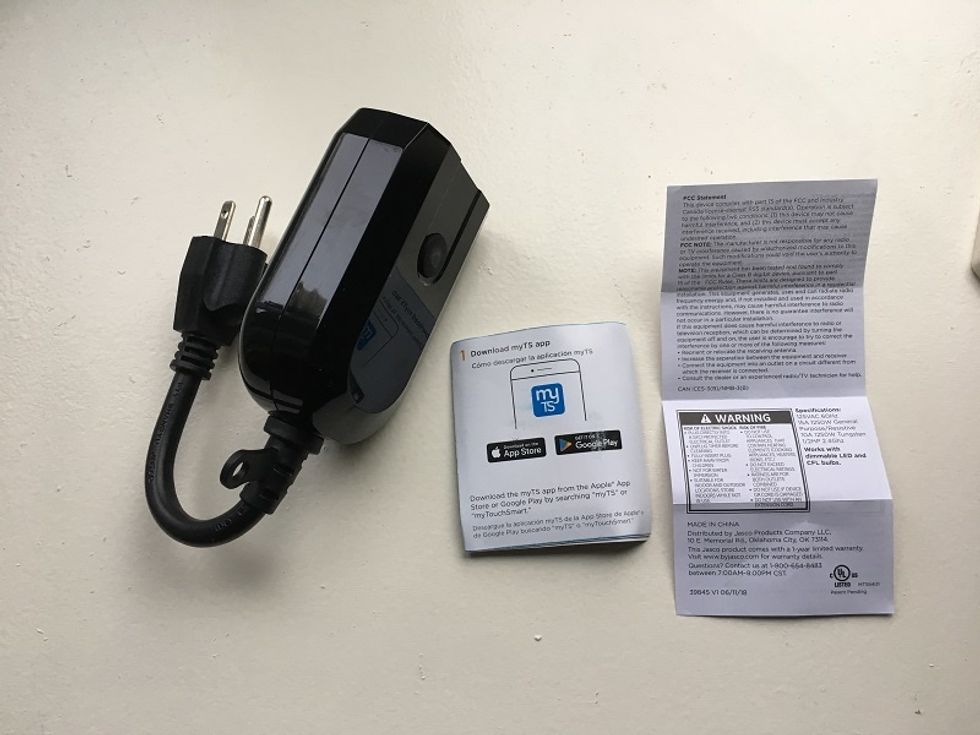 Contents from inside the myTouchSmart Wi-Fi Outdoor/Indoor Plug.
GearBrain
We next texted the myTouchSmart Wi-Fi indoor smart plug. Set up is the same as the outdoor smart plug. However, if you already have a myTouchSmart plug, just select "add device," and follow instructions in the myTouchSmart app on your smartphone. Jasco requires you to set up myTouchSmart plugs one at a time.
During testing we had issues with setting up the myTouchSmart Wi-Fi outdoor plug when connecting it to our home Wi-Fi network. Note: the smart plug only works on a 2.4 GHz Wi-Fi connection and not 5GHz. If you have a dual band router, make sure you are using a 2.4 GHz connection. Also, the extended range for the myTouchSmart plug is 1,000 feet from your home Wi-Fi router. If the outlet you are using to set up your smart plug is more than 1,000 feet from your home Wi-Fi router, you are going to experience connection issues.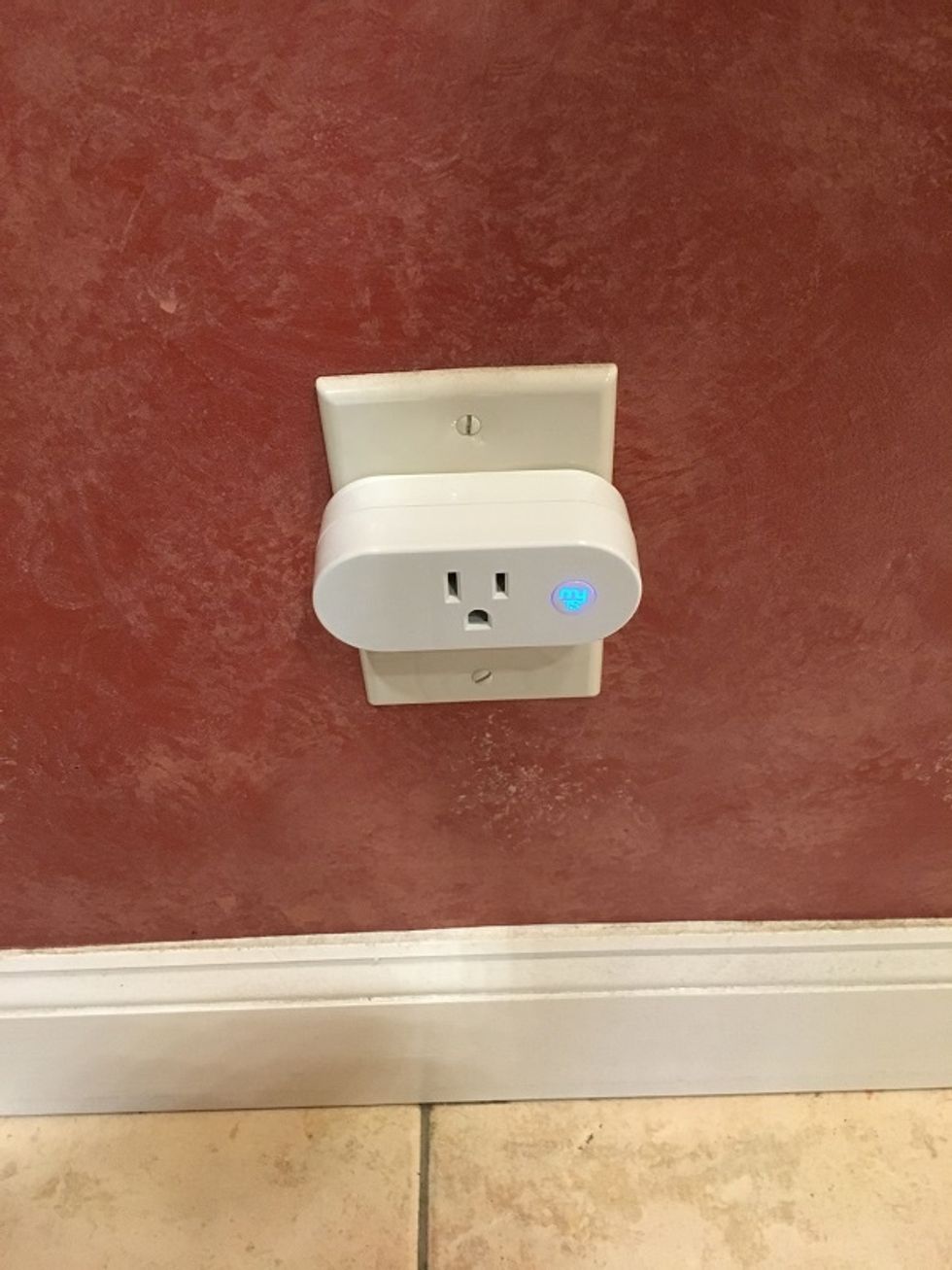 myTOUCH Smart Wi-Fi Indoor plug GearBrain
Although our plug was less than 1,000 feet from our router, the plug would connect sometimes and then disconnect. If this happens to you, we recommend you take the myTouchSmart inside, plug it into a wall outlet close to your Wi-Fi router, then complete the setup process. Once done, you can unplug and place the smart plug in the desired location outside. The smart plug should reconnect to your home Wi-Fi using the mobile app. If it doesn't, check the Wi-Fi signal in the location where you want to use the smart plug. If the signal is weak, you will not be able to use the smart plug unless you get a Wi-Fi extender to help you get a better signal to your myTouchSmart Wi-Fi smart plug.

Controlling myTOUCH Smart Plug with Alexa and Google Assistant Devices
Jasco's smart myTouchSmart Wi-Fi Smart Plug is compatible with both popular voice command platforms, Amazon Alexa and Google Assistant. Setup is extremely easy as you might know if you already own an Alexa enabled device like an Echo Dot or have a Google Home smart speaker. Just go to either of the smart speaker apps, and enable the myTS Alexa Skill or Google Routine. We tested both Alexa and Google Assistant integrations, and they worked well for us.
Keep in mind you need to properly name your myTouchSmart plug or plugs so Alexa or Google can control them. If you setup Groups in your myTouchSmart app, Alexa can control these groups. Again, just make sure you say the name of the group when you speak your request out loud for Alexa.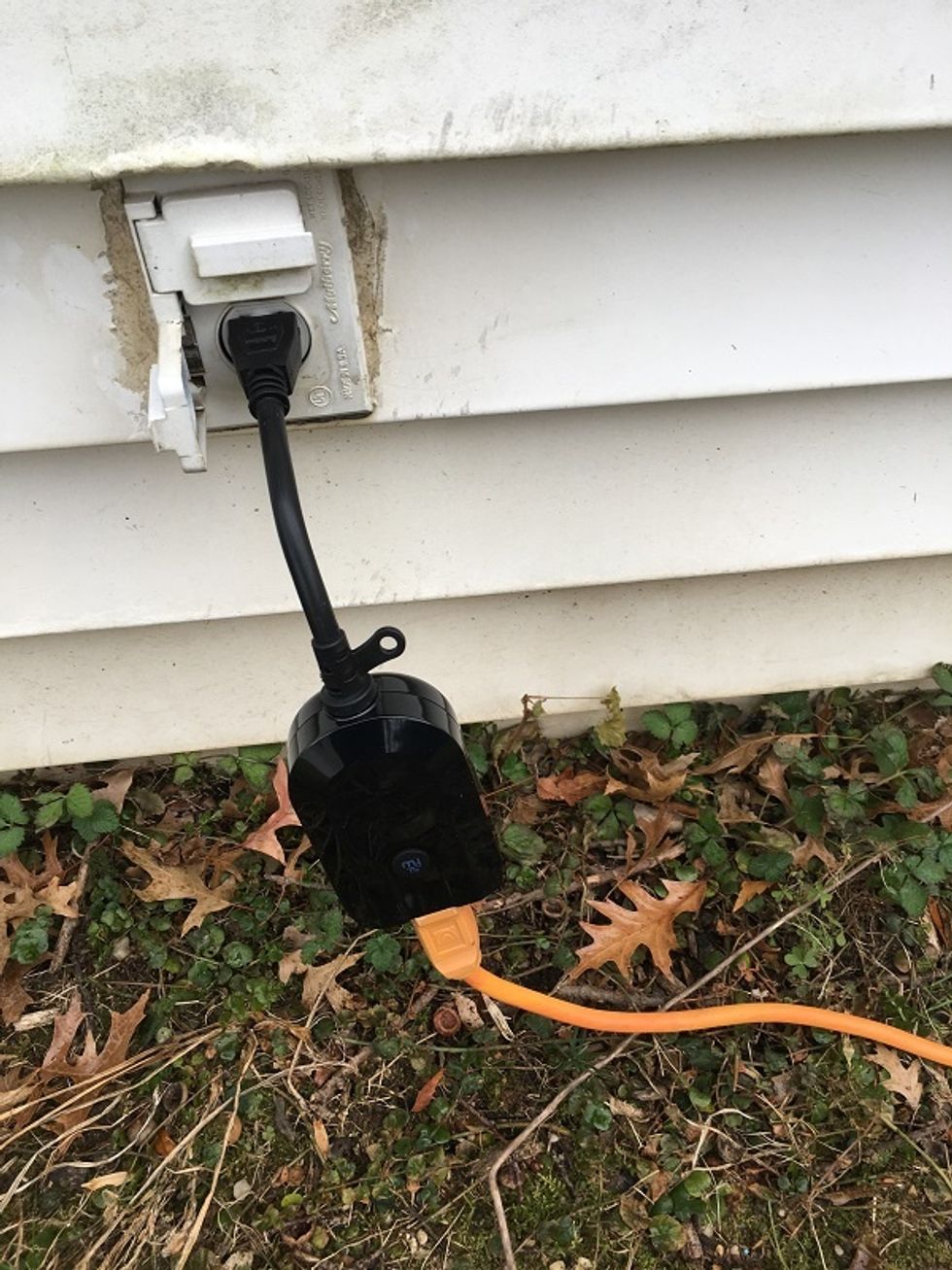 myTOUCH Smart Wi-Fi Outdoor/Indoor plug used to control outside lights year around.GearBrain
myTOUCH Smart Wi-Fi Smart Plug Features

Both Jasco myTouchSmart Wi-Fi smart plugs are UL listed, come with a 1-year limited warranty and have the following electrical ratings: 120 VAC 60Hz, 15 A General Purpose/Resistive, 10 A 1250 W Tungsten ½ HP. When using the myTS app, you can turn the lights on and off, and also preset your lights or any appliances plugged into the myTouchSmart plugs to go on and off in the evening, morning, or dusk to dawn. Both smart plugs have SunSmart Technology which tracks the sunrise and sunset in your region. You can even do custom countdowns (up to 24 hours), or create your own custom programs/schedules for either a single plug or groups.
Regarding smart home integrations, the myTouchSmart Wi-Fi smart plugs have only the Google Assistant and Amazon Alexa integrations. They are not compatible with other smart home devices like Samsung SmartThings, Apple HomeKit, Insteon, Nexia Bridge or a Z-Wave or Zigbee connected hubs. If you own any of these devices or systems, the only way you can integrate the myTouchSmart Wi-Fi smart plugs and have them controlled through one app is by using either Alexa or Google assistant apps and voice controls as the main controller. You will not be able to control the myTouchSmart plugs using another third-party app.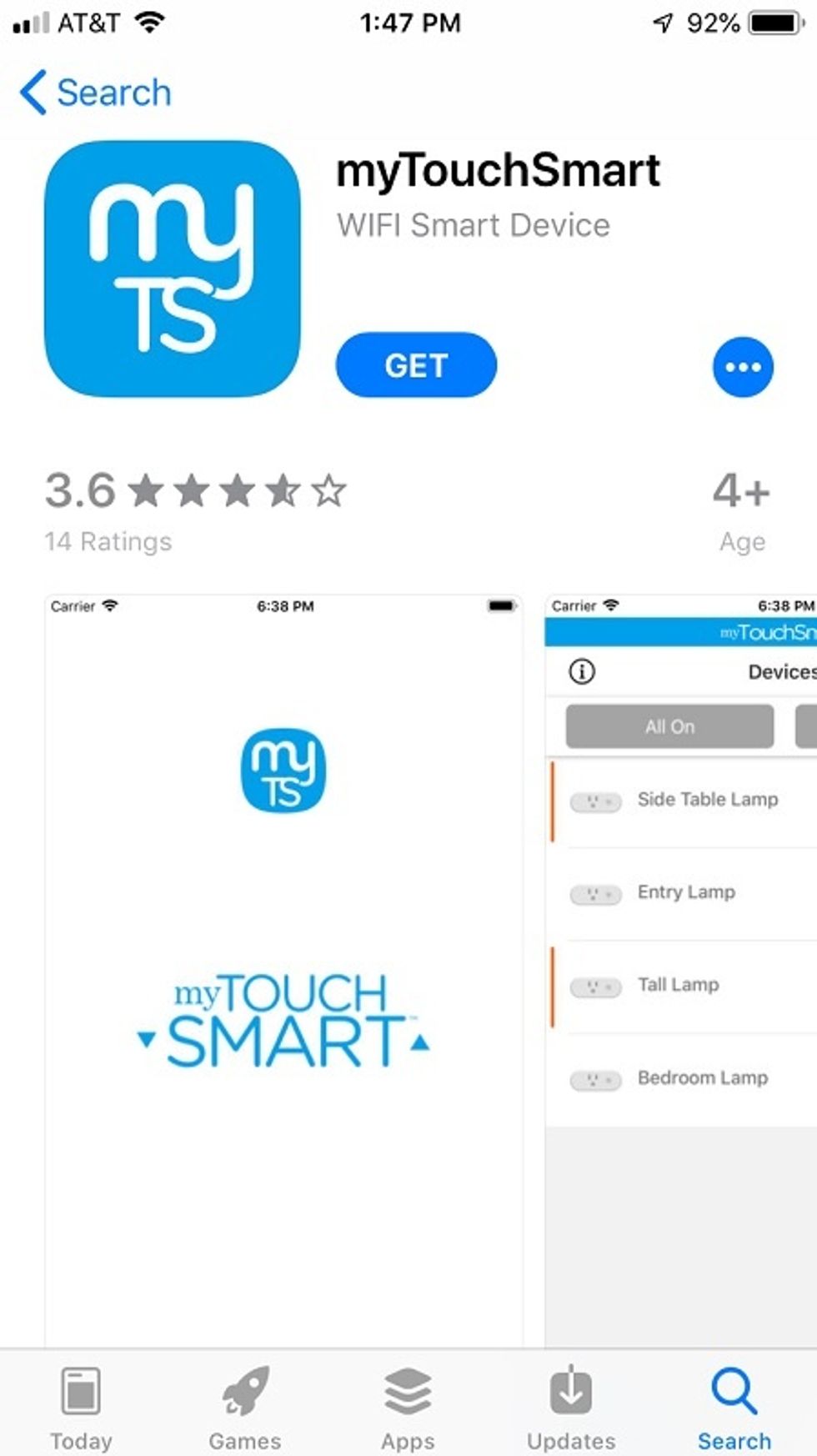 Look for eht myts app in the App Store or on Google Play. GearBrain
Cost and where to buy

The myTouchSmart Wi-Fi Smart Plugs cost $34.99 for the indoor smart plug and $39.99 for the outdoor smart plug. Both are available for purchase at the company website, Byjasco.com as well as Mytouchsmart.com and Lowe's.
Summary
The Jasco myTouchSmart Wi-Fi smart plugs are good smart plugs for any one looking to enter into the smart home market. They offer a simple way for you to build a smart home without having a connected hub. By plugging lamps, appliances and even outside holiday lights into a myTouchSmart plug, you can control them easily through the app or by using your voice if you have an Alexa or Google Assistant enabled device.
I particularly liked the myTouchSmart outdoor plug. It's well-built, weather resistant, and appears heavy-duty enough to handle year-long weather whether you're running holiday decorations or lights on your patio in the summer. We tested it on holiday lights outside, and although set up was a little spotty at first, once the plug connected to our router, everything worked fine.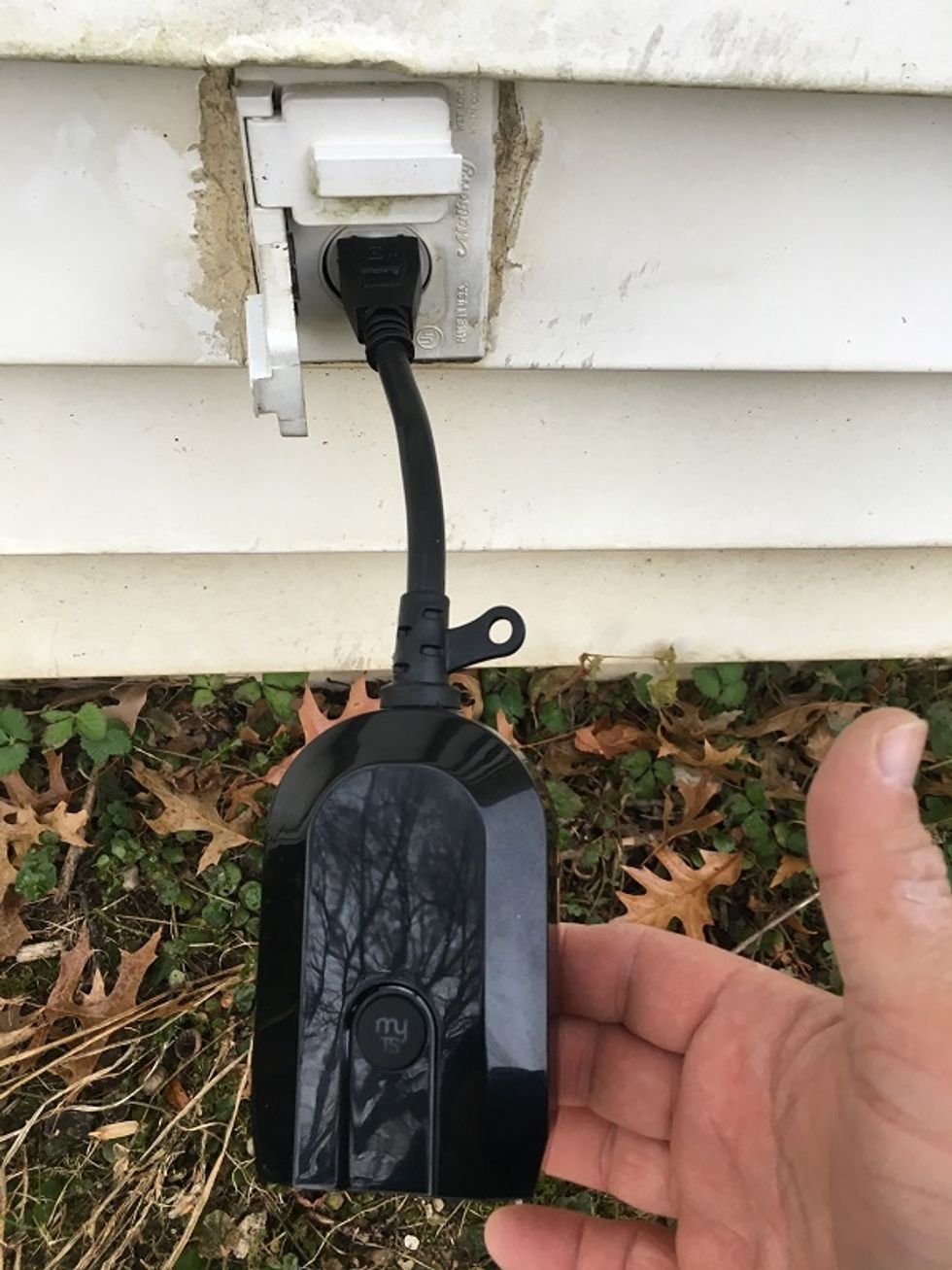 Make sure you are within 1,000 feet of your home router to connect your myTOUCH Smart Wi-Fi plugs.GearBraini
The indoor smart plug is nicely designed, small enough so they can be stacked on top of each other, if you're controlling multiple devices or appliances in a single room. The price of the smart plugs is in line with what you would pay for a smart plug like Wemo Mini Wi-Fi smart plug , which retails for $34.99.

The only issue we found with the Jasco myTouchSmart Wi-Fi plugs, is their limited integration with other smart home systems. If you already have a connected hub, like one from Samsung SmartThings or Insteon, the myTOUCH outdoor or indoor smart plugs can't be controlled by these hubs. You can control the myTouchSmart plugs using Alexa or Google Assistant devices or their apps, which controllers like Samsung SmartThings are also integrated with today. But, if you want to control everything from a single app, myTouchSmart plugs will only work if that one app is either Google Assistant or Amazon Alexa.
We would like to see Jasco come out with a Z-Wave and Zigbee versions of its indoor and outdoor myTouchSmart plug. The company does have a full line of Z-Wave and Zigbee smart plugs but these plugs need to be controlled by a connected hub because there is no Jasco app to control the plugs. It would be nice for consumers to add these quality smart plugs to their existing systems, particularly new smart home buyers who want custom, simple, one-app set-ups — and not be restricted to just Amazon Alexa or Google Assistant.
Pros:
Price
No hub required
Works with Amazon Alexa and Google Assistant
Easy setup and nice design
Control outdoor/indoor lighting
Cons
Lack of smart home integrations
Not Z-Wave, Zigbee or Apple Homekit compatible
Check out The GearBrain, our smart home compatibility checker to see the other compatible products that work with Amazon Alexa enabled devices as well as Google Home and Home Mini.
How to Create a Smart Dorm Room Part 3 - Smart Plugs www.youtube.com