Like GearBrain on Facebook
Smart home technology is no longer limited to the home. Increasingly, boat yards are adding technology like iPads, servers, voice controls, and multi-room music systems to luxury yachts.
One such yard is Princess Yachts, which in 2018 teamed up with fellow British company Naim Audio, a speaker firm which has built high-end music systems since 1973. Together, the two are now installing what they claim to be the best yacht sound systems on the market.
Read More:
But bringing good sound quality - sound quality worthy of an eight-figure price tag - involves much more than screwing some speakers into the ceiling of each deck and hooking up Spotify. The two companies work together from the drawing board forwards to produce bespoke sound systems which are tailored for each boat they are installed into.

To find out more, GearBrain attended the Dusseldorf boat show and spoke with Simon Drake, a consultant who has worked at Naim Audio for 13 years, to learn about the challenges of producing great sound on a yacht.
Drake explained how, through the partnership with Princess Yachts, Naim has returned to the drawing board to produce what it claims are the best sound systems on the high seas. Such is the way these systems are integrated, they cannot be retrofitted into older yachts, and are designed hand-in-hand with Princess' engineers.
Drake said: "There are loads of things we do right at the start of the design process. We work with the [Princess Yachts] design team, because the placement [of speakers] and the product specifications makes an enormous difference. Things like testing the speaker cable; we tested one Princess was fitting throughout, listened to loads of alternatives, and for the same money we found something which sounded infinitely better. Everyone could tell the difference, and that's a real quick win."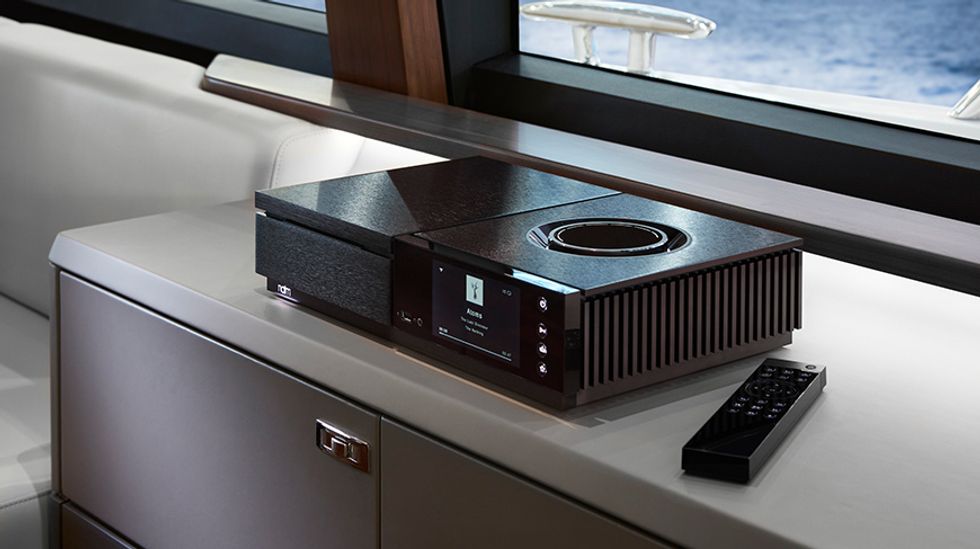 Naim Audio
Another area where Naim puts extra effort in is behind each speaker. Some yacht manufacturers will install speakers into the ceilings with nothing behind them - a situation called infinite loading, where the speakers move a near-infinite amount of air behind them. To keep a tight control over how much air each speaker moves, Naim creates wooden boxes for the back of each one, which act like the resonance chamber of an acoustic guitar. These boxes vary depending on the speaker, its location, the room it's in, and the materials in that room.

"We put these boxes throughout and it makes a massive difference," Drake said. "I'm confident most people would hear the difference."
Domestic sound systems installed at home can always rely on the same power source, as users are unlikely to ever hook the system up to a generator, or plug it in somewhere else. But on a yacht, the system will sometimes be powered by an electricity supply coming from the shore when docked. While at sea it will be powered by the yacht itself, and these changes can cause interference in the form of humming and buzzing through the speakers.
Drake explained: "We've had to work with the engineering department to clean that up as much as we can...Because on a boat you have shore power or power from a battery, we have to make sure the power delivery is consistent, no buzzing or humming."
Next up comes temperature control. At home, Naim customers tend to show off their sound systems, placing them in the center of a large room where air can circulate nicely and keep the powerful amplifier cool. But on a yacht, tight packaging constraints - even on the largest vessels - mean the sound system is usually tucked away in a cupboard. Close the door and sail to a hot climate like the Mediterranean or Caribbean, crank up the volume, and temperature quickly becomes an issue.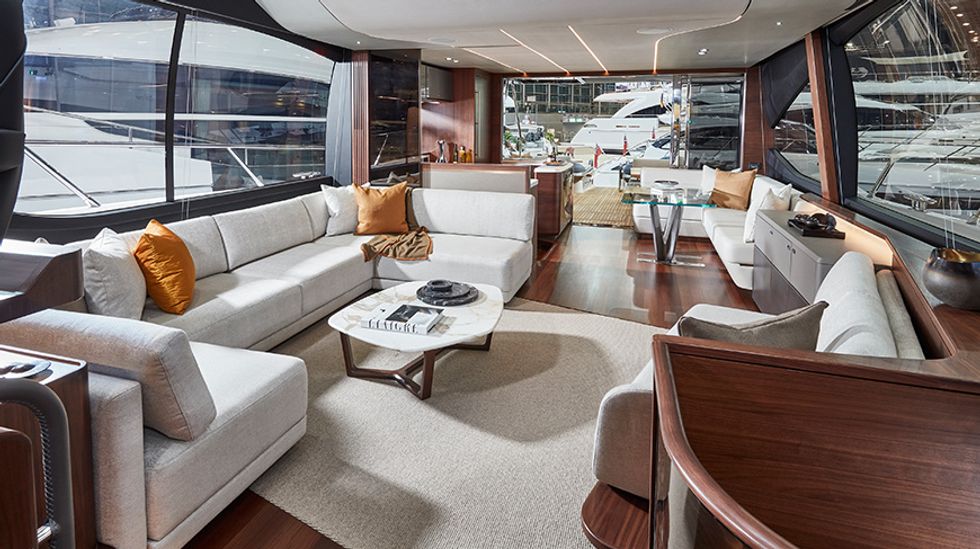 Speakers are fitting to the ceilings on every deckNaim Audio
To solve this, Naim puts a great amount of time and effort into researching different types of fans. Eventually they found a system which was quiet (to the extent that it couldn't be heard over the boat's air conditioning) reliable, and would only kick in when required.

Of huge importance for the sound system of a multi-million dollar yacht is the removal of annoying vibrations. Drake said: "When you're in a car and something vibrates because of the bass it's annoying and you blame it on the audio system, but you also blame it on the quality of the product itself. It's the same on boats, and that really interrupts your musical experience."
The chief problem here is the material most yachts are built from - glass-reinforced plastic, or GRP. Behind the luxurious leather, wood, marble and soft furnishing of a luxury yacht, there is invariable GRP, which vibrates a lot when sound is played against it. "Yachts are actually really difficult to work with," Drake summerized. "It can be quite vibratory, it can vibrate a great deal. So when you have a subwoofer driving into the seat mouldings, which are made of GRP, we have to go back to the CAD [computer-aided design] stage and make sure it's ribbed, reinforced, and as dense as it can be."
As for smart home technology, tastes are changing quickly. Just a few years ago, yacht buyers wanted touch screens everywhere, with devices like the iPod Touch installed into the walls of every room to control music. But these dated quickly, just as some purpose-built touch controls have done in the smart home market too.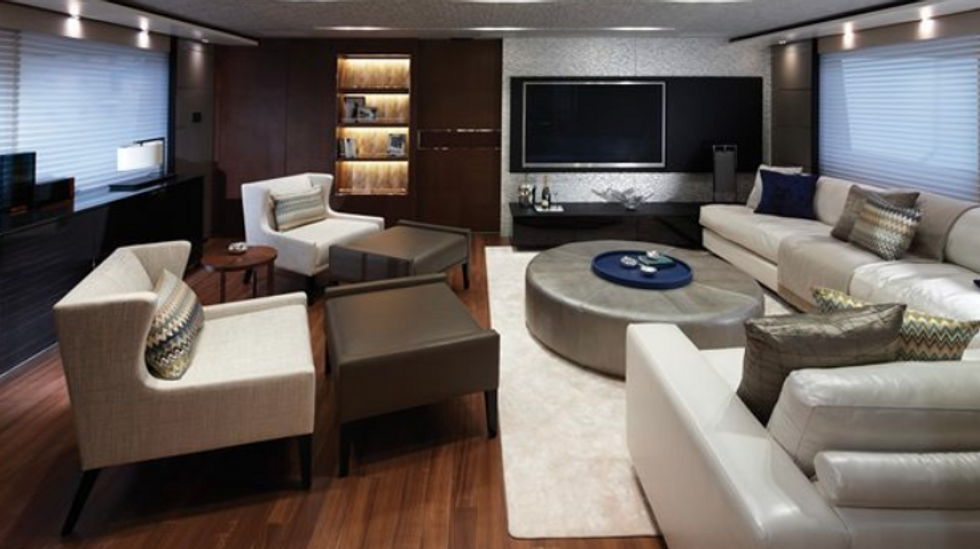 Speakers can be used for the TV, tooPrincess Yachts
Drake said: "iPad control is key now, and things like Alexa, Google Assistant and Siri have totally undermined all those older brands and protocols. What's great is that we can transfer that iPad and Android control [from home to boat]."

As such, the Naim systems used by Princess Yachts have a dedicated iPad app for controlling music in each room and on each deck. The system can play the same music through every speaker, or play different tracks and playlists in each room - just like a Sonos system at home.
Interestingly, 5.1 or 7.1 cinema-style surround sound is not high on the priority list for buyers or for Naim and Princess themselves. While it can be catered for, Princess says, most buyers prefer to have a system optimized for stereo sound, rather than one which only sounds at its best when sat in front of the television - a relatively small sweet spot when considering the size of these vessels.
GearBrain tried out the Naim system aboard a Princess yacht and we were impressed by the richness and power of the sound produced. Operating it with Naim's app on an iPad mini felt natural and intuitive, and any music streaming service - or music stored on an onboard server - can be called upon.
Drake explained how Apple's new AirPlay 2 system means any audio played on an iOS device - from any music streaming app - can be sent to the Naim system with a tap of the touch screen. Google Chromecast for Audio is also supported, meaning the Google Assistant can be used to control music.
As for Alexa, Naim is being secretive for now. Drake said: "For Alexa integration we have our eyes on the prize, so to speak. We're acutely aware that most things that are cutting-edge - as cutting-edge as we say we are - have to support all three of the Google/Apple/Alexa systems. But Alexa is now the thing that we're thinking about."
(Check out The GearBrain, our smart home compatibility checker to see the other compatible products that work with Amazon Alexa enabled devices.)
From Your Site Articles
Related Articles Around the Web
Like GearBrain on Facebook