Like GearBrain on Facebook
Both Amazon and Google have announced new smart speakers for the 2020 holiday season, called the Echo 4th Gen and the Nest Audio, respectively.
The speakers represent a major upgrade and a visual overhaul on their predecessors, yet include the same artificial intelligence as before, in the form of Alexa and the Google Assistant. Both make the perfect starting point for building a smart home, as they connect to a huge range of devices, and use their AI to answer questions, play music and help keep your household organized.
With both speakers available for pre-order now, and both costing $99.99, here is how they stack up.

Read More:
Nest Audio vs Amazon Echo 4th Gen comparison: Design and dimensions
Both speakers look very different to their predecessors, with Amazon going for a new spherical design with the Echo 4th Gen, while Google has gone for a taller but simpler look with the Nest Audio, which replaces the Google Home.
Both are covered in fabric and available in a range of colors. For the Echo 4th Gen these options are called Charcoal, Glacier White and Twilight Blue. For the Nest Audio, color options are Chalk and Charcoal.
We think the Echo has the more interesting design, especially with the Alexa status and notification blue glowing blue at the base of the speaker. But we also like the Nest Audio for its more subtle design; after all, speakers are about being heard rather than seen. The Nest Audio's answer to the Alexa light ring is a set of four LEDs in the middle of the front of the device; these show when Google Assistant is listening, and turn orange to show when the microphone is muted.
Looking at dimensions, the Nest Audio is 6.89 inches tall, 4.89 inches wide and 3.07 inches thick, making it a fair bit larger than the compact Google Home that went before it. The Nest Audio is quite hefty too, weighing in at 1.2kg without the external power supply.
The Amazon Echo 4th Gen is more compact; it measures 5.2 inches tall and the diameter of its ball-like shape is 5.7 inches. The new Echo weighs 970g.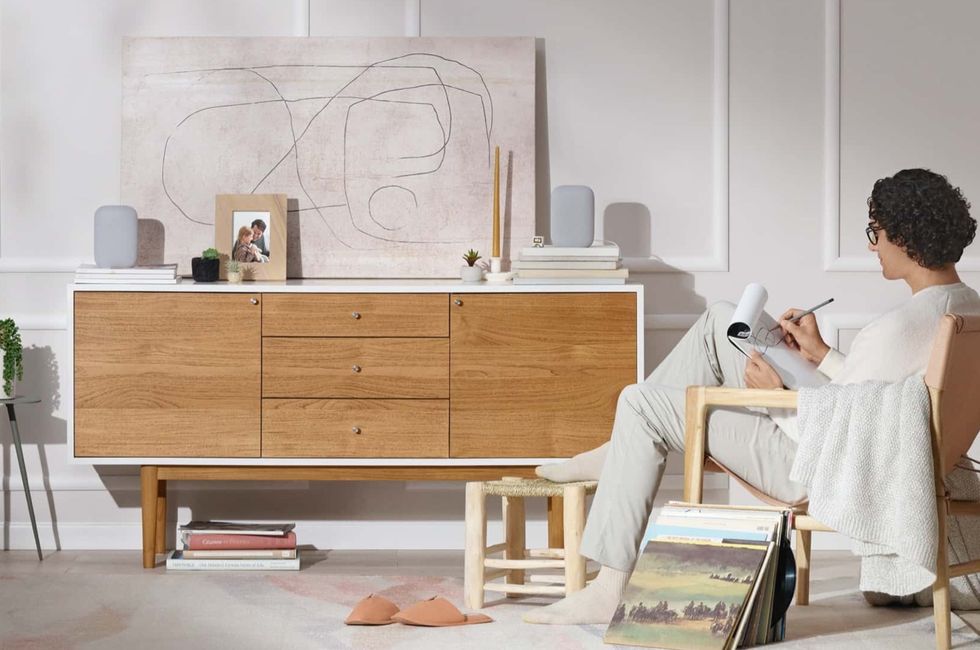 Two Nest Audio speakers set up as a stereo pairGoogle
Nest Audio vs Amazon Echo 4th Gen: Controls

Both speakers have the same basic controls, but implement them in different ways. The Nest Audio is touch-sensitive, where tapping on the sides increases and decreases the volume. There is also a physical switch on the back for muting the microphone.
The Echo 4th Gen has physical controls on its top. These four buttons control volume, mute the microphone, and summon Alexa for when you don't want to say her name aloud.
Nest Audio vs Amazon Echo 4th Gen: Ports and connectivity
Both speakers are designed to connect to your Wi-Fi network and stream online content, and both also have Bluetooth for playing music directly from your smartphone.
After this, however, there are some differences. The Echo has a 3.5mm auxiliary port, so it can be connected to any audio device with a headphone jack, and it also has Zigbee, the wireless smart home standard for connecting directly to devices like smart light bulbs (instead of connecting via your Wi-Fi or a router-connected hub).
The Nest Audio does not have an auxiliary port or Zigbee, so cannot be connected with a cable to audio devices, and must connect to smart home products exclusively via its Wi-Fi connection to your router. We like how Amazon is keen to preserve older connection options like the auxiliary port, but understand why Google is doing without, given the majority of smart speaker owners stream through Wi-Fi, and many smartphones no longer have a headphone port.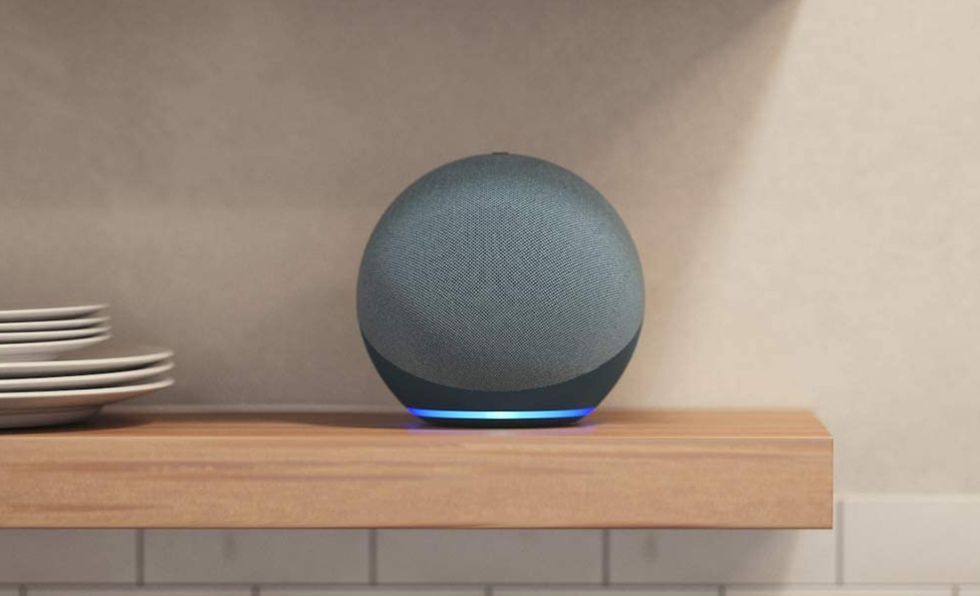 Amazon Echo 4th Gen smart speakerAmazon
Nest Audio vs Amazon Echo 4th Gen: Speakers

Both Google Amazon say the volume and sound quality of their latest products has been improved. This will be good news to audiophiles, as most smart speakers in this circa-$100 category have in the past only offered mediocre sound quality.
We will of course report back once we have sampled both speakers for ourselves, but for now we can compare their technical specifications.
The Nest Audio has a 75mm woofer and 19mm tweeter, while the Echo 4th Gen has a 76.2mm neodymium (a silvery metal) woofer and two 20mm tweeters. With those specifications, it should be the Echo that offers a better sound, owing to its speakers being slightly larger and it having two tweeters instead of one. That said, the Nest Audio's extra weight should count in its favor.
But this is speculative for now, and we'll reserve judgement until trying out both speakers for ourselves.
Nest Audio vs Amazon Echo 4th Gen: Price and release date

The Echo 4th Gen is currently priced at $99.99 (although it has a list price of $129.98) and is available to pre-order ahead of its shipping date on October 22.
The Nest Audio is $99.99, can be pre-ordered now, and begins shipping in the US and Canada on October 5. It will then come to 21 more countries on October 15.
Check out The GearBrain, our smart home compatibility checker to see the other compatible products that work with Google Assistant and Amazon Alexa enabled devices.
Like GearBrain on Facebook