Like GearBrain on Facebook
After months, perhaps even years, of rumors OnePlus has finally revealed its first smartwatch, aptly called the Watch.
Revealed today, March 23, alongside the equally new OnePlus 9 and 9 Pro smartphones, the OnePlus Watch goes up against the Apple Watch, Samsung Galaxy Watch and many other wearables.
Read More:
Here is how the OnePlus Watch compares to the current Apple Watch range.
OnePlus Watch vs Apple Watch: Hardware, size and design
Since it arrived back in 2015, the Apple Watch has remained mostly unchanged, with its rectangular display sat inside a metal case with custom strap fittings, side button and Digital Crown.
For its own Watch, OnePlus has opted for a more traditional design. As such, it has a round display, simple stainless steel case, industry-standard lug bars for attaching any strap you like, and a couple of buttons on the right side. The OnePlus looks much more like the Samsung Galaxy Watch Active 2 than any form of Apple Watch.
A key difference is the size of each wearable, with the Apple Watch having case sizes of 40mm and 44mm, and the OnePlus Watch only offered with a 46mm case diameter. The Chinese company admits this is "a bit on the bigger side" but OnePlus also claims the watch can be worn by anyone without looking out of place.
In ascending price order, the Apple Watch can be purchased with cases made from aluminum, stainless steel and titanium; the latter two have screens protected by scratch-resistant sapphire crystal, compared to glass for the cheaper aluminum model. In comparison, the regular OnePlus Watch has a stainless steel case and glass front.

A limited edition model features a cobalt alloy case that OnePlus claims is twice as hard as stainless steel, and is so difficult to manufacture that 50 percent of cases don't meet their own standards to sell them — and OnePlus disposes of them instead.. This watch has a sapphire crystal front instead of glass, for added protection; it also gets a leather strap as standard.
For those wanting a smaller smartwatch, Apple still sells the Watch Series 3 with its case options of 42mm and 38mm. All models by Apple and OnePlus are water resistant to depths of 50 meters and are therefore safe for swimming but not for diving or watersports.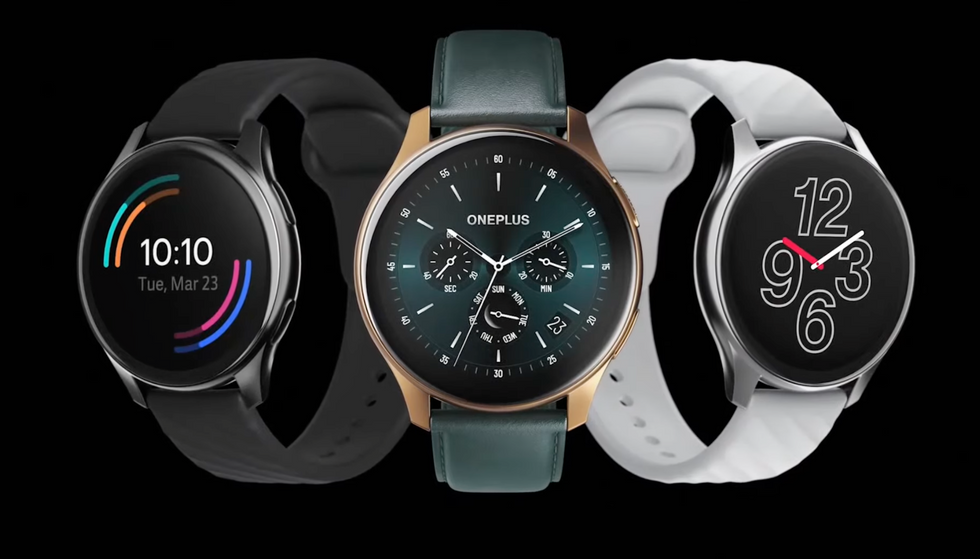 The OnePlus Watch is priced from $159OnePlus
OnePlus Watch vs Apple Watch: Health, fitness and other features
A key feature of all smartwatches is health and fitness tracking. OnePlus says its Watch can track over 110 different sports and activities, including some more obscure pastimes like parkour. It has integrated GPS for tracking your outdoor runs while leaving the smartphone at home, plus a heart rate sensor, altimeter, blood oxygen measuring, breathing exercises and stress level tracking. There is also sleep tracking and 4GB of storage for music that can be played through Bluetooth headphones.
It is much the same story with the Apple Watch (and many other wearables, to be fair). But what sets the Apple Watch apart in this case is its ECG app for taking an electrocardiogram, irregular heart rate notifications, and fall detection for alerting the emergency services if you take a fall and injure yourself.
An interesting feature of the OnePlus Watch is how it can connect to and control the company's television. But more than that, the Watch automatically lowers the volume of the TV when you take a call on it, and will turn the TV off if you fall asleep for more than 30 minutes.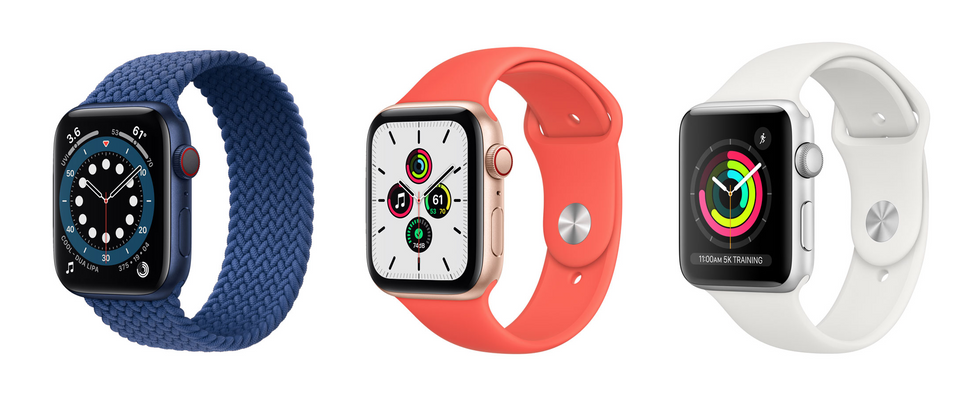 The Apple Watch Series 6, SE and Series 3Apple
Speaking of phone calls, the Apple Watch Series 3 and 6 can be bought with a data plan and their own LTE connection, whereas the OnePlus Watch cannot. Instead, and like the Apple Watch Series 3, it can connect to your phone over Bluetooth to handle incoming calls, messages and other notifications.

As far as smartphone connectivity is concerned, the Apple Watch only works with iPhones and, for now, the OnePlus Watch only works with Android handsets. However OnePlus says an app bringing Watch functionality to the iPhone is coming in the future.
OnePlus Watch vs Apple Watch: Battery life

Apple has always been quite specific regarding the battery life of the Watch. For the Series 6, it says the battery will last for 18 hours, during which it can handle 90 notifications, run apps for 45 minutes, and track exercise for 60 minutes while playing music over Bluetooth.
More anecdotally, the Apple Watch tends to last for between one and two days between charges, depending on how it is used. If it is worn for sleep tracking through the night, then a daily recharge is usually required.
On the other hand, OnePlus has boldly claimed its Watch can last for up to two weeks, or up to seven days for more intensive users. This is very impressive and we are keen to see if the Watch can live up to the claim. OnePlus also says its Warp Charge technology can give the watch enough power to last a week when charged for just 20 minutes.
The OnePlus Watch has a claimed 14-day battery lifeOnePlus
OnePlus Watch vs Apple Watch: Price

Finally, another major difference between the two wearables is their price. The Apple Watch Series 3 starts at $199, but is now 3.5 years old having launched back in September 2017. The much newer Watch SE starts at $279 and the flagship Watch Series 6 starts at $399, but can cost $1,500 for the luxury Hermes models.
The regular version of the OnePlus Watch is $159 and the company is yet to say how much the cobalt model will cost. All versions of the Apple Watch are available now, and the OnePlus Watch will be available from April 14.
The GearBrain, First Compatibility Find Engine for Smart Devices www.youtube.com
From Your Site Articles
Related Articles Around the Web
Like GearBrain on Facebook