Sony's PlayStation VR can pat itself on the back — shipping more than 490,000 headsets in the third quarter of 2017, according to a new report from the UK-based research firm Canalys.
Total shipments of all virtual reality (VR) headsets exceeded one million — the highest to date, says Canalys. Some of this spike may be from a price cut on the Oculus Rift headsets to just $399 — matching the price of PlayStation VR. Oculus Rift launched in 2016 at $599 for the headset alone — and the company made this 33 percent drop permanent just last month, as shoppers headed into the holiday gift giving season.
Oculus is also planning a new VR headset, one that would be untethered from a computer, and priced even lower. Robust VR devices like Oculus Rift and HTC Vive require powerful computers to run the virtual reality content funneled through its headsets. Standalone VR headsets, like PlayStation VR, use technology inside the headgear to both play and run the video imagery and sound.
"Hugo Barra is betting on his next product, the US$199 Oculus Go standalone headset, to reach more users next year," says Vincent Thielke, an analyst with Canalys Research. "The Go will excite first-time users, but driving adoption beyond social media will be a challenge."

Virtual reality — which fully immerses a viewer into a visual, auditory feast of sight and sound — is thought to eventually play second fiddle with consumers as compared to augmented reality (AR), which overlays imagery and sound into what someone's already seeing in real life.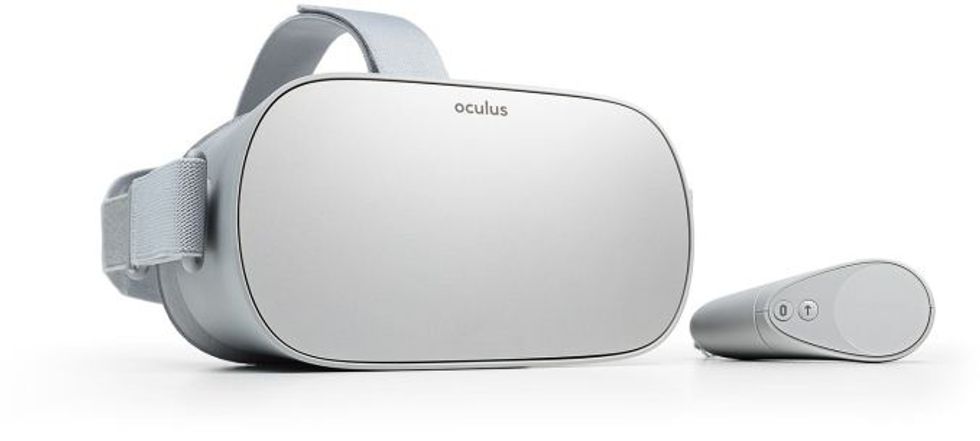 Oculus is launching a $199 standalone VR headset to better compete in the market.Oculus
While Google Glass tried to make a go as an AR device, Pokémon Go was really one of the first consumer launches that tapped into augmented reality with mass appeal.
Still that hasn't stopped brands from releasing their own VR headsets including Acer and HP. Microsoft also developed its Windows Mixed Reality platform, which Lenovo used for the recently launched Jedi Challenges lightsaber toy, as a tie-in with the next film in the hugely popular Star Wars saga.
But the hill is a steep one to climb. PlayStation VR shipped 49 percent of all VR headsets or nearly half, in the third quarter. Oculus Rift came in second, shipping 210,000 headsets or 21 percent, HTC Vive came in third shipping 160,000 headsets or 16 percent, with other manufacturers collectively shipping the remaining 14 percent.