You probably already know how the Alexa voice assistant on your Amazon Echo smart speaker can be used to play music from Spotify, Apple, Amazon and other services. You can also ask Alexa to play your favorite podcasts, but you would be forgiven or not realizing this is a feature, given Amazon has hidden it somewhat inside the Alexa smartphone app.
What follows is everything you need to know about playing podcasts with Alexa on your Amazon Echo smart speaker.
Read More:
First off, you can use the default podcast service, which is TuneIn. This is also used by Alexa to play radio stations, but less well-known is its ability to serve up podcasts, too. However, asking Alexa to play podcasts out-loud returns mixed results, even if you speak clearly and state the full name of the show you are after.
Instead, it is easier to head into the Alexa smartphone app and follow these instructions:
Open the Alexa app or go to alexa.amazon.com and log in
Tap on the Play button at the bottom of the screen
Check you are controlling the correct Alexa device by tapping at the top of the screen
Tap on TuneIn
Scroll down to Podcasts and tap on it
You can now search for podcasts by their title, see all available episodes and play them.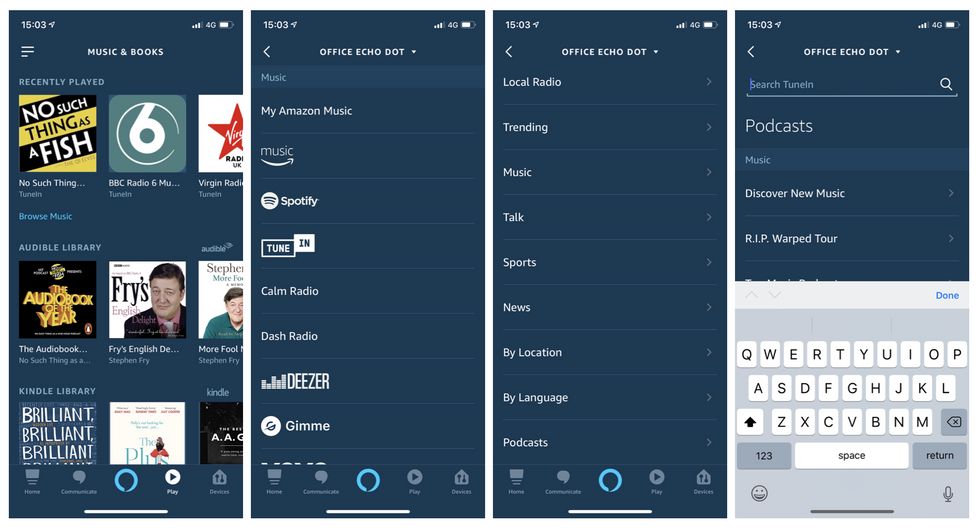 How to play podcasts through the Alexa appGearBrain
How to add a podcast to an Alexa Routine

As we have written about before, Alexa Routines are a great way to have Alexa do several things at once, either at a set time or after you say a specific command. That way, you can say good morning to Alexa and have it switch on the lights, adjust the heating, read out the weather forecast, then start your latest podcast.
To incorporate podcast-playing into a routine, follow these instructions:
Open the Alexa app
Tap on the icon with three lines in the top-left corner
Tap on Routines
Now, when creating the action of your routine, tap Music, change the provider to TuneIn, then type in the name of the podcast you want to play.
This all works okay, but isn't the most seamless solution, and it being app-based really takes away from Alexa's voice-control abilities. It's also not possible to subscribe to podcasts this way, and voice controls are generally lacking.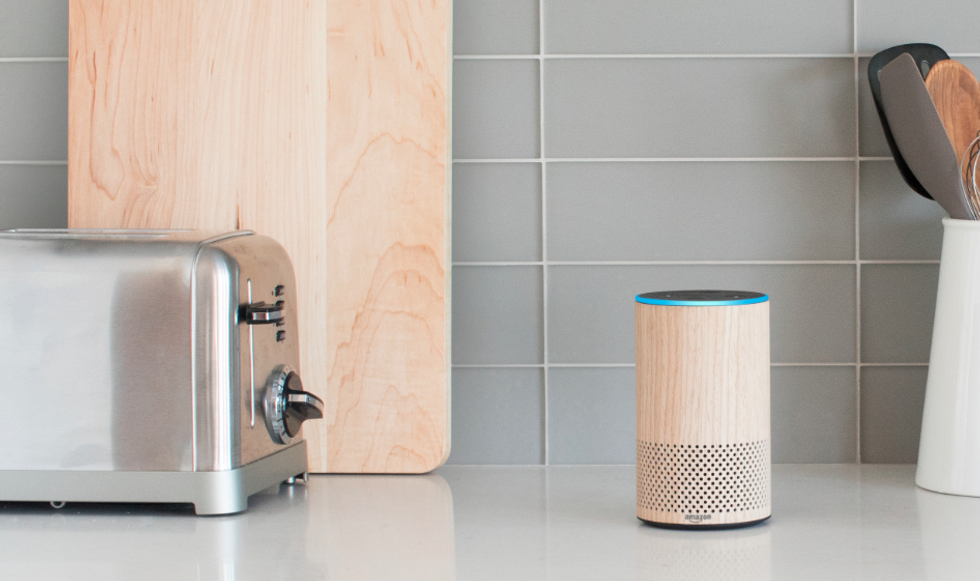 There are a handful of alternatives to Amazon
Thankfully, the newly-released Alexa skill by Pocket Casts offers a better solution. Here's how to get started:

Locate the Pocket Casts skill on the Amazon website. You can then click Enable to activate the skill on your Alexa, and you'll be asked to log into Pocket Casts. If you haven't got an account, you'll need to make one at pocketcasts.com.
Once logged in, you can put your smartphone down and start speaking to Alexa on your Echo speaker. To play a podcast just say: "Alexa, ask Pocket Casts to play [podcast name], or "Alexa, play the latest episode of [name]."
Once playing, you can ask Alexa to play, pause and adjust the volume as normal, and skip to the next available episode, if you want.
If nothing is playing, you can say "Alexa, ask Pocket Casts what's up next" to hear what episodes are available, but which you haven't heard yet.
This still isn't a perfect podcasting experience, it must be said, which can be a little frustrating when listening to podcasts through dedicated smartphone apps is easy and reliable. But it's a decent first step from Pocket Casts, and the gaps in the feature set should easily be fixed with the addition of a few extra voice commands — like being able to play a series of podcasts from the beginning, rather than from the most recent episode you haven't listened to yet.