Like GearBrain on Facebook
You probably already know how the Alexa voice assistant on your Amazon Echo smart speaker can be used to play music from Spotify, Apple, Amazon and other services. It's also possible to have Alexa play your favorite podcasts too, and while this was needlessly tricky at first, things are thankfully much simpler today.
What follows is everything you need to know about playing podcasts with Alexa on your Amazon Echo smart speaker.
Read More:
Alexa used to use TuneIn as its default podcast player. However, since September 2020 Amazon has offered its own podcast service through Amazon Music; so if you are a subscriber to that, you're already setup to enjoy podcasts via Alexa.
All you have to do is call Alexa's name, then ask the assistant to play the podcast you want. The most recent episode will then begin.
Using Apple Podcasts or Spotify with Alexa
Alternatively, you can use other services as Alexa's default podcast player. These include Apple Podcasts and Spotify, which provide access to almost all podcast shows with a simple voice command.
To set things up, follow these instructions:
Open the Alexa smartphone app
Tap on More in the lower-right corner
Tap on Settings then Music & Podcasts
Here you can link a new service, like Spotify, TuneIn or Apple. Tap the one you want, follow the instructions to log in, and you are good to go. If you ever want to change your default podcast service, follow the instructions above then tap on Default Services, then Change and pick the one you want.
You will also see options on that page for enabling or disabling Alexa's profanity filter, which blocks music deemed inappropriate for children. Radio stations and podcasts will continue to play as normal, regardless of their content.
If your default podcast service doesn't have the podcast you ask for, you can try a different service by saying: "Alexa, play the [name of podcast] on [name of service]."
Podcast playback from Spotify recently came to Alexa, and for now it is only supported in these countries:
United States
Germany
France
Italy
Spain
United Kingdom
Mexico
Canada
Brazil
India
Austria
Ireland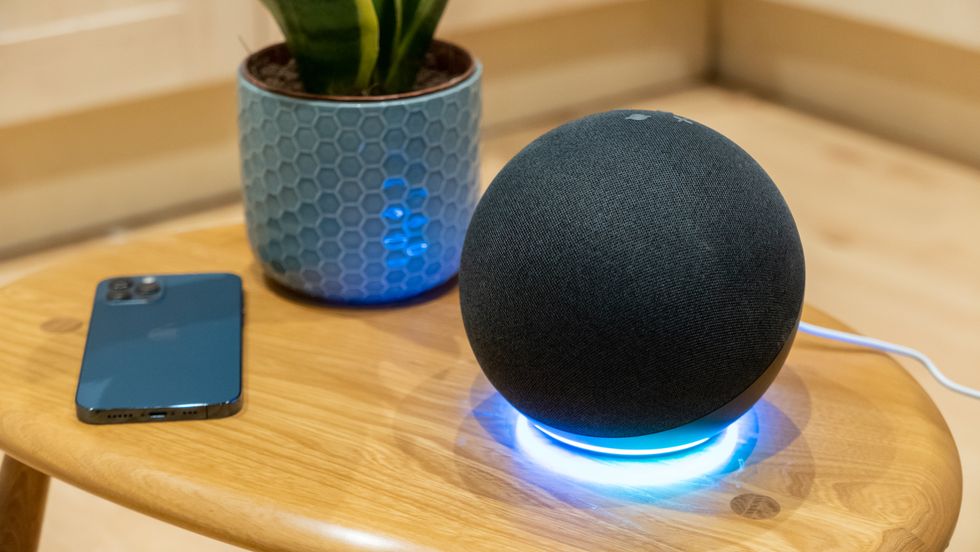 Alexa plays Spotify podcasts in 12 countries GearBrain
How to add a podcast to an Alexa Routine

As we have written about before, Alexa Routines are a great way to have Alexa do several things at once, either at a set time or after you say a specific command. That way, you can say good morning to Alexa and have it switch on the lights, adjust the heating, read out the weather forecast, then start your latest podcast.
It was previously only possible to use TuneIn with a podcast Alexa Routine, but now Amazon Music and Spotify can also be used.
To incorporate podcast-playing into a routine, follow these instructions:
Open the Alexa app
Tap on More in the lower-right corner
Tap on Routines
Tap on the + icon in the top-right corner
Now give you routine a name, tell the routine when it is to activate (at. certain time, or when you give Alexa a certain instruction, for example), and outline the action, which is what Alexa should do on hearing that command.
For this you need to pick Music from the list of actions, then type in the name of the podcast, tap on the Provider checkbox and pick the provider (like Spotify), and tap Next to complete setting up the routine.
We admit that this isn't the simplest of processes, but once setup it's a nice way to integrate podcast playing with other Alexa functions as part of a single routine.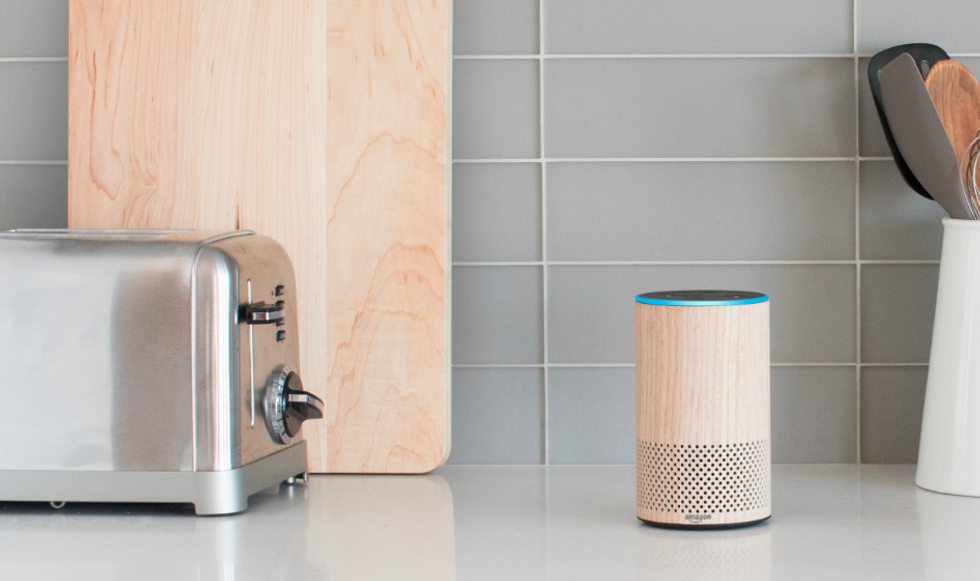 There are a handful of alternatives to Amazon
Another way
Alexa's default podcast playing abilities are quite limited. For a bit more functionality, including the option to ask for the most recent episode, instead of the more recent that you haven't listened to, we recommend Pocket Casts. Here's how to get started:

Locate the Pocket Casts skill on the Amazon website. You can then click Enable to activate the skill on your Alexa, and you'll be asked to log into Pocket Casts. If you haven't got an account, you'll need to make one at pocketcasts.com.
Once logged in, you can put your smartphone down and start speaking to Alexa on your Echo speaker. To play a podcast just say: "Alexa, ask Pocket Casts to play [podcast name], or "Alexa, play the latest episode of [name]."
Once playing, you can ask Alexa to play, pause and adjust the volume as normal, and skip to the next available episode, if you want.
If nothing is playing, you can say "Alexa, ask Pocket Casts what's up next" to hear what episodes are available, but which you haven't heard yet.
This still isn't a perfect podcasting experience, it must be said, which can be a little frustrating when listening to podcasts through dedicated smartphone apps is easy and reliable. But it's a decent first step from Pocket Casts, and the gaps in the feature set should easily be fixed with the addition of a few extra voice commands — like being able to play a series of podcasts from the beginning, rather than from the most recent episode you haven't listened to yet.
All-new Echo Show 10 (3rd Gen) | HD smart display with motion and Alexa | Charcoal
Check out The GearBrain, our smart home compatibility checker to see the other compatible products that work with Amazon Alexa enabled devices.
Introduction of The GearBrain, The First Compatibility Find Engine for Smart Devices www.youtube.com
From Your Site Articles
Related Articles Around the Web
Like GearBrain on Facebook