Like GearBrain on Facebook
The Amped Wireless ALLY Plus Whole Home Wi-Fi System ($299.99, $149 on Amazon) is designed to solve three vexing smart home and Wi-Fi access concerns.
First, ALLY Plus offers one of the more intuitive and intelligent web sites, apps and time-limit filtering systems I've come across.
Second, ALLY offers segregated longer-range 2.4GHz and faster 5GHz networks for connecting smart home devices that only operate on 2.4GHz.
Third, ALLY offers a seemingly easy way to cover all your home's Wi-Fi dead spots.
Unfortunately, getting the ALLY system setup is a problem. If you do get ALLY working, the system provides significantly less range than other mesh systems.

We spent several months testing ALLY, running into problems both times. During the initial set-up, the system worked and then suddenly stopped after a few months. The second time, the system would only work together when the extender and router were paired very close together, which renders the reason you'd buy an extender moot. Here's how we fared.
Before we go further, let's make sure you're looking at the right Amped Wireless ALLY product. There are four ALLY mesh systems:
An expandable mesh router (model R1900, $179.99) by itself called the "ALLY," to which you can later add an extender
The black two-piece router/extender ALLY 1200 ($299.99, discounted to $199.99) designed for smaller homes (less than 8,000 square feet)
The small business-centric ALLY 21C ($329.99, but now discounted to $139.99)
Finally, the two-piece ALLY Plus router/extender system we're discussing here (model 0091K) for medium to large houses with up to 15,000 square feet.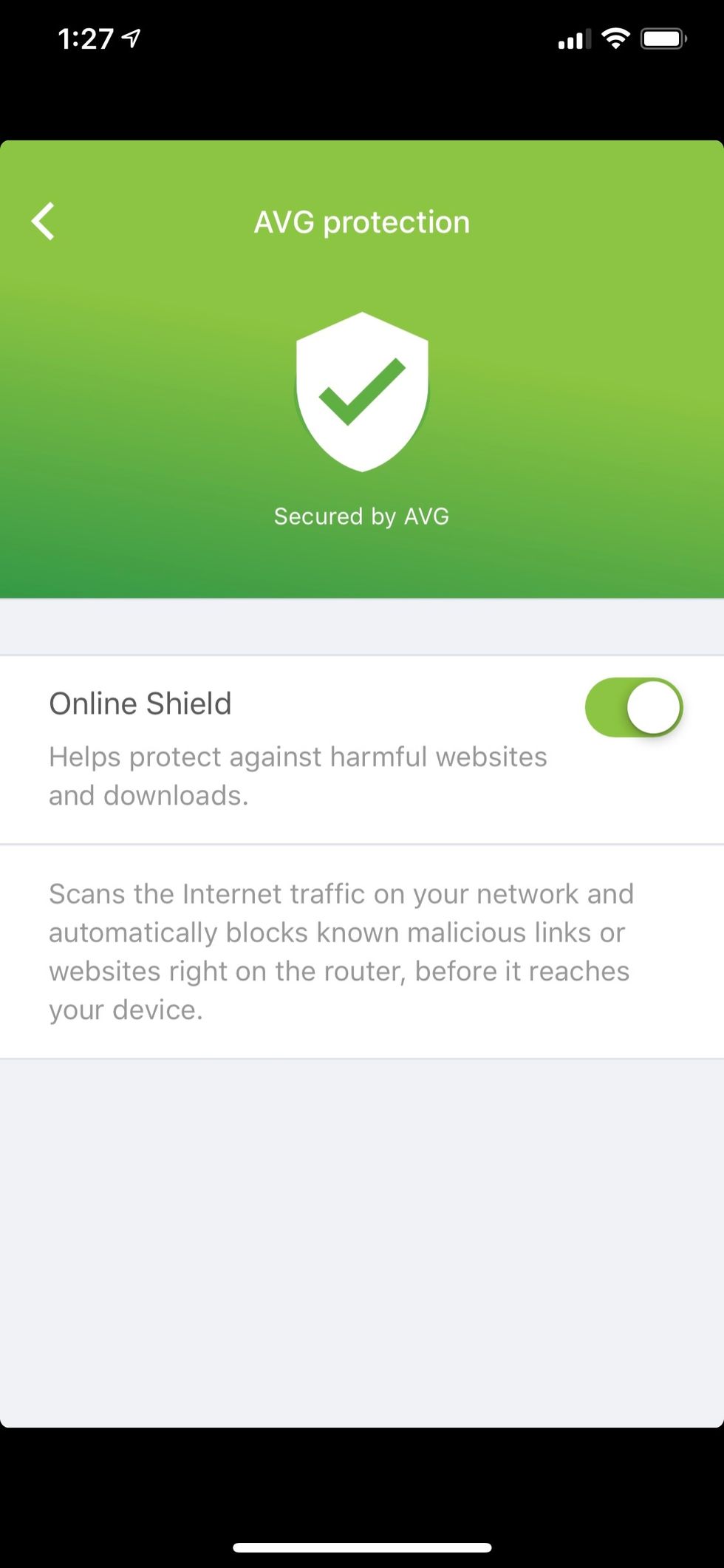 ALLY uses AVG protection to secure the routerGearBrain
Ergonomics/Specs
Both the ALLY Plus router and its extender client are flat 6.5 x 7 x 1.25-inch white rectangles, occupying around twice the area of an eero, but smaller than most mesh modules. Theoretically you can stand either the ALLY router or extender on its sides. But because the perimeters are curved, you'll need to wedge them between books if you want to save space on a shelf or counter.
On the back of the ALLY router are four RJ45 Ethernet jacks, the same number found on the larger Netgear Orbi and twice as on all the eeros. The ALLY extenders, however, have just a single Ethernet jack, a drawback if you're connecting multiple devices such as media streamers or smart TVs. Using a cable connection with a mesh extender module always provides a faster, more consistent connection to a stationary device, especially for video — so this is something to consider.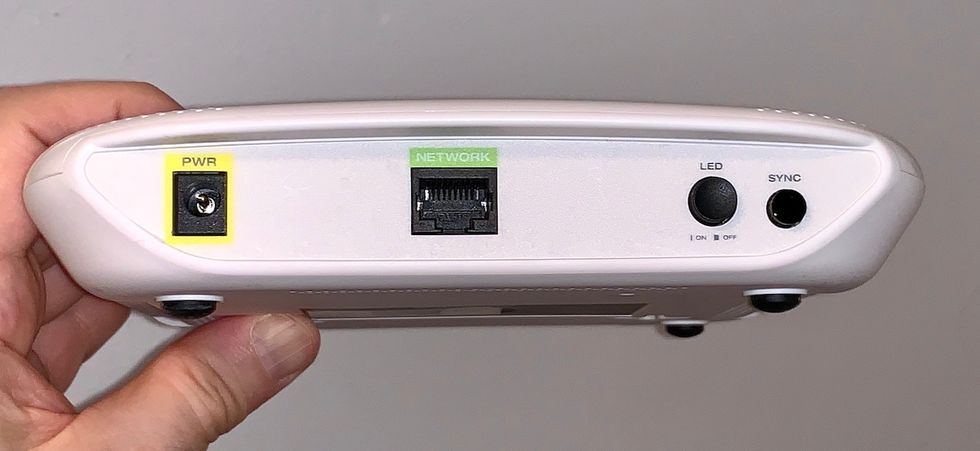 The back of the ALLY extender has just one Ethernet jackGearBrain
Dual band vs Tri-band

ALLY is a dual-band, 2.4GHz/5GHz mesh system, as opposed to tri-band system such as the Netgear Orbi, where its third frequency is dedicated for communication between the router and client modules, increasing its Wi-Fi bandwidth for your connected devices.
Most other dual- and tri-band mesh's systems appear as a single network in your available Wi-Fi network list. The mesh system automatically chooses the optimum network frequency for a device.
Some smart home devices, however, like many Wi-Fi security cameras, must connect to a 2.4GHz network. But smart home devices don't transmit a "I need a 2.4GHz connection," so instead, many mesh systems think a 5GHz connection is best. As a result, your smart home device won't pair with the network. ALLY eliminates this problem by creating distinct 2.4GHz and 5GHz networks, so smart home devices can be connected to the appropriate network.
Setup

ALLY comes with a start-up guide, which tells you to download the "Amped Wireless ALLY" app. After doing so, create an account and then turn off your cable modem. Next, connect the ALLY router via an Ethernet cable to the modem, then turn on your modem and the ALLY router. Unfortunately, this vital initial process is missing from the included start-up guide, so keep our review handy.
Once both the modem and router are powered on, follow the app instructions to link the router to your network from your smartphone, then create separate 5GHz and 2.4GHz networks, each with its own network name (SSID) and password. These dual networks are ALLY's primary advantage over other mesh systems, since each frequency band has its pros and cons depending on what devices you'll be connecting. You'll also likely need a firmware update, which can take around five minutes.
Next you'll set up the extender. This is where our trouble started.
Find a physical spot midway between the router and the far end of your home, and plug the extender into an AC outlet. Then wait between three to 10 minutes until you get a solid red, orange or green light on the front of the extender.
A solid red light means the extender is too far from the router, orange indicates a solid but not great connection (60-69 percent signal strength, according to the start-up guide), green means you're good. If you get a red light, or want a stronger connection than the orange light intimates, you'll have to unplug the extender, find a closer location to the router where you have an AC outlet, than wait another three-to-10 minutes or so for the extender to cycle through to a solid red, orange or green light.
This trial-by-error placement process is time consuming, as each time you move the extender you have to locate a new AC outlet. Fortunately, the white, flat extender module is aesthetically neutral. You can put a lamp, bowl or other knick-knack on top of it, and you can turn off the LED light once it's successfully paired with the ALLY router.

This worked during our first test. During our second test, I managed only to get a solid green light on the extender when it was just 20 feet from the router, meaning the extension of my Wi-Fi was not as deep into my home as other mesh system satellites I've previously tested, in some cases by half.
Granted, my apartment is awash with Wi-Fi signals from competing mesh systems, a veritable frequency obstacle course. But other mesh systems I've tested shrugged off my Wi-Fi morass, with the satellite placement not as persnickety. People living in urban apartment buildings might find a neighbor's Wi-Fi a possible problem for ALLY as well.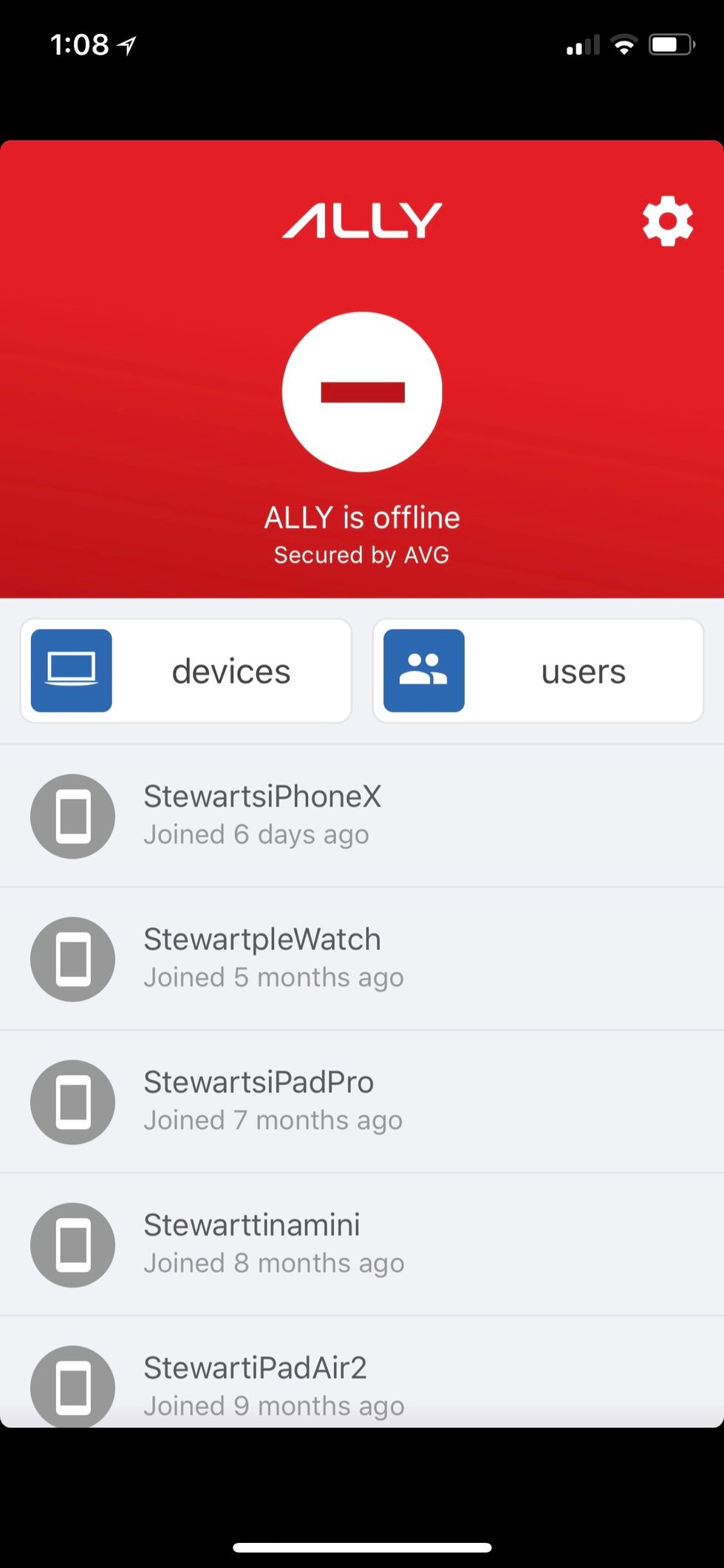 Try as we might, we could not connect ALLY to the ALLY appGearBrain
Connecting to the app
In this second go-around, after getting online to both networks with different devices, ALLY would not connect to ALLY's app, giving me a red "ALLY is offline" screen instead. I created a second, new, ALLY account, and repeated the router-extender setup, which seemed to help, but I still spent several days rebooting the cable modem, resetting the ALLY router, and getting multiple error messages before successfully getting the system set-up again. (I tried clicking on the Chat button on the company's web site to reach out to Amped Wireless' customer service, but it did nothing.) Even then, I could only get the extender to pair within 15 feet of the router.
Performance

When I got the ALLY system completely operational the first time (albeit with no access to the app security and filtering settings), I got excellent throughput. I consistently got 340Mbps download speeds from my 300Mbps Spectrum service over 5GHz, and averaged 30Mbps over 2.4GHz. That was just a hair less than the throughput from my cable modem's 2.4GHz network — as long as I was in the same room as the router.
But when I set up the router on my first go-round, my 5GHz connection did not extend as far as mesh networks created by others I've tested. Sans the extender on the second set-up, the range from the router was abysmal. In my living room, less than 30 feet away from the router, internet service slowed to a crawl, all the way down to around less than 10Mbps over 5GHz.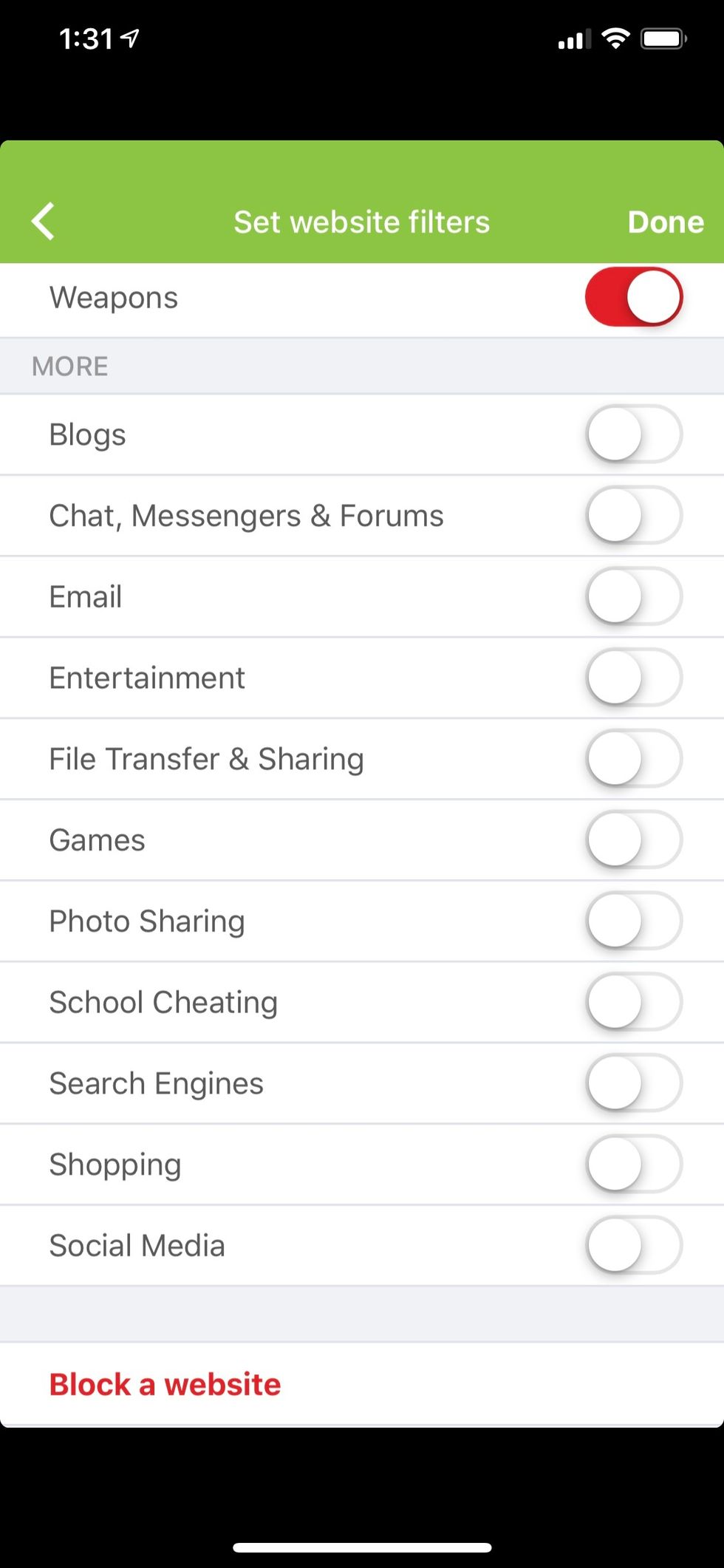 ALLY makes it easy to block web sites based on categoriesGearBrain
Blocking features
After successfully setting up the router the second time, I tested the surprisingly robust and easy to configure filtering and blocking features, powered by cyber security vendor AVG.
After creating individual users, you can track and limit the access and usage of each user – specifically children – connected it the ALLY system. You can toggle on and off access to a dozen or more category of web sites including adult, drugs and alcohol, school cheating, death & gore, online shopping, gambling and dating, as well as to specific sites such as Snapchat, Minecraft, Reddit and more. You can also enter a URL that you want to block as well, and set a connection curfew for each user.
Summary
ALLY Plus' web monitoring and filtering capabilities, the ability to create separate 2.4GHz or 5GHz network, and the size and aesthetics of its modules would make this mesh system a compelling option. But the frustrating set-up and limited range we encountered erase these benefits.
Pros:
• Excellent download/upload speeds
• Excellent web/app filtering/blocking
• Separate 5GHz/2.4GHz networks
Cons:
• Frustrating setup
• Limited range
• Only 1 Ethernet jack on mesh extender modules
Like GearBrain on Facebook