Like GearBrain on Facebook
One of the first big purchases homeowners often make is a security system to protect what's often their biggest investment. But knowing where to start can feel daunting. There are so many choices for a consumer today and all work on different wireless protocols and can be controlled several ways. Do you go for the professionally installed/professionally monitored home security system like Vivint? This is a system you do nothing and the company does everything including installation. Or do you look to get a Do-it-Yourself (DIY)/professionally monitored system like Frontpoint Security? This is a system that requires you to do the installation but leave the monitoring to professionals. Or is the DIY and Monitor-it-Yourself (MIY) home security system the right one for you? This is a system you do everything, including monitoring.
If you're the kind of person who likes to fix things on their own, a DIY home security system is an excellent option, with one of the best home security devices in this category, iSmartAlarm. The company recently sent us a system, along with a smart security camera to test, and we wired everything up to see how the device fared.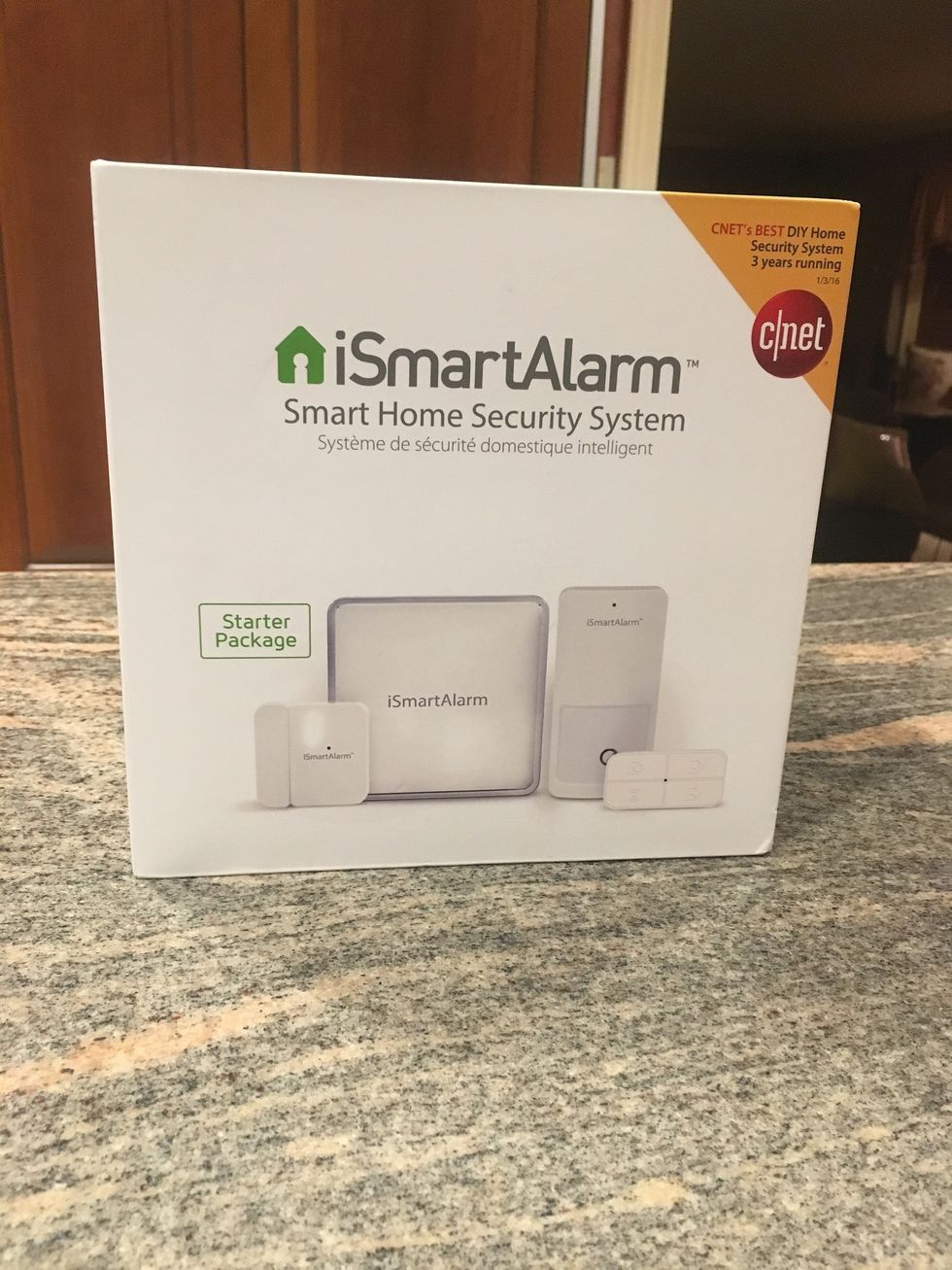 iSmartAlarm Smart Home Security System Starter PackageGearBrain
GearBrain tested the iSmartAlarm's Starter Package as well as the company's Spot Wi-Fi HD smart security camera. iSmartAlarm's Starter Package includes an iSmartAlarm CubeOne, a Contact Sensor, a Motion Sensor and a Remote Tag, which attached to a keychain. The core piece to the system the CubeOne, which serves as the central hub and brains of iSmartAlarm's home security system.
CubeOne communicates to all the devices, sensors and cameras through your home Wi-Fi. You connect CubeOne to your home router using an Ethernet connection and you are ready to go. CubeOne also has a built-in 110 dB siren, which is set off when the system is armed and detects unwanted activity in your home. We really liked the loudness and effectiveness of this siren—intruders are going to be scared away.

Also included in the iSmartAlarm's Starter Package is the Motion Sensor and Contact Sensor which reads movement around doorways, entry ways and windows. For our test, we placed the Motion Sensor on a backdoor, which can detect motion in a 30 foot PIR range. The device is battery powered and is for indoor use only—which is why you usually place these throughout your home in the specific areas you want to monitor.

The iSmartAlarm's Starter Package also include a remote tag, which links up to CubeOne and lets you to control your security network remotely.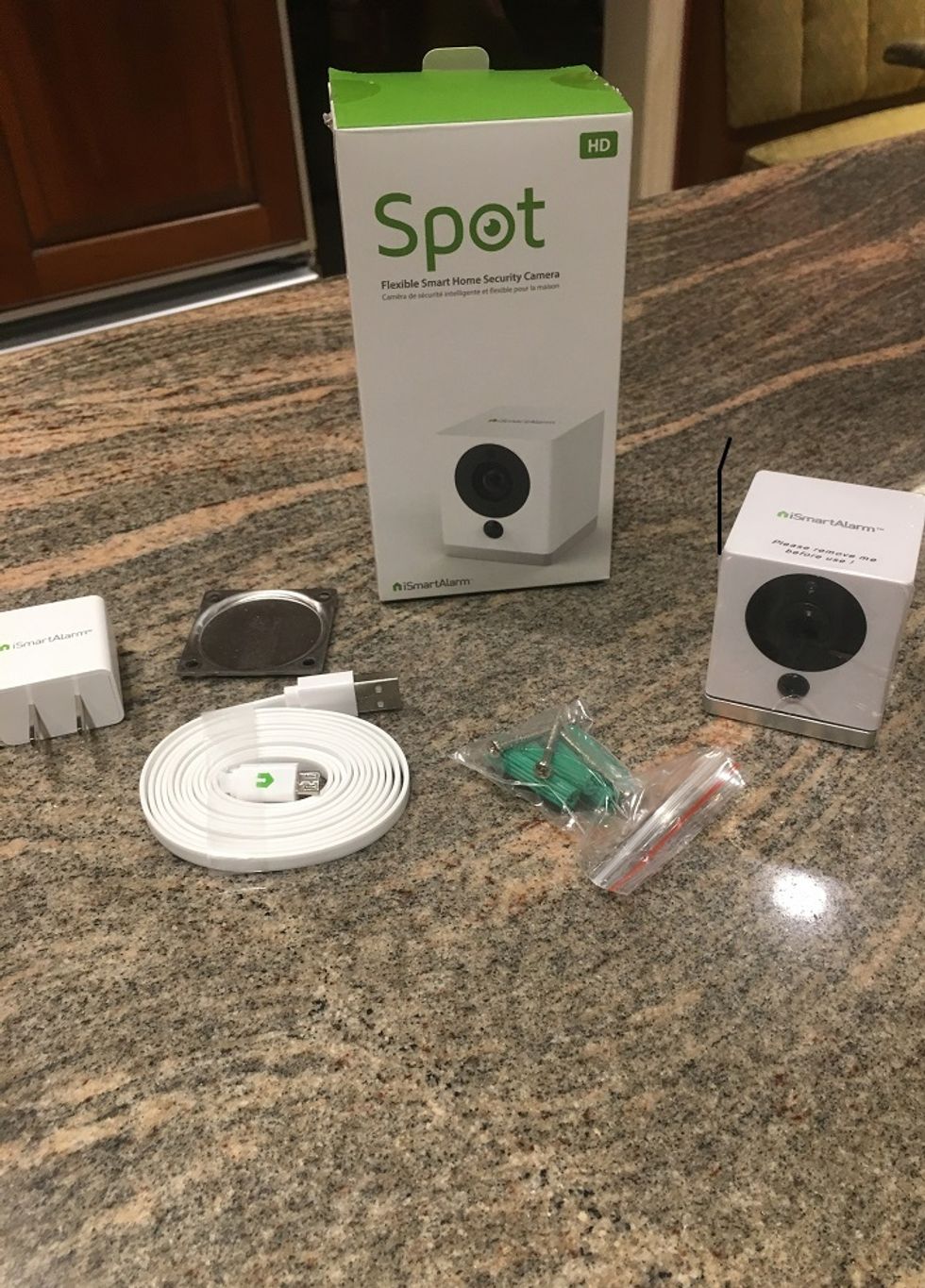 iSmartAlarm's Spot, a very good smart home security camera.GearBrain
Crucial to any strong home security system is a smart security camera, and we found the iSmartAlarm's Spot worked extremely well. A Wi-Fi camera, Spot can either operate as a standalone security camera or connect to iSmartAlarm's CubeOne. The device has a 130-degree field of view, 4X digital zoom, night vision and two-way audio. (Yes, you can talk through the camera and people on the other end can hear you and talk back.) Spot has a motion detection range of up to 20 feet, plus sound recognition. iSmartAlarm's Spot can also identify and notify you when carbon dioxide is detected in your home, while also recording time lapse videos, recapping moments by the hour, the day or the week using the mobile app. You can store your recording in iSmartAlarm's cloud for free and can access them from anywhere, or move them to a MicroSD card, which can store up to 64 GB of videos.
One of the nice features of iSmartAlarm's Spot $99.99smart camera is its casing. The camera has flexible legs on a magnetic base that allows for easy wall or shelf positioning. These adjustable legs also help capture any angle you need in your home. (You can buy just the camera alone if you want from its web site, and authorized resellers, including Amazon, Best Buy, and more. If you wish you to go to a physical store, iSmartAlarm products are sold in Best Buy, Micro Center, B&H and Fry's.)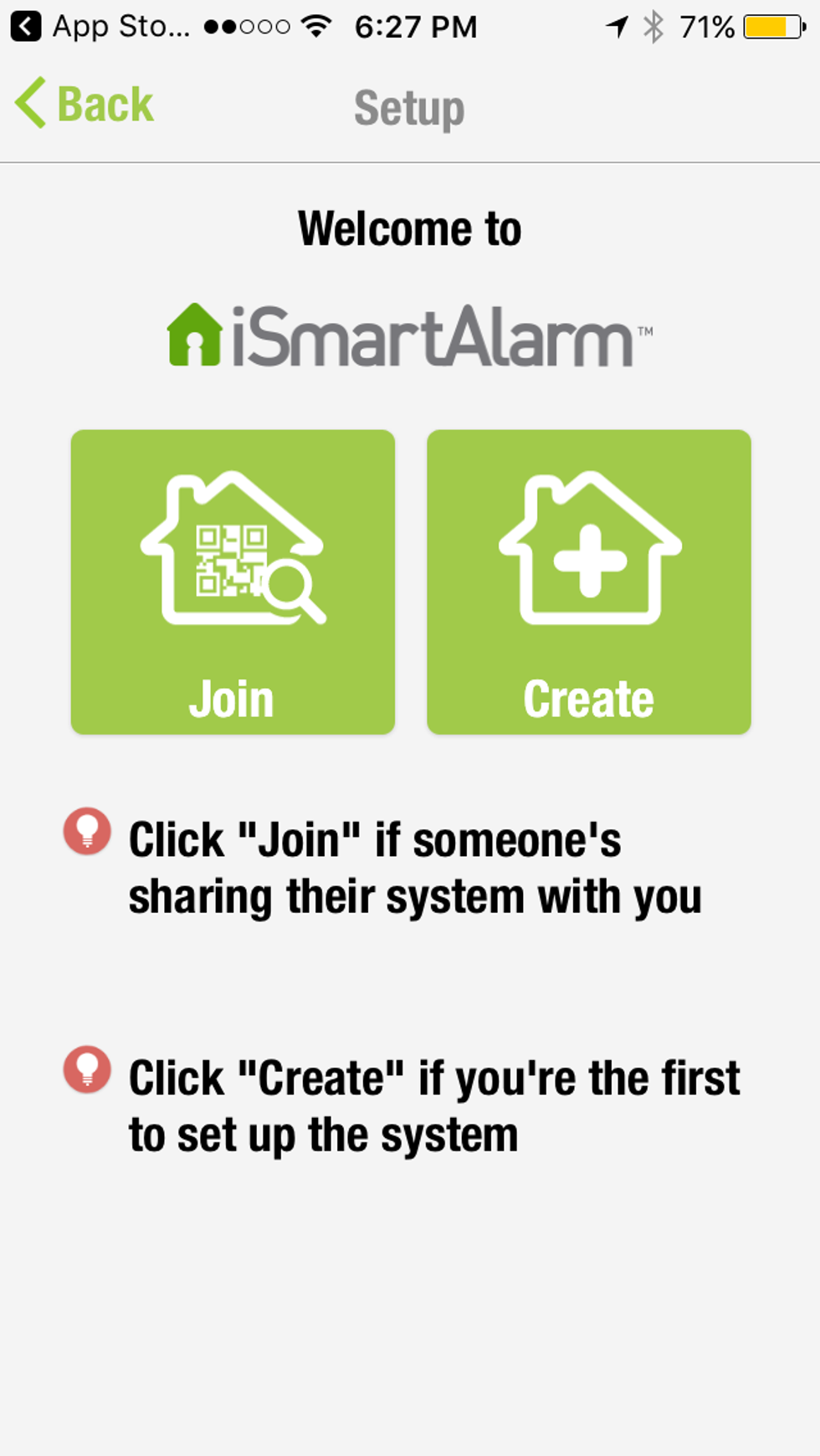 Welcome screen in iSmartAlarm's appGearBrain
Installation

Once we opened up all the iSmartAlarm devices, we set up CubeOne and downloaded the iSmartAlarm's mobile app, which is compatible with iOS (6.0 or higher) and Android (4.0 or higher) devices. We created an account, which prompted the app to ask us to either join or create a system. We recommend setting up the master account first. Once everything is up and running, you can then ask family and friends to join so they can access your home security network as well. They'll also have to download the iSmartAlarm app, and scan a QR code from the main account member's phone to join the group.
Using the iSmartAlarm app, we could add devices very easily. Just follow the instructions on the iSmartAlarm app.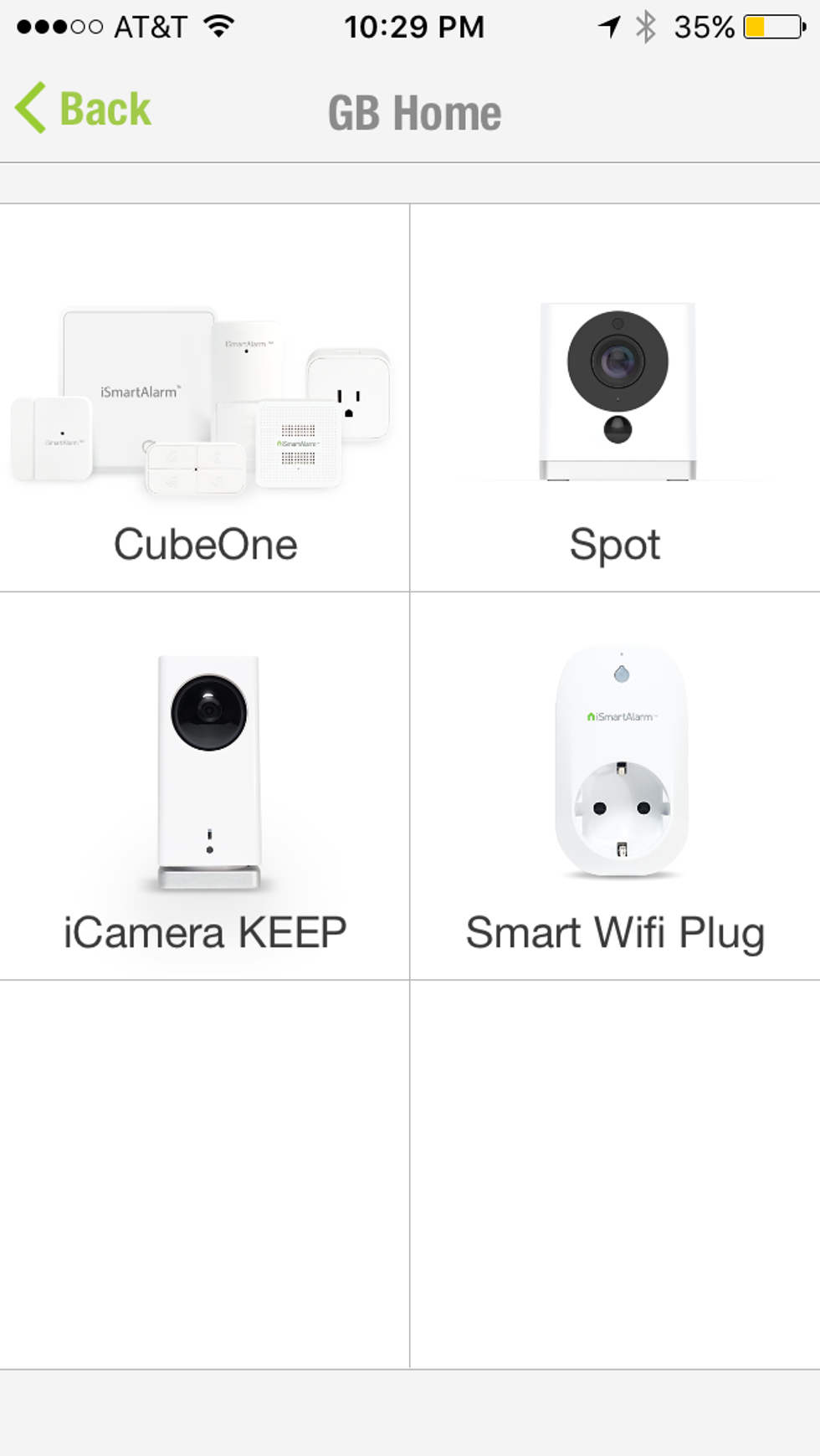 iSmartAlarm's app keeps track of all your devicesGearBrain
How does iSmartAlarm work?

Once you have all your devices setup and connected to CubeOne, you can set the system mode. iSmartAlarm has four different smart modes: Arm, Disarm, Home and Panic. Arm activates all the sensors, devices and cameras in your home. Disarm deactivates your system. Home lets you choose when to activate the devices (except motion sensors) and Panic is triggers CubeOne's 110 dB siren as well as sends push notifications.
You can arm the system via the iSmartAlarm's app on your smartphone or through the remote tag. Since CubeOne is connected to your home Wi-Fi, you can activate and deactivate your system from anywhere. In Arm mode, contact sensors on your doors and windows will be activated, as well as motion sensors wherever you've placed them in your home. These are triggered when contact is broken with a door, window or door—or when motion is detected. Don't worry if you hear beeping when your alarm is in the Disarm mode. iSmartAlarm's contact sensors will beep when you open a door or window where a sensor is attached. This is to let you know the sensor is working properly. If the beeping stops over time, it means the batteries probably need replacing—or you need new contact sensors.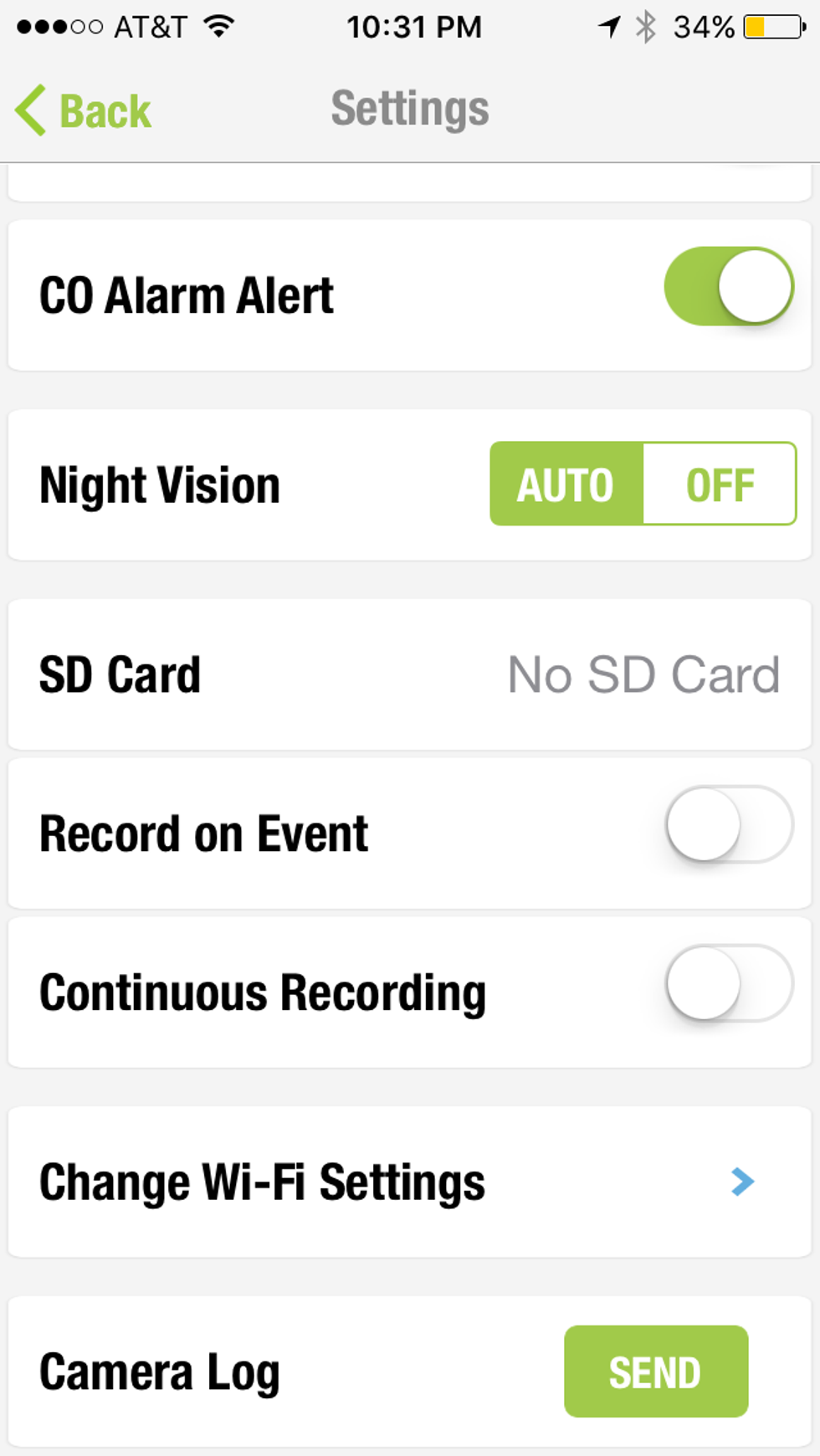 iSmartAlarm's settings screen in the appGearBrain
The iSmartAlarm siren will go off when movement or activity is detected, and the app will send a notification immediately, with through a text message, email and a phone call. When we tested the alarm, we got a call from iSmartAlarm, a recorded message notifying us our alarm had gone off and to not go home unless we knew it was safe. The recording instructed us to call the authorities if needed.
DIY home security systems are also MIY or monitor-it-yourself systems: You have to call 911. Of all the DIY/MIY home security systems we have tested, we found iSmartAlarm to have the most comprehensive notification system. We particularly liked how notifications are pushed out in a timely manner with accurate information.

The app also lets home owners view system logs as well as current sensor and device status. You can see, for example, when your system's mode was changed (disarmed to armed) or when doors were opened and closed. This is a nice feature for families as parents can see when their kids got home from school, or if they missed curfew.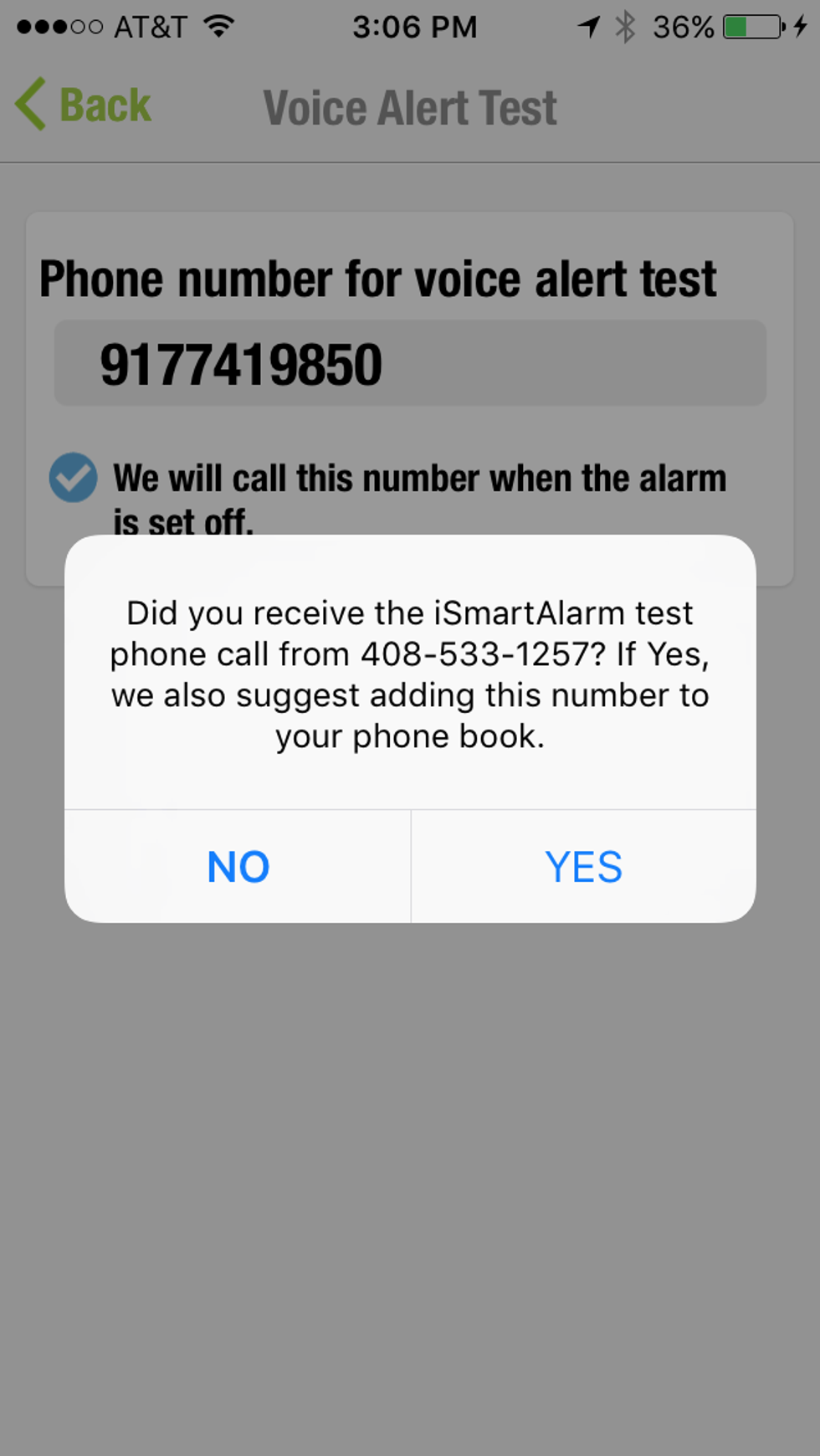 ISmartAlarm makes a call when alarm is triggered and confirms call via appGearBrain
Packages

Another good feature of iSmartAlarms is its wide variety of packages for homeowners looking for a good DIY home security system. Besides the Starter Package, iSmartAlarms offers eight other special bundles depending on your home security needs. And if you would prefer building your own customized home security system using iSmartAlarm products, you can do that as well. Some of the packages iSmartAlarm offers (besides the Starter Kit) include:
Note: you can easily add other iSmartAlarm products to any of the bundles if you want. It's one of the nice features the company offers, letting homeowners build a customized home security system tailored to their unique home security needs.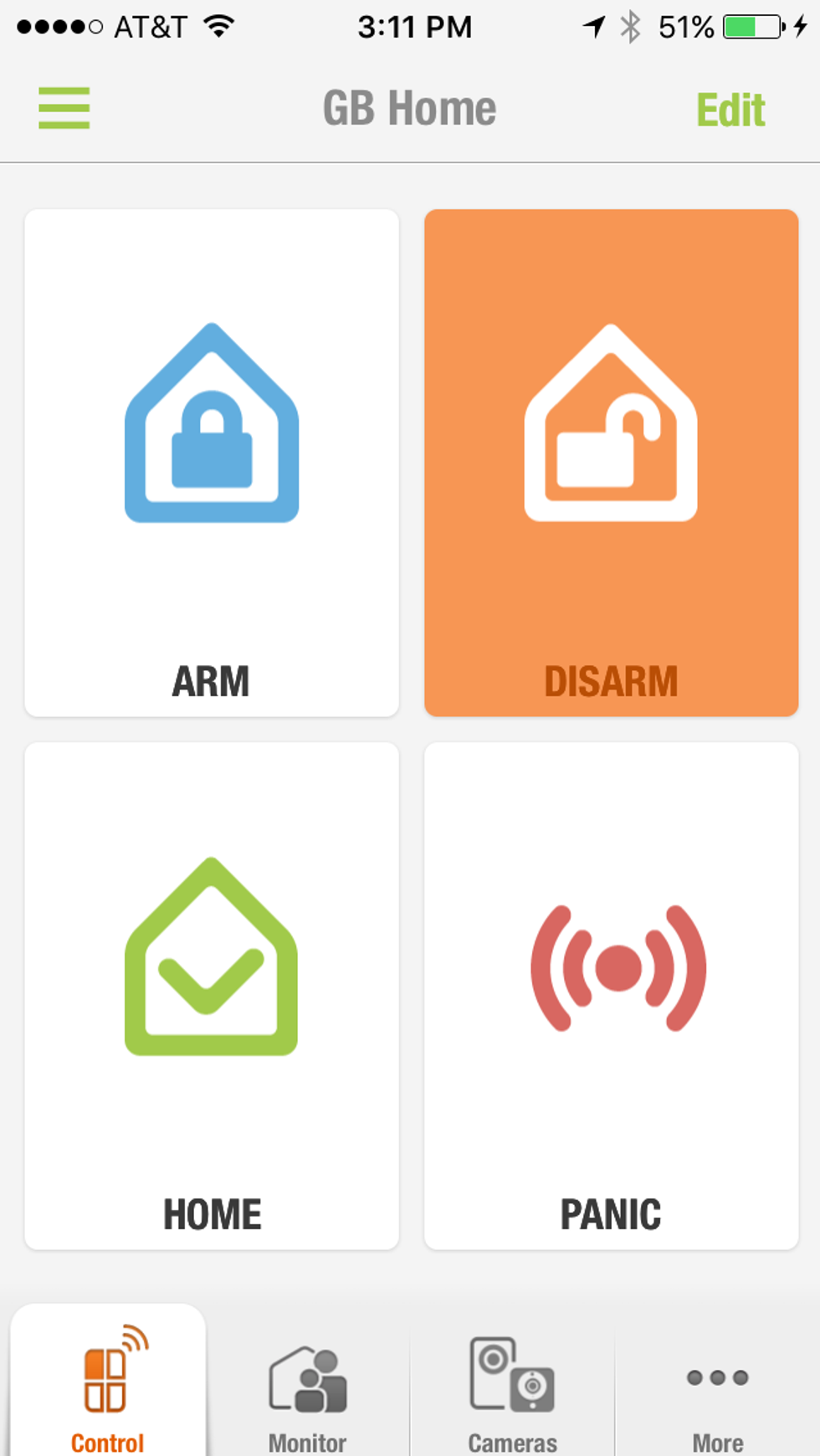 Home screen in iSmartAlarm's appGearBrain
Compatibility

When we fist tested iSmartAlarm. one thing we found was its lack of compatibility with non-iSmartAlarm products. If you own a Nest Thermostat, you need to use IFTTT to connect your iSmartAlarm products with other products. IFTTT is a free service that allows you to connect services via "channels." We tested connecting our iSmartAlarm to Amazon Alexa using our Amazon Echo. To be fair, it was not easy and if you are a novice to IFTTT—or connecting devices using IFTTT—you're likely to find this confusing and difficult at first. However, iSmartAlarms is now part of the Amazon Alexa platform and there is an Alexa skill you can enable with just one click. . This is very great because now you can integrate iSmartAlarm into your very own smart home system with voice controls via Amazon Alexa.
Summary
iSmartAlarm is an excellent DIY home security system. It's easy to install and you can simply add more iSmartAlarm devices if needed to provide your home with the security coverage you want. There are no fees or contracts, which is becoming more common with today's home security systems. You can also access your iSmartAlarm system remotely, as well as uninstall the network and take the gadgets with you when you move. That's a particularly if you're a renter, or looking to move to a home of your own.
One thing to remember with DIY home security systems is when someone breaks into your home, you—and only you—are notified of the event. Still, the push notifications iSmartAlarm provides when you alarm is triggered are great. Getting a phone call from iSmartAlarm when the alarm went off gave me the same safe feeling I got when I had when we had a professionally installed/professionally monitored home security system. But in this case, you don't have that big monthly fee.

The iSmartAlarm system is worth considering by homeowners looking for an effective and cost efficient DIY home security system to secure their most prize possession, their home. If you are in the market for a DIY home security system, we think you should take a good look at iSmartAlarm. You will be happy with what the system offers and how it could meet your DIY home security needs.
Pros: Easy to setup, expandable, no contract, no monthly fees, HD quality videos, free cloud storage and excellent notification system, multiple packages, Amazon Alexa compatible.

Cons: Need IFTTT to connect to non-iSmartAlarm products.
Like GearBrain on Facebook