When looking for a reliable outdoor security camera, you have a variety of form factors to choose from today. You can get wired and wireless security cameras as well as security cameras you can connect to a DVR or NVR using an ethernet cable. There are security cameras which come with custom motion detection and color night vision. And how about security cameras which can detect motion from a human, pet or even a car pulling into your driveway and when a delivery package is dropped off. We recently tested a security camera which has all these features and more. It's Rockspace's new Smart Wireless Pan & Tilt Security Camera T1.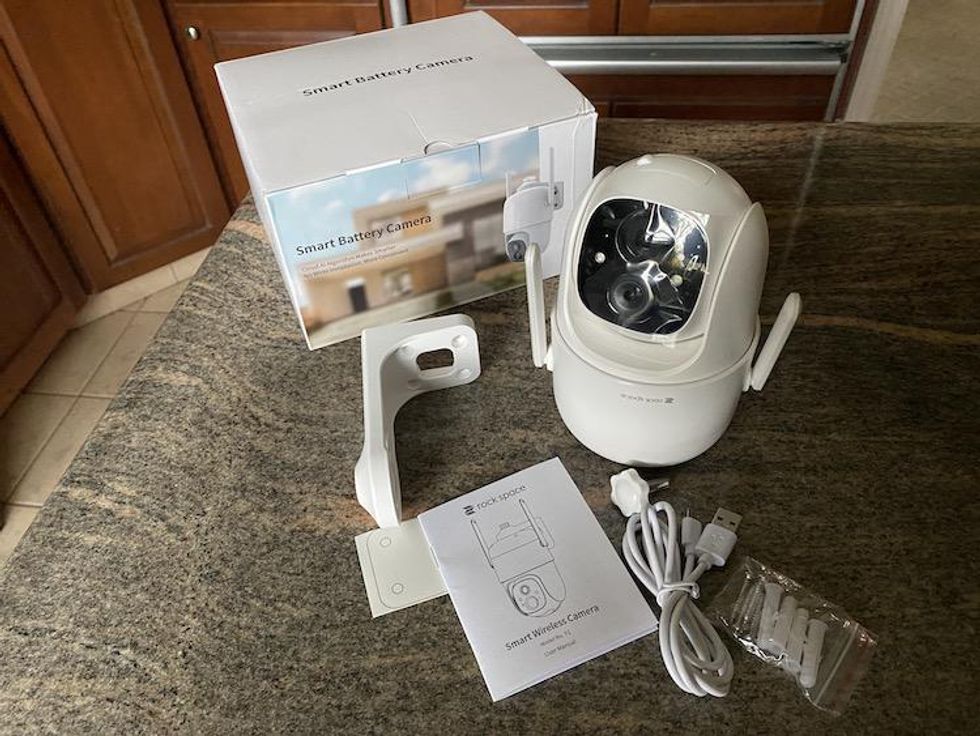 Rockspace Wireless Pan and Tilt Outdoor Security Camera unboxed.GearBrain
What is the Rockspace smart wireless pan & tilt T1 camera?
Rockspace's new security camera is a wireless pan and tilt outdoor or indoor security camera with 1080P HD video resolution, PIR motion detection, two-way audio, full color night vision and IP65 waterproof and dustproof rating.
This new outdoor security camera features 128-degree field of view (FOV), 355-degree horizontal and 90-degree vertical rotation angles, a 9000 mAh rechargeable battery and excellent 1080 HD video resolution. Rockspace's free mobile app (iOS and Android) allows you to set custom activity zones to help monitor or detect motion anytime day or night. Rockspace's outdoor camera works on a Wi-Fi connection and offers local storage via micro-SD card. You also get seven-day event free cloud recording with no monthly contract.
Other features for this outdoor security camera include anti flicker. When turned on, the camera will offset the strobe frequency of the alternating current. This will help solve the flicker of the video screen in the app. You can set the flicker rate to either 50 Hertz or 60 Hertz.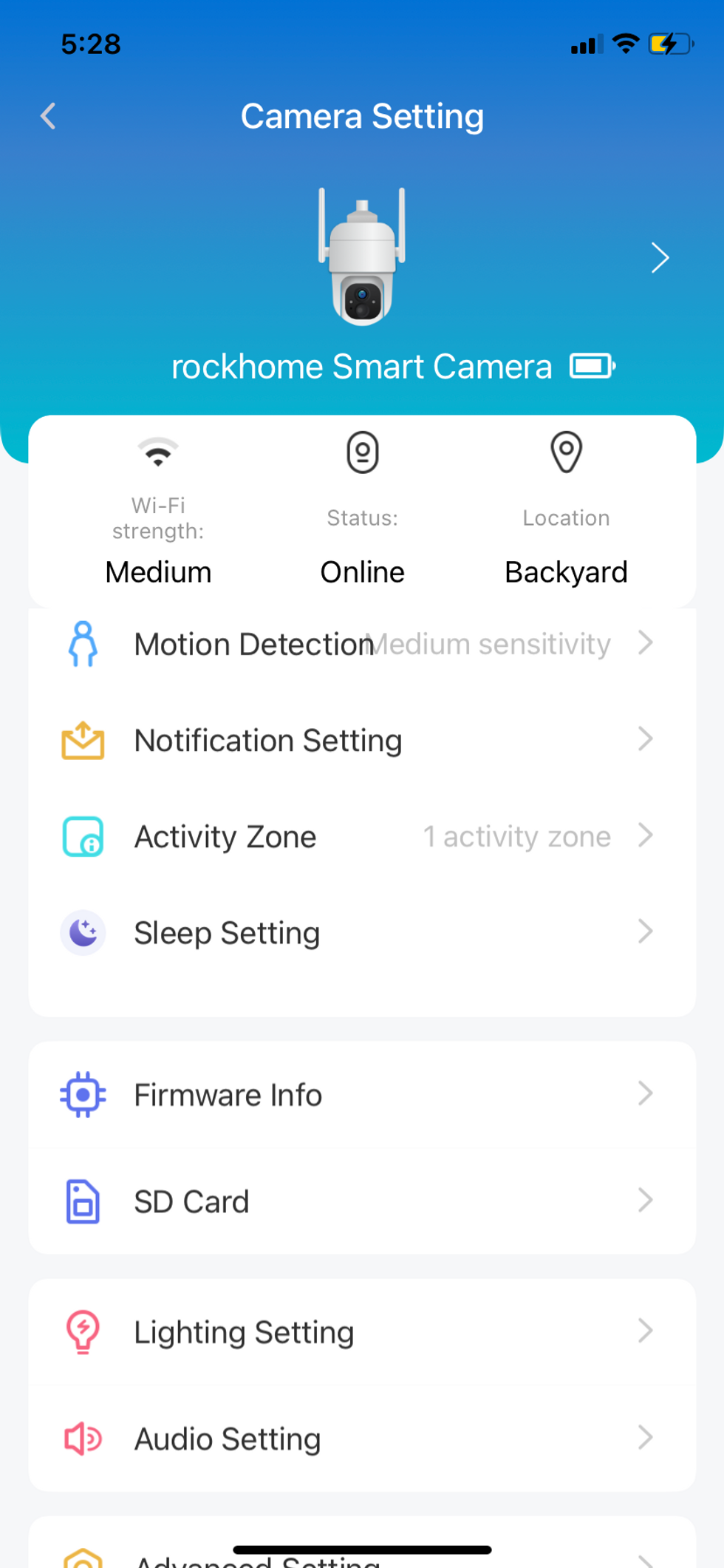 Adjust camera settings in the Rockhome appGearBrain
The Rockspace camera also comes with a sleep setting. When the camera enters sleep mode, the surveillance area cannot be viewed in real time and functions like motion detection, two-way radio and alarm will be suspended. This is a good security and privacy feature. If you plan to have an outdoor party or working in the garden during the day and don't want to receive a lot of alerts, you can set a schedule or time for sleep mode.
One of the best features of Rockspace Pan & Tilt Outdoor Security Camera is the combination of motion detection and notifications. In the Rockhome app, you can adjust when to trigger recording of motion. The classifications include person, pet and vehicle. With vehicle notifications, you can set to record videos when a car is coming or going which is something we have not seen before in any other security camera. The company is also testing package alerts. You can choose to get alerts when a package is placed down or being picked up. To use this feature though, you need to position your Rockspace camera in a certain location outside your home. The Rockhome app provides a user guide on how to setup your camera and activate this feature.
Lastly, Rockspace's security camera comes with infrared night vision which you can adjust the LED light settings in the app. These settings can be set to flash when motion is triggered, or you can adjust the brightness of the LEDs as well as color or black and white night vision.
Day Vision from Rockspace Camera using Rockhome app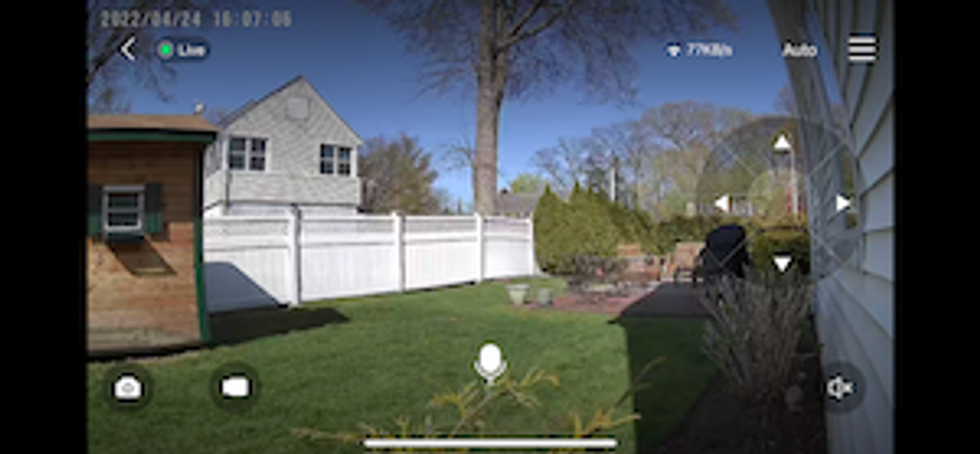 Day vision from Rockhome app
GearBrain
Use the controls on the screen in the Rockhome app to move your camera and speak to your visitors.
BW Night Vision from Rockspace Camera using Rockhome app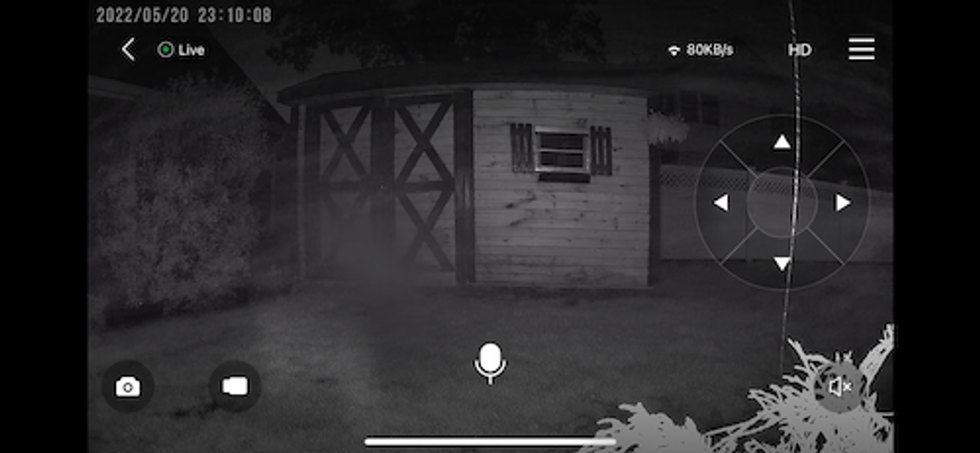 Black and White Night vision from Rockhome app
GearBrain
Rockspace camera will provide black and white or color night vision in the Rockhome app.
How to install Rockspace Pan & Tilt Security Camera.
Installation is easy for Rockspace's new outdoor pan and tilt camera. To set up the security camera you will need to charge the camera prior to use. For best results, it's recommended to charge the security camera for 9 hours prior to use. You can use the supplied USB cable to charge the camera.
Once the Rockspace camera is fully charged, you can start the pairing process using the Rockspace app. You will need to pair the camera with your home Wi-Fi network. I recommend you do this process by standing close to your home router. It will make the pairing process easier. I also recommend prior to pairing you check the Wi-Fi signal at the location you plan to install the Rockspace outdoor security camera. If you have a weak signal, performance will be compromised. You need a strong and reliable Wi-Fi connection for any outdoor security camera to work as advertised.
If you have a good Wi-Fi signal outside, follow the instructions in the Rockspace app to pair your camera. Once your camera is paired with your home Wi-Fi network, you can take the camera outside to the location you plan to install it. The camera comes with a bracket which is easy to install on the outside of your home or on a pole. Once installed you can check in the Rockspace app the Wi-Fi signal strength to the camera. If your Wi-Fi signal is low, you will have limited performance issues with the Rockspace security camera. And you might need to get a Wi-Fi extender or move the camera to another outdoor space with better Wi-Fi connectivity.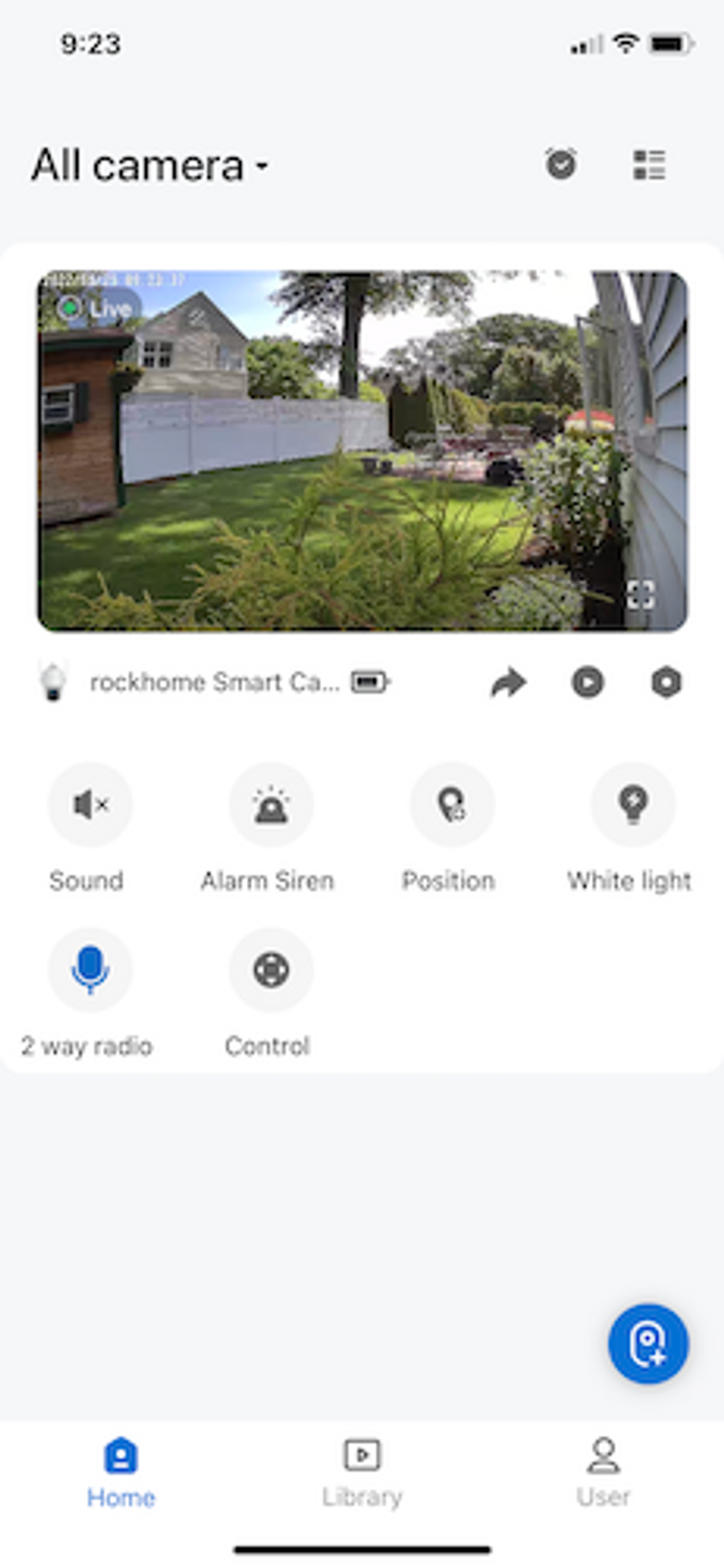 Rockhome app will help you manage all your Rockspace cameras.GearBrain
How much does Rockspace's new outdoor security camera cost?
The cost of the Rockspace smart wireless pan and tilt camera is $99.99. It's available on the company website and on Amazon.com. Based on all the features in this security camera, the price is very attractive. Plus, you get 7 days of free cloud storage for your videos which is good.
Video Storage Plans for Rockspace Outdoor Security Cameras
Another important decision you must make prior to buying a security camera is what to do with all the videos your camera records. Are you willing to pay for cloud storage, or do you want local storage? Many security cameras come with cloud storage and local storage via a microSD card. The cloud storage plans start around $3 a month per camera and can get as expensive as $50 per month for multiple cameras. Local storage is less expensive and requires only a microSD Card slot on your camera. There are security camera manufacturers who offer free video cloud storage for a short period of time. For instance, Google offers only 3 hours rolling time for video storage and Honeywell provides 24 hours of rolling video cloud storage. When you buy a Rockspace security camera, you get 7 days of free video cloud storage which is very good and there is no contract.
However, if you would like more than 7 days of video storage (or up to 1 GB), Rockspace offers three Rockhome Awareness plans: Basic, Plus and Pro. The Basic plan includes 15-day cloud recording or up to 3 GB of data, custom activity zones, intelligent notification capabilities and costs $2.99 per month or $7.99 for three months or $31.99 for a full year.
The Plus plan includes 30-day cloud recording or up to five GB of data, intelligent notifications, custom activity zones and costs $4.49 per month, $12.99 for three months or $49.99 for 12 months. The Pro plan comes with 60-day cloud recording or up to 10 gigabytes of data, intelligent notifications, activity zones and costs $7.99 per month, $23.99 for three months and $94.99 for a full year. For those of you who only want or need one month of coverage because you are away on vacation, Rockspace allows you to buy Rockhome Awareness plans for just one month.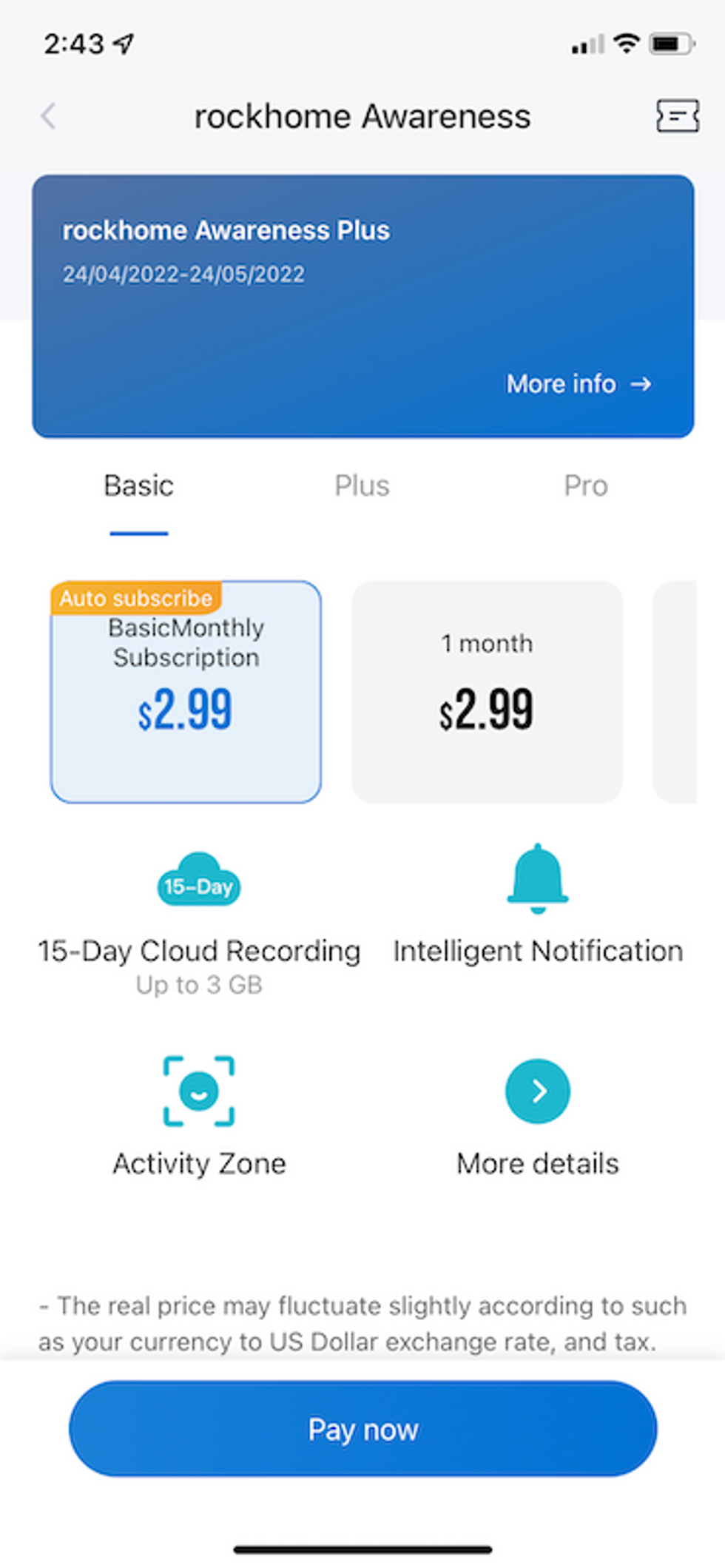 Cloud Storage plans are available in the Rockhome app. GearBrain
Performance – How did Rockspace Outdoor Security camera work?
For testing, we placed the Rockspace Pan & Tilt security camera in the backyard of our test home. We did pair the camera inside prior to installing outside. We tried to pair the camera outside but had no luck. We had to bring the camera inside and pair it while standing next to our home Wi-Fi network. Then we took the camera outside and installed it on the side of our house. What was a little surprising to us was the location where we installed the Rockspace camera was just outside the room where we had our Wi-Fi router. We understand there are certain obstacles (like thick walls) which can impact the wireless connection. But we thought the signal would be strong enough since there was only a single wall between our camera and the Wi-Fi router. It was not. This is something you need to check prior to installing any outdoor security camera. You need a good Wi-Fi signal for Rockspace or any other outdoor security camera or get Wi-Fi extenders.
Once the camera was operational, we found it provided a very clear and crisp picture. The pan and tilt feature provides a lot of area for you to see which can be controlled in the Rockhome app. Panning controls were easy to use, and it helped us position the camera to cover those hard to monitor spaces in the backyard. Though there was a slightly delay in the live stream from the camera to the app, it wasn't too big a deal. We've seen this in other wireless Wi-Fi security cameras that send videos up to the cloud then to the app. We did have a medium strength Wi-Fi signal according the Rockhome app and functionality was good.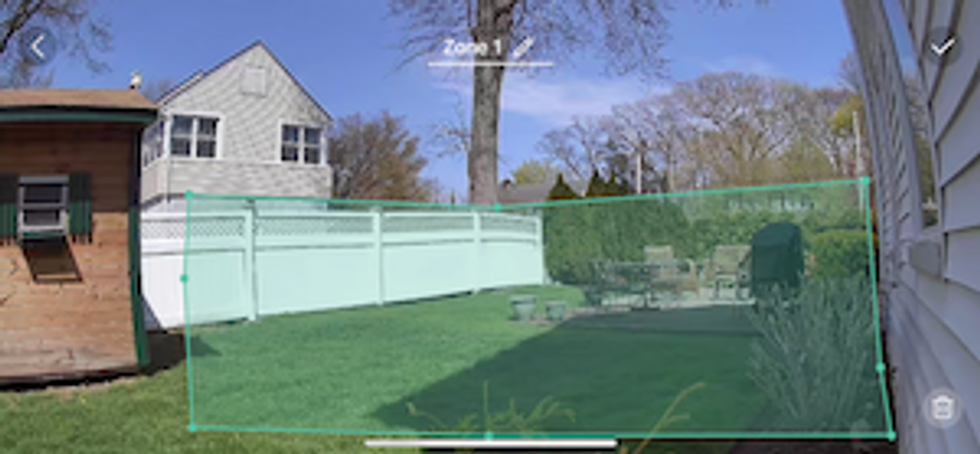 Using the Rockhome app, you can set the activity zone for Rockspace outdoor camera to monitor using their AI Analysis feature.GearBrain
For motion detection, it worked very well. I advise you adjust the motion sensitivity in the app during installation or you might end up getting a lot of alerts throughout the day and night.
And speaking of nighttime, Rockspace outdoor security camera has color night vision. It captured little animals as well as humans in our backyard. The microphone and speaker on the camera were OK. The audio was slightly delayed from the time we said something to the time we heard it through the camera. Again, most likely a result of the audio going from the app on your smart phone to the cloud and then to the camera causing the delay.
What we liked about the Rockspace Pan & Tilt security camera was its battery life. According to the company, the camera can get up to 8 months of battery life on a single charge. A lot will depend on the number of triggers and videos it records. For our tests, the battery used only 12% of its battery in just two and half months. This was impressive.
We did like the local storage option as well as the ability to buy video storage on a monthly, three month or annual plan. The company offers with purchase a 30-day trial to store videos in the cloud and you can use a local storage capability by inserting a microSD card into the camera. What is nice about this option is if you lose Internet access, the Rockspace can still record videos when triggered and store it.
To manipulate the camera's viewing angles, the Rockhome app worked well. Besides the camera's 128-degree field of view, which is OK, the pan and tilt feature will give you a good look at your outdoor surrounding. You can easily move the camera into positions where you can see what's going on especially in during a live stream at night.
Overall, what we really liked about the rock space outdoor panel camera is its structure. It is a well-built solid sturdy outdoor security camera that can withstand the elements. Whether it's a hot summer day or an extremely cold wintery evening, the Rockspace casing is durable especially when we compare it to other outdoor security cameras in this price range.
Smart Home Integrations – What Does Rockspace Outdoor Security Camera Work With?
One of the nice smart home integrations for a security camera is to be able to live stream video from the camera to your smart speaker display or compatible smart TV with either Google Assistant or Amazon Alexa voice systems built-in. Whether you own a smart speaker or display, you will not be able to live stream video from the Rockspace Pan and Tilt Outdoor Security Camera because it is not compatible. This is one feature we would like the company to consider adding in the future. For the DIY smart home security market, many are looking and using their smart speaker display as an extension of their outdoor or indoor security cameras.
Summary
If you are in the market for a pan and tilt wireless Wi-Fi connected outdoor security camera with a long-lasting battery life, good FOV capabilities, local storage capability, and motion detection that can be easily controlled and set in an app, Rockspace's Pan & Tilt Wireless Outdoor Security Camera provides a suitable choice for any smart home. Though you will need to get a monthly plan to use the intelligent features like intelligent notifications, activity zones and AI Analysis, it comes with a lot of features at a very good price point, even if you just buy the basic plan for $2.99 per month. But if not, remember you can still use PIR Motion detection and access live stream videos on your phone or tablet to see what's going on outside your home via Rockspace outdoor security camera.
Pros
Battery Life
FOV – pan & tilt
Design
AI PIR Motion Detection and customized activity zones
Cons
Need strong Wi-Fi signal
Works only with 2.4 GHz
No smart home integrations including Amazon Alexa or Google Assistant smart displays.
Need a monthly plan for intelligent features to work (i.e. AI Analysis, intelligent notifications)
How to Find Products in The GearBrain, Our Compatibility Find Engine for Smart Devices www.youtube.com